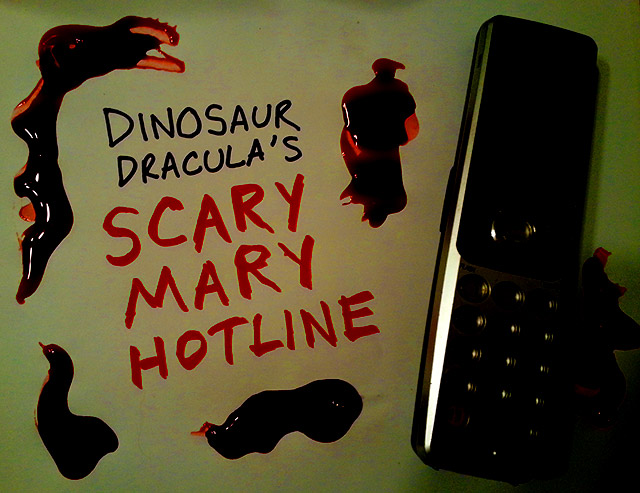 Uh oh!
It's the return of Dinosaur Dracula's…
SCARY MARY HOTLINE.
If you don't know what this is about, I'd suggest reading this article from last year.
Or, if you don't feel like clicking around, I'll just repeat myself!
Back when pay-per-minute telephone hotlines were a huge deal, it seemed like every kid-targeted "thing" had one. Teen idols had them, musicians had them… hell, even cartoon characters had them. We gobbled them up! Needlessly protracted messages from our favorite stars may sound like a waste of money, but in a world with far fewer ways to kill a few minutes, they were pretty great. Stupid, but great.
The best of them — in my humble opinion — took us deep into the bowels of hell. There were TONS of horror hotlines in the '80s and '90s, featuring everyone from Freddy Krueger to Grandpa Munster to ghouls of a more generic sort. What made them special was that they weren't just for hardcore fans. Kids who were typically petrified of "horror stuff" could test the waters, listening for as long as their nerves (or wallets) would allow.
Hotlines being what they were, keeping you on the phone for as long as possible was the goal. Sometimes, you'd have to wait for the end of the message to find out how you could win a free bicycle. Other times, your narrator just spoke very, very slowly. The only kids who listened to the entire messages were the ones who gave no fucks about what their parents would do when the bills came in. The rest of us hung up early, satisfied that we "talked" to Freddy Krueger for even one measly minute. What a story to tell at school!
It's easy to make fun of those old hotlines. They were exploitative and goofy, and in 2014, it's hard to imagine paying for such a "privilege." Still, I have nothing but fondness for my own experiences. Those hotlines put unique stamps on otherwise boring days, and in the case of the horror hotlines, the thrill was more akin to a roller coaster — but one you could step off of whenever the going got rough.
…which leads me to the return of Dinosaur Dracula's SCARY MARY HOTLINE! Read More…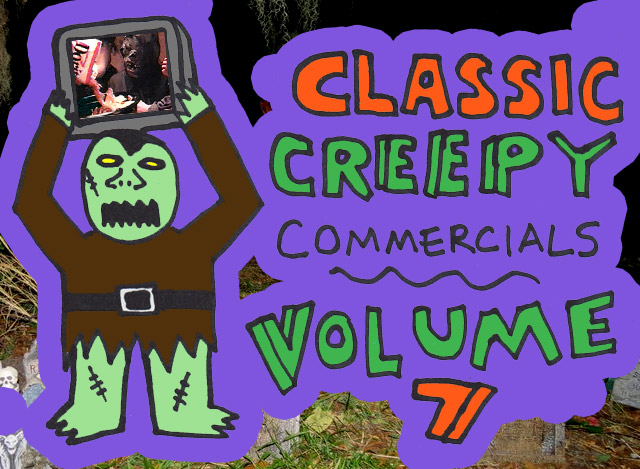 Welcome to Classic Creepy Commercials, Volume 7! (It was either this or another edition of Five Spooky Action Figures. The folks on Twitter voted for more commercials. If you would've preferred to read about plastic Draculas, blame them. #notmyfault)
Larry P. generously provided the first four ads in this batch, while The Mysterious Spencer tossed in the fifth. Thank you, guys!
Coca-Cola "Monsters of the Gridiron" Commercial! (1993)
Oh, boy. If I covered every last nuance of Coca-Cola's sprawling Monsters of the Gridiron campaign, we'd be here forever. Instead, I'll give you the basics.
In Monsters of the Gridiron — at heart a contest but really so much more — various real life football stars were turned into horrible Halloween monsters. And holy cow, they were CREATIVE!
It wasn't just like, "Hey, let's take this quarterback, put him in vampire makeup and call him Vlad Pigskin." There were devils, scarecrows… even giant snakes! All of the actual players took part, and photographs of them in their monster disguises live on in promotional Monsters of the Gridiron trading cards. (Note to self: Find those fuckers on eBay.)
Even if you never dug deep into the promotion, you've gotta remember the TV commercials, which featured football players morphing into macabre creatures. You didn't have to care one bit about football to love this. I sure didn't. Read More…
TELL ME. When you went trick-or-treating, what did you use to hold the candy? A McBoo pail? A pillowcase? A Radio Flyer wagon?
Most often, I'm guessing you used a plastic bag made specifically for that purpose. The "trick-or-treat sack" has historically been just as integral a part of a kid's Halloween experience as his or her costume, so it's no big shock that tons of companies made them for promotional giveaways. Think of the free advertising! If I gave away 50 Dino Drac treat sacks, I'd have effectively turned 50 people in walking billboards.
I've collected five such promotional trick-or-treat sacks from the '80s and '90s, which aren't only windows into Halloweens past, but remembrances of companies as they used to be… or even companies that folded when you were still young enough to go door-to-door for free candy!
Let's take a look. A look at bags.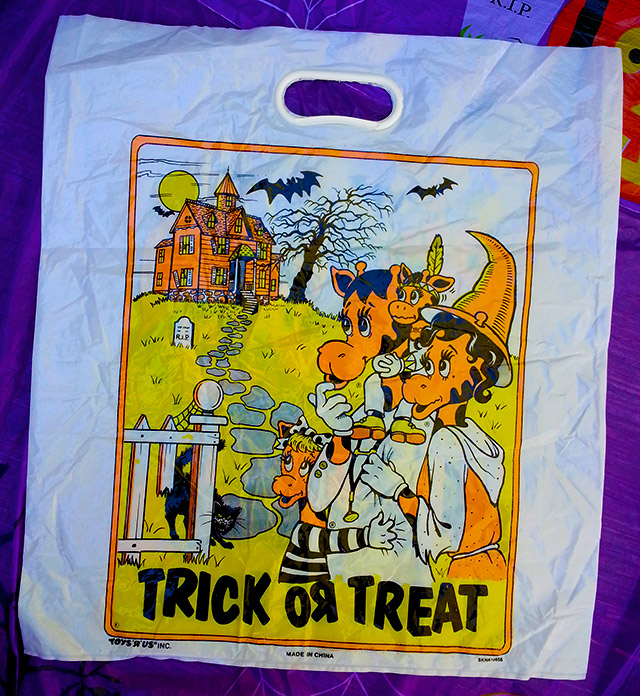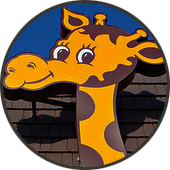 #1: Toys "R" Us Treat Sack!
Based on the art, I'm guessing this is from the mid '80s. I'm also guessing that TRU sold them rather than gave them away, because a free treat sack would not have had that reinforcing hard plastic oval thing lining the handle. (You'll notice that the rest of the bags featured here lack it — and they were all obvious freebies, because nobody would've paid for them.)
Cold, hard truth: '80s kids has the best-ever Geoffrey. Not too creepy, not too sleek, and definitely not too much like a real giraffe… which is good, because real giraffes don't know what's going on, and as mascots for toy stores, they're de facto detached.
Back then, Geoffrey's family was seen much more often, too. I can't remember the last time I saw Geoffrietta or Geoffrey Junior; clearly it's been long enough to forget their real names. Here, the Giraffes (capitalized to denote surname, not species) contemplate trick-or-treating at the scariest house in their neighborhood. Are four fun-sized Almond Joys really worth the risk?
If you look at this bag as a sort of open-ended one-panel comic, it's pretty Creepypastaish. Read More…

Who wants to win a set of Dinosaur Dracula trading cards?
Yes, Dinosaur Dracula trading cards!
After teasing them for over a year, it's finally time to give them away! Between now and Halloween, there will be at least fifteen winners of the full 30-card set!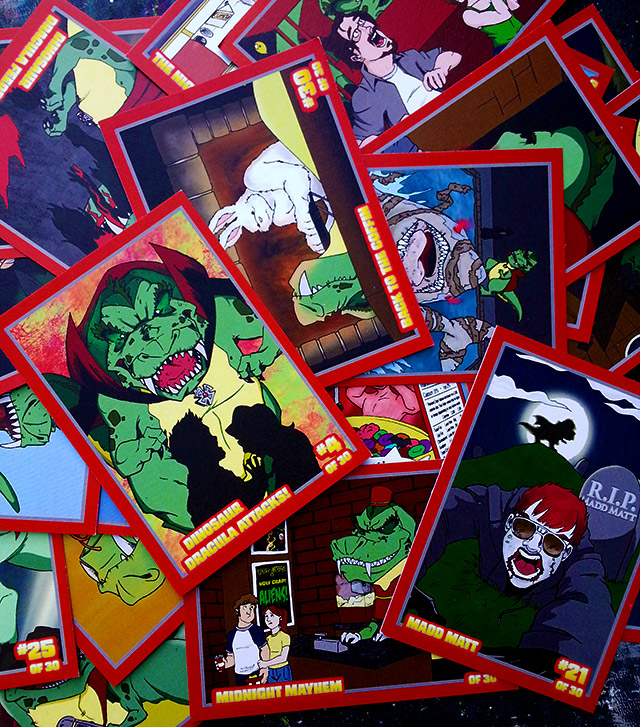 The cards feature gorgeous art, sinister stories and plenty of references to Dino Drac characters and culture, and I… had absolutely nothing to do with them!
The set was the brainchild of my friend Steve, who very casually told me that he and his friends created a Dinosaur Dracula trading card set. Well, holy shit!
Before I tell you more about the cards, let's give kudos to their creators!
Magic Steve – Conception & Story Writer
Wil Brendel – Artist & Inker
Jake Crunk – Colorist
These guys did this totally on the arm and created the whole set before I even knew about it. They asked for absolutely nothing in return, so the least I could do is ask everyone to follow these creative masterminds on Twitter! (Their names link to their accounts!) Read More…
Madd Matt is back, and he has a new doll!
Actually, the doll isn't new. It's from 1988. Many of you should recognize this animated vampire figure, which for a time seemed as common a Halloween decoration as fake webs and plastic spider rings.
Part of a larger line of battery-operated monsters, I've long thought of them as cheap imitations of the much nicer Telco figures. (I don't mean "cheap" as an insult. On the collectors' market, those Telco "Motionettes" can go for several hundred dollars apiece, while this cruder Dracula frequently sells for a mere ten bucks. That's how much I paid. Score!) Read More…

Welcome back to Deadsites, where I study defunct websites and revisit the internet's barely recognizable past!
I wanted something Halloweeny for this edition, of course. How about Froot Loops?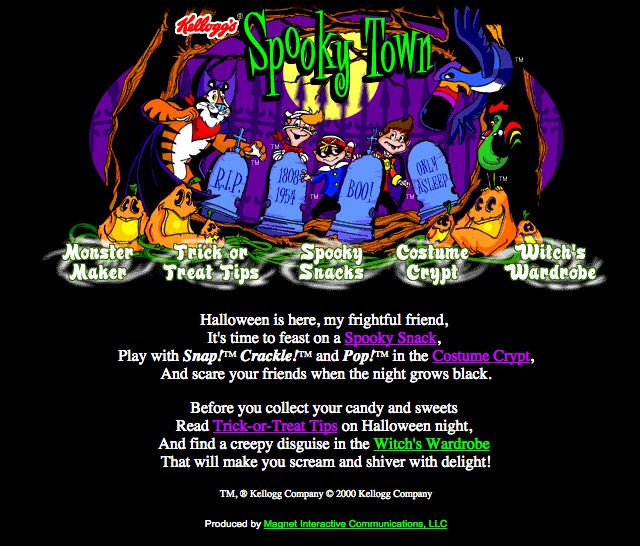 From 2000, it's Kellogg's SPOOKY TOWN — a site-within-a-site that was only accessible during October. Though unmentioned, its likely purpose was to promote special Halloween editions of certain Kellogg's cereals. (Both Froot Loops and Rice Krispies had them that year. Tony the Tiger, noted asshole, abstained.)
"Goofy holiday pages" remain components of kid-targeted marketing today, but 2014's versions lack the same charm. If Spooky Town existed now, I imagine it would focus on getting kids to share images of Toucan Sam across social media. Maybe it'd have a side page where you could print coupons for shitty e-readers.
Back in 2000, it was rarer for kids to connect with other kids online. If they did, it was either on a heavily-moderated half-forum where every message had to be preapproved, or on a site that they probably shouldn't have been on. For children, using the internet was mostly "alone time" — and not just in the physical sense.
That partly explains why I love Spooky Town so much. Unburdened by thoughts of viral reach, it's much more sincere. Just a happy little Halloween page where kids could play games and get tips on their costumes. If their parents were in the room, they'd learn how to make cats out of Cocoa Krispies. Read More…