Can I be honest?
When I heard about NECA's SDCC exclusive "Jason & Pam" two-pack, I knew I was going to buy it, but I wasn't exactly happy about buying it. When I had the set in my cart during the online sale, I could only click the appropriate buttons through gritted teeth.
Fifty bucks for a couple of action figures, PLUS shipping? I'd be lying if I said that I didn't feel a little exploited, because I just couldn't imagine the figures being cool enough to view with anything but residual guilt.
Well, they arrived yesterday. Sister, I WAS WRONG.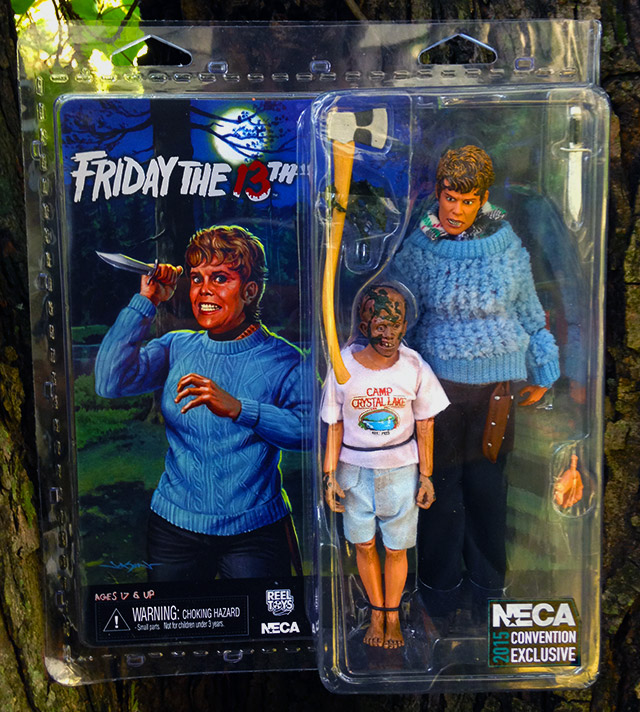 We can go back and forth on whether these were really worth fifty bucks, but I'll tell you this: I've been a NECA fanboy for over ten years now, and these are unquestionably some of my favorite figures from them.
I think back to NECA's 8-Bit Jason, and how much I treasured it. While conceding that the cool "Nintendo box" packaging factored into its $25 retail price, the figure was downright basic compared to the two shown here.
What's most impressive is that they could've afforded to suck. Maybe not so much with Pam, but fans were going to line up for a "Boy Jason" figure no matter WHAT it looked like. (Seriously — if Funko did a ReAction version and made it a true SDCC exclusive, tell me you wouldn't have paid 25 bucks for it.)
I don't know how NECA operates or who created these, but the figures were obviously works of passion. The likenesses are a tad exaggerated, yet still so dead-on that I see no need to even provide movie stills for comparison. If you wanna know how these two looked in the film… that's how they looked. Read More…
I'm back with the third edition of Junk Food of the Gods, the series in which I raid supermarkets for neon slop that likely won't be around for very long. Of course, when I put it that way, I'm not sure why I do this.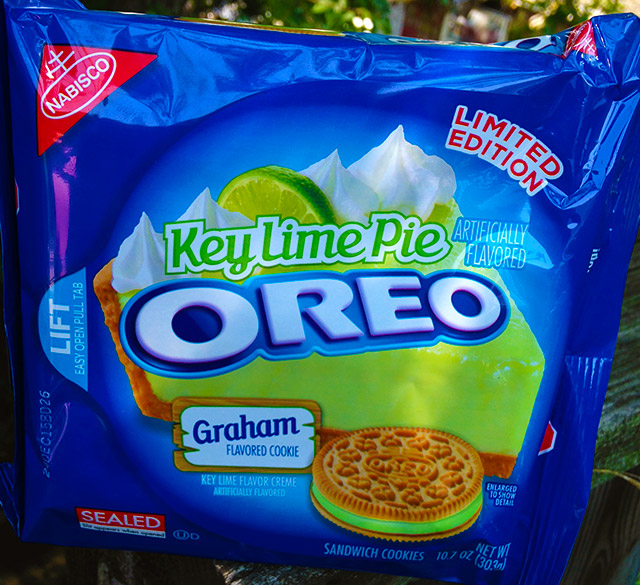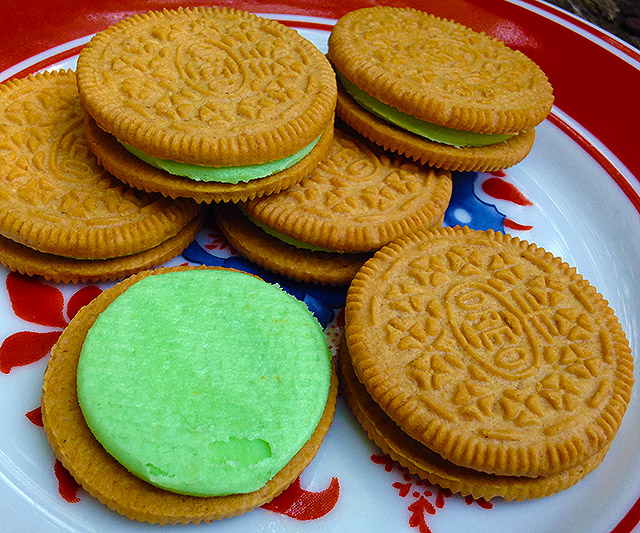 Key Lime Pie Oreo Cookies!
With still another month to go before people trade their swimsuits for funeral attire, Nabisco's tossed us yet another summer-specific Oreo flavor: Key Lime Pie.
I'm not sure that there's ever been an Oreo with such a pungent odor before. These cookies reek. Depending on your point of view, they either smell exactly like key lime pie or exactly like dollar store tile cleaner.
Fortunately, the flavor is more subdued. I'd hesitate to call it "subtle" because my first thought upon biting one was "LIME" in all caps, but still, compared to the smell, they're practically dull.
I honestly don't know what a key lime pie is supposed to taste like, but for my money, this is lime green Jell-O as Oreo creme filling. Not bad, but not one of my favorites. Read More…
The flea market was much nicer than it's been in recent weeks, with more vendors and far fewer people yelling at me over keychain prices. (I'm never going to get over that. Never slight an Italian.)
It was already crazy hot when we arrived. By the time we left, we looked like we'd been in a pool, or more accurately a pond. I reasoned that this was "exercise." I'd much rather jump for old Batman figures than jump for Jack.
Nothing I found was worth writing poems over, so it's fortunate that my trade is actually in long, meandering paragraphs. Check out this week's scores, down below!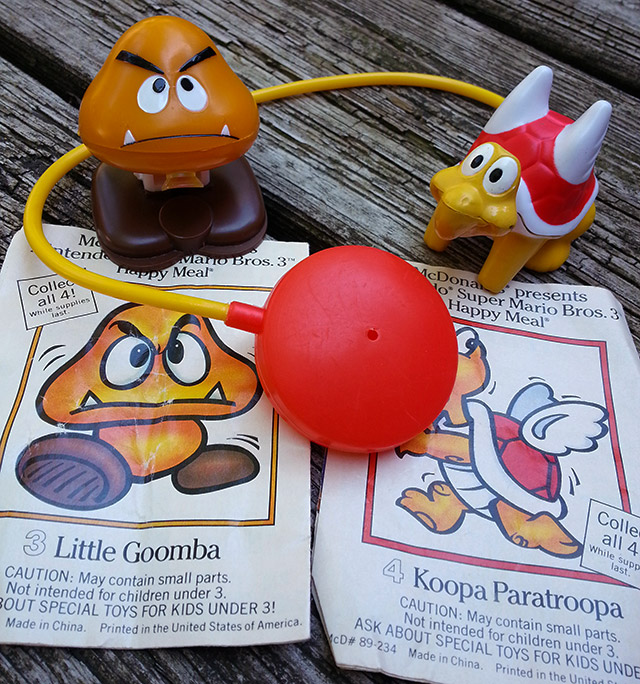 Super Mario Bros. 3 Happy Meal Toys!
Price: $2
From one of the most beloved McDonald's promotions ever, it's Little Goomba and a Koopa Paratroopa! These figures were part of the Super Mario Bros. 3 Happy Meal, from 1990. Given how few Nintendo toys were available back then, we went BATSHIT for that set.
Mario and Luigi figures completed the quartet, but I'm much fonder of these "enemy" characters. The Goomba has a little suction cup under his chin for acrobatic action, while the Koopa Paratrooper hops around by way of an odd air pump. (Impressive features, considering that we would've eaten just as many Happy Meals for the word "Nintendo" written on a Post-it.)
The toys came with their original booklets, with admittedly amount to little more than Nintendo Power advertisements. Still, what a score! I can't think of many people who wouldn't have paid two bucks for these, but anyone who remembers the time Ronald McDonald cavorted with Mario would pay far, far more. Read More…
Prior to yesterday, I hadn't been to Seaside Heights since my sophomore year of high school. A friend invited me to stay with him and his extended family at some rented beach house. Never one to miss a chance at crane games and funnel cake, I jumped at the chance.
The night before we left, I dyed my hair green. I probably should've waited, given that I was about to spend three days with total strangers, but they were nice people. (And they remained nice people until they saw the house's single shower, stained with still-fresh puke-green Manic Panic. Oops.)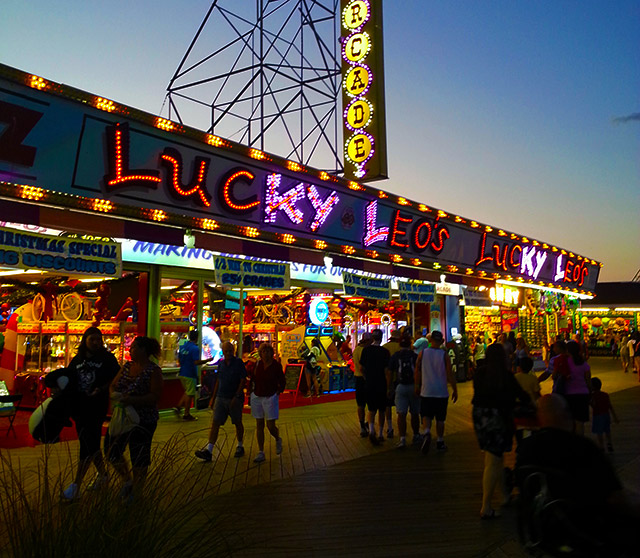 Now roughly twenty years later, I've finally returned. With Jay from The Sexy Armpit and our better halves, we walked up and down the boardwalk looking for every stupid photo worth taking. We ate pizza, too!
Back in the day, I considered Seaside Heights a "poor man's Wildwood" — way smaller, and with far fewer neon lights. These things are still true, but here's the difference: Wildwood has changed a lot since the '90s, while the vibe at Seaside Heights has hardly changed at all. I may actually prefer Seaside, now. If you know what you're looking for, it's as much a joyous relic as a place to play Frog Bog.
Here are the highlights!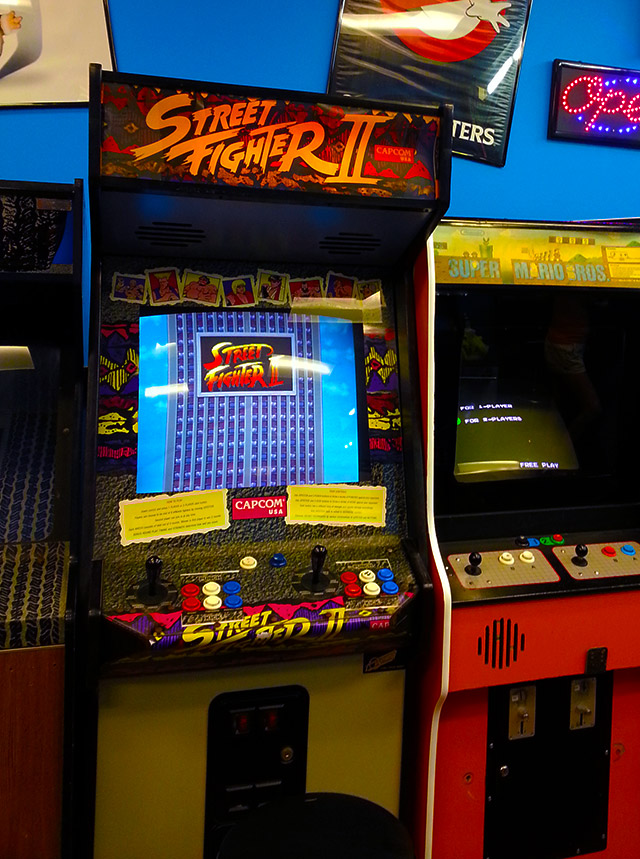 RETRO ARCADE!
One of the boardwalk "booths" — which has doubtlessly spent former lives as everything from a souvenir shop to a tattoo parlor — now plays home to a small "retro arcade." Pay a modest fee, and play away!
It's nothing compared to a place like Yestercades, but as just one of a million stops on a New Jersey boardwalk, it's so cool. With around 15 arcade cabinets and a couple of pinball games, I loved the aesthetic touches as much as the coin-ops. Those '80s posters in cheap frames, the liberal use of billiards-blue paint… they're tacky attributes to be sure, but when you're on a boardwalk, you WANT tacky.
(And don't get me started on Street Fighter II. An identical cabinet used to live at the Trump Taj Mahal in Atlantic City. For a certain period of time, it was practically my altar at which to worship.) Read More…
I'm a sucker for Funko's ReAction series, which — for the three of you who don't know — collects characters from movies and television and turns them into endearingly simplistic action figures.
Since they're so comparable to Kenner's old Star Wars figures, I was born to love them. Still, most of my adoration has been from afar, sheerly as a matter of self-preservation: I buy enough goofy crap as it is, and my wallet just can't handle adding another never-ending collection of ten dollar action figures to the mix.
Of course, I'm willing to make exceptions in cases of extreme awesomeness, and I think a set of GREMLINS ReAction figures is just such a case.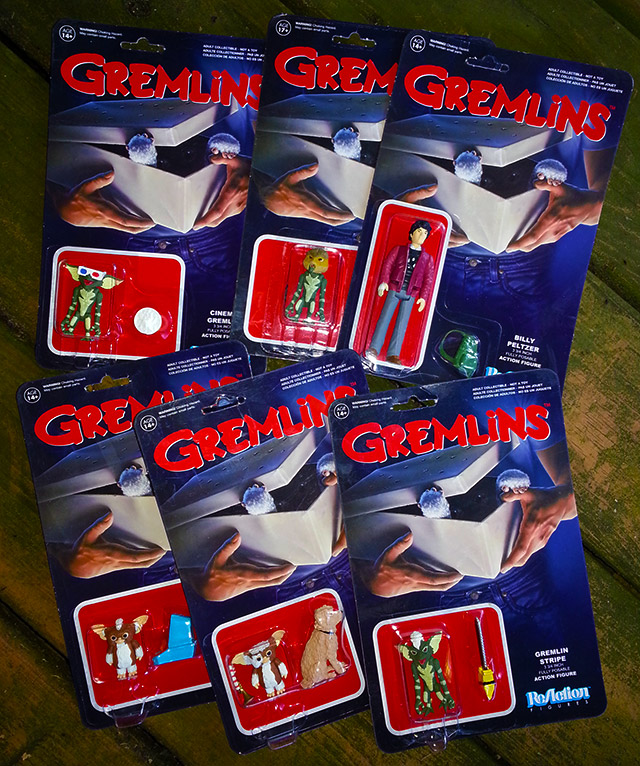 …so I went nuts and bought a ton of them, all at once. Shown above are six of the seven available figures, and the only reason I didn't buy the seventh is because stupid Toys "R" Us didn't have it.
TRU charged over eleven dollars per figure, which I admit to being a little "too much" for these. I expect a markup on toys aimed at adult collectors — after all, the mere idea that we can find figures like these in brick-and-mortar stores is worth the premium — but in ReAction's case, that markup can feel a bit severe. The good news is that several chains seem to be recognizing this, and it's no longer uncommon to find them on sale.
This time, I couldn't be patient. Had this Gremlins set been around when I was a kid, they would've been my very favorite action figures. Even now, when I'm old enough to cradle seven ounces' worth of plastic and wonder how many bills it could've paid, I'm so in love. These are great! Read More…