My newest acquisition: A genuine Good Humor ice cream truck menu from 1993!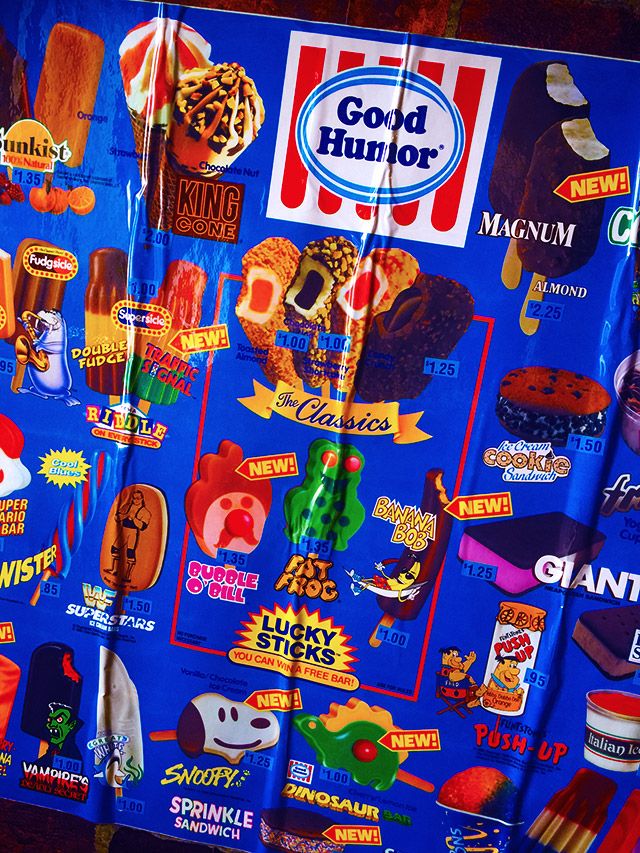 It doesn't photograph so well, but it's beautiful in person.
1993 would've been my last year to chase down ice cream trucks without secretly wondering if I was too old to do that, so I'm super familiar with 95% of the things on this menu.
In truth, the character-based pops were by that point only occasional treats. I more typically alternated between snow cones and cookie sandwiches, because even though they lacked star power, they were usually the tastiest options.
…but since those aren't the ones you wanna hear about, I'll stick to the pops shaped like Super Mario and weird dinosaurs. Here are the highlights: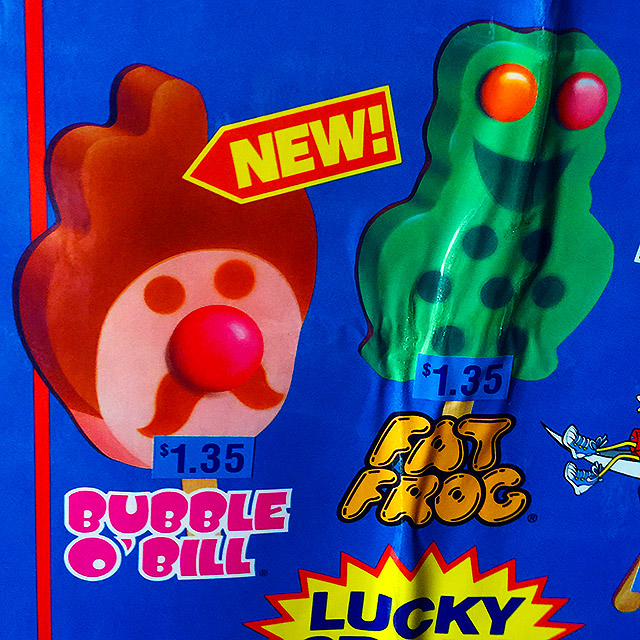 Bubble O' Bill and Fat Frog!
They're crazy famous, but I'm honestly not sure if I've ever eaten these. Bubble O' Bill's gumball nose was a draw, but I tended to only like frozen treats in this consistency if they tasted like tart fruit. Bubble O' Bill was more like deconstructed neapolitan ice cream.
As for Fat Frog, the fact that I have no idea what it was supposed to taste like indicates that I've never had one. It's a classic pop for sure, but since it perpetually competed against similar treats based on characters that I knew from television, movies and video games, it was hard to pick a generic frog no matter how cute he was. Read More…
After our successful trip to Heights-Terrace Video in Hazleton, we drove another 40 minutes into the bowels of Pennsylvania, looking for more old video stores.
That led us to the city of Wyoming. If the little we saw was indicative of its totality, Wyoming is a mix of a sleepy college town and a place where affluent couples go to buy antique rocking chairs. We liked it.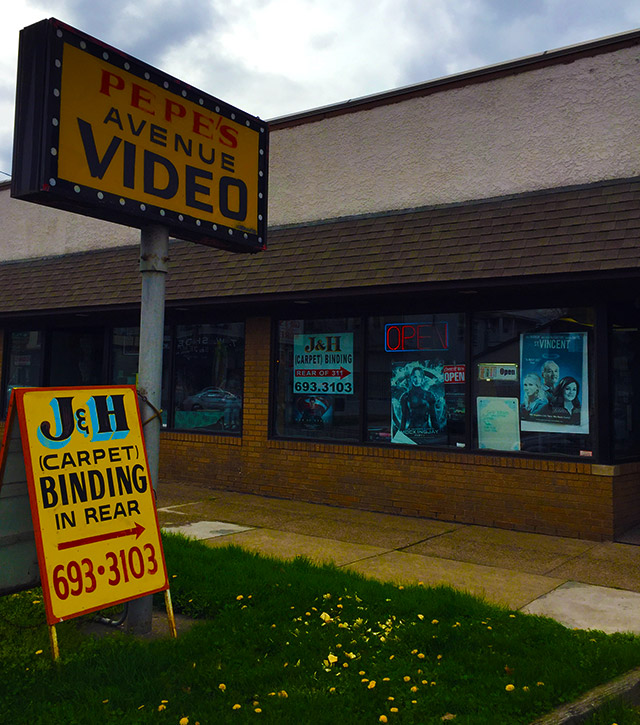 Finally, we hit our target. Pepe's Avenue Video. I was only half-sure that Pepe's was still in business, but the few photos I'd seen suggested that it was worth the risk.
We had to kill an hour before we could go inside, because apparently the only things that open in Wyoming before 3PM are wineries and Dollar Generals. Read More…
We took a trip to Pennsylvania on Saturday, hunting for more old video stores. My heavy foot shaved an hour from what should've been a 3+ hour drive, but it was still a long day on the road.
The itinerary led us through parts of Pennsylvania that were only suburban in a borderline way. As someone who previously only knew the state for whatever was in Philly, it was so cool to see the smaller, quirkier towns, which felt trapped in the past in all the best ways.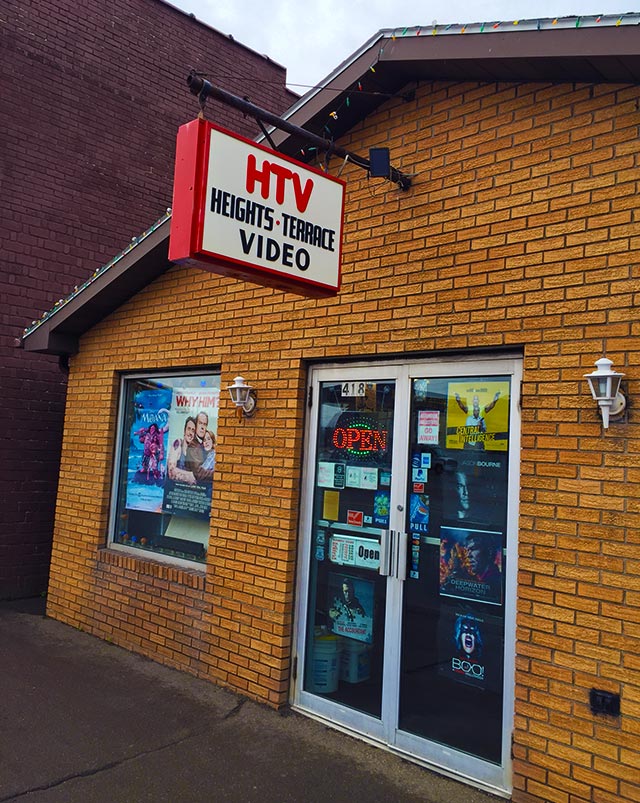 Our first stop was Heights-Terrace Video, in Hazleton.
I don't know when it opened, but it's obviously been around for longer than some of you have. Read More…
Welcome to the 39th edition of Five Random Action Figures.
Just one more to go before I'll have reviewed 200 different figures in this series, which I'll of course use as an excuse to buy fancy old toys that aren't already collecting dust in the unsightly bins stacked exactly four feet behind me.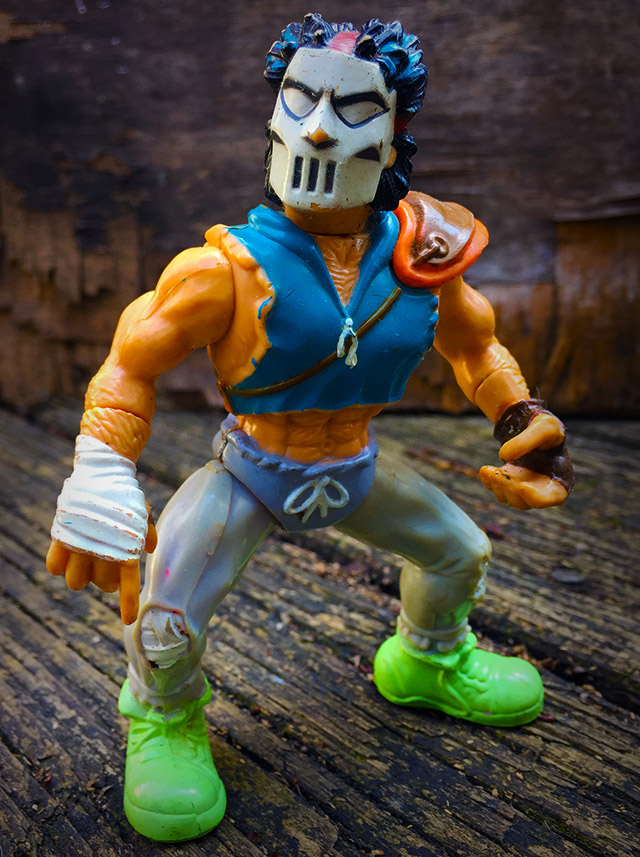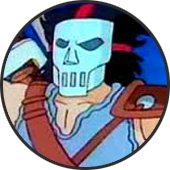 Casey Jones
Teenage Mutant Ninja Turtles (1989)
During the original TMNT boom years, Casey Jones was the man. In the cartoon, he came off like Jason Voorhees mixed with the Toxic Avenger mixed with Wolverine. In the live action movies, he was more like Captain Lone Starr mixed with a friendlier CM Punk. Both medleys worked. Crazy worked.
Naturally, the action figure was based on Casey's appearance in the cartoon. I don't know how to describe his outfit, other than to say that it looks like something you can only wear if you live on boiled chicken and Bowflex Max Trainers. I only live near them.
The mask is decidedly more "Jason" than "random goalie," while the sneakers look like some special edition pair that were only on sale for one day at select boutiques. We all have our vices. Read More…
Apologies in advance for what promises to be a screwball article with narrow appeal. Sometimes I do these just for me.
Over the last few months, several of my favorite local stores went out of business. Before their sad remains are forever lost, I thought I'd pay tribute to them with thick paragraphs and overexposed photos.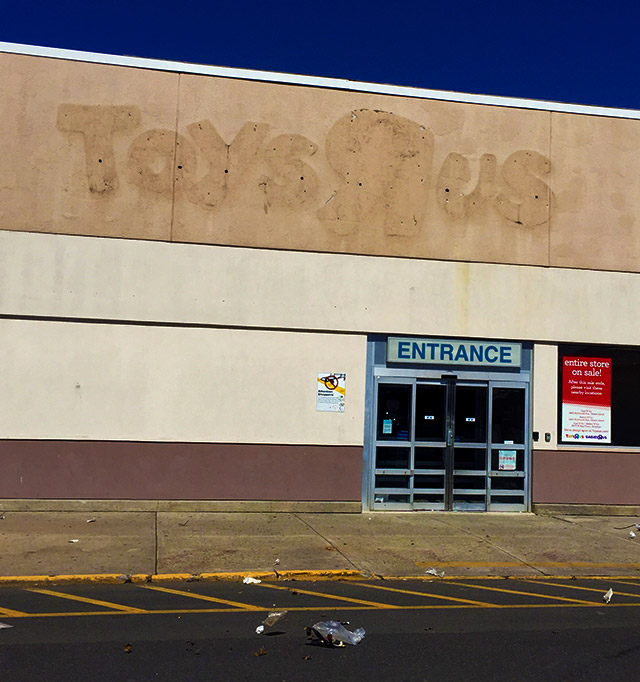 Toys "R" Us!
This wasn't my main Toys "R" Us, but it was my main backup. It'd been around since the 1990s, originally taking the spot of a Lionel Kiddie City. Up until a few weeks ago, you could still buy neon bikes there.
No matter how uniform the stores are supposed to look, each has its own identity. At this one, old stock would remain on clearance racks for far longer than the TRU norm. It wasn't out of the question to find ten-year-old toys hiding in the nooks and crannies.
Some TRU stores just feel trapped in the past. In everything from the haircuts on the employees to the too-soft lighting, walking into this one was like walking into another time. I'm gonna miss it. Read More…