10:30 AM: I'm at work. So of course I'm mapping out ways to turn gum into a hideous monster.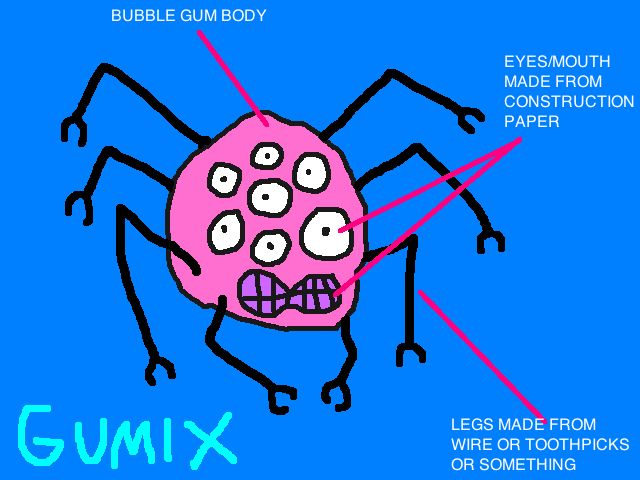 That's the formula, as I see it.
I will create Gumix as soon as I get home. Check Dino Drac later tonight, because this is going to be HOT.
Between Christmas fast approaching and the world possibly ending, I'm not going to have many more chances to post bad holiday art. So, here goes: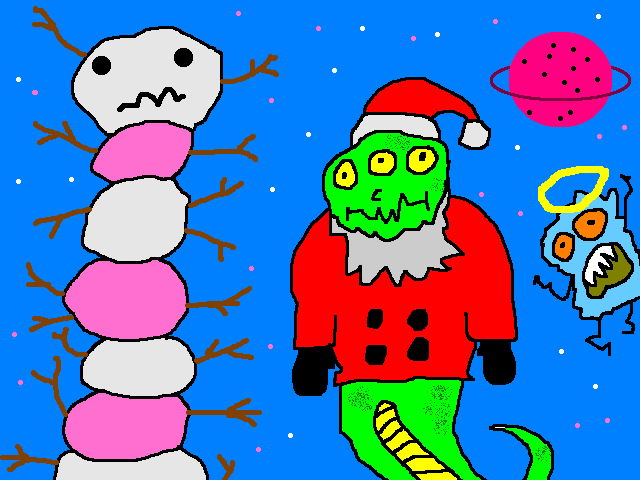 On Ker-Zerzenic, Christmas is a little different. Santa is a befuddled, three-eyed snake creature. Snowflakes fall in white and pink. Then there are the little blue guys jumping all over the place, who we'd assume to be horrible devils if not for their halos.
But remember what Danny Aiello said. "If you're frightened of dying, and you're holding on, you'll see devils tearing your life away. But if you've made your peace, then the devils are really angels, freeing you."
Ker-Zerzenic is an interesting place. Its snowmen remind me of that giant cactus from SMB2.
Here's Karen Carpenter and Shirley Manson, singing a duet at an outdoor Christmas concert.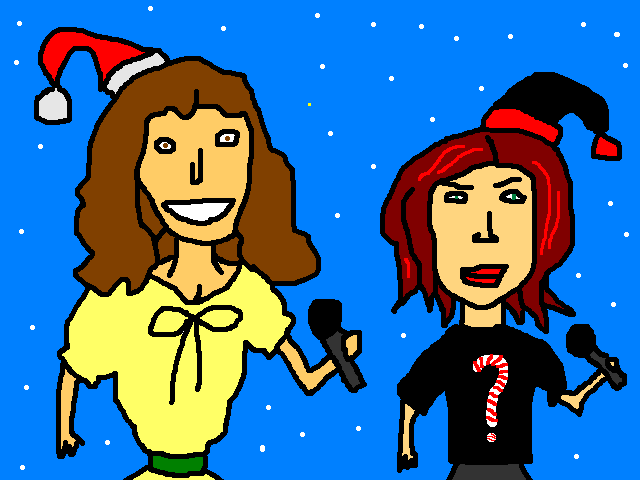 Explanation: For the past week, I've spent my entire commuting hours listening to nothing but The Carpenters' Christmas album and a Garbage greatest hits compilation.
Garbage broke big when I was in high school, and I still listen to them constantly. The Carpenters thing was really a byproduct of my Christmas obsession, because nobody – NO BO DY – has ever rocked those old carols quite like Karen Carpenter.
So, here they are, impossibly together. I am very fond of this concept.
Today is busy. I'm only BCFDAW'ing because I need to push that eel sushi off of the main page as soon as possible.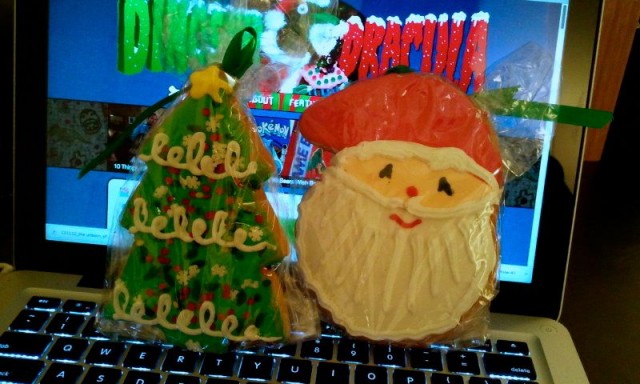 There. Much better. A palatable set of Christmas cookies, purchased for WAY TOO MUCH MONEY from one of those design-your-own-salad places. ($9 for two cookies, and no, I wouldn't have bought them had I learned that sooner. By the time I found out, I had a line of twenty angry salad people behind me. To ditch the cookies at that point would have set off a trail of sighs that even now, two hours later, would still rage on.
I'm especially fond of the Christmas tree cookie. It has icing garland in the shape of the imaginary word "lelele." The details were all but lost to the one-two punch of my shitty Android camera and iPhoto's irresistible filters, but in person, this cookie is a jolly jolt to every sense.
If judging by comparison, Santa is pretty boring. At least until you notice the fangs hiding in his beard – as if this Santa is really a monster, waiting for the right moment to out himself and eat a foot.
We decided to turn these cookies into office Christmas decorations. They're now standing partially upright, using a couple of DVD spindles for balance.
Yeah, I'm too busy to make this funny. Pretend there are jokes.
EDIT: Forgot to plug this video, made by two of my favorite Internet people, foretelling tremendous holiday hijinx that everyone should pay attention to. Good luck, Billy and Brian! Both of your names start with a B.