10:30 AM: I'm at work. So of course I'm mapping out ways to turn gum into a hideous monster.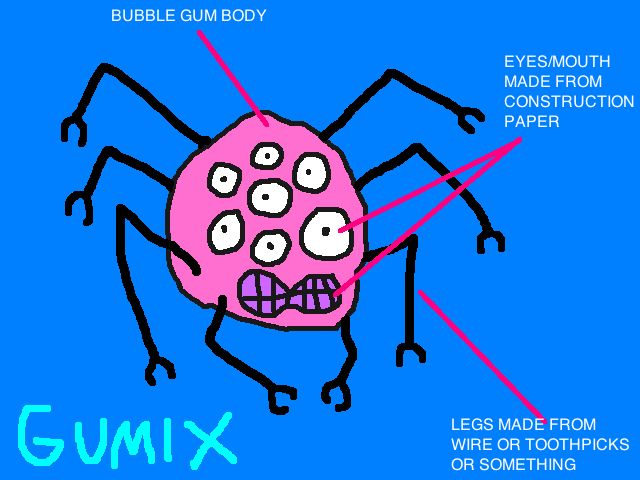 That's the formula, as I see it.
I will create Gumix as soon as I get home. Check Dino Drac later tonight, because this is going to be HOT.
Between Christmas fast approaching and the world possibly ending, I'm not going to have many more chances to post bad holiday art. So, here goes: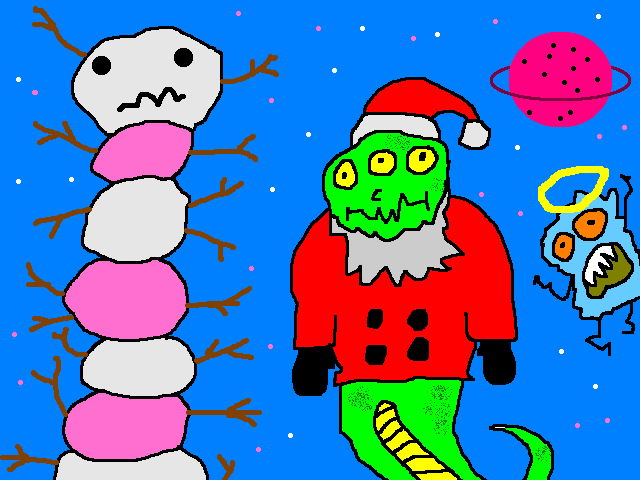 On Ker-Zerzenic, Christmas is a little different. Santa is a befuddled, three-eyed snake creature. Snowflakes fall in white and pink. Then there are the little blue guys jumping all over the place, who we'd assume to be horrible devils if not for their halos.
But remember what Danny Aiello said. "If you're frightened of dying, and you're holding on, you'll see devils tearing your life away. But if you've made your peace, then the devils are really angels, freeing you."
Ker-Zerzenic is an interesting place. Its snowmen remind me of that giant cactus from SMB2.
Here's Karen Carpenter and Shirley Manson, singing a duet at an outdoor Christmas concert.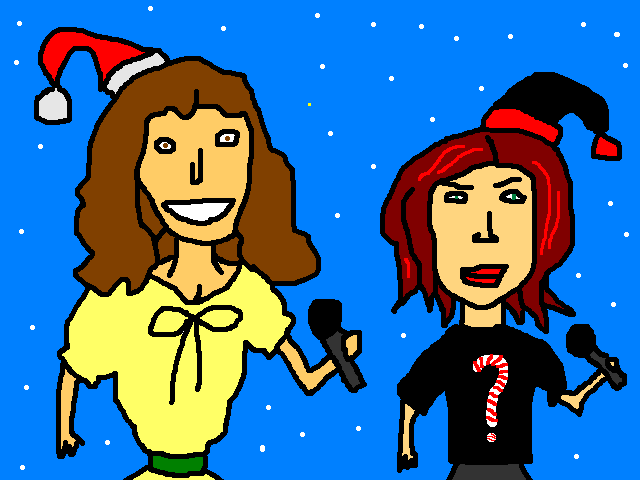 Explanation: For the past week, I've spent my entire commuting hours listening to nothing but The Carpenters' Christmas album and a Garbage greatest hits compilation.
Garbage broke big when I was in high school, and I still listen to them constantly. The Carpenters thing was really a byproduct of my Christmas obsession, because nobody – NO BO DY – has ever rocked those old carols quite like Karen Carpenter.
So, here they are, impossibly together. I am very fond of this concept.
Today is busy. I'm only BCFDAW'ing because I need to push that eel sushi off of the main page as soon as possible.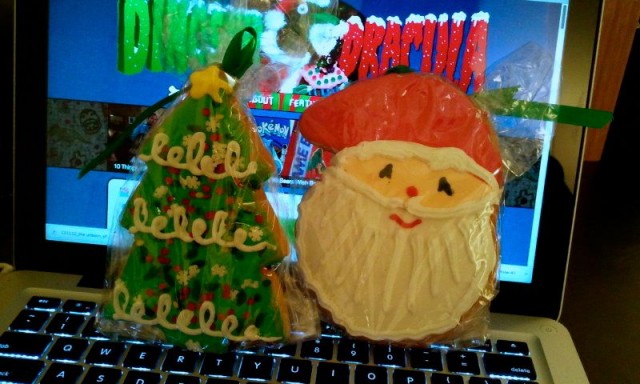 There. Much better. A palatable set of Christmas cookies, purchased for WAY TOO MUCH MONEY from one of those design-your-own-salad places. ($9 for two cookies, and no, I wouldn't have bought them had I learned that sooner. By the time I found out, I had a line of twenty angry salad people behind me. To ditch the cookies at that point would have set off a trail of sighs that even now, two hours later, would still rage on.
I'm especially fond of the Christmas tree cookie. It has icing garland in the shape of the imaginary word "lelele." The details were all but lost to the one-two punch of my shitty Android camera and iPhoto's irresistible filters, but in person, this cookie is a jolly jolt to every sense.
If judging by comparison, Santa is pretty boring. At least until you notice the fangs hiding in his beard – as if this Santa is really a monster, waiting for the right moment to out himself and eat a foot.
We decided to turn these cookies into office Christmas decorations. They're now standing partially upright, using a couple of DVD spindles for balance.
Yeah, I'm too busy to make this funny. Pretend there are jokes.
EDIT: Forgot to plug this video, made by two of my favorite Internet people, foretelling tremendous holiday hijinx that everyone should pay attention to. Good luck, Billy and Brian! Both of your names start with a B.
There's a new feature up, listing ten strange and wonderful things I want from National Lampoon's Christmas Vacation. (Including Aunt Bethany's cat food Jell-O. Yes.)
For today's BCFDAW, I'd like to introduce you to the "Christmas roll."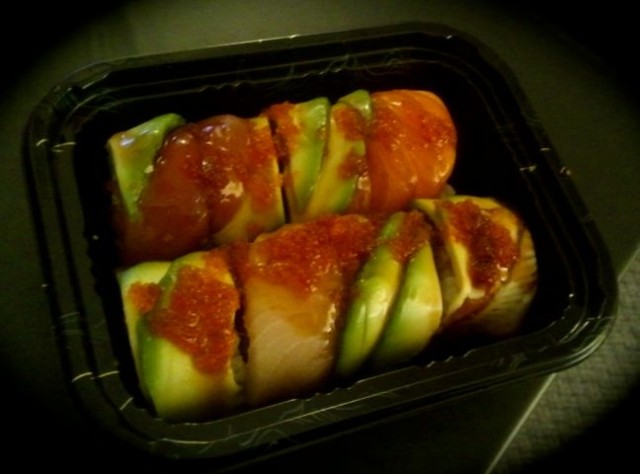 Several of New York's sushi joints are offering special "Christmas rolls" for the holidays. No two are alike. The one shown above is entirely different from the Christmas roll I ordered back in 2004, and in a word, it's INTENSE.
It's from a restaurant called Fuji Rising Dragon. I pray I will encounter more things with names that awesome.
Here's how Fuji (Fuji RISING DRAGON!) describes the roll, verbatim:
Spicy tuna with tuna, salmon, yellowtail, eel and avocado with tobiko eel sauce.
In other words, I bought this for photographical use only — not so I could eat it.
I love sushi, I really do. But I'm also a big baby when it comes to it. Not to the level of only eating California rolls, but certainly to the level of pissing myself at the mere THOUGHT of "eel sauce." I can think of a hundred ways to get sauce from eels, and none are pleasant.
EDIT: Okay, so as several of you have pointed out, "eel sauce" doesn't exactly mean "sauce made from eels." It's more like a sauce you put ON eels. I don't care. It's still gross. I will defend to my dying day the right to believe that eel sauce is gross. (more…)
It's Friday. Fantastic freakin' Friday. I'm so looking forward to having time to put more on the site than bad doodles and pictures of plastic shovels. But, since it is not the weekend yet, I must do what is necessary to survive: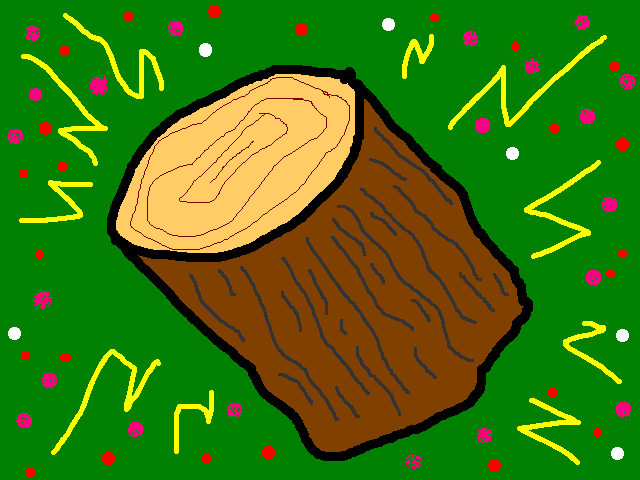 That's a Christmas tree trunk. You know, the part you slice off before setting the tree into its base. Apparently, those specific "cut pieces" are called "butts." I can assure you that I will NEVER call them that. "Log," okay. "Butt?" Never. I'm sticking with trunk.
Some people were sticklers about getting the wishbone from the Thanksgiving turkey. Me? I was much more focused on hunks of Christmas tree wood. Even if I typically misplaced those hunks within five hours, I just adored the idea of keeping mementos of dead Christmas trees.
Plus, for a while at least, they stunk of pine and were sticky-in-a-fun-way.
Today we pay tribute to the cut parts of Christmas tree trunks. Cheers, trunky.
Over on Dino Drac's Facebook page, several readers obliged me with suggestions for a painted-at-work Christmas montage. Here's what I had time for. (Actually, in no way, shape or form did I have time for this – but I did it anyway. You can't fire a freelancer. You can only pretend he died.)

1. Estelle Getty, dressed as Dinosaur Dracula, dressed as Santa Claus. (Suggested by Jeff S.)
2. McDonald's legendary Holiday Pie, with its wonderful circus sprinkles. I'd love to review this for real, but the all of the McD's restaurants around here treat me like a crazy person when I ask about it. (Suggested by Louis Q.)
3. Crystal from Roseanne, sadly drinking a glass of Cranberry Sierra Mist. (Another suggestion from Jeff S.)
4. An argument with an older relative about politics or racism. (Suggested by Jessica D.)
5. Eggnog monster. (Suggested by Clay A.)
6. Jason Voorhees topping a Christmas tree with Sally's head. (Suggested by Bill W.)
7. Michael S. suggested "the Christmas special version of a horror franchise." I almost followed his directions, and came up with Bellraiser, the story of a Cenobite-turned-Salvation Army guy.
8. Five golden eggs. (Suggested by Jonny L.)
9. Fruitcake creatures. (Suggested by Amber I.)
Thanks, guys. Guess I should go earn a living for an hour.