Deadsites rages on with its second edition. Today's website is about old soda and Papa Roach.
No guesses? Fine. Here's an obnoxiously tall hint: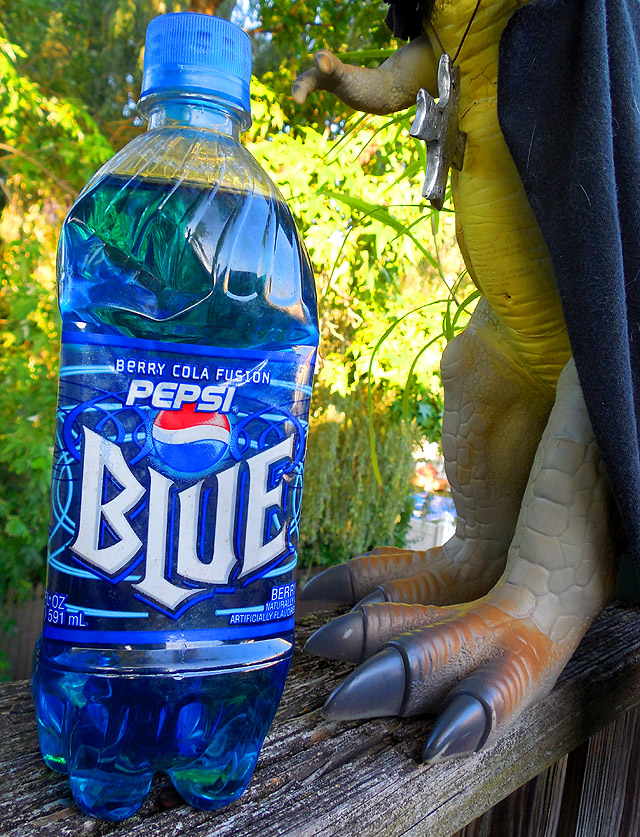 Yep, we're about to revisit the official website of PEPSI BLUE, from 2002!
I wrote about this stuff when it was brand new. (I'm old, you see.) I was hard on it, but I was hard on everything back then. Time has softened my perspective, and I can now appreciate the concept of a beverage made to look like electric poison.
Marketed as a "berry cola fusion," Pepsi Blue was one part seltzer and ten thousand parts liquid Fun Dip. I wasn't a fan of the flavor, but in retrospect, that had nothing to do with Pepsi Blue. I don't like weirdo fruity sodas at all, no matter who makes them.
Unless they're cherry. Cherry gets a pass. Because cherry blends.
Pepsi Blue lasted less than two years in Da States, but not everyone hated it. Those who did probably cared less about what it looked or tasted like, and more about it being called "Pepsi." The difference was in name alone, but let me put it this way: If Perdue started selling grapes, they'd fail, because nobody would want a bag of grapes with a "Perdue" label on it. Funky blue soda was fine, but they shouldn't have called it "Pepsi."
The drink's inability to become a big deal must have stung, because Pepsi truly gave it their all. The TV commercials were lavish in everything from staging to music licensing, and they even built Pepsi Blue its own unique website, which stood apart from their other products.
Let's check it out! (more…)
It all started with the marshmallows.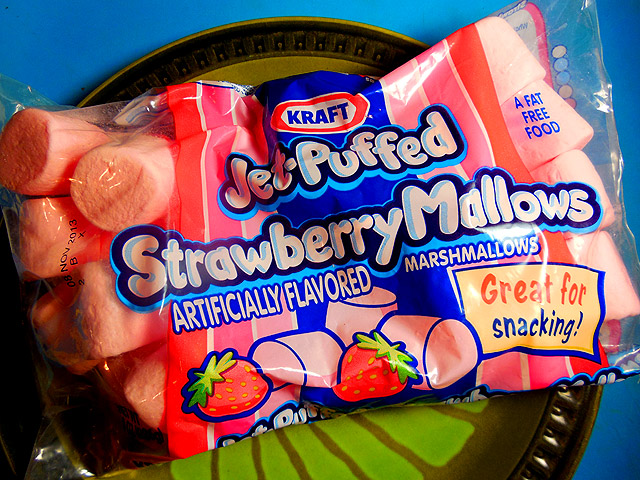 Kraft's "Strawberry Mallows" are pinker than pigs, and I can never say no to a new type of marshmallow. (I understand that these might not be new, but I'd never seen them before this weekend.)
It's a sick habit, really it is. I don't even like marshmallows that much. I buy every kind, and then they just rot in our kitchen cabinet, patiently awaiting a purpose that never comes. There must be at least five expired bags of marshmallows in there, right now. I could prove this if challenged, but please don't make me.
Only the kinds that I end up writing about avoid this fate. Strawberry Mallows, count yourselves lucky.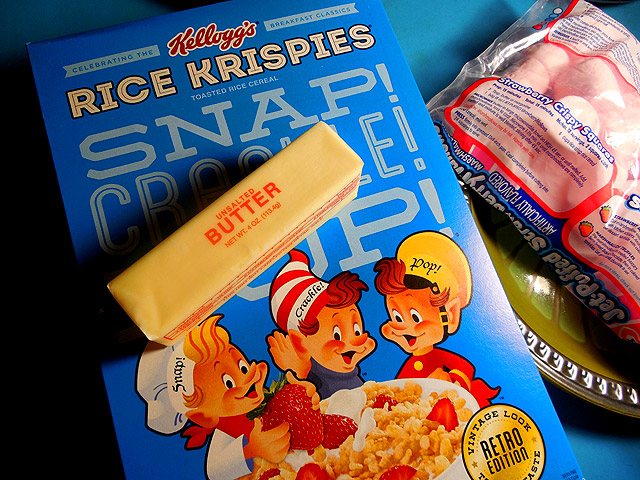 There was a recipe for "Strawberry Crispy Squares" on the back of the bag, and I knew what that meant.
PINK RICE KRISPIES TREATS.
I had to make them. (more…)

I've received no less than two dozen messages from readers eager to hear my thoughts about Nabisco's new Watermelon Oreos. And if we remove the word "dozen" from the preceding statement, it'd actually be true.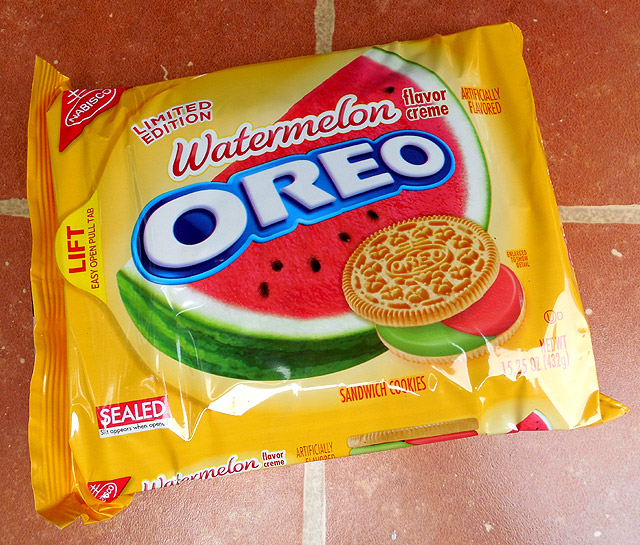 Behold, Watermelon Oreo cookies. On one hand bizarre, yet still perfect for summer. I've become so desensitized to Oreo upgrades that nothing surprises me anymore, but for those who haven't closely studied Nabisco's obsession with freaky Oreo flavors over these past many years, I concede that this may be big news. If you're wondering why I'm writing like this, I finished reading A Game of Thrones literally fifteen minutes ago.
(Biggest differences between that and the TV show? I guess I can't mention them here without being spoileriffic. I will say that the Eyrie sounded a hell of a lot more impressive in the book than it looked on television. I was especially fond of the mules!) (more…)
I found patriotic Pop-Tarts.
Okay, so exactly how popular are Pop-Tarts, anyway? I can't name another food that gets anywhere near this many special editions. Kellogg's goes nuts for every holiday, and I don't just mean the big ones. If it's on the calendar – any calendar – Kellogg's makes a Pop-Tart for it. (For some holidays, they even make two!)
So no, I'm not surprised to see these. Frosted Red, White and Berry Pop-Tarts are "bursting with berry flavor" and colored like our nation's flag. More importantly, they arrive in a box so aggressively celebratory that I'm halfway crocked just from looking at it. (more…)
There's a new Wolverine movie coming out next month. I know nothing about it.
But I noticed that the internet was going crazy this morning, when news broke of a pair of Wolverine-themed hamburgers now available at Red Robin: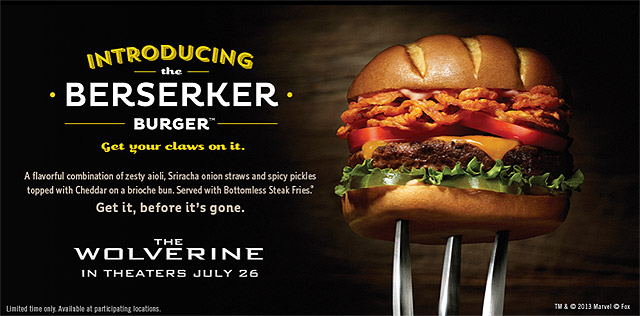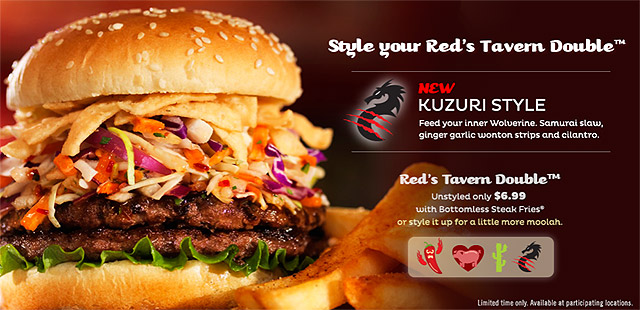 I live for silly, fleeting promotions like this! Just imagine the events that led people to decide that hamburgers were the best way to raise awareness about a Wolverine movie. I think about that, and I marvel.
This was not something to be experienced from afar. I needed to be on the front line. I was willing to break a decade-long abstinence from shopping mall restaurant chains to make it happen. I was going to find this beef, eat it, and hopefully live to tell the tale. (more…)