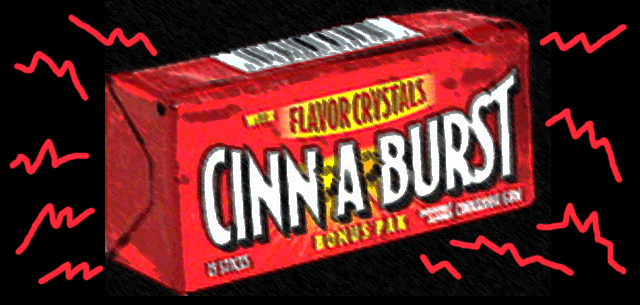 Surely you remember Cinn*A*Burst!
The legendary gum was Warner-Lambert's attempt to do battle with Wrigley's Big Red. How on Earth did they lose that war?!
Cinn*A*Burst hit the scene in September of 1991, just as I was entering the seventh grade. I hated all of middle school, but the seventh grade was a special kind of awful.
I was awkward and unpopular. I wore terrible clothes. My hair looked like the world's biggest mushroom cap. My primary modes were "easy to ignore" and "easy to target."
I mention this not to be maudlin, but because Cinn*A*Burst was actually my best weapon against the perils of junior high. In the seventh grade, you could buy your way out of plenty of trouble with the right gum.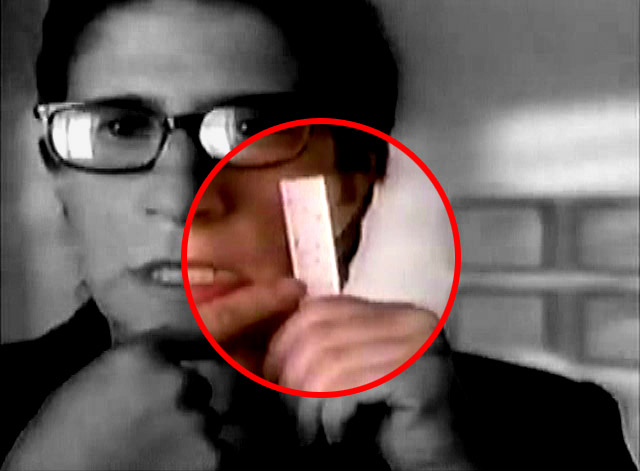 Cinn*A*Burst was infused with "flavor crystals," giving it a boost of candied spice and an oddly pleasant crunch. Everybody loved Cinn*A*Burst. At least, every kid in my junior high school did.
Five days a week, I'd bring at least six packs of it to school with me. Generally speaking, the kids I might've had issues with chose to let me live… as long as I shared my gum. I was like Augustus with his corn doles, only instead of becoming a beloved ruler, my reward was to not get punched in the ear.
I don't know exactly when Cinn*A*Burst stopped being made, but it did. By then, I wasn't paying attention. This amazing gum that meant so much for my mouth and social status went out with a whimper, and I'll forever regret not being there during its time of need. All I can do now is help to keep the memory alive.
To jog your memories, below are examinations its five best TV commercials: (more…)

New video!
Back in 1994, Wrigley teamed up with Sega to bring us SONIC THE HEDGEHOG LIFE SAVERS.
There were two types. "Blue Rad" was a tongue-coloring raspberry flavor, while "Hot Rings" was a spicy beast that I actually still had a pack of.
This is their story, complete with a Hot Rings taste test:
And now I'm once again dying for a pet hedgehog.
Remember to subscribe to Dino Drac on YouTube!

With summer just over a month away, I'm only a little early in launching Dino Drac's latest recurring feature. Introducing The Popsicle Parade, a multi-part series celebrating dozens of the wonderful things we used to buy from ice cream trucks!
There's a certain "artistry" to popsicles that's easy to admire. The colors! Those weird shapes! The impressive skill with which random cartoon characters' heads were somehow forged out of quick-melting water ice!
Nearly none of the treats I'll be featuring are still on the market. They came out at various points in the past 25 years, delighting our eyes and stomachs for a limited time only. Don't let any of these things make you too specifically hungry, because you just can't get most of these beauts anymore.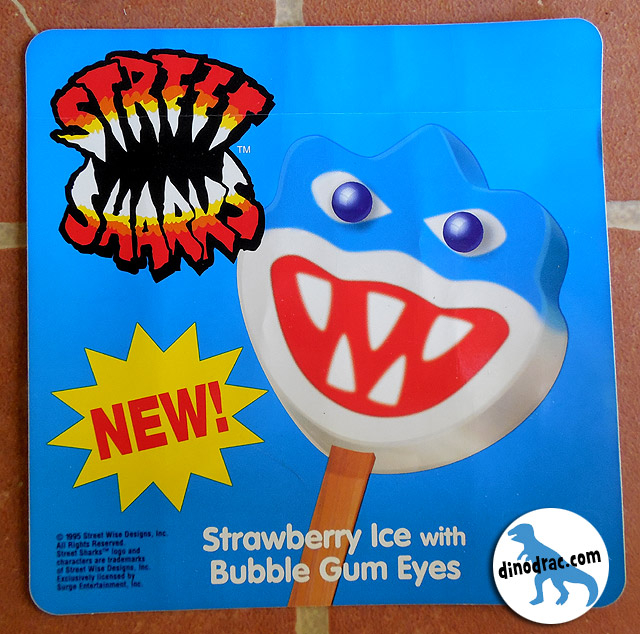 #1: Street Sharks Popsicle!
Street Sharks was a mid '90s cartoon about heroic shark-men who battled a bunch of bizarre humanoid sea creatures. You could whittle it down to "Ninja Turtles with sharks," but the series wouldn't have such a cult following if the story stopped there. (Of course, the fact that Street Sharks had such amazing toys didn't hurt.)
This popsicle takes its likeness from Ripster, the "great white" Street Shark who served as team leader. Course, you don't need to care one bit about the series to appreciate a shark popsicle with tiny bubble gum eyes. The fact that its flesh was made of somewhat unusual strawberry ice made it all the sweeter. (more…)