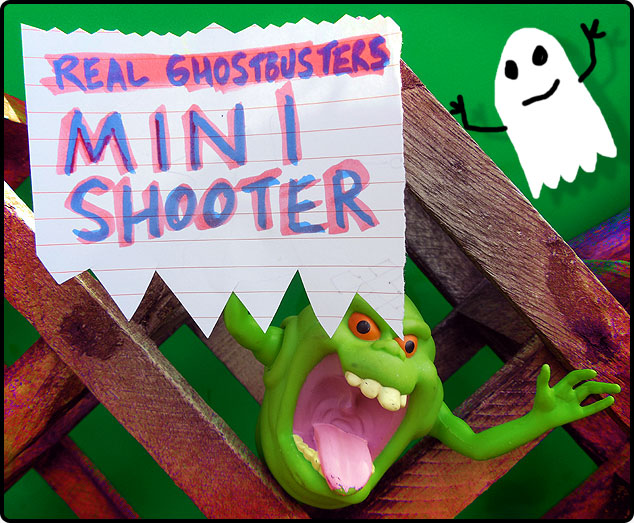 As it relates to Kenner's Real Ghostbusters toys, I was always much more into the monsters than the Ghostbusters themselves. Egon and friends were neat, but the ghosts were where the line shined brightest. They had no "template" mold or style, and each was vastly different from the last.
The Slimer and Stay Puft figures will always be my favorites, but once you got past them, Kenner came up with many incredibly creative ghouls. Some were based on the cartoon series and others were exclusive to the toy line, but all were just too delightfully weird to, as they say, "not want."
Here's one example. A big wormy ghost who treats smaller ghosts like cannonballs!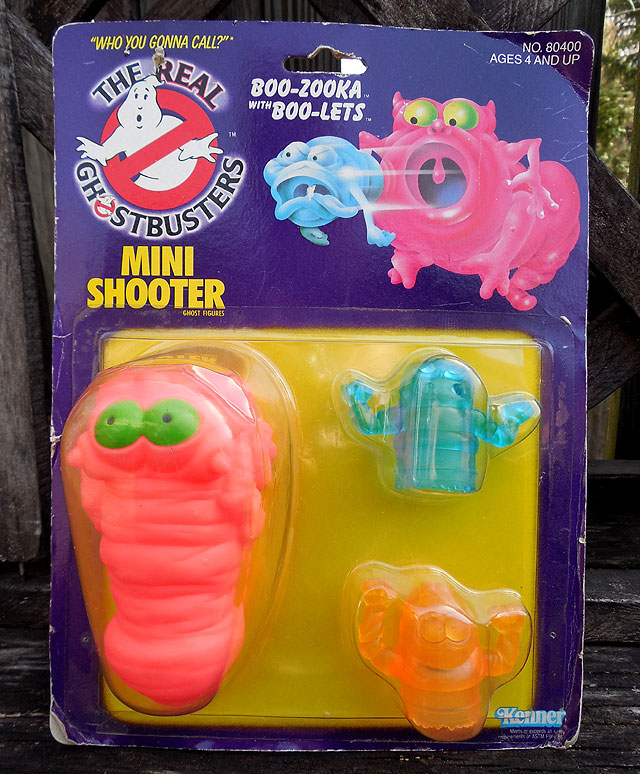 The Mini Shooter debuted in 1986. Admittedly, the name kind of sucks. "Mini Shooter." Sounds like some terribly overpriced Applebee's thing. Fuck that.
If we can get technical, it was actually a three-figure set, not to mention a toy that came with an open invitation for kids to beat the hell out of it.
It was my final find from last month's horror convention. The dealer wanted $15, but it's amazing what $10 can buy when you put on the doe eyes and pretend that it's all you have left. (more…)
Today: A giant killer Jolly Rancher.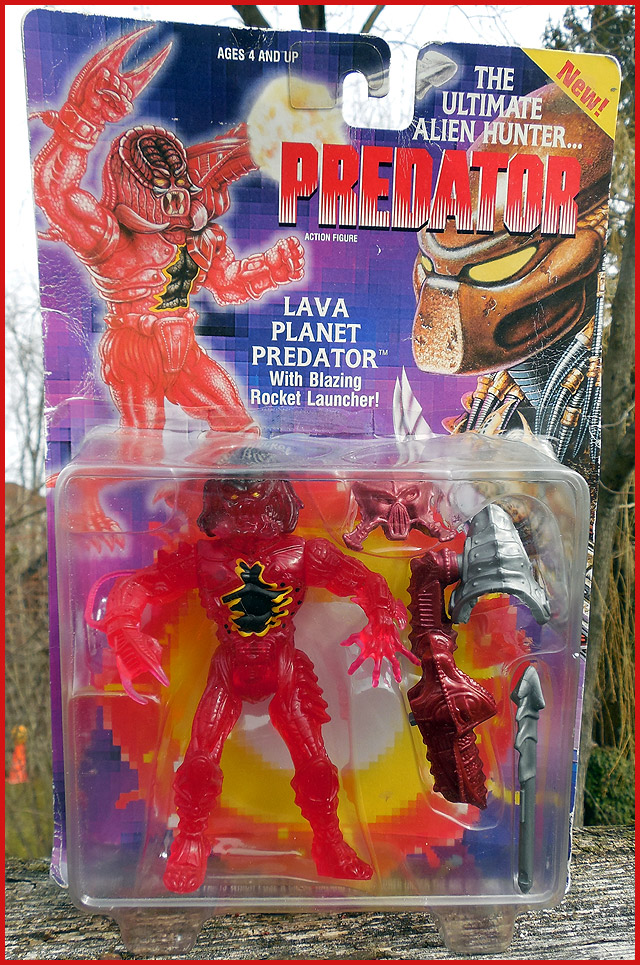 Released in 1994, it's Lava Planet Predator, part of Kenner's sprawling line of Predator, Aliens and Aliens Vs. Predator toys.
My interest in these characters hadn't fully bloomed by mid '90s, but now that I've put in the research, wow, this was a fantastic line. Both the Xenomorphs (Aliens) and Yautja (Predators) turned up in their true-to-film looks, but there were other figures that spat in canon's face in unbelievably great ways.
I'll tell you more about that later. First, let us celebrate this candied Predator. (more…)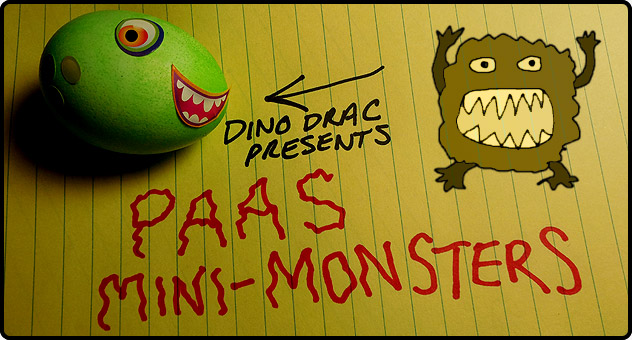 Easter is approaching. As longtime readers know, it's far from my favorite holiday, owing to everything from its hideous pastel colors to the customary dish of a "leg of lamb"– something I find so atrocious that it took me a literal minute to even type it.
But there are good things about Easter, too. Namely the eggs. Dyeing hardboiled eggs never gets old. If you disagree with that, you're in luck, because there are kits available that let you do a heck of a lot more than just "dye" the eggs. This is one example. Perhaps the best example.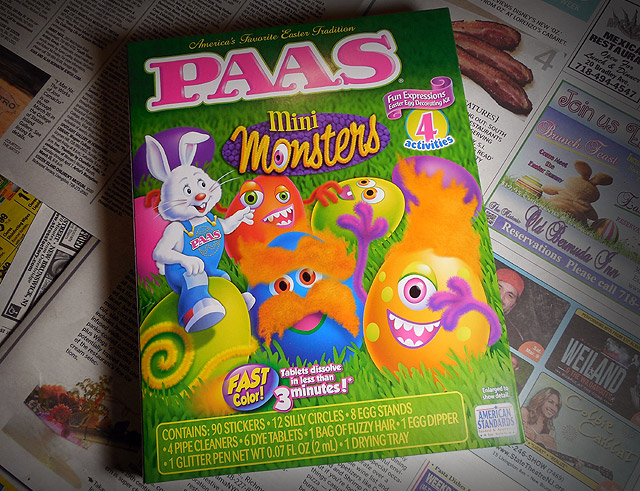 It's a kit that allows us to turn eggs into "Mini-Monsters." Paas didn't hyphenate it, but I'm going to.
I can't remember what it cost. Two bucks, maybe? For some reason, egg dyeing kits never seem to be as horribly overpriced as other holiday items. There's only so much you can charge for a couple of dye tablets and a wire "egg dipper" that never, ever works as well as a normal spoon.
Did I have reservations? Yes! This must be Paas's ten trillionth Easter egg kit, and having seen so many of them, I know that they're hit-or-miss. Or is that hit-and-miss? The second one seems more commonly used, but the first one makes more sense. If you're reading this and thinking that I sound half-asleep, your insight serves you well. It's three o' clock in the morning. (more…)

I like robots. We all do.
In my tween years, I made a sincere attempt at building one. Using an upside down goldfish bowl for the head, my robot was held together with ten rolls of masking tape, had five or six Micro Machines cars stuck to its bottom, and could only "speak" in Jackie Mason's voice, thanks to a button-activated novelty keychain hidden on its back.
That ridiculous robot meant the world to me, but it fell short of my grander plans. I grew up on a steady diet of truly awesome robots on television and in movies, and I wanted one just like them. I wanted it to move by itself and think for itself. I wanted it to fetch me things from the kitchen. I wanted it to listen when nobody else would.
Basically, I wanted it to be like one of the dudes featured below. Behold, five great robots that rock my socks: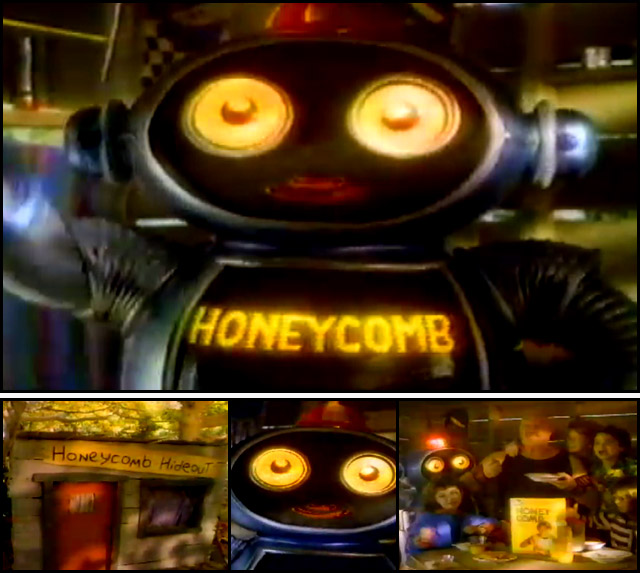 #1: The Honeycomb Robot!
Seen in: Various Honeycomb cereal commercials of the '80s, like this one.
Back in the mid '80s, Post's Honeycomb cereal commercials were things of beauty. Having very little to do with the cereal itself, they were thirty-second movies about kids in an amazing clubhouse, dealing with a variety of intruders. (Up to and including Andre the Giant!)
It was called Honeycomb Hideout. It'd been around since the '70s, but it wasn't until I was a kid that the clubhouse got its grandest upgrade: A goddamned ROBOT who apparently lived there.
Mixing classic robot features with an outfit suitable for space aliens, Honeybot (not his official name, but I need to call him something) filled my seven-year-old head with insane, burning hot envy. It was bad enough that these kids had such an incredible clubhouse, but to go and add a robot to the mix?
It was the kind of clubhouse most of us could only dream about, being more like a miniature real house than a simple "shed." But Honeybot just pushed it so far over the top. I would've given anything to be a member of this club.
Honeybot also had the ability to speak, and did so using an adorably mechanized inflection that forced me to love him even more.
Plus, he was covered in all sorts of lights! Vegas in robot form! I especially dug his eyes, which made him look something like an extremely trusting cyborg owl. (more…)