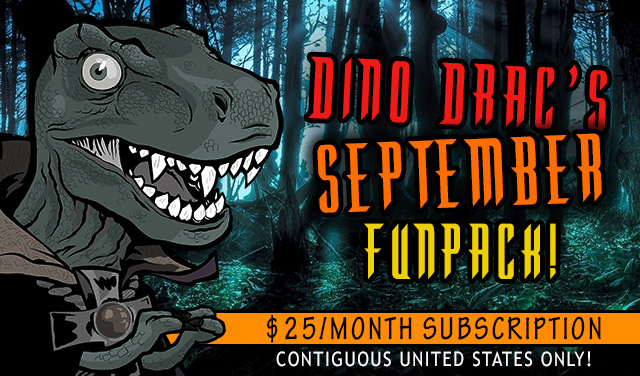 Dino Drac Funpack subscriptions are back on sale! $25 a month, for a new box of weird junk, every month!
Subscribe now and you'll start with the SEPTEMBER 2014 FUNPACK — which, since the site will be firmly entrenched in the Halloween Countdown by then, has a nice dose of scares!
If you're already subscribed and would like to stay that way — do nothing! You're all set.
If you're NOT subscribed and you're pretty sure you want to be, I would advise you not to wait too long. Subscriptions starting with the September Funpack are available through 9/7, but there is a pretty fair chance that they will sell out before then. (Once I'm out of supplies, I'm out of supplies, and you'll have to wait another month!)
Let's see what September has in store!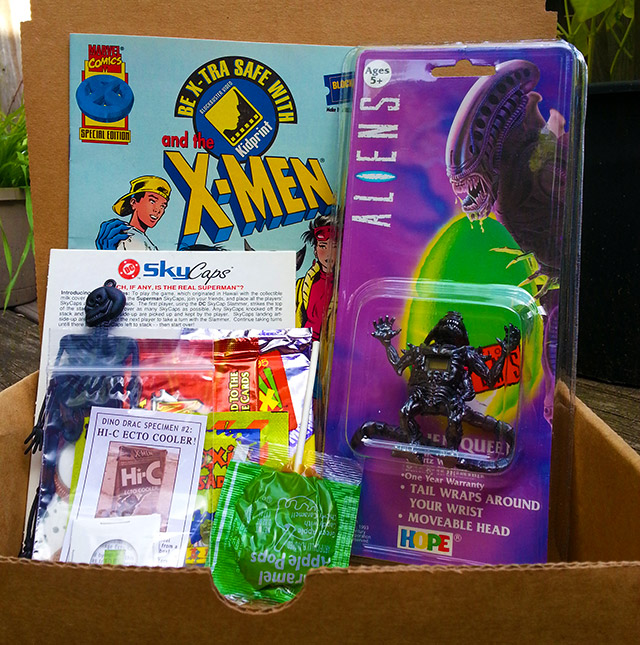 (An almost complete sample of a September Funpack!)
While the Funpack shown here is for example purposes (some contents may vary), ALL existing and new subscribers WILL receive the following:
* The first of two Halloween-themed Ugly Mini Posters! (Not shown in the photo.)
* An all-new DINO DRAC SPECIMEN, which I'll tell you about in a minute!
* An incredible Aliens digital watch from 1993, still in package! Your new Halloween mascot!
* Packs of old trading cards! (Yes, some packs have a spooky theme!)
* And other things that you'll have to wait to see, but the photo above will give you some example of what you may find.
I think these will kick off your Halloween season in excellent fashion.
Oh, and about that specimen… (more…)

UPDATE: The Big Boxes of Joy sold out in record time. Thanks, all! Still have some Merry Mini Funpacks left — see below! For those
dying
for a Box of Joy, I'll see if I have enough replacements to cover a few extras later this week.
E-mail me
if interested and I'll be in touch!
The holidays are mainly about squeezing everyone dry, so I'm here to sell you random junk!
These occasional sales have become critical for my continued existence as "this blogger guy."  I like to think of them as "donations with benefits." That makes it easier for me to explain why anyone would buy old lunch bags.
This time around, I have two options for ya. First are Dino Drac's BIG BOXES OF JOY, which are kinda expensive and in very limited supply. For those looking for something cheaper, I've also put together a batch of MERRY MINI FUNPACKS.
Details on both are below. Please note that some of these items have appeared in previous Funpacks, so pay close attention to the details. If you've bought something before and hate doubles with a passion, I won't blame you for skipping these!
First up… THE BIG BOXES OF JOY!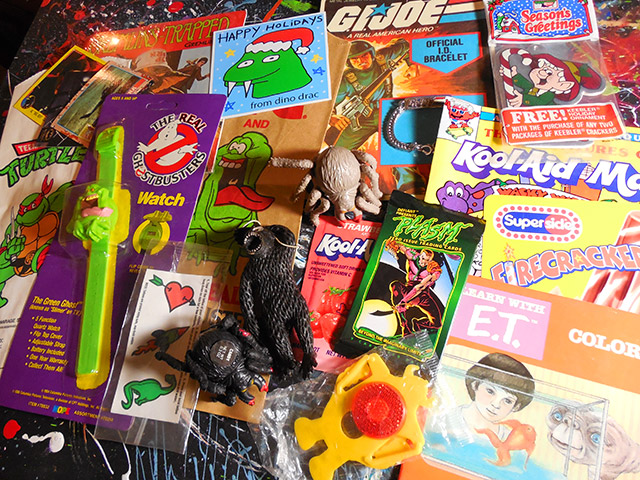 (Sample Box #1)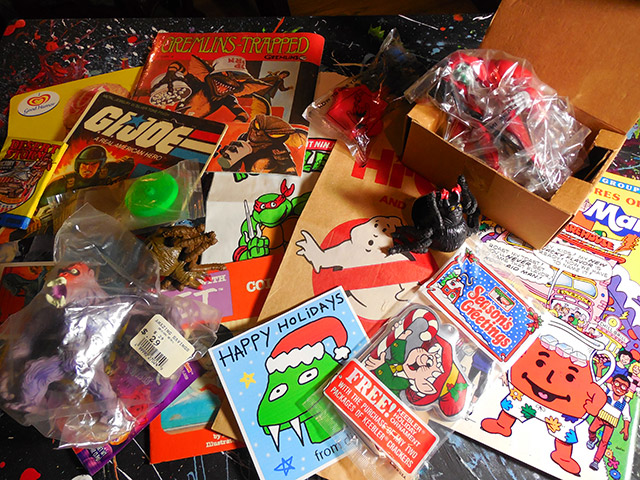 (Sample Box #2)
Dino Drac's Big Box of Joy
Price: $50, shipped anyway in the continental U.S.
(Sorry, U.S. orders only!)
Feeling lucky? Like to gamble? Then this is the thing for you. A whole box of RIDICULOUS STUFF, sure to entertain you for a solid fifteen minutes!
No two boxes are exactly alike, but each *definitely* includes the following:
– A 1982 G.I. Joe ID Bracelet, mint on card!
– One "top shelf" item, such as a Real Ghostbusters Slimer Watch, a Thundercats "Mail-Away Mumm-Ra" figure or something like that!
– A Haunted Luck Monkey *or* a promotional Congo "Grey Gorilla" figure!
– A vintage Real Ghostbusters lunch sack *or* a vintage TMNT lunch sack – and sometimes both!
– A sealed vintage Gremlins Book & Record set!
– An "Adventures of Kool-Aid Man" comic book from 1989!
– A "Learn Colors with E.T." book from 1983!
– Two sealed containers of Spider Bites candy! (Bodies are half-melted – these didn't keep so well!)
– Two vintage cereal prizes!
– A vintage packet of Kool-Aid!
– A random pack of trading cards!
– A random promotional Christmas ornament from the '80s, featuring the likes of the Keebler Elves or the Energizer Bunny!
– Dino Drac's Tiny-Sized Tacky Christmas Photo!
– Plus extra cards/stickers/surprises!
Wow. That's a lot of crap! (more…)
It's finally here!
Dino Drac's 2013 Halloween print is NOW ON SALE!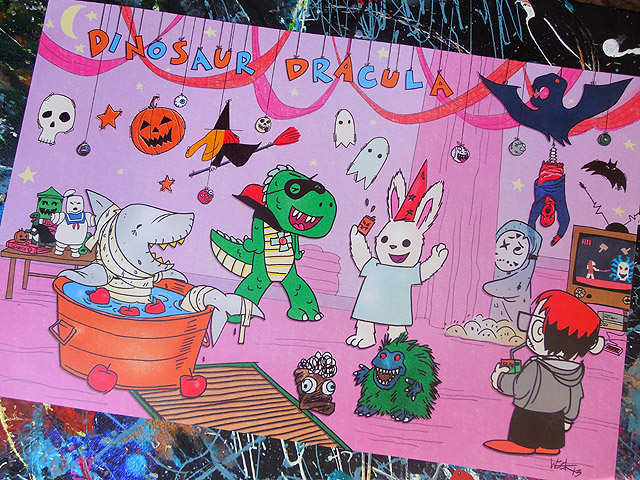 (click here for a larger version)
Created (as usual) by Jason Week, this year's print pays homage to – you guessed it – It's the Great Pumpkin, Charlie Brown.
Of course, Dino Drac's version of the party has an entirely different cast. There's Mummy Shark, Harley, Leviathan, Larry, Madd Matt, Shrunken Apple Head, and Dinosaur Dracula himself. This is not a poster for anyone who hates Dino Drac Dot Com!
The prints are 11×17", printed on nice, glossy cardstock, and will be mailed FLAT. Expect a big ass hard envelope if you order one.
They're $25 each, shipped anywhere in the United States, or $30 shipped anywhere else. Ordering info is at the bottom of this page, but first, let's take a closer look the details! (more…)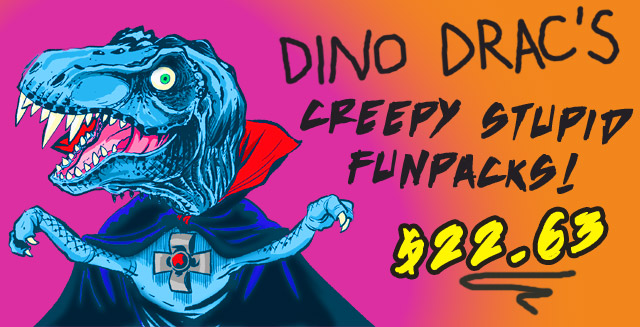 This next week's going to be pretty light on serious content, as I have about a million things to get done in preparation for the 2013 Halloween Countdown. Which starts NEXT FREAKIN' SATURDAY, YASE YASE YASE.
Remember to keep up with the site on Facebook and Twitter in the meantime. Once the Countdown starts, it's not stopping for two straight months.
Now then!
After the somewhat surprising success of the Cruel Summer Funpacks, I was motivated to test out the law of diminishing returns.
Introducing… Dino Drac's Creepy Stupid Funpacks!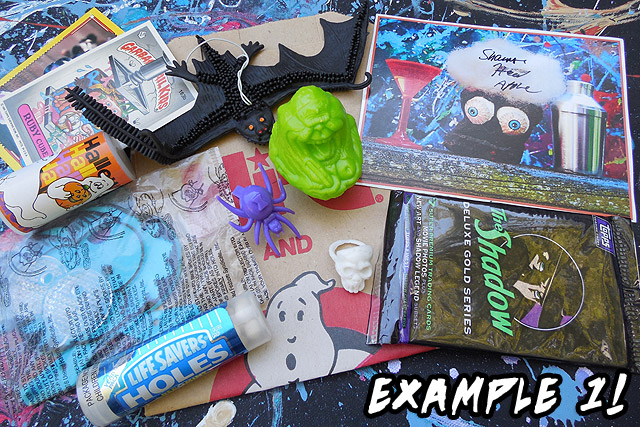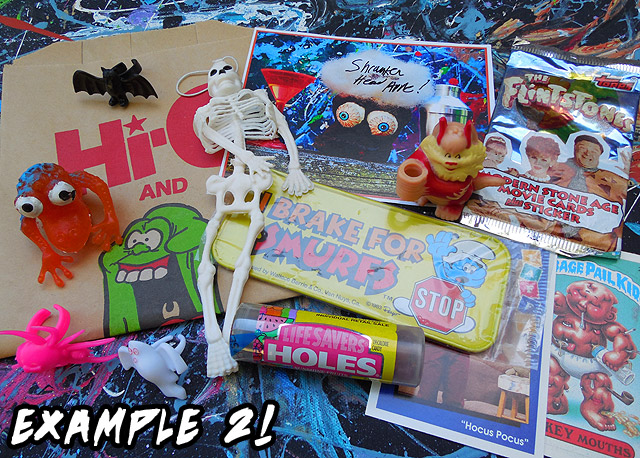 For $22.63 (shipping included), you'll get a package just like one of the examples shown above. This time, it's a mix of classic nostalgia items along with a few hints of Halloween. Here's the quick-and-dirty breakdown…
Each Creepy Stupid Funpack includes:
– One random sealed pack of Life Savers Holes, from the early '90s!
– One random vintage cereal premium, still sealed!
– A Thundercats "Snarf" pencil topper OR a Slimer candy head!
– One vintage Hi-C/Real Ghostbusters lunch sack!
– One random pack of old trading cards + a few loose cards thrown in!
– A small but sincere pile of Halloween toys and novelties!
– An exclusive photo of Shrunken Apple Head, signed by the man/fruit himself!
No two packs are exactly alike, but the above photos ARE of actual Funpacks – so you'll be getting something like that!
If you're already sold, skip to the bottom for ordering info. If not, let me see how I can make this stuff sound interesting… (more…)
Wellp, my most expensive site seasons are coming up, so it's time to make some money from selling you total junk!
Introducing Dino Drac's Cruel Summer Funpacks!
If you live in the U.S., they're 25 bucks shipped, and come with everything you see here: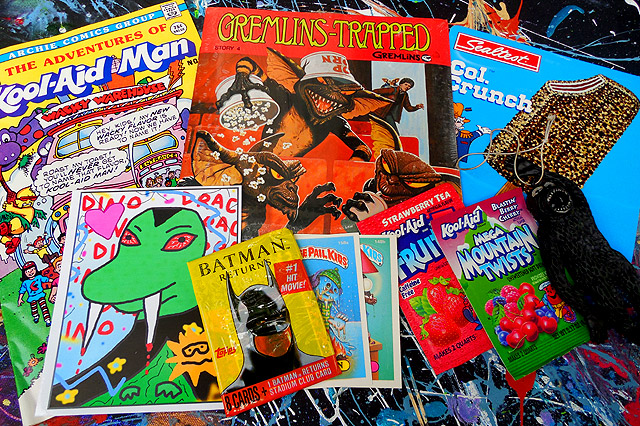 A smorgasbord of potentially-overpriced random ancient nonsense, sure to make the junkiest part of summer 5% less junky!
Ordering info is at the bottom of this page. If you're not sold yet, let me have a cup of coffee and try to make this stuff sound interesting! (more…)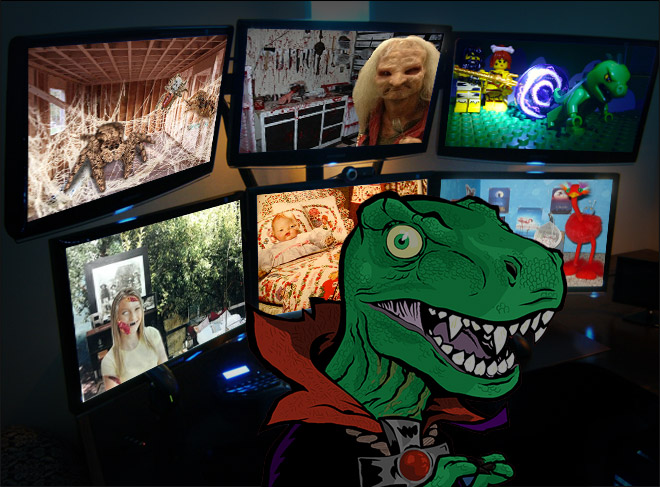 Just a note! Dino Drac's Luxury Apartments is now open for business!
(Comments closed on this post. Comment there, not here!)
Just want to alert you to two new features on Dino Drac.
First, musings about ten old soda cans, from Dr Slice to Jolt Cola. Second, the most gloriously complex TMNT Colorforms playset ever, featuring a two-level city and a little cardboard Tokka.
In celebration of these two features, here's a photo of Dino Drac, chewing through a can of Orange Crush, which for some reason is covered in Ninja Turtle Band-Aids.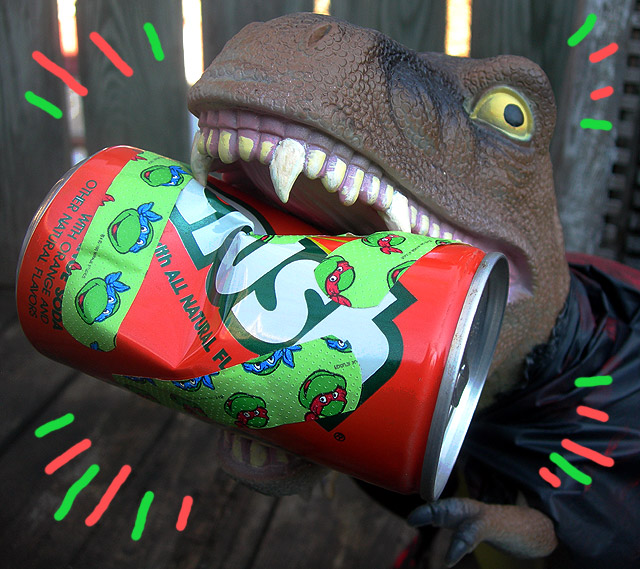 Also, one of my 2013 resolutions is to be more aggressive (obnoxious) about the site, so in addition for a plea for you to share articles when you think they're worth sharing, I'd also love to boost the site's Facebook likes and Twitter followers. (And, if you follow Dino Drac on either, you won't need posts like this to tell you when new things are published!)
I leave you in the hands of a random survey. In the comments, discuss your favorite and least favorite TV show finales. Series finales, not season finales. Due to the nature of this survey, assume the thread will be spoiler-filled.