I wouldn't normally do another edition of Five Random Action Figures so soon, but I'm creatively tapped. While my present mental faculties can handle five old toys, I'm not sure that they can handle anything more.
So, off we go! Five Random Action Figures, Part 18!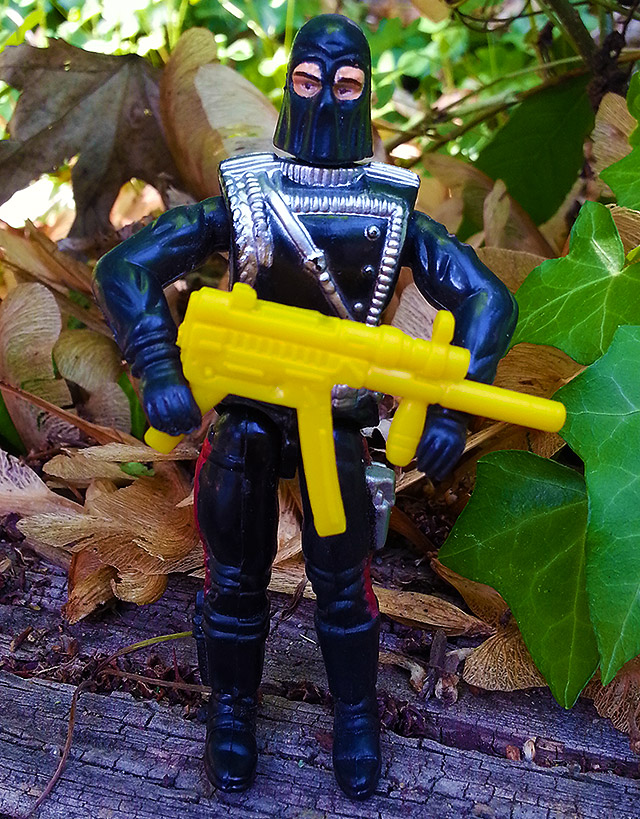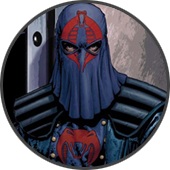 Cobra Commander!
G.I. Joe, 2002
Funpack subscribers should recognize this "special" Cobra Commander as being from a weird set of Pepsodent promo figures — yes, Pepsodent — that were distributed back in 2002. They were made in India, and I don't believe were ever available in the States.
As part of the Playskool branch of G.I. Joe figures, the figures were 100% legitimate while still seeming very "bootleg." The Pepsodent set included ten figures in all, and since I had to handle so many of them for the Funpacks, I can say with all confidence that they were very shoddily made. (Some were molded with differently-sized feet; others had cubic stumps where their hands should've been. I have a pile of these figures that were too malformed to include in anyone's Funpack.)
Many of you had black-suited Cobra Commander figures, but this one is a little different. The details are cruder, the paint is messier, and the figure isn't quite as articulated. On a stretch, these faults only add to the charm. He almost seems like a prototype, or like something you'd win from a really bad carnival.
(The Pepsodent G.I. Joe figures each came with a weapon, but not a dedicated weapon. Another Cobra Commander figure might've come packaged with a totally different gun. I chose the lemon yellow rifle, because I so enjoy the idea of Cobra's maharaja carrying that.) Read More…
It's time for the latest edition of Five Random Action Figures, which takes the total number of figures featured over the course of this series to a cool 85. We're almost up to a hundred! I'll try to plan something special for that edition, and by "special" I hope I don't mean "grab the first five figures from the nearest plastic tub."
In any event, this edition is special in its own way, too. All of the figures spotlighted below were purchased last Saturday at the Atlantic City Boardwalk Con!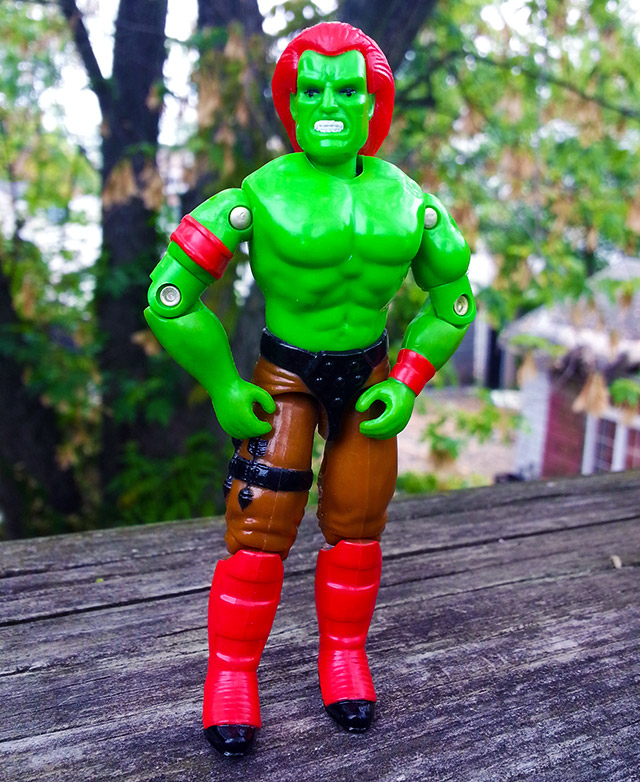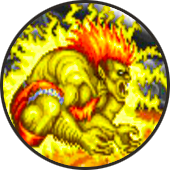 Blanka
G.I. Joe / Street Fighter II, 1993
It's been over twenty years, and I'm still rocked by the oddity of placing Street Fighter II characters under the G.I. Joe umbrella. Rocked, but thankful. Hasbro definitely knew how to work those characters in this scale, and doing so provided the added bonus of letting us envision Dhalsim making Tomax yelp by kicking Xamot in the face.
Blanka, resplendent in his jade greenness, might be the collection's shining star. Hasbro ditched the idea of Blanka being a crouching, ape-like beast, instead presenting him as a sort of Average Joe (Average G.I. Joe) who just happened to have punky skin and hair.
I dig the transition. I couldn't see Video Game Blanka saying much more than BLEEEAAARRRRUUGH, but in a pinch, I could totally see Action Figure Blanka narrating historical biographies while sipping boysenberry tea. This Blanka is the Grey Hulk to regular Blanka's Green Hulk, which makes the figure's emerald hide all the more confusing. Read More…
After an action-packed WrestleMania weekend that's left me feeling like I've lost the right to ever eat or drink again, I return to normalcy with eight thousand words about ratty toys.
Below: The sixteenth edition of Five Random Action Figures, starring one green guy, one white guy, one yellow guy and two red guys. But not in that order.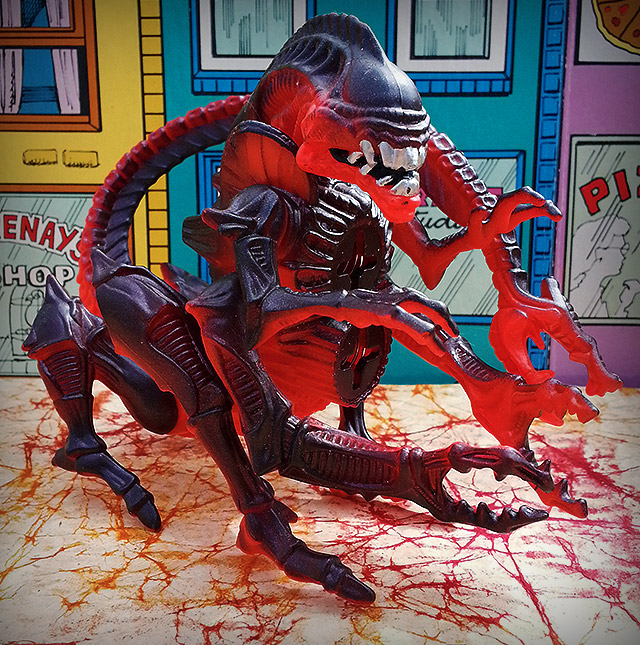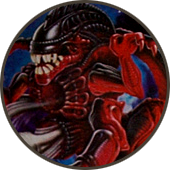 Killer Crab Alien
Aliens, 1992
Another of Kenner's animal/Xenomorph hybrids, I found this one at a horror convention a few weeks ago. There he was surrounded by other incomplete action figures, all nestled into what I'm pretty sure was an Easter basket. The five dollar price tag made buying him a no-brainer.
"Mutant extraterrestrial crabs" absolutely defines my wheelhouse, and while I'd concede that other Aliens figures were objectively better, none of them were crabs. Looking like Modulok in beast mode, the Killer Crab Alien has two arms and four legs, or possibly two legs and four arms, or maybe it's two arms and two legs and two limbs pulling double-duty. Also, his tail is a prehensile trident.
Unfortunately, mine is missing its pair of projectile Chestburster missiles. If you're confused by the term "projectile Chestburster missiles," just know that there's no better way to describe them. Even without those, he's as monstrous and can be, and even a backdrop of Crayola-colored storefronts does little to reduce his photographical badassery. Read More…
I wouldn't normally go back to the "Five Random Action Figures" well so soon, but I'm tired and I have a headache and my car is broken, and this is the only series I can handle when I'm completely oblivious to what I'm writing. My favorite blog about raising a chimp in a screen house hasn't updated in a while, and I'm starting to fear the worst.
Here's the fifteenth edition of Five Random Action Figures, typed on a stormy night in a room that has no reason to smell like oranges, but does.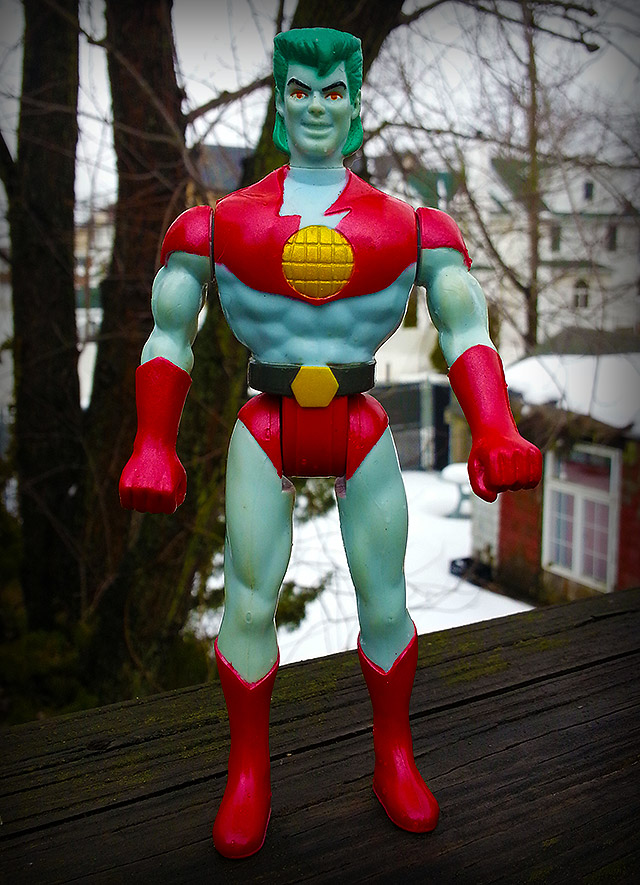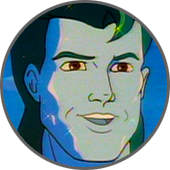 Captain Planet
Captain Planet and the Planeteers, 1991
With sky blue skin and a grass green mullet, Captain Planet was a superhero with an ecological slant. Summoned by magical rings worn by multicultural children, he'd fly in like Superman and never stop smiling, no matter how many bad guys threw fiery, poison-soaked logs at his face.
Positive anti-pollution messages aside, the cartoon existed to sell toys, and Captain Planet had a great line. In general, the villain figures outclassed the heroes, as it was pretty hard to pick some noodnik teenager over a snarling rock man with lumpy, glow-in-the-dark skin.
99 out of every 100 people remember the first verse of the Captain Planet theme song, which according to legend was written by Phil Collins. That's untrue, but let's roll with it, because if there's anything weirder than a theme song about an environmentally conscious flying blue man, it's that plus Phil Collins. Read More…