Okay, it's Saturday night and none of you are here, but I'm already panicking about how close we are Halloween. A scant 48000 hours away! I don't want to miss the chance to get even one more horrifying thing posted before the big day, so here I am. I'm so lonely.
Here's another batch of spooky action figures, covering everything from The Real Ghostbusters to Masters of the Universe to other long titles that look shitty in italics. Enjoy!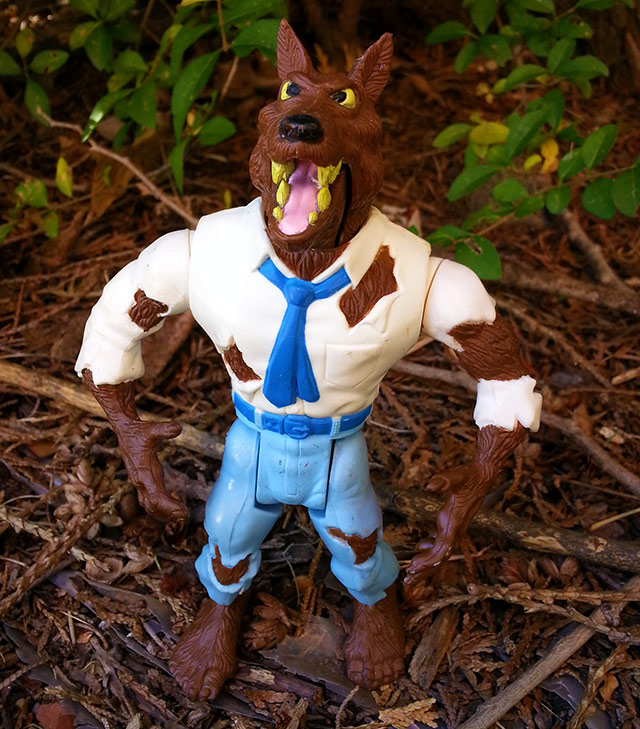 The Wolfman Monster
The Real Ghostbusters, 1989
Part of The Real Ghostbusters "Monsters" series, this Wolfman was in some respects the plainest villain in the entire line. That's not so much an indictment of Wolfman as a tribute to the sheer creativity Kenner put into their RGB figures. If a werewolf in tattered casual wear with a snapping jaw was the plainest guy in the line, you can just imagine how endearingly odd the rest of them were.
The "Monsters" series is sometimes criticized by fans. The thrill of RGB's villains was in their collective lunacy, so a bunch of "regular" monsters naturally paled in comparison. It's not quite a fair judgment, since there isn't much in this world that could compare to three-eyed blobs of purple flesh, or alien skeletons that trapped people in their ribcages. If this set seemed boring, it was only because the bar was set so high.
Actually, they're some of my favorite representations of classic movie monsters. (There were five others in the series, including Dracula and Frankenstein.) Whenever old school monsters were made into action figures, it was usually done in a "stoic" way. The figures generally looked calm and well-mannered. By contrast, RGB's looked excitable and active, and very much like cartoon characters… even if they never did appear on the show. Read More…