We're in the middle of a blizzard, and it'll be a miracle if I'm able to finish this article before the power goes out. If I sound like I'm rushing… I am!
So, onward with the thirteenth edition of Five Random Action Figures. I took these photos over the weekend, hoping to capitalize on a picturesque snow dusting. Little did I know that I'd have forty feet of it to work with just two days later.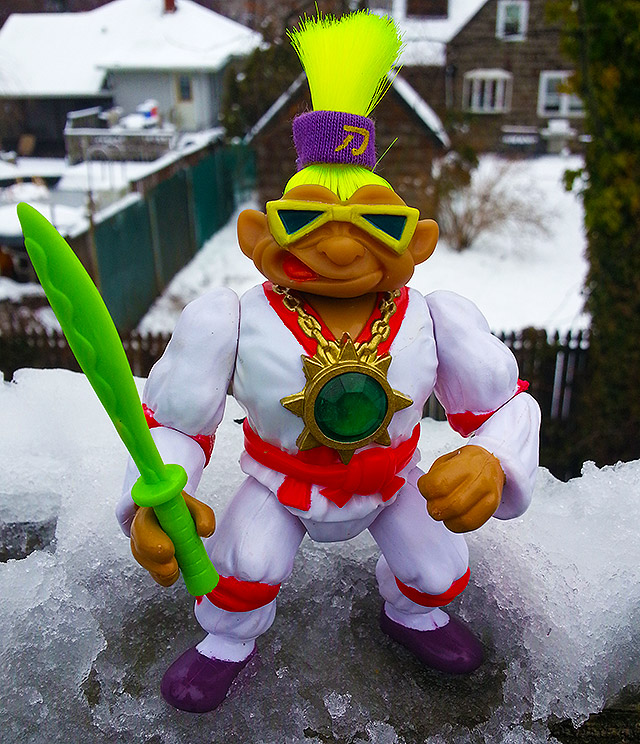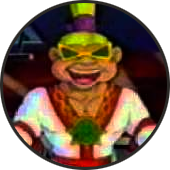 Cornelius the Samurai
Stone Protectors, 1993
Stone Protectors was one of several toy lines made to swipe glow from the Norfin Troll craze, but it was also arguably the best of them. Boosted by an animated series and a Super Nintendo game, this was the story of a shitty rock band turned into screwy Troll superheroes by the power of five magic stones. (I'm serious. That was the concept.)
Most Troll-themed action figures were made on the cheap, relying on poofy hair to keep people from noticing a lack of articulation and other finer details. That wasn't the case with Stone Protectors, which would've been right at home in Playmates' old Ninja Turtles line. The figures were bright, detailed and poseable, and they came with plenty of accessories. Of course, no Troll is complete without funky "real" hair, so Stone Protectors had that going for 'em, too.
Cornelius here was the team leader, and probably my favorite from the set. How can you not love a Troll with electric yellow hair who is both a rock vocalist and a goddamned samurai? Is that what they mean by a slash career?
In a neat touch, you can move Cornelius's arm to make his chest jewel "spark." (Picture a lighter that can't maintain a flame. Cornelius's sparking jewel worked something like that.)
The line wasn't a big success in its day, and hasn't caught on with collectors since. That's good news for you, because Stone Protectors figures are absolutely boss, and you should have to pay three times more than you'll actually need to. Act fast, before everyone smartens up. Read More…
It's time for the twelfth edition of Five Random Action Figures! (Three of these were picked up just this week. Thank you, mysterious and awesome local comic book shop that's apparently been hiding in plain sight since last spring.)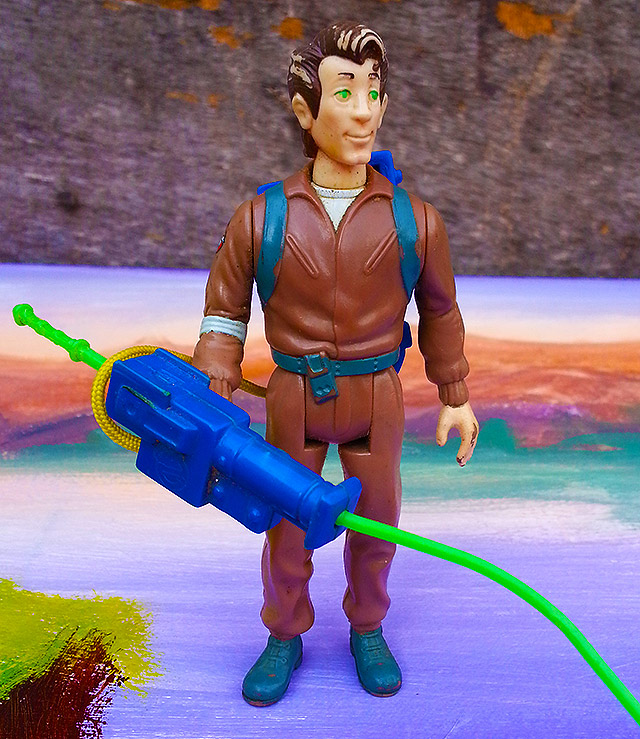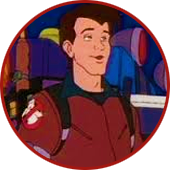 Peter Venkman
The Real Ghostbusters, 1986
Most of the praise I lavish on Kenner's Real Ghostbusters line is thanks to the, erm, ghosts, but the actual Ghostbusters were just as inspired. They'd ultimately get umpteen upgrades with all sorts of new outfits and features, but I've always been partial to the originals.
Peter here has seen better days, but even with a half-broken Neutrona Blaster, I think you can still see the appeal. For one thing, the figure was a near-perfect representation of the cartoon character, assuming you can forgive Peter's weirdly radioactive eyes. (And if there's anything that's forgivable by default, it's weirdly radioactive eyes.)
The big draw was the accessories. Venkman came with a mini ghost, a Proton Pack and a Neutrona Blaster that perpetually spit a swirling proton beam. (The beam is longer than the figure itself!)
I got Peter for a song, and adding my recent acquisitions of Ray and Winston from that eBay mixed lot, I'm one Egon away from completing the world's most play-worn set of Real Ghostbusters figures. Go me, I guess. Read More…

Since it's Friday night and I live life to the fullest, I will now write 900 words about old Masters of the Universe figures.
In this post: A lobster man, a guy with three faces, another guy with a big hand, an alien rock dude, a pure robot, and finally a naked race car driver. Eternia was a hot mess.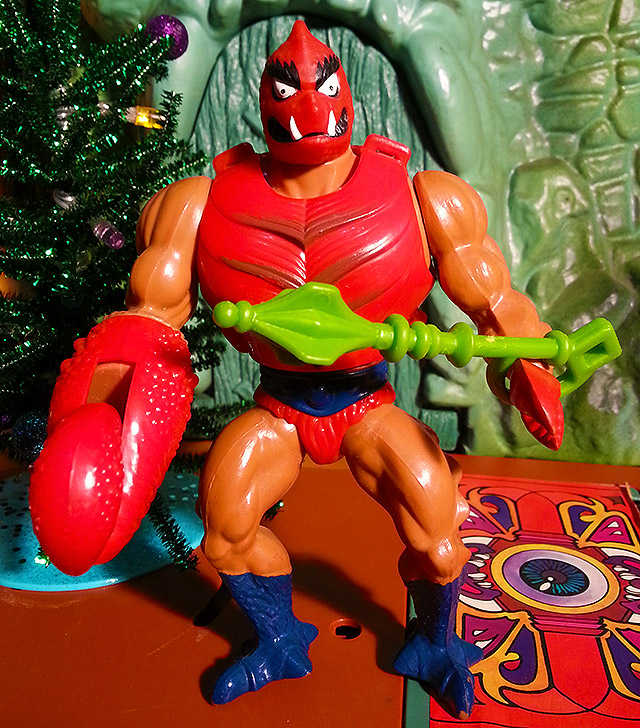 Clawful!
Given my well-documented crustacean obsession, it should come as no surprise that I love this action figure. One of Skeletor's ineffective henchmen, Clawful had one little claw and one GIANT claw, capable of "snapping" with the aid of a hidden lever.
Interestingly, while this figure portrays Clawful as a sort of masked pro-wrestler, the cartoon version was 100% lobster. Or maybe 100% crab. Clawful was never clear about that.
Both versions were great, but I think I prefer the way he's seen here. Mainly because it lets me dream up an origin story wherein an everyday musclebound villain simply decided to start dressing like a lobster. What was the impetus? Read More…
After a crazy holiday weekend filled with ups (lots of wine) and downs (too much wine), I come to you with only the barest sense of coherence!
Welcome to the eleventh edition of Five Random Action Figures, starring old plastic monsters from my personal collection. As a matter of full disclosure, this post is only being written so I can sneakily show off the gaudy Christmas decorations I found at Dollar Tree.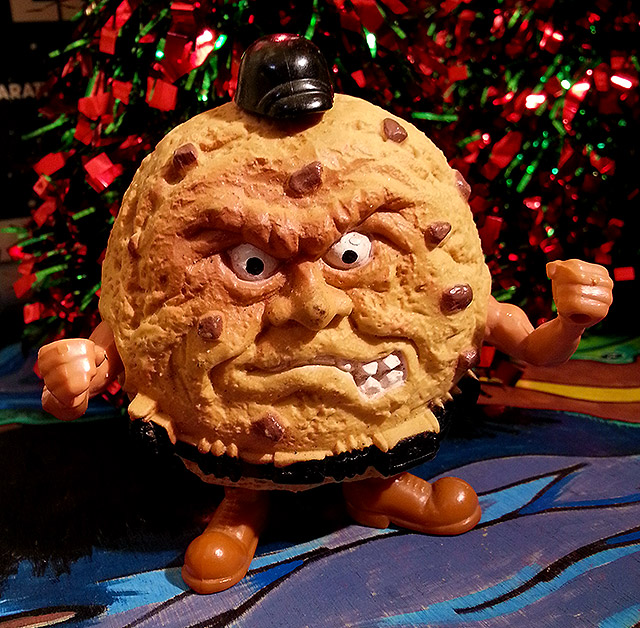 Chip the Ripper
Food Fighters, 1988
I covered Food Fighters in the very first edition of Five Random Action Figures, but here's something I didn't realize at the time: This line has gotten popular!
Over the past few months, I've noticed that whenever a Food Fighters photo works its way onto social media, everybody flips. I've also noticed correspondingly higher prices for these formerly dirt cheap figures. What gives?
Maybe none of us realized that so many others shared our affinity? Back in the day, nobody bragged about having lots of Food Fighters. It's not like we called time-outs in strangers' handball games to announce that we'd found figures based on hamburgers and pizza. Maybe the line's popularity surge has something to do with our newfound camaraderie?
Or could it be that Food Fighters is simply gaining new fans now, in 2014? Surely one of you has never heard of them before this article. Does the idea of warring armies full of anthropomorphic edibles intrigue you? Am I inadvertently creating more eBay competition for myself with the mere mention of them? If so… fuck! Read More…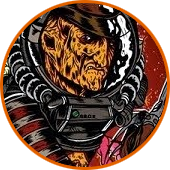 We spent the weekend at the headquarters of Freddy In Space, taking years off of our lives with a mix of pizza, pumpkin beer and Crayola crayons. I suspect I'll be fully recovered by Christmas.
The best thing about John's house (aside from Mothman the cat) is his absolute swarm of horror memorabilia, permeating literally every corner while still somehow staying completely organized. I could blog for weeks about his collection, but for now, I'll just focus on a few random action figures.
Yes, in this edition of Five SPOOKY Action Figures, the toys actually don't belong to me. These were all found on John's shelves, and hastily photographed on the steps outside his house. I normally prefer to stick with what's in my own collection, but these weirdos were cool enough to break that rule.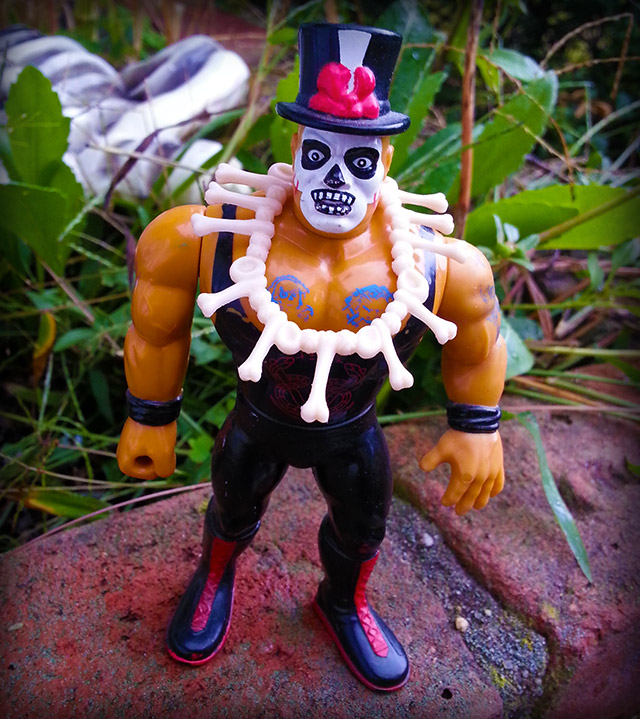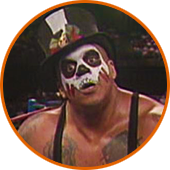 Papa Shango
World Wrestling Federation, 1992
WWE has unleashed dozens of Halloween-appropriate wrestlers, from giants who control fire to absolutely literal vampires. Still, few have been as on-the-nose as Papa Shango. WWE may have been a bit more diplomatic in their wording, but Papa Shango was a basically a cliched voodooist who defeated his opponents with BLACK MAGIC.
(Actually, he defeated his opponents with inverted shoulderbreakers, but let's not get too technical.)
The tricks usually occurred during interview segments, and man, they were out there. Best among them was the time Papa Shango caused the Ultimate Warrior to throw up on everyone backstage. (Some wrestlers got a push by being scripted to win matches. Others got it by making their opponents vomit.)
The height of Papa Shango's chicanery didn't last long. He ultimately became "just another guy," who rarely backed up his look with any B movie nonsense. Fortunately, he did stick around long enough to score a Hasbro action figure, with a weirdly irremovable top hat!
FYI: Charles Wright, who played Papa Shango, would eventually find much bigger success as "The Godfather" — wrestling's most lovable pimp! Read More…