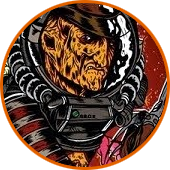 We spent the weekend at the headquarters of Freddy In Space, taking years off of our lives with a mix of pizza, pumpkin beer and Crayola crayons. I suspect I'll be fully recovered by Christmas.
The best thing about John's house (aside from Mothman the cat) is his absolute swarm of horror memorabilia, permeating literally every corner while still somehow staying completely organized. I could blog for weeks about his collection, but for now, I'll just focus on a few random action figures.
Yes, in this edition of Five SPOOKY Action Figures, the toys actually don't belong to me. These were all found on John's shelves, and hastily photographed on the steps outside his house. I normally prefer to stick with what's in my own collection, but these weirdos were cool enough to break that rule.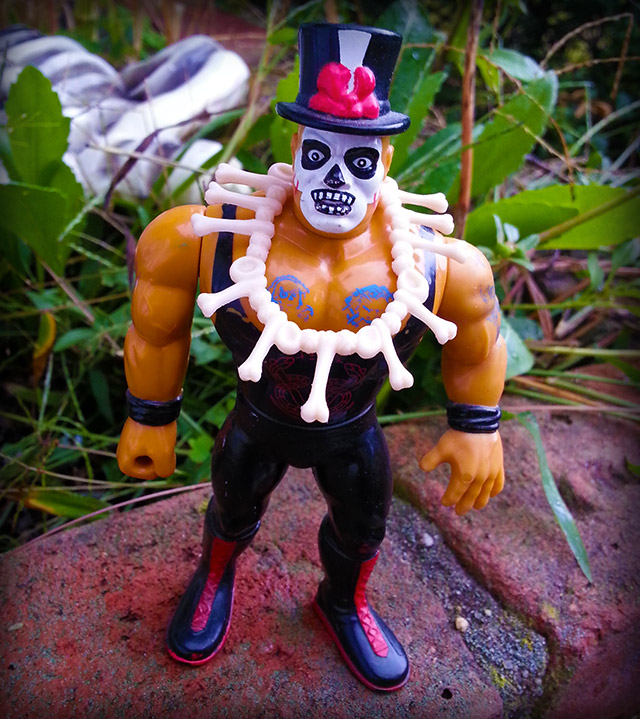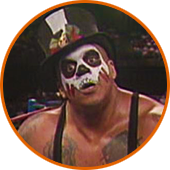 Papa Shango
World Wrestling Federation, 1992
WWE has unleashed dozens of Halloween-appropriate wrestlers, from giants who control fire to absolutely literal vampires. Still, few have been as on-the-nose as Papa Shango. WWE may have been a bit more diplomatic in their wording, but Papa Shango was a basically a cliched voodooist who defeated his opponents with BLACK MAGIC.
(Actually, he defeated his opponents with inverted shoulderbreakers, but let's not get too technical.)
The tricks usually occurred during interview segments, and man, they were out there. Best among them was the time Papa Shango caused the Ultimate Warrior to throw up on everyone backstage. (Some wrestlers got a push by being scripted to win matches. Others got it by making their opponents vomit.)
The height of Papa Shango's chicanery didn't last long. He ultimately became "just another guy," who rarely backed up his look with any B movie nonsense. Fortunately, he did stick around long enough to score a Hasbro action figure, with a weirdly irremovable top hat!
FYI: Charles Wright, who played Papa Shango, would eventually find much bigger success as "The Godfather" — wrestling's most lovable pimp! Read More…
Okay, it's Saturday night and none of you are here, but I'm already panicking about how close we are Halloween. A scant 48000 hours away! I don't want to miss the chance to get even one more horrifying thing posted before the big day, so here I am. I'm so lonely.
Here's another batch of spooky action figures, covering everything from The Real Ghostbusters to Masters of the Universe to other long titles that look shitty in italics. Enjoy!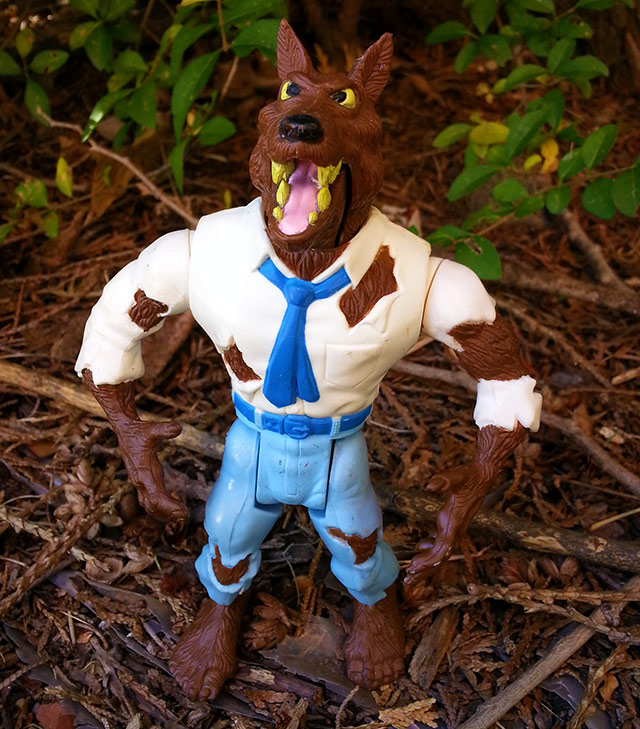 The Wolfman Monster
The Real Ghostbusters, 1989
Part of The Real Ghostbusters "Monsters" series, this Wolfman was in some respects the plainest villain in the entire line. That's not so much an indictment of Wolfman as a tribute to the sheer creativity Kenner put into their RGB figures. If a werewolf in tattered casual wear with a snapping jaw was the plainest guy in the line, you can just imagine how endearingly odd the rest of them were.
The "Monsters" series is sometimes criticized by fans. The thrill of RGB's villains was in their collective lunacy, so a bunch of "regular" monsters naturally paled in comparison. It's not quite a fair judgment, since there isn't much in this world that could compare to three-eyed blobs of purple flesh, or alien skeletons that trapped people in their ribcages. If this set seemed boring, it was only because the bar was set so high.
Actually, they're some of my favorite representations of classic movie monsters. (There were five others in the series, including Dracula and Frankenstein.) Whenever old school monsters were made into action figures, it was usually done in a "stoic" way. The figures generally looked calm and well-mannered. By contrast, RGB's looked excitable and active, and very much like cartoon characters… even if they never did appear on the show. Read More…