Here's another batch of Halloween-themed newspaper clippings from the '80s and '90s, featuring everything from Fruity Yummy Mummy to free goldfish. (If you missed the last edition, it's over here!)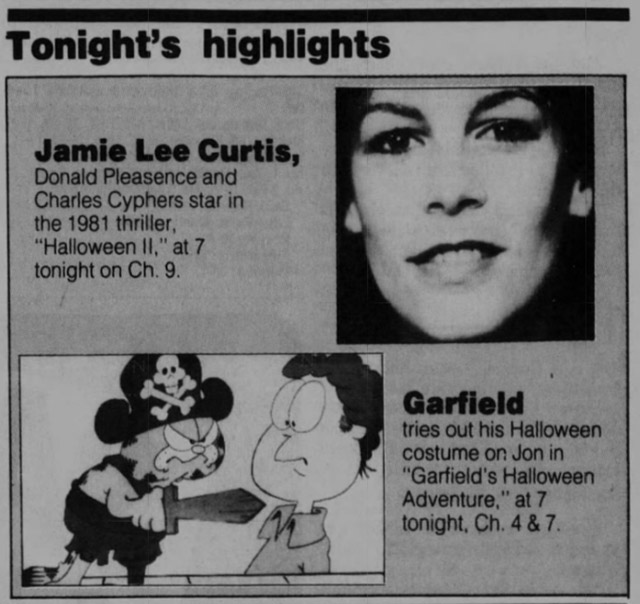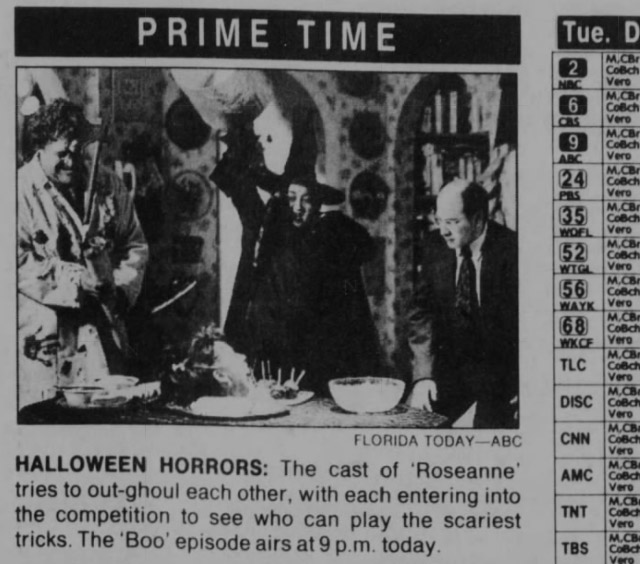 World Premieres of Halloween Classics!
(October 30th, 1985 & October 31st, 1989)
It's so weird to see mentions of Garfield's Halloween Adventure and Roseanne's first Halloween episode from before they made their mark.
Garfield's Halloween Adventure debuted on October 30th, 1985. For a while, it was even more important to kids than Charlie Brown's special. Really, it was Garfield's work here that turned so many of us onto him in the first place.
And Roseanne's first Halloween episode? My God! If you're near my age, think on it: Don't you use that episode to fill in the gaps when trying to remember your own Halloween celebrations? It may have been "exaggerated," but it was still such a blueprint for the perfect late '80s suburban Halloween.
When these articles were published, nobody had any reason to think that people would still be talking about Garfield's songs or Jackie's skeleton pin over 25 years later. But here we are! Read More…
If you don't remember Slimer Fruit Snacks, don't feel bad. Few people do!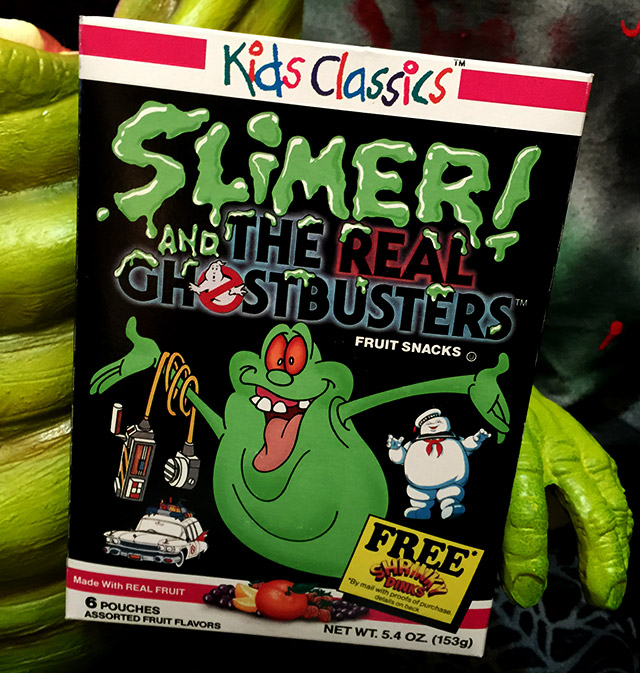 They arrived in 1991, a figurative minute before the original Real Ghostbusters cartoon went kaput. Slimer didn't have much momentum in his attempt to take over the fruit snack market, but he sure put the effort in.
Learn all about Slimer Fruit Snacks in tonight's video:

(SEE THE HD VERSION ON YOUTUBE!)
(And yes, there is a taste test. Disgusting as they look, old fruit snacks don't scare me.)
For those curious, the fruit snack shapes included Slimer, Stay Puft, the Ecto-1, a Proton Pack, a Ghost Trap and the Ghostbusters logo.
The flavors included punch, strawberry, grape and orange, though at this point they've all kinda rotted into fermented fruit salad.
Enjoy, and thanks for watching! Read More…
If you're having a hard time getting into the Halloween spirit, I don't blame you. Everything kinda sucks right now. I'd never tell anyone to put trivial pursuits first, but having small respites from the real world isn't a bad thing, either.
Besides, I have the perfect thing for people who want to embrace Halloween but need motivation. Here's this year's Halloween Mood Table!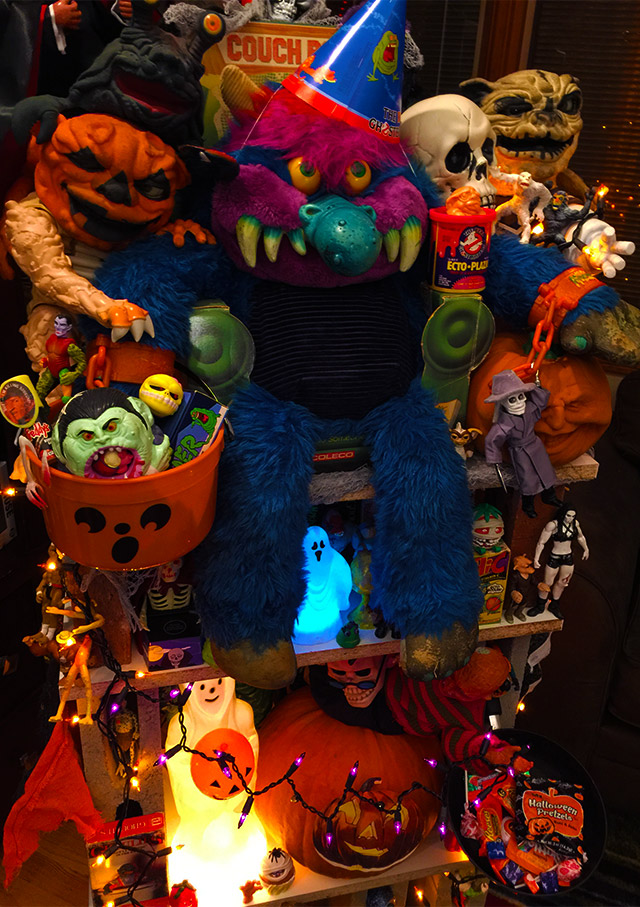 I invented the Halloween Mood Table back in 2007. That year, my Halloween spirit hit rock bottom, and the Mood Table was my way to stop the bleeding. It was just a tiny end table topped with a few decorations, but at heart, that's all a Halloween Mood Table needs to be.
It works a bit like a witch's altar. Having a Halloween Mood Table means that there will always be one easily accessible place where Halloween is constantly "happening." You can turn to it in those minutes of need and get quick fixes of spooky spirit. As an added bonus, it just looks cool!
My Mood Tables have grown immense over the years. In fact, the behemoth you're looking at up there is a bit understated compared to some of the previous editions, which utilized everything from fireplaces to TV sets.
Yours needn't be so involved. If you want to go big, great, but even the smallest Halloween Mood Table will do the job just fine.
Here's a closer look at my 2017 Mood Table, in video form: Read More…
One of my favorite things about the Halloween season is the constant encouragement to go on silly adventures. How else would I end up playing miniature golf in a glow-in-the-dark dungeon?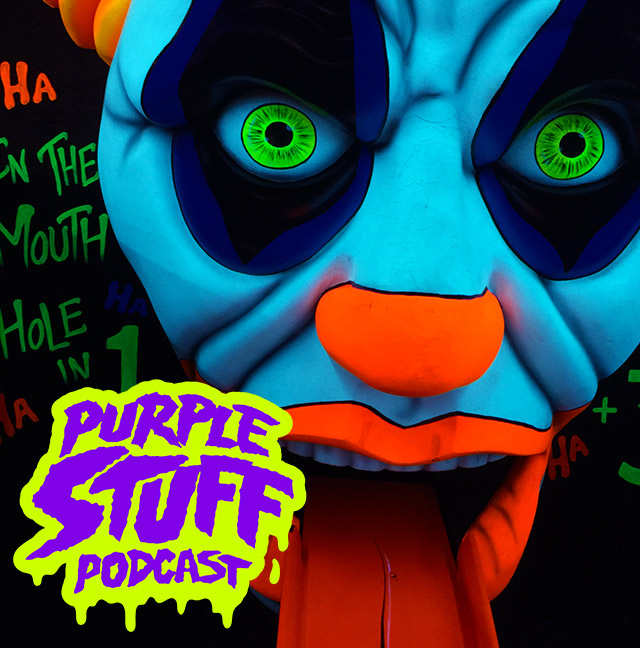 In the latest Purple Stuff Podcast minisode, me and Jay from The Sexy Armpit play a round of Monster Mini Golf!
If you've never heard of that chain, they create absolutely wild indoor courses, where creatures lurk around every corner and everything is bathed in blacklight. It's pretty great.
Give the show a listen by clicking here!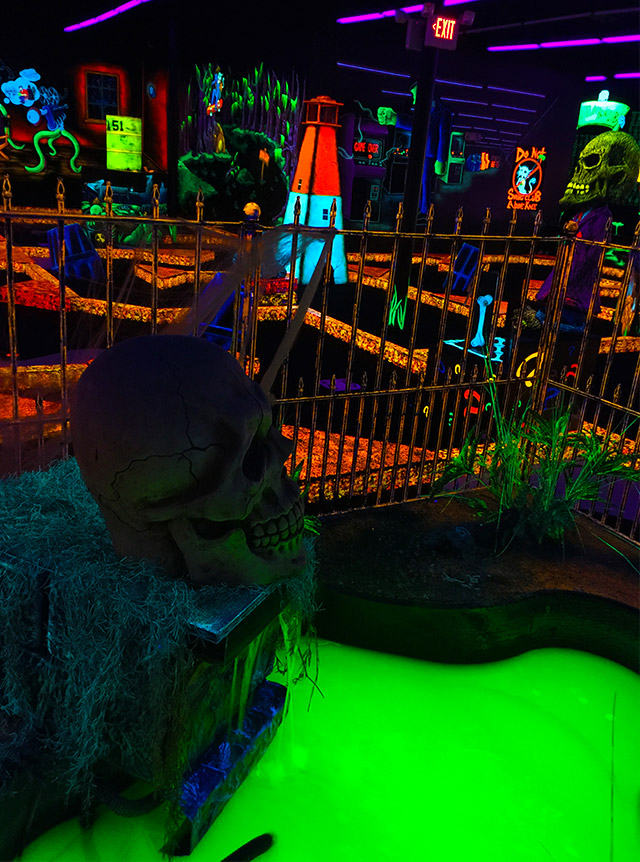 Aside from our ghoulish golfing tales, you'll also hear about our horribly misfired attempt to eat pumpkin spice pizza. We even debut the podcast's brand new theme song!
Happy Friday, y'all. Thanks as always for listening, and for sharing the show around! Read More…