Gazpacho is a cold vegetable soup, something like tomato soup, but even more like chopped vegetables with tomato juice thrown on top. At least, the best kinds are.
Here's how to make a super easy and quick gazpacho, though it comes with the admission that this technically isn't gazpacho at all. But I am so not going to miss a chance to type "gazpacho" two dozen times. It is FUN.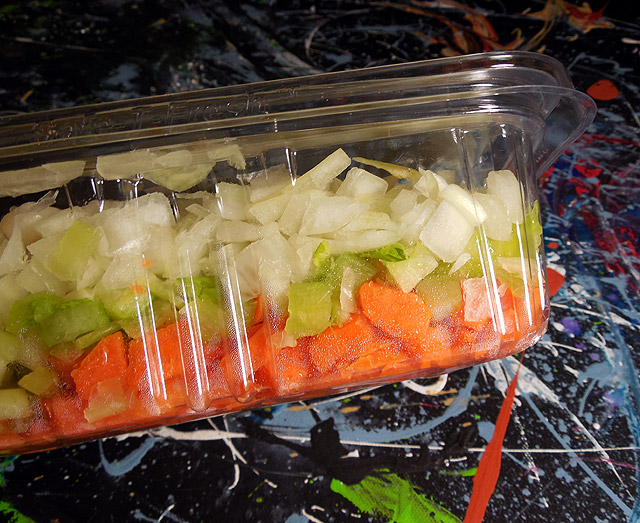 First, buy prepared mirepoix from your local grocer. Mirepoix is chopped celery, onions and carrots, normally used as a base ingredient for stocks and stews. I see it at stores fairly regularly these days, so I do not feel out of bounds in my assumption that every grocery store in every city in every country has it for sale.
Course, if yours doesn't, it's not hard to buy the vegetables and chop them yourself. If you do, feel free to add others. Cucumber might be nice, because real gazpacho is never without it. In fact, the lack of cucumber here is my precise reason for qualifying this as "fake" gazpacho.
Gazpacho word count: 6. Read More…
A new feature is up, covering ten more old comic book ads. Good ones, too. Everything from Game Genies to Brach's Rocks. Read it.
…or read it after you watch today's video, in which I examine Popeye Shredded Bubble Gum.
Made in 1981 and likely inspired by Big League Chew, Popeye's gum has not aged well. The video will prove this.