About Dinosaur Dracula, I mean. And me, too.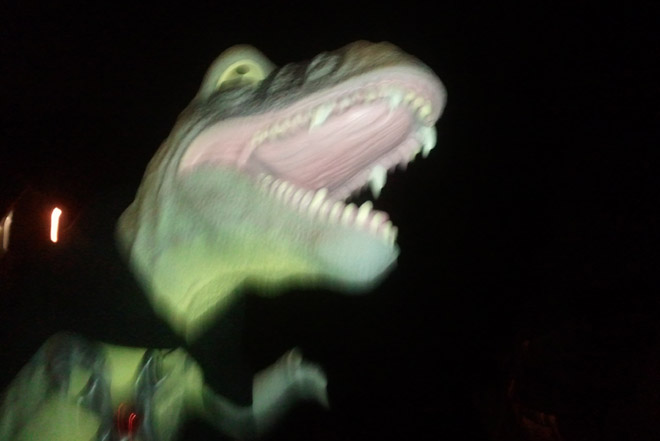 What Is Dinosaur Dracula?
An online magazine that blah blah blah blah.
Dinosaur Dracula is a series of tributes to things that thrill and excite me, or at least, things that used to thrill and excite me. I very much enjoyed being a kid; in fact, I enjoyed it so much that I never stopped being one. As such, you're not likely to find anything on Dinosaur Dracula that a ten-year-old couldn't comprehend. I like toys, goofy food, horror movies, and roadside attractions with guest appearances by bootleg Power Rangers.
This site celebrates the sheer joy of trivial things, from Halloween decorations, to Ninja Turtles, to the pewter dolphin pendants sold in every aquarium's gift shop. Dinosaur Dracula is, if nothing else, my perpetual excuse to enjoy things I'm no longer "supposed" to enjoy.
Hopefully we can do this together!
Those of you who've followed my "online career" know that I've been at this for a long time. If you'll permit the melodramatic sap, there is nothing I love more than doing this, whatever this is, and I can't imagine life without a website to explore all of the things that would be so easy to ignore if I didn't have a website to explore them on. Did that make any sense?
Let me rephrase. WHO is Dinosaur Dracula?
Rumor mill! The third moon of Jupiter is named Amalthea. Despite popular opinion, it's far from barren. Filled with mayhem and magic, its denizens worship enormous and monstrous gods who walk plainly among them. Perhaps Dinosaur Dracula is one of these gods. Or maybe he's a regular T-Rex in a Halloween costume. The time to clarify is not now, and might not be ever.

K. Who are you?
I'm Matt. I'm thirty-something, I live in NY, I work in TV and like ginga rale.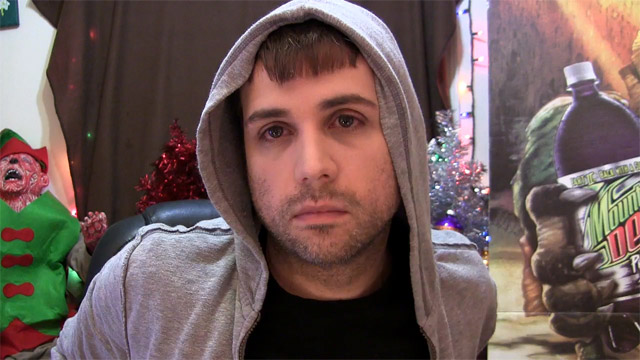 You may remember me from X-Entertainment, the Internet's oldest nostalgia-slash-candy site, which ran from April of 2000 through whenever I started Dino Drac. I had a great run with X-E, but I felt I'd have a better shot at a wider audience if I switched to a much bluer site named after a vampiric dinosaur.
In real life, I'm an award-winning freelance writer/producer with 8 years experience writing/producing promos, commercials and shortform content for networks including Nickelodeon, Syfy and EPIX. I say this because freelancers leave no stone unturned. If you want to pay me to write or make you something, I can do this!
Here are a few samples of things I've worked on. Every project is a team effort, so a big "thank you" to the many editors, mixers, artists and  directors who made these collaborations such a blast.
Just realized that all of the videos above are from EPIX. Hey, EPIX does some cool stuff. I'll try to get some of my other work on here eventually, too. I've got some killer Spongebob and Avatar stuff sitting around. (Go buy the Avatar Book 3 DVD set. It's old, but wonderful, and I produced the "Women of Avatar" feature on it.)
And here are a bunch of arbitrary screengrabs from other spots, which are of no use to you: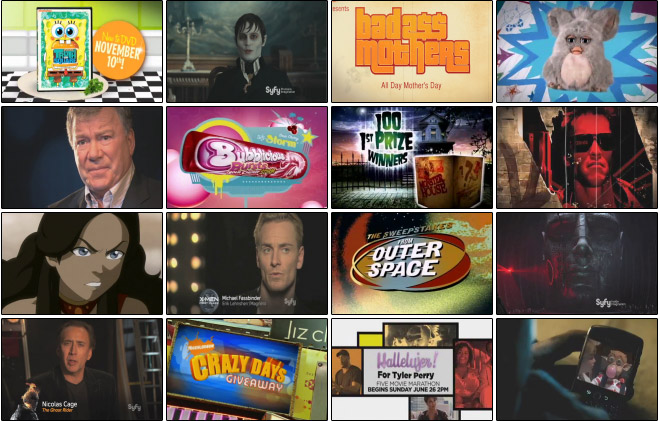 Aside from that, I've written for ToyFare Magazine, Box Office Magazine, The Delaware News Journal (huh?) and other places I'm forgetting. Back when my old site was still relevant, it was featured in everything from Stuff Magazine to Entertainment Weekly.
…and because I'm already on a self-promotion roll, let me remind you that I'm also quoted on the DVD for Ghoulies IV: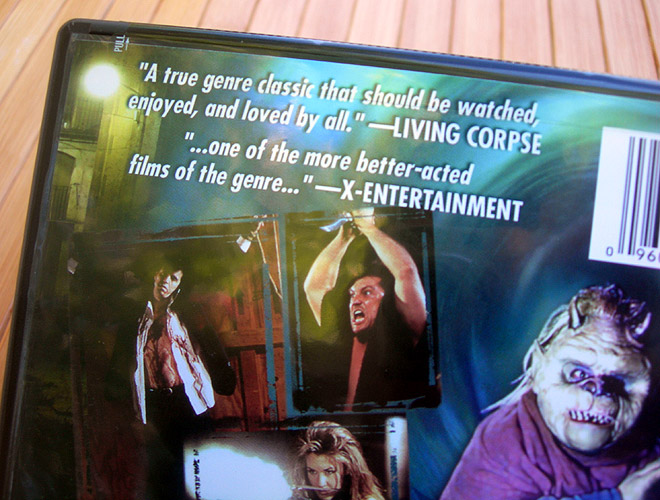 Would've been nice if they picked a quote that was somewhere closer to grammatical, but I'll take what I can get.
Enough about you.
Right. So, Dinosaur Dracula. It's just a site meant for fun. I hope you have fun when you visit it. That's pretty much it.
How often will Dinosaur Dracula be updated?
As often as is possible. Just remember that the site is my hobby and will always come second to the things that actually make me money. If you're used to my patented hiatuses from X-Entertainment, don't worry. I'm not planning to leave Dino Drac hanging for months on end. In a perfect world, I'd be adding something to it nearly every day.
Anything else?
Yes! I worked with two great folks to put this site together and they both deserve enormous kudos, whether they were paid or not!
Cliff of Cliffpro built the site's core structure and design from scratch, and did an amazing job in getting me out of the Internet dark ages. Cliff was very thoughtful, patient and proactive, and I can't say enough good things about his dedication to this project even during times when I was being unreasonable.
Jason Week of DuncePress made the kickass logo and assorted pro-level graphics that dot every page of this site. Perhaps more importantly, Jason was a bit of a creative adviser through the whole building process, who gave me the straight dope and helped me see the forest for the trees. The site wouldn't have been up this soon without his help!
As for this infant website, it'll be a daily adventure that I'm very much looking forward to.  Hope you will, too.
Disclosure Statement!
Dinosaur Dracula is a participant in the Amazon Services LLC Associates Program, an affiliate advertising program designed to provide a means for sites to earn advertising fees by advertising and linking to Amazon.com.
Here's a great picture of Dinosaur Dracula, represented as a bony T-Rex model, painted green, with a cut up shirt for a cape, and a vampire pendant made of clay: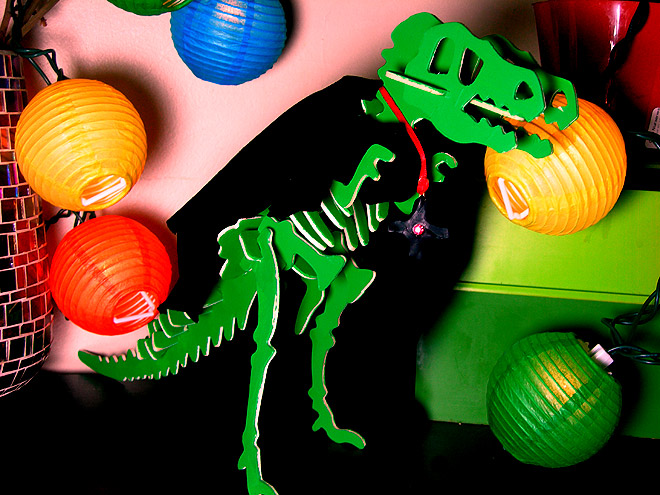 Enjoy the site!