I wrote about this many years ago. Now I will rehash my thoughts in video form!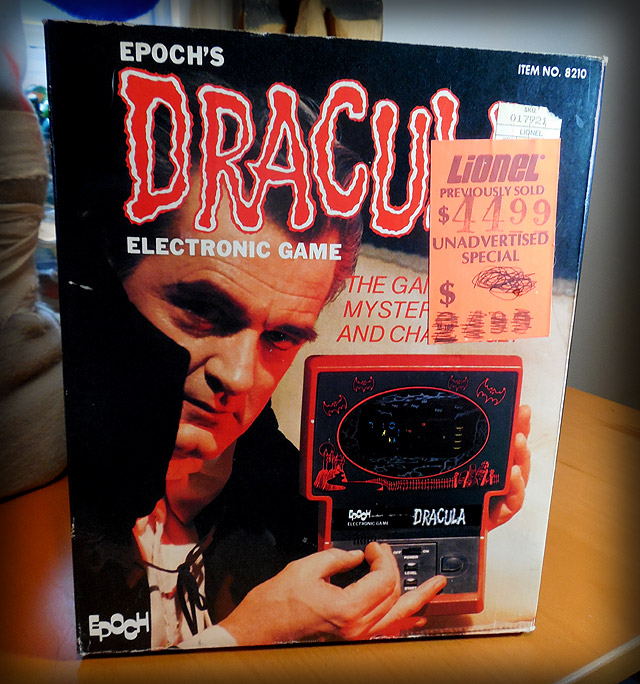 Epoch's DRACULA game was released in 1982. Even if its graphics and noises are way dated, the theme hasn't lost a step. There are monsters, mazes and coffins, and it's up to YOU to steal Dracula's gold!
Get the full scoop in today's vid:
A hint of Halloween?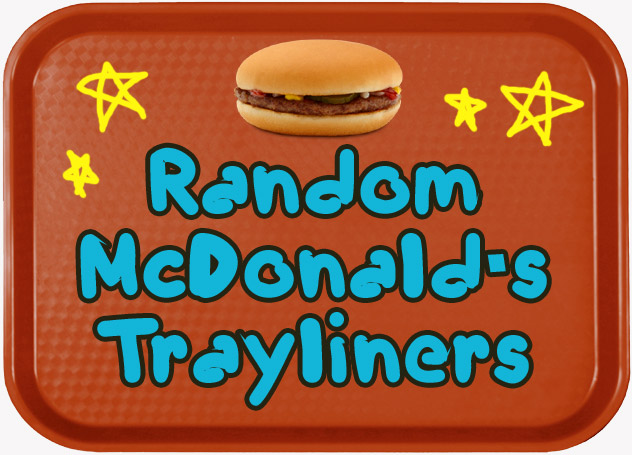 Here's the sequel to something I wrote back in 2007, about old McDonald's "trayliners." You know, the paper placemats that lined our trays whenever we ate at McD's. Truly, the biggest disadvantage of taking your food to go was missing the chance to watch oily fries turn a trayliner translucent.
Since the trayliners were typically used as "ad space," they're great reminders of McD's ancient, awesome promotions. Here are six random examples…
#1: Richie Rich Trayliner (1994)
I've never seen this film. It all started with my unreasonable resistance to anything starring Macaulay Culkin after Home Alone. I don't know what that was about. Maybe it's because we're roughly the same age, and I had some teenage jealousy?
For a movie that I know nothing about and will never see, I'm strangely drawn to its trayliner. A silver platter and a prop newspaper really do make fast food seem more sophisticated. I also dig how those mysterious hands hint less at a butler and more at Mickey Mouse.
If I was making an artsy film, I'd start on this shot. The rest of the movie would play out in flashbacks, slowly revealing the chain of events that led Mickey to serve fries and a phony newspaper on a silver platter. Critics would find it "pandering," but I don't give a shit.
Google says that Richie had his own private McDonald's in the film. So I guess this was the lesser-end of a deal between McDonald's and Warner Bros.?
"We see the inclusion of McDonald's in our film to be a mutually beneficial partnership, with substantial rewards for everyone involved. But the candy would be so much sweeter if you threw in some trayliners." Read More…
Here's me, trying "Pink Swimmingo" Kool-Aid from 1992. It's one of the few "character flavors" I never got around to back on X-E. It's pretty wonderful stuff!
Really wish Kool-Aid would start doing the custom flavor mascots again. I love the Kool-Aid Man as much as anyone, but he's even better when you pair him with flamingos, dinosaurs and pink sharks.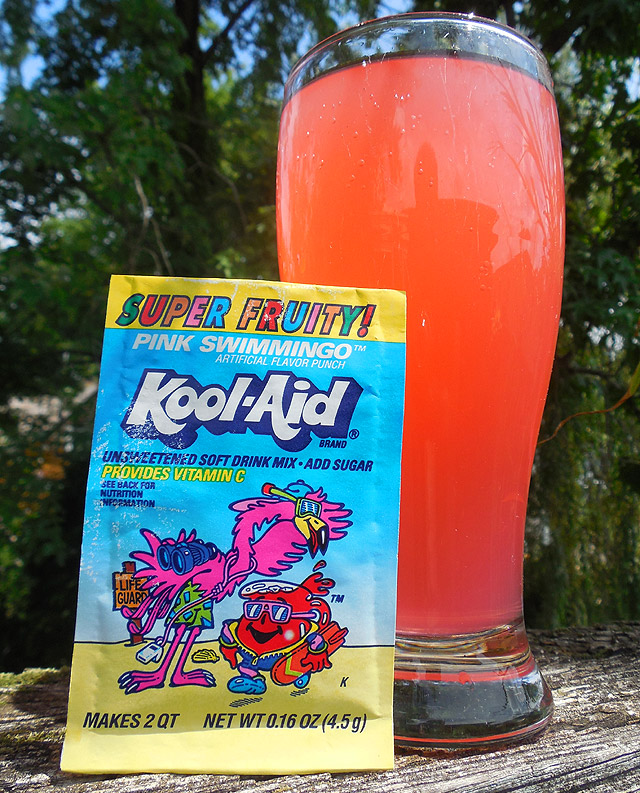 Have a great Saturday. I'll be spending it cleaning my office for the thousandth time. (Tore it apart to find the stupid Swimmingo.)
Wellp, my most expensive site seasons are coming up, so it's time to make some money from selling you total junk!
Introducing Dino Drac's Cruel Summer Funpacks!
If you live in the U.S., they're 25 bucks shipped, and come with everything you see here: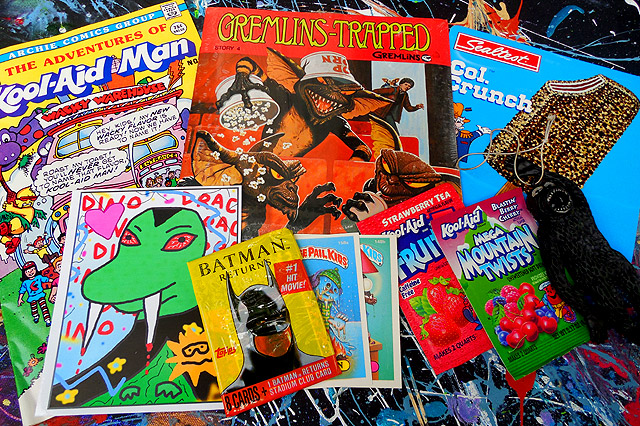 A smorgasbord of potentially-overpriced random ancient nonsense, sure to make the junkiest part of summer 5% less junky!
Ordering info is at the bottom of this page. If you're not sold yet, let me have a cup of coffee and try to make this stuff sound interesting! Read More…
If you follow me here or here, you've probably seen me flip over NECA's SDCC exclusive "8-Bit Jason Voorhees" figure, based on his appearance in the old Nintendo game.
Fortunately for those who couldn't/wouldn't go to the convention, NECA also sold them online. Hooray, mine finally arrived! Watch me geek out under really bad lighting:
It's a much cooler toy than I was able to put into words, because I'm me. Whether you're a fan of Friday the 13th, action figures, things that glow in the dark or all three, it's your duty to track one down, buy it, love it and never ever throw it away.
I've watched SDCC exclusives come and go for years, but this was the first time I had to have one. Friday the 13th isn't often blessed with such quirky merchandise! NECA was inspired to make these after seeing a custom version made by a guy named Will Edwards. (Check out Freddy in Space for the scoop on that.) Will, if you're out there — thanks for the amazing concept! There are a lot of happy campers out there, all because of you!
The figures were sold for $25 at Comic-Con and online, but I think you've missed the window if you wanted one for that price. eBay is your last resort, but I'd suggest waiting a bit, because the prices really are a tad nuts right now. (Just don't wait too long!)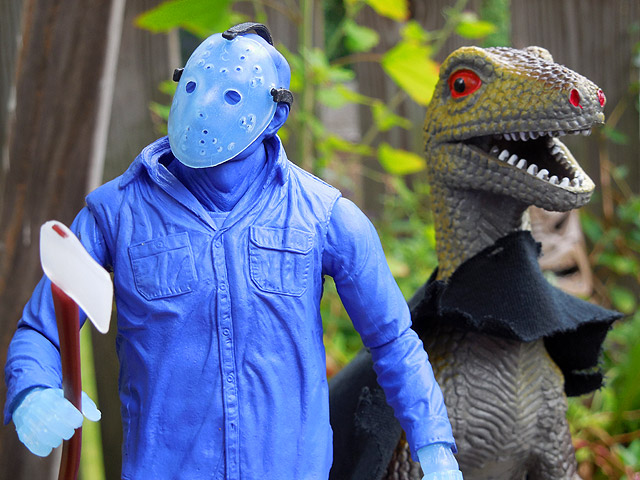 Now here's a bunch of random photos! Read More…