I'd like to remind everyone that Marino's Italian Ice is the best possible ice.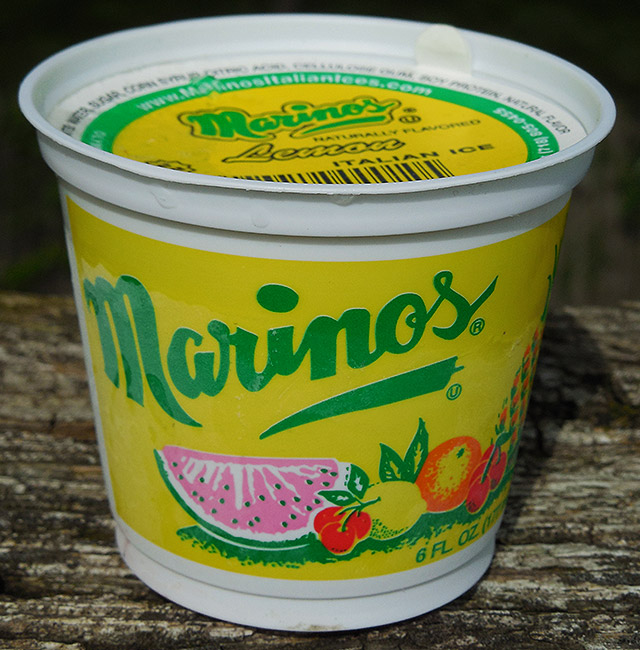 Never heard of Marino's? I'm pretty sure most of you haven't. It's regional. Apologies in advance for championing a water ice that you have absolutely no access to.
I was first introduced to Marino's as a kid, by my father. Experts estimate that his diet consisted of 50% Marino's Italian Ice and 50% sunflower seeds. His favorite flavor was lemon, which makes sense, because I'm pretty sure Marino's only made lemon ice back then.
Cherry wasn't far behind, and that's when I hopped on the bandwagon. Holy shit, guys. You have not experienced water ice until you've tried a cherry Marino's. Sold individually from ice cream trucks and in weird corner store delis, you can now buy 'em by the box at supermarkets. (Assuming you live in an area where they're sold… but we've already covered that.)
With summertime creeping up, we're reminded of the many disgustingly delicious treats that are only appropriate to eat at that time of year. For me, the thought of a summer season passing without the ingestion of 400 cups of Marino's is just cause to write sad songs and dress like The Undertaker.
Let me introduce you to Marino's three best flavors: Read More…
It's been over two months since my last post, because stuff happens, and we must sometimes accept that life is a big ball of shit aimed directly at our heads.
But I didn't want to let Memorial Day — my 16th favorite holiday — slide by without some Dino Drac action. So here's something patriotic. Old rubber fish!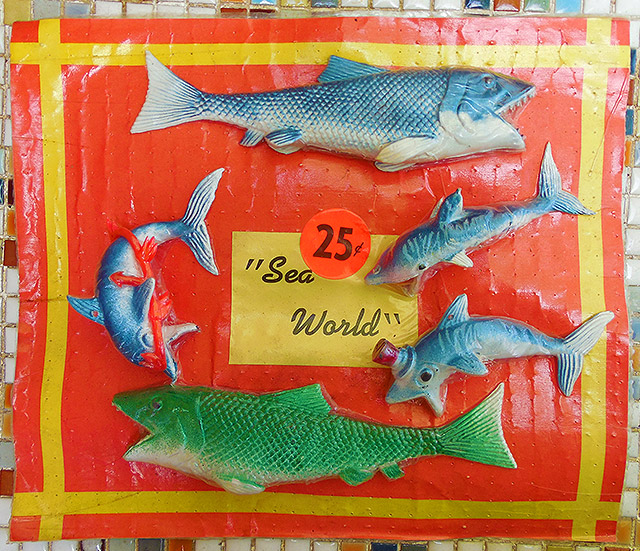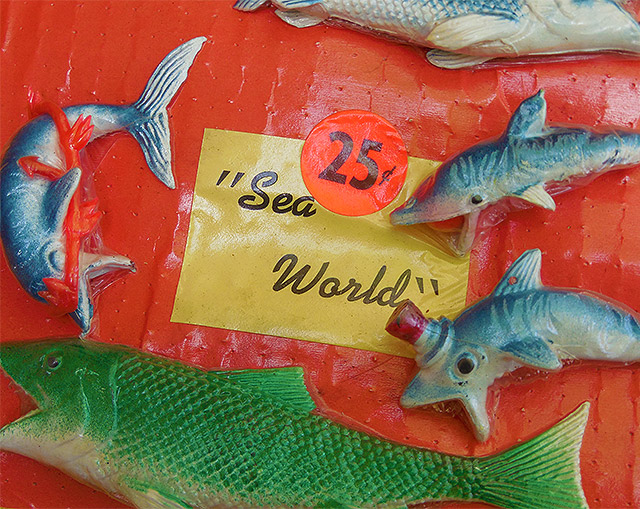 In this edition of Vintage Vending, we're exploring Sea World, an ancient collection of fish toys with a vague "marine park" theme. I couldn't tell you exactly when these were made, but judging by the orange background with the yellow stripes, I'm pretty sure they came from Poland's Szamotuly County.
Innocuous at first glance, a deeper study reveals a dark world filled with mutants and torture. It amazes me that we could come so close to the edge of humanity for only a quarter. Read More…