After my success at last week's yard sales, I wondered if lightning would strike twice.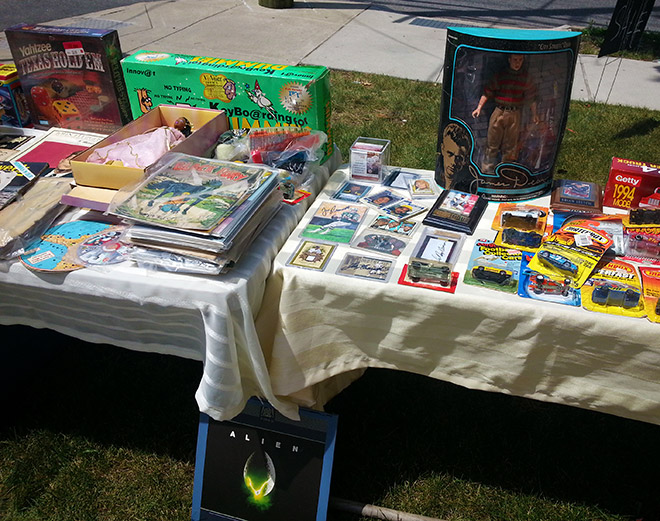 It did! The gods of trash blessed me even harder this time, with cheap, geeky goods that I might have expected to find at yard sales 15-20 years ago.
Much of this week's haul came from a multi-family sale that spanned the front lawns of at least six houses. I started by ransacking a box of insanely cheap videocassettes, and ended with a moment of personal crisis over whether or not to buy used Hulk Hands. (The Hulk Hands aren't featured here, but I did go home with them. I have a brain.)
Below are my five favorite scores. I'm struck by how it looks like I just got back from a comic convention rather than a bunch of yard sales. It was a tight race, but I think I made out even better than last week!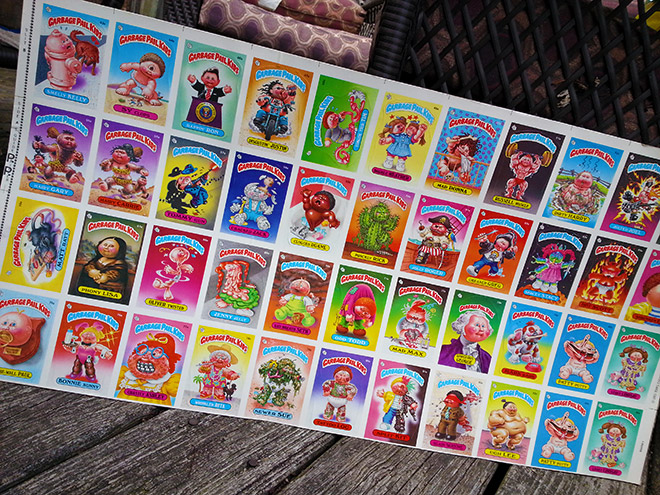 Uncut Sheet of Garbage Pail Kids!
Price: $10
Holy shit! An uncut sheet of 2nd Series Garbage Pail Kids stickers, from 1985! I used to buy sheets exactly like this from a long-closed indoor flea market, but that was back when they were still new.
Some random card dealer was always at that flea market; he was the one who sold the uncut sheets. Three dollars a pop. He also dabbled in everything from used Star Wars figures to vintage movie posters, and now that I think about it, his crusty booth was the first time I became aware of the collector's market. Oh, the memories! Memories of super cheap but criminally folded Gremlins posters!
I nearly died when I saw this on someone's lawn. I've often written about Garbage Pail Kids' fall from grace, but these uncut sheets represent a time when they were everything right with the world. All of my friends collected Garbage Pail Kids, but I was the only one busting out uncut sheets. (Of course, like an idiot, I'd always end up cutting the things into single cards, using imprecise scissors and my shaky left hand.)
I've since found a few auctions for this exact set with prices north of $60, so yeah, this was a sweet deal.
See more pics on Mummy Shark, and you'll learn the biggest reason to find an uncut sheet: You'll also get an uncut card-back poster! Read More…
We went yard sailin' on Saturday morning, and I think I hit the jackpot.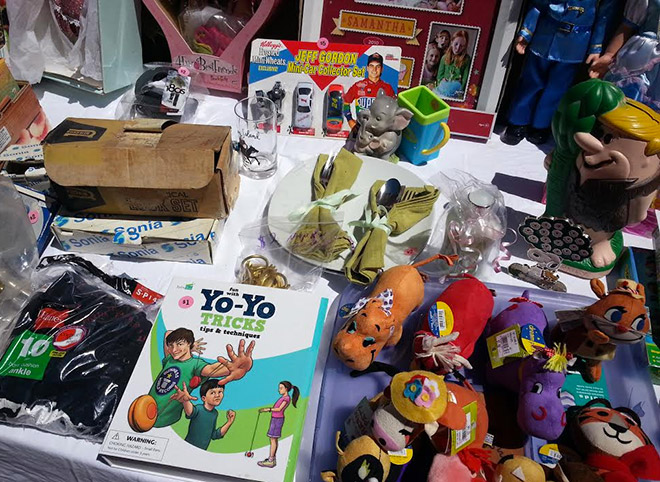 (No, that's not the jackpot.)
I don't go to yard sales as often as I did before everyone turned into a wannabe antique dealer. These days, you can barely buy paper plates without hearing about how they're VERY VALUABLE paper plates first. On balance, there are only so many times I can see $10 price tags on McDonald's Beanie Babies before orchestrating total stellar genocide.
But the weather was really nice. We didn't want to waste it. Most of the sales were duds, best exemplified by the one ran out of some lady's backyard. She was selling what I can only describe as a twelve-inch hammock filled with fake fruit. It was the most atrocious thing imaginable, so of course I wanted it.
I asked about the price. She gave the fruit hammock a discouraging look, and then made that "ooooh" sound. If you've been to many yard sales, you know this game. People do that when they're about to announce an awful price. She bluntly says "twenty five" before quickly turning her back, as if to add "I will not go a penny lower" purely through body language.
Twenty five bucks for a novelty hammock stuffed with plastic fruit? Jesus, is it at least lucky?
I had better luck at other sales. Much better than I was anticipating, actually. It wasn't so much that the stuff I picked up was that valuable, but they were really odd things to find at yard sales. Odd in a great way.
Here are my five favorite finds: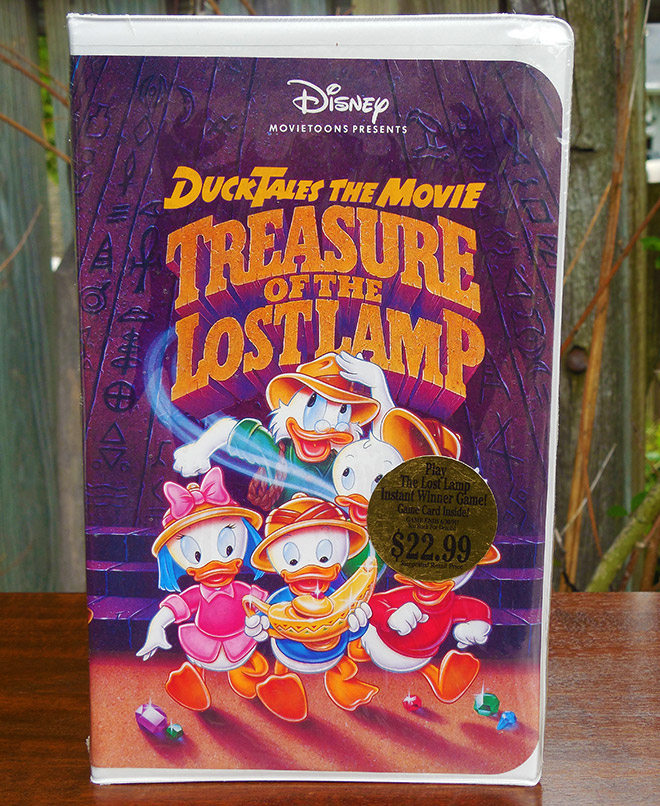 First, a SEALED copy of DuckTales The Movie, from 1991! Only a buck!
Disney tapes in clamshell cases are notorious for being resealed on the secondary market, but this one is legit because it still has the price sticker. Look close and you'll notice that there's also a Lost Lamp game card inside, which — had I found this tape before 6/30/91 — would have provided me the chance to win a free Disney World vacation.
I haven't written much about DuckTales, but I was a huuuuuge fan. I never forgave Goof Troop for knocking it out of the Disney Afternoon lineup. Though DuckTales The Movie did get a theatrical release, I waited for it to air on television. (I have a vague recollection of some network splitting it into parts and airing it during prime time. Can anyone confirm?)
As much as I'd like to crack this baby open, it must remain forever sealed. If I open it and find out that I'm the too-late winner of the Lost Lamp Instant Win Game, I'll die five years sooner than my doctor predicted. Read More…
"It's the first day of summer" is both the truth and the opening line to my debut rap single, I Can't Stand To Sit.
I thought we'd celebrate the shift in seasons with the most summery thing imaginable: Bamm-Bamm Rubble beating the shit out of cereal.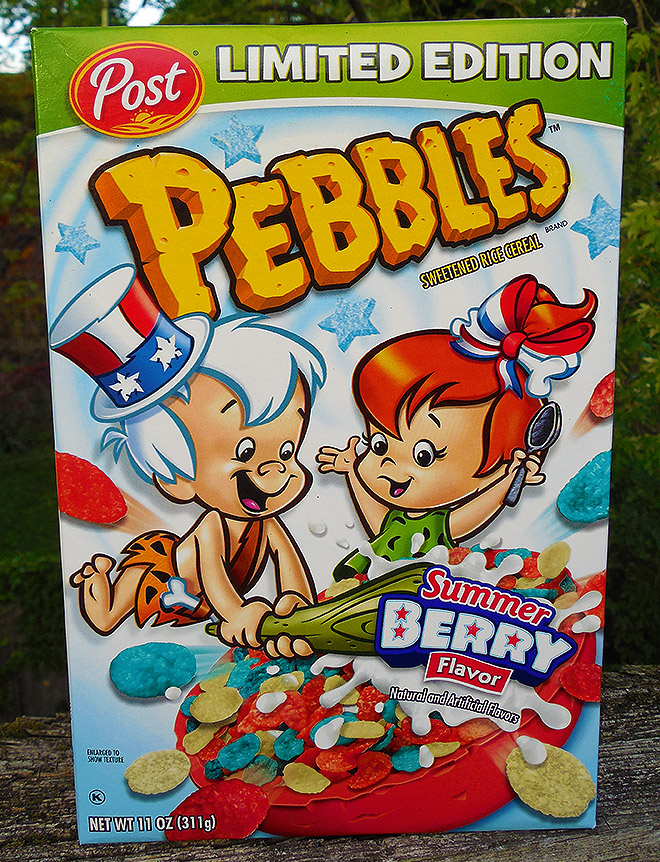 New from Post, it's Pebbles Cereal in a limited edition "Summer Berry Flavor."
I've beaten this horse before, but I'm still irked by cereal companies using the "limited edition" term. "Limited time," yes, but "limited edition" makes it sound like there's some frantic foreman in Post's shiny factory, waiting to throw cold water at the fusebox to ensure that his careless staff doesn't make even one box beyond 5000. I like the image, but I know it to be false.
Looking over the box, it's obvious that this was originally intended to have a strict Independence Day theme. At the last second, Post changed it to "summer," reasoning that it was better to get an extra month's worth of sales out of their efforts. If you doubt my theory, just check out Uncle Bamm. Read More…
Guys. We need to have a serious discussion about Little Debbie.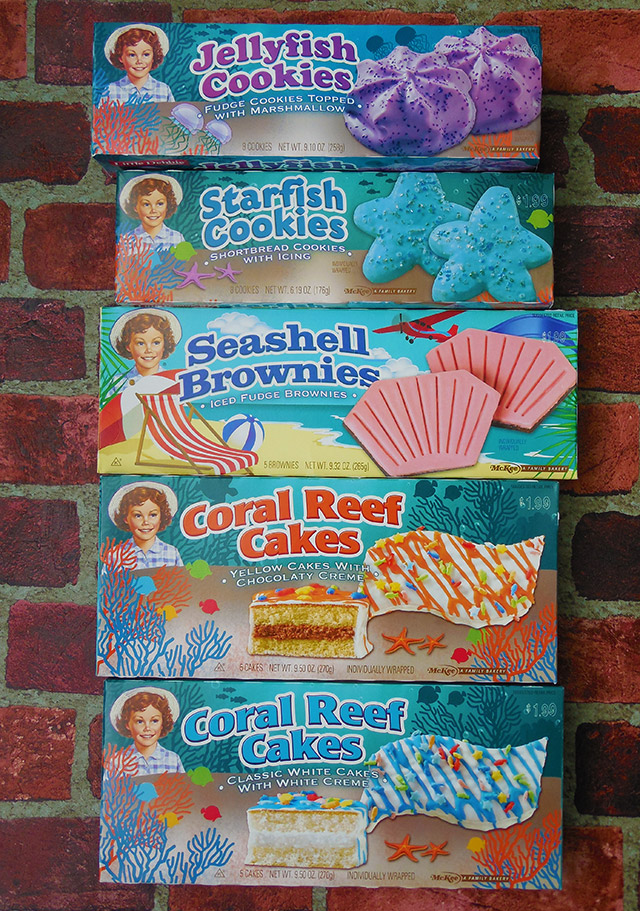 No stranger to seasonally-shaped snacks, Little Debbie had something special in mind for the 2014 summer season: Cookies and cakes based on sea animals.
It'd be one thing if she picked sharks and dolphins, but Debbie went with jellyfish and live coral. Bizarre but beautiful! I'd like to thank the supplier of Little Debbie's phencyclidine for inspiring her to stripe small cakes and tell us it's goddamned coral.
Let us examine these new treats, one by one. Read More…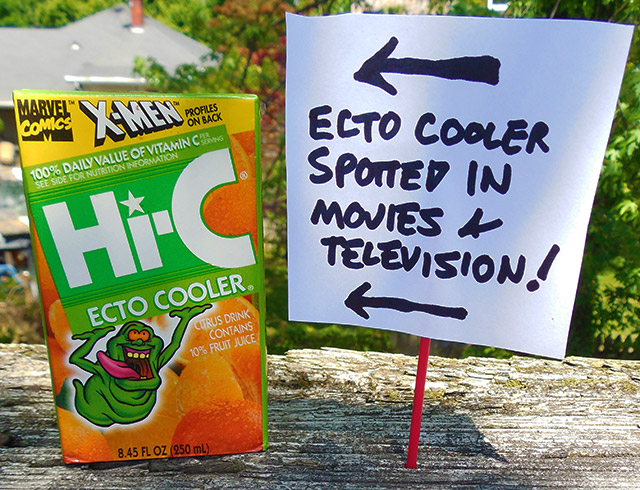 The weekend marks the 30th anniversary of Ghostbusters. Let's celebrate with Ecto Cooler!
Yeah, Hi-C Ecto Cooler, something I've written about four thousand times before, but never from this angle.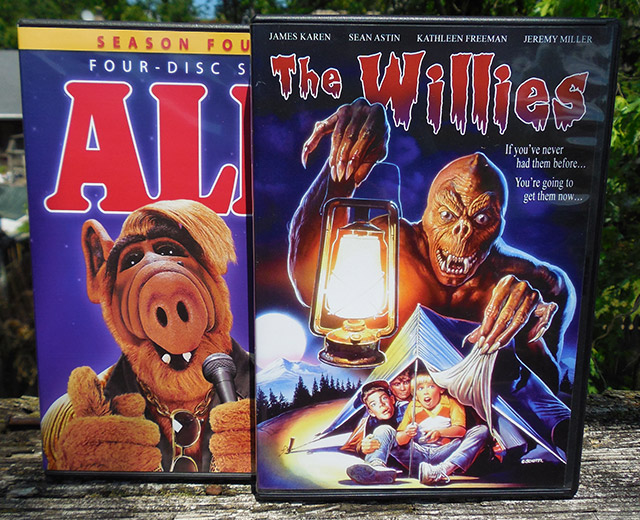 Some friends tipped me off about extremely implausible yet entirely provable Ecto Cooler sightings in movies and television. Feeling an intense need to corroborate their stories, I ordered the DVDs and went through those fuckers frame by frame.
Holy cow, there really WAS Ecto Cooler in an old episode of ALF. And another in The Willies, a little-known kid-targeted horror-comedy from 1990. Yes I am paid by the hyphen.
Regular readers know that spotting real world items in movies and television makes me giddy, so you can just imagine how sky-high I am over TWO SEPARATE honest-to-goodness Ecto Cooler sightings. If everything I've ever done online has a spirit animal, and I could get away with calling a beverage a spirit animal… I… I have no idea where I was going with that.
ECTO COOLER, spotted in ALF and an old horror movie! Here's the proof! Read More…