It all started with this thing: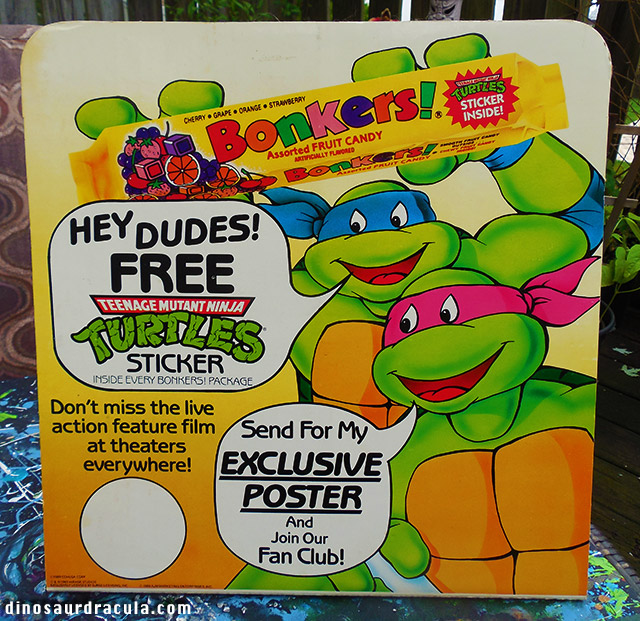 From 1989, it's a promotional standee for Bonkers candy, celebrating their historic teaming with the Teenage Mutant Ninja Turtles. I grew up loving everything on that standee, so when I had the chance to buy it, I jumped.
If you don't remember Bonkers, the fruit chews were similar to Starburst, yet somehow a hundred times better than Starburst. Each two-toned "brick" of candy was pure fruity sex on the tongue, and I'll never understand why they were discontinued. Didn't every kid eat Bonkers? Hell, whenever one of my friends asked for a piece, I was like Elaine with her sponges.
Specifically, this standee promoted special packs of Bonkers that came with free Ninja Turtles stickers. (An awareness-drive for their first big screen movie, set to debut in early 1990.)
If not for recent developments, our story would end there.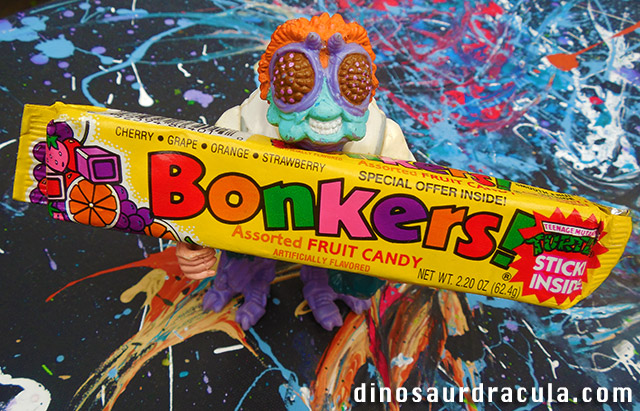 Under the auspices of Luck and Fortune, I was able to obtain that exact pack of Bonkers. Like the standee, it's from 1989. That makes it 25 years old, which I imagine is older than 30% of this site's audience. I am handling food that's been on this planet for longer than some of you. Senses of accomplishment take many forms: I am so PROUD of my old candy.
Preserving this in an airtight chamber would be the smart thing to do, but for the sake of a better article, I'm gonna do the stupid thing. I'm gonna open this baby up. Read More…
Since we're up to the seventh installment of this series, I guess I can skip the preamble. Here are random action figures. Five of them!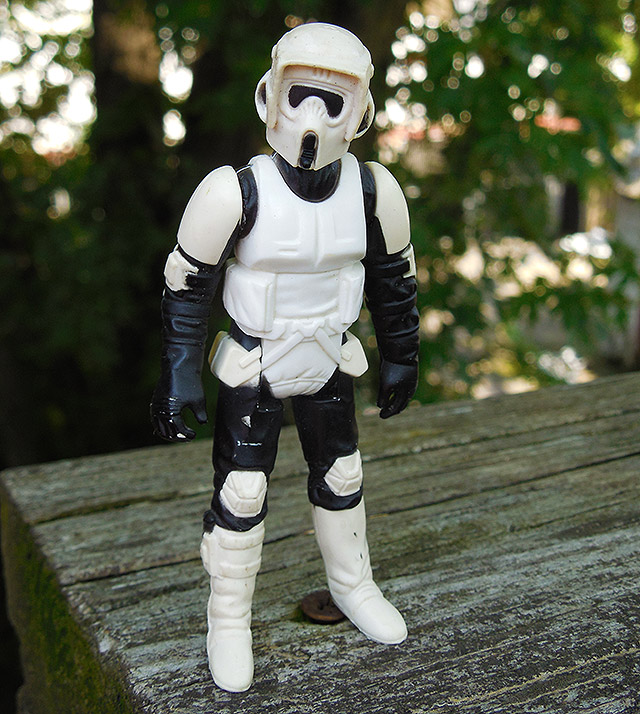 Biker Scout
Star Wars, 1983
Behold, one of my favorite figures from Kenner's immense Star Wars collection. Something about the Biker Scout's boxy head appealed to me in a way normal Stormtroopers didn't, and excluding the Emperor's Royal Guard, this was the Star Wars figure I bought most often. (Sometimes I needed to replace a lost figure; other times I just wanted more Biker Scouts.)
Critics be damned: When I hear "Star Wars," my mind jumps to Return of the Jedi. It's fitting that my most beloved "Imperial" characters were exclusive to that movie.
The biggest reason to own a Biker Scout was to have an appropriate figure to place on Kenner's "Speeder Bike" vehicle. (The one that blew apart with the push of a button… which was an awesome feature until you realized how easy it was to hit said button by accident.)
Speeder bikes featured prominently in ROTJ, of course, and I grew up wanting to ride one more than any other fictitious vehicle. Every time I was in my parents' car, stuck in Jersey shore traffic, I'd imagine myself on a speeder bike, casually zipping to Wildwood just above the many hoods. In those dreams, I'd be dressed in the Biker Scout's uniform. Read More…
In November of 2000, I placed my first-ever order with Amazon. Reviewing my account, it looks like I bought Charmander earrings, two Furby Babies, and twenty of the exact same Darth Sidious figure, just because it was marked down to a buck.
Probably shouldn't have admitted all of that, but here's the point: I'd guess that the vast majority of you have been ordering from Amazon for nearly as long. Maybe even longer. Many of us have ordered so frequently that our purchase histories read like diaries. It's been our collective corner deli for everything that isn't food.
I thought it'd be interesting to take a look at Amazon as it existed back when a lot of us were first hearing about it, so I dug up an old version of site.
This was Amazon, on August 27th, 1999: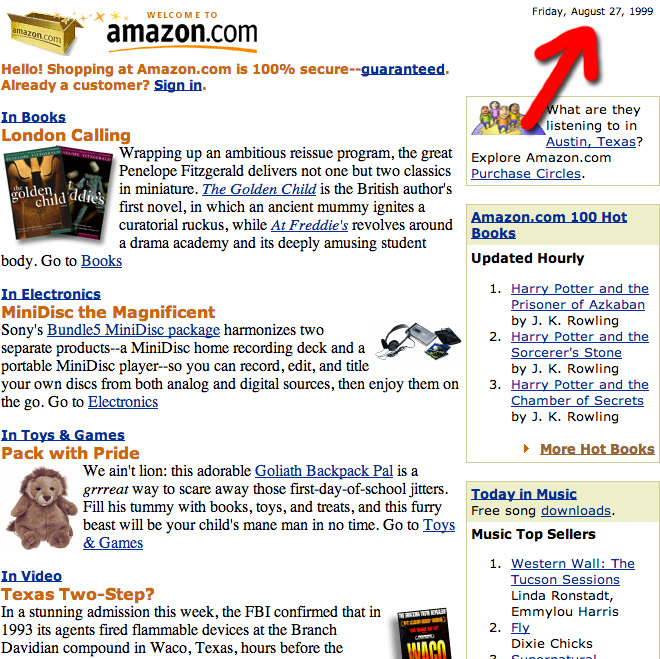 Maybe Amazon's comfort factor stems from how little it's changed through the years. Today's version of the site is slicker, more responsive and less heavy on the ten paragraph advertorials, but it's still basically the same.
The screenshot isn't a mockup. That's what people saw on the Amazon homepage on 8/27/99. As I clicked through the site, so many memories came flooding back. I had to remind myself that 1999 really was fifteen years ago, and that it wasn't crazy to see so many new movies in VHS format. (God, we're all so old.)
I spent most of my time in the "Toys & Games" category. Holy nostalgia. The neat thing about sifting through Ancient Amazon rather than an old store catalog is that you'll see much obscurer things. A catalog will remind you about "big launch" releases, but even back then, Amazon carried everything. It was as much "shit parade" as "hit parade," and I loved every second of it.
To commemorate the hours I spent navigating dead links (and forced redirects to more dead links), here are thirteen random playthings Amazon sold back in 1999. Read More…
I was separating a stack of papers into "keep" and "toss" piles, and buried underneath so many hotel receipts and menus for dead restaurants, there it was…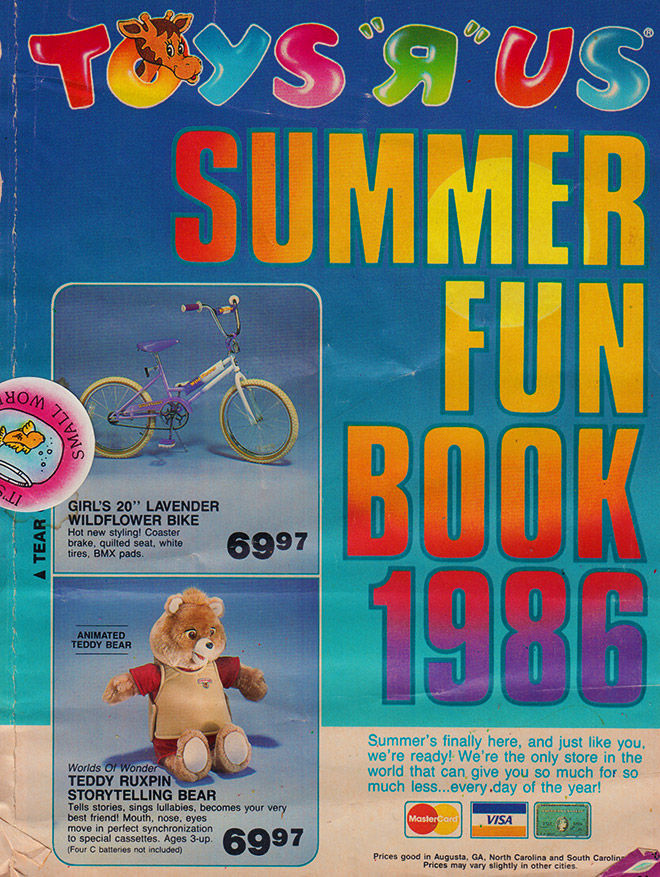 Yeah, this one went into the "keep" pile. It's the Toys "R" Us Summer Fun Book, from 1986! Lightweight and only around a dozen pages, I'm guessing they came packed with Sunday newspapers. The contents aren't nearly as voluminous as what we used to see in Sears Wish Books, but there was certainly enough to make me a remember a time when toys were my everything. Here are the highlights: Read More…