Continuing with my "Five Random Action Figures" series, I thought I'd make this edition a little more appropriate for the Halloween Countdown. This time, our five random action figures are all TERRIBLE MONSTERS!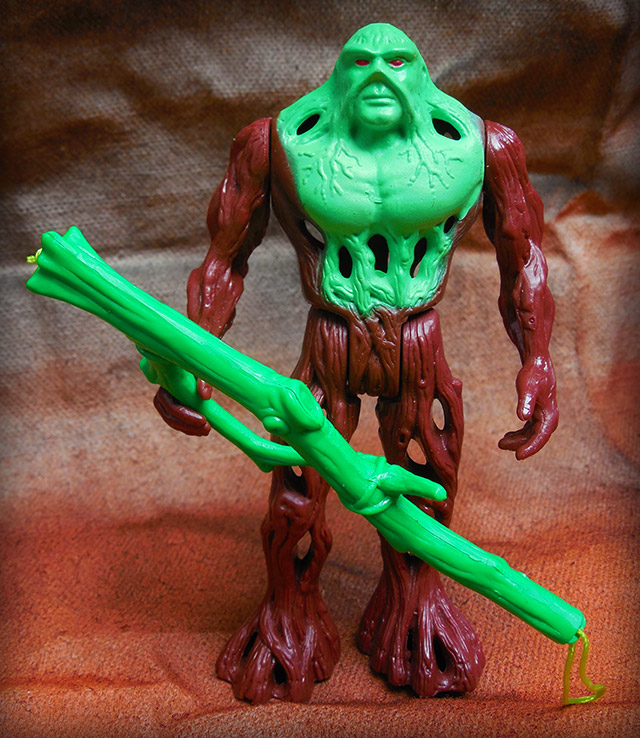 Camouflage Swamp Thing
Swamp Thing, 1990
This toy series found root (heyoooo) in the Swamp Thing animated series. Good lord, what fantastic figures! Most notably, the villains came with what were essentially finger puppets, which they could (loosely) wear over their heads to become "monsters."
There were several different Swamp Thing figures available, of course, and Kenner did a great job in differentiating them. One Swamp Thing glowed in the dark. Another had his left hand attached by a string, to serve as an organic snare. A third could actually fall apart, into what was supposed to look like a pile of harmless branches, even if it really just looked like a dismembered Swamp Thing.
The guy pictured here is Camouflage Swamp Thing. With a little cold water, all of his green parts will turn brown. (I guess to assist him with sneak attacks from the mud?) It was the same gimmick that those old Matchbox cars had, but it was a hell of a lot cooler to do it to Swamp Thing. Read More…
It's been a beautifully gloomy day, complete with an especially long thunderstorm. I'm so looking forward to camping on the couch with sunflower seeds and Michael Myers. But first, this!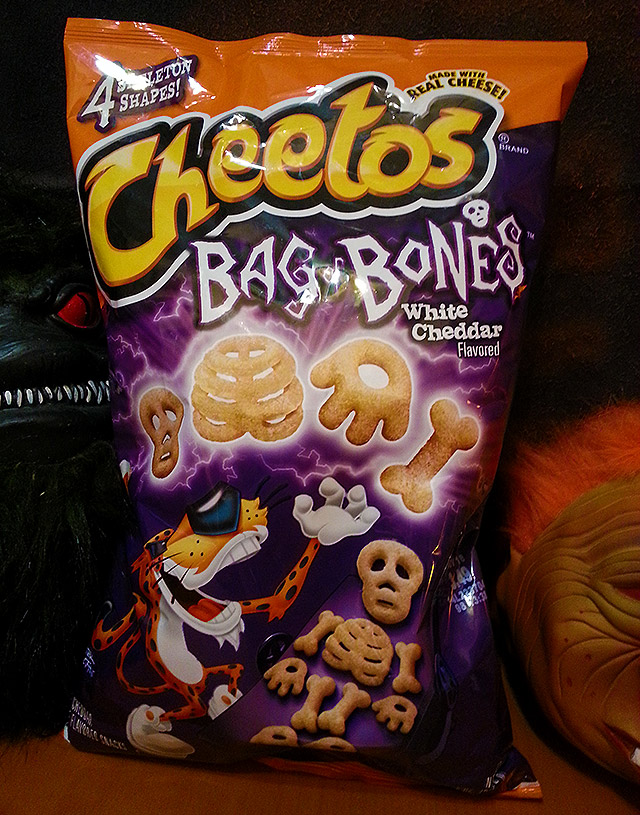 Oh, man. GORGEOUS. I'm not completely sure if they're new for 2014, but they definitely weren't around last year. It's the Cheetos BAG OF BONES! With "bones" in four different shapes, you're afforded the chance to make complete skeletons out of white cheddar Cheetos! YAY!!!
Get the full scoop in tonight's video:
It's pretty early, but I think these are gonna be one of the big highlights of the season. I keep looking over at the bag and thinking, "Thank God I bought two."
Enjoy, and thanks for watching.
It's a Saturday in September. Go do something spooky! Read More…
They say a picture is worth a thousand words.
This one was good for 1174.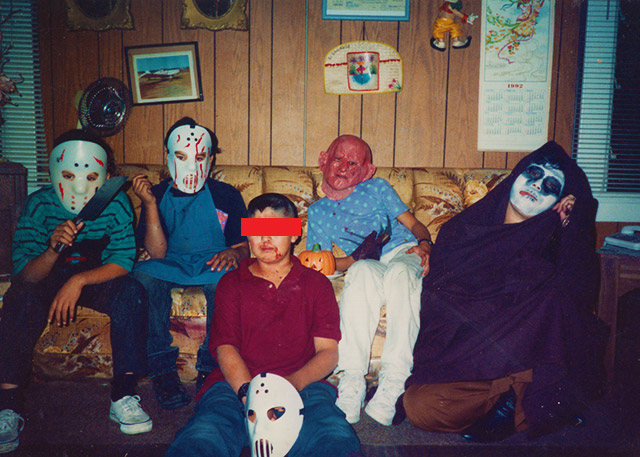 No, it's not mine. I do not know these people.
I bought the photo from someone on eBay of all places. It spoke to me in ways even my own photos rarely do.
It's from 1992, and it perfectly encapsulates the Halloweens of my childhood.
It reminds me of Halloweens from just a few years before then, when I would've been around the same age as these mysterious boys. (I'm guessing they were 10 or 11? For the sake of this piece, let's assume they were.)
Everything about it is so on-target. Especially the spirited yet incomplete costumes, which were clearly the result of a quick trip to their local pharmacy's Halloween section.
When I was that age, that's what Halloween was like for me. My friends and I were still young enough to go trick-or-treating, but too old to act like we really cared about it. We all did the "cheap Jason Voorhees" thing. For some reason, those hockey masks felt more like cool hats than "childish" Halloween costumes. We felt safe in them. We'd found a loophole.
Preteen social stigmas aside, those were some of my favorite Halloweens. We were finally old enough to go out alone! We were finally old enough to venture beyond the same boring five blocks we'd grown up trick-or-treating around! And we were finally old enough to do it all at night. It was like we were masquerading as adults and kids at the same time.
The photo sparks more memories than that. Look at that house! Is that my house? I'm pretty sure I used to live in that house. We had the same wood paneling. The same free wall calendar. The same crappy fan!
Let's zoom in a little closer… Read More…
I'm getting a good feeling about this year's Halloween candy haul…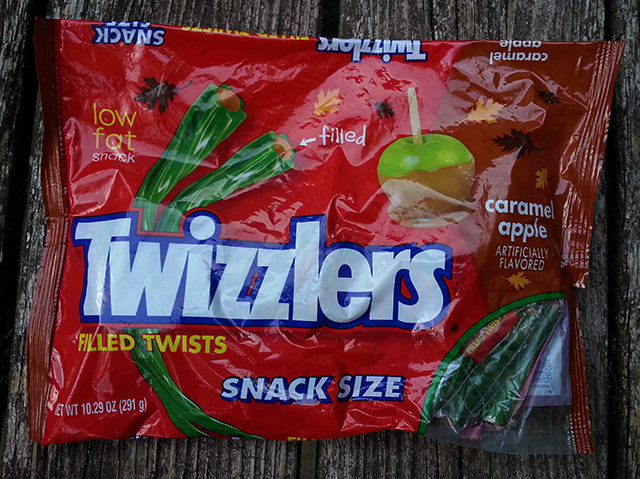 New for 2014, it's Caramel Apple Twizzlers! They're apple twists filled with caramel goo! I'd tell you more, but that's what the video is for. Watch my review, below!
You are subscribed to Dino Drac on YouTube, right?
I can't say that I prefer them over normal strawberry Twizzlers, but they're still pretty good. And way strange. I wasn't familiar with these "filled" Twizzlers before today, and, uh… yeah, they're definitely strange.
As I mention in the video, it's nice to see Twizzlers do something different this year. "Everyday" Twizzlers are always going to be a Halloween staple, but if Hershey wanted internet weirdos to make a fuss about the brand, this was a great step.
And now, some extra photos, for no good reason. Read More…
Remember last year's SDCC exclusive Jason Voorhees figure? You know, the "8-bit" one? Of course you do.
…but unless you're a serious Friday the 13th fan, here's something you probably don't know: That figure started a minor revolution. I touched on this in my last Monster-Mania report, but my friend John has the story in much greater detail. "8-bit Jason" has taken the horror world by storm, and as if from nowhere, seeing Jason Voorhees with a blue mask and purple skin has become nearly as common as seeing him the "right" way.
For years, Jason's screwy look in the old Nintendo game was something people made fun of. How couldn't they? Why did they make Jason blue and purple, anyway?
But these days? Forget it. As strange as it sounds, that look has become a beloved part of his lore.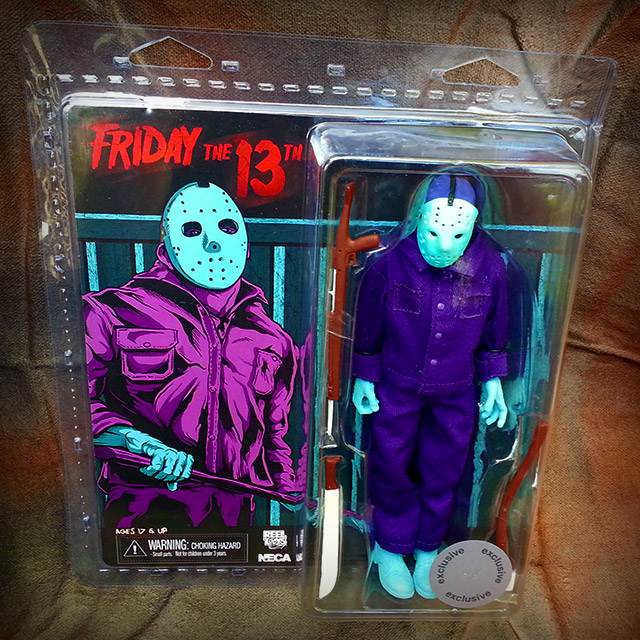 So of course I was going to be all over this new figure, again from NECA. Everyone went berserk when the news broke a short while back. With nary a peep, NECA and Toys "R" Us teamed for another 8-Bit Jason figure, this time in a larger "Mego" style. (If you're unfamiliar with Mego's ancient exploits, the toys they made were essentially blends of "dolls" and "action figures.")
This new Jason is a TRU exclusive, and after checking multiple stores multiple times on multiple days, I found zip. I'm not sure exactly how many of the figures were produced, but early on, they were obviously being gobbled up by dealers. Who could blame them? For the first week or so, the toys were selling for triple their retail price on eBay.
Eventually, TRU put the figures online. Never before had my fingers typed a credit card number so fast. (It's sold out as of this writing, but since New Purple Jason doesn't seem to be as rare as was initially feared, I'd advise against paying eBay rates. Just keep looking!) Read More…