After a crazy holiday weekend filled with ups (lots of wine) and downs (too much wine), I come to you with only the barest sense of coherence!
Welcome to the eleventh edition of Five Random Action Figures, starring old plastic monsters from my personal collection. As a matter of full disclosure, this post is only being written so I can sneakily show off the gaudy Christmas decorations I found at Dollar Tree.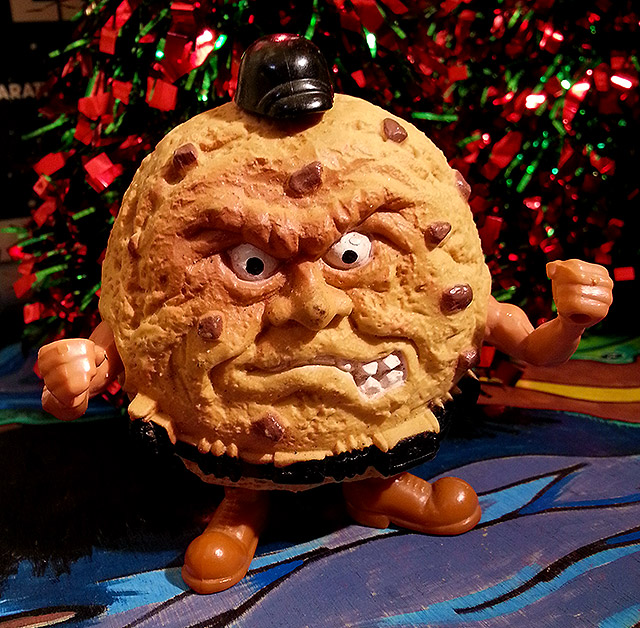 Chip the Ripper
Food Fighters, 1988
I covered Food Fighters in the very first edition of Five Random Action Figures, but here's something I didn't realize at the time: This line has gotten popular!
Over the past few months, I've noticed that whenever a Food Fighters photo works its way onto social media, everybody flips. I've also noticed correspondingly higher prices for these formerly dirt cheap figures. What gives?
Maybe none of us realized that so many others shared our affinity? Back in the day, nobody bragged about having lots of Food Fighters. It's not like we called time-outs in strangers' handball games to announce that we'd found figures based on hamburgers and pizza. Maybe the line's popularity surge has something to do with our newfound camaraderie?
Or could it be that Food Fighters is simply gaining new fans now, in 2014? Surely one of you has never heard of them before this article. Does the idea of warring armies full of anthropomorphic edibles intrigue you? Am I inadvertently creating more eBay competition for myself with the mere mention of them? If so… fuck! Read More…
The little-updated Features section has now been… uh, updated.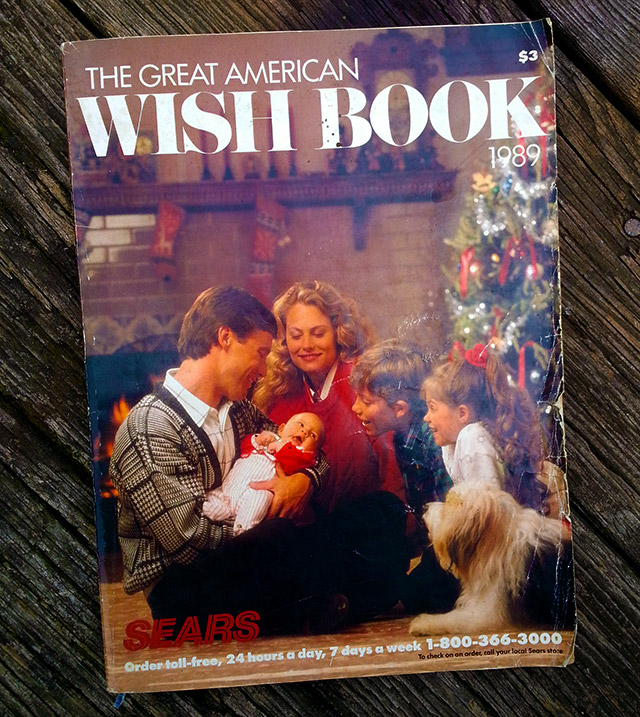 So go read about Twelve Treasures from the 1989 Sears Wish Book! See everything from old Ghostbusters toys to a giant gaudy stereo system! Make a cup of coffee before you do, because this one is LONG.
I was going to disallow comments on this entry since it's really more of a non-entry, but what the hell, let's have fun and turn it into a survey.
Thanksgiving plans? Thanksgiving to-dos? Let's hear them. Spill it. Maybe even complain.
Over here, we're on stuffed mushroom duty as usual. The hardest part will be actually finding mushrooms a day before Thanksgiving. Oops. Thursday morning will be spent handling those and watching the parade. Then we're off to relative's house more than an hour away, or in Thanksgiving traffic terms, five hours away. Can't wait for that! Read More…
I'm back with another edition of Classic Christmas Commercials, once again donated by our friend Larry. This is a particularly great batch, featuring everything from Ghostbusters toys to wacky Chicken McNuggets, and if you're lucky, extra cheap cologne.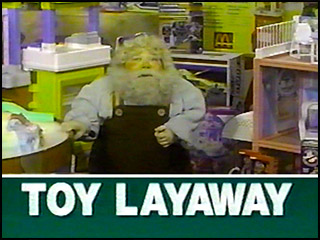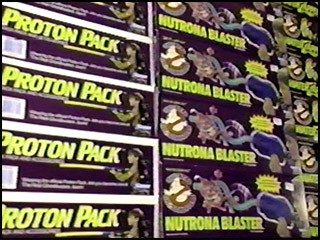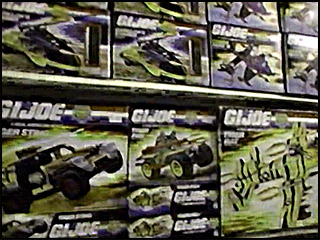 Hills "Christmas Toys Layaway" Commercial!
(1989)
Hills was a Massachusetts-based chain of department stores, and I'm quite certain that I've never lived within driving distance of one. I'm sad about that, as according to this commercial, the chain's mascot was a crossbreed of Santa Claus and one of his elves. Shockingly, a helium-voiced Mini-Santa isn't even the best part of the ad!
Smaller chains didn't have to play like the big boys. Ever notice how rare it is for Toys "R" Us to show panning shots of store shelves in their commercials? There are many reasons for that, not the least of which being very complex relationships with the companies they get their products from. In the rare cases when such shots were used, it's a safe bet that the featured toys were carefully selected. (Meaning, the shots of those shelves were mockups.)
With a place like Hills, none of that shit mattered. You'll see toys from every maker in this ad, and man, there are some beauties. My favorite has to be the stack of Real Ghostbusters Proton Packs, which today would be worth triple the amount Hills spent to produce this commercial.
If you want to drive yourself crazy, try to identify all of the toys in the "showroom shot" near the end. There are around 500 things surrounding Mini-Santa, and 490 of them would be tough to recognize even if the video didn't have so much dub-damage. You'll still see enough to be incredibly jealous of Mini-Santa. Read More…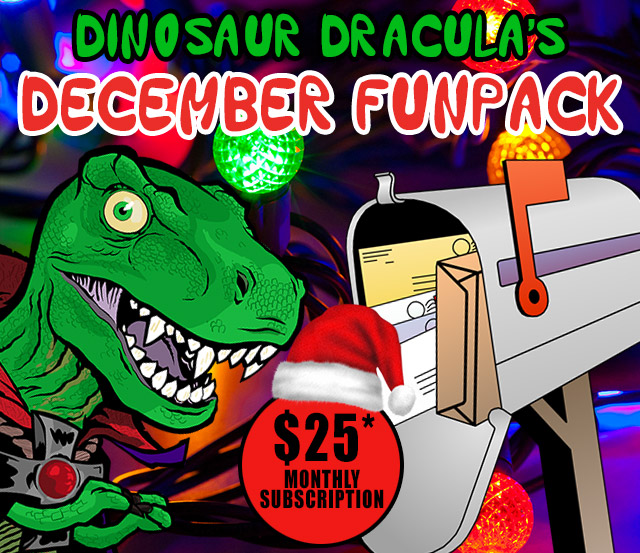 (NOTE: Available in the United States only!)
Okay folks, I'm ready to plug the hell out of Dino Drac's Funpacks again! For those who don't know, for 25 bucks each month, you'll get a new box of random junk sent straight to your door, every month! (And yes, you can cancel at any time!) Subscriptions keep this site alive, and in return, you'll get a package full of insanity each month.
Check it out… the December 2014 Funpack HAS LANDED!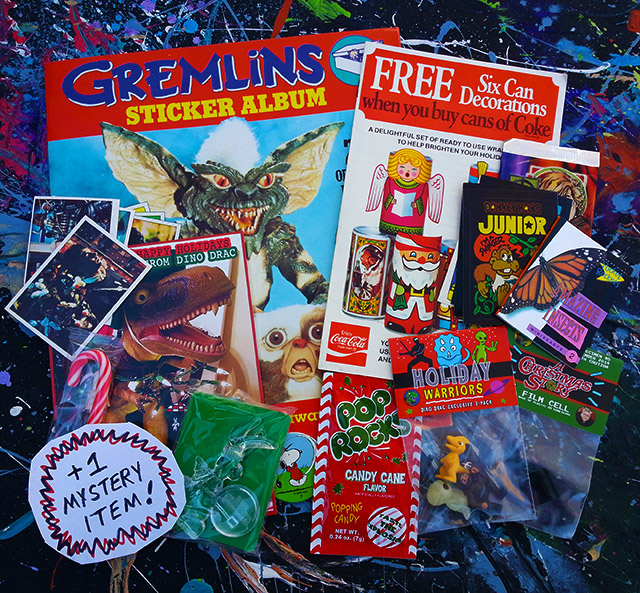 It's a hot hot ho ho holiday extravaganza! Read More…