Tonight is the first chapter in what I guess we could call my personal pantheon of shitty food. From the '80s and '90s, here are six snacks I want back: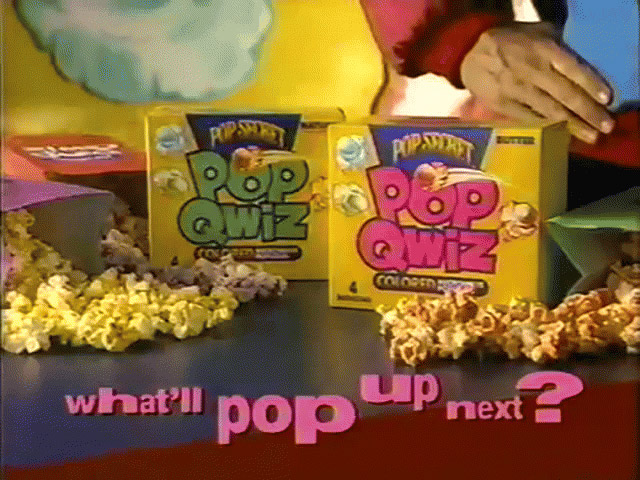 Pop Quiz Popcorn! 
Made in 1992, Pop Qwiz was my jam. Believing that kids would love popcorn even more if it came in ridiculous colors, this was Pop Secret's attempt to turn junk food into SUPER junk food.
Each bag was filled with popcorn in a neon mystery color, and until you ripped 'em open and narrowly avoided the killer steam, you didn't know if you'd be eating something blue, red or purple. What fun!
The coloring didn't affect the buttery taste — it was just in play to make us feel circussy. As I recall, Pop Qwiz's only negative was that the small bags were very easy to overcook, leaving you with popcorn that was half blue and half unforgiving coal. Of course, since black, smoldering popcorn is one of life's most covert delicacies, that never bothered me too much. Read More…
I wouldn't normally go back to the "Five Random Action Figures" well so soon, but I'm tired and I have a headache and my car is broken, and this is the only series I can handle when I'm completely oblivious to what I'm writing. My favorite blog about raising a chimp in a screen house hasn't updated in a while, and I'm starting to fear the worst.
Here's the fifteenth edition of Five Random Action Figures, typed on a stormy night in a room that has no reason to smell like oranges, but does.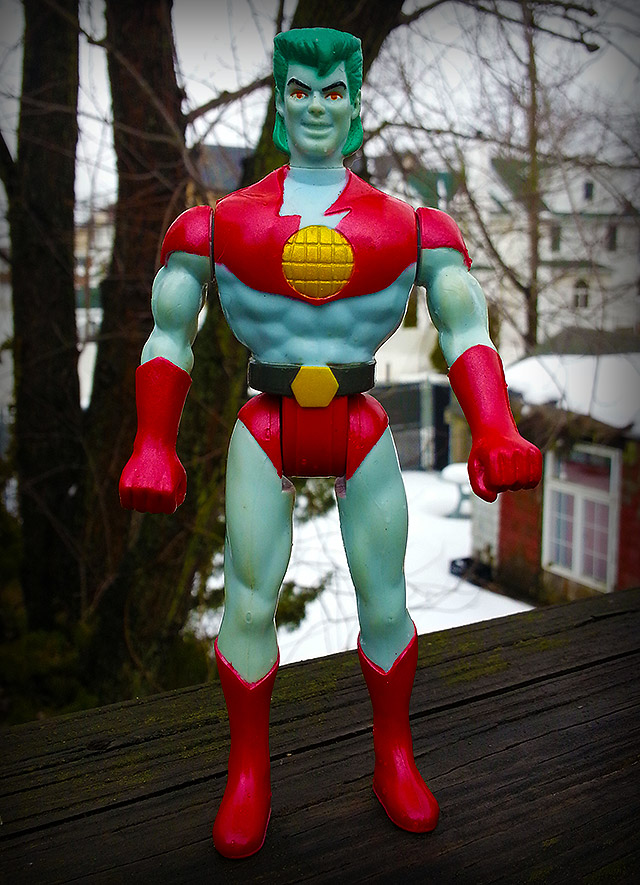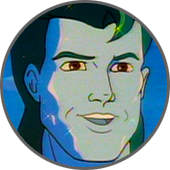 Captain Planet
Captain Planet and the Planeteers, 1991
With sky blue skin and a grass green mullet, Captain Planet was a superhero with an ecological slant. Summoned by magical rings worn by multicultural children, he'd fly in like Superman and never stop smiling, no matter how many bad guys threw fiery, poison-soaked logs at his face.
Positive anti-pollution messages aside, the cartoon existed to sell toys, and Captain Planet had a great line. In general, the villain figures outclassed the heroes, as it was pretty hard to pick some noodnik teenager over a snarling rock man with lumpy, glow-in-the-dark skin.
99 out of every 100 people remember the first verse of the Captain Planet theme song, which according to legend was written by Phil Collins. That's untrue, but let's roll with it, because if there's anything weirder than a theme song about an environmentally conscious flying blue man, it's that plus Phil Collins. Read More…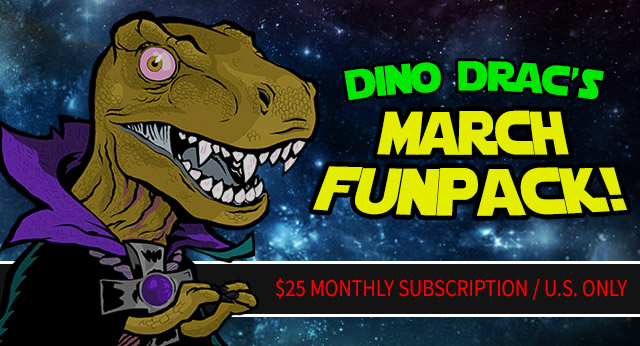 Dino Drac's March 2015 Funpack has arrived, and this one is out of this world! It's the Funpack from outer space, loaded with extraterrestrial awesomeness!
As most of you know, these Funpack subscriptions have become the lifeblood of Dino Drac, so on top of getting boxes full of weird junk every month, you're also helping to keep the site afloat!
Quick and dirty info: Subscriptions are available in the United States only. It's $25 a month (that includes shipping) and you can cancel at any time. For as long as you stay subscribed, you'll continue getting new Funpacks every month!
March's box is extra special. There are some seriously choice items in here, and everyone's being upgraded to Priority Mail for speedier service!
Wondering what's inside? Keep reading! Read More…