It's time for another batch of Classic Christmas Commercials, featuring pizza and laundry detergent and Ronald McDonald. Three of these are from my collection; the remaining are from our pal Larry. May they fill your hearts with joy, and your brains with really old ad jingles.
A Toys "R" Us Christmas! (1984)
So much to love about this one, from Geoffrey's old school "baseball mascot" visage to that rare shot of Takara's Kronoform watches, which transformed from timepieces into robot warriors!
While the commercial highlighted some specific products, it was more meant to reaffirm Toys "R" Us's standing as the best place on the planet. For the seven-year-olds who hummed along to its theme song, that was 100% truth.
(And yes, you might notice that this "Christmas" commercial cannibalized footage from other, evergreen TRU commercials. Since the new footage consisted of Geoffrey and a little kid chilling in what was for all intents the house from A Christmas Story, that's totally forgivable.) Read More…
I'm back with another batch of this year's hottest holiday junk food. If you missed the previous reasons to look like Santa, click here and here.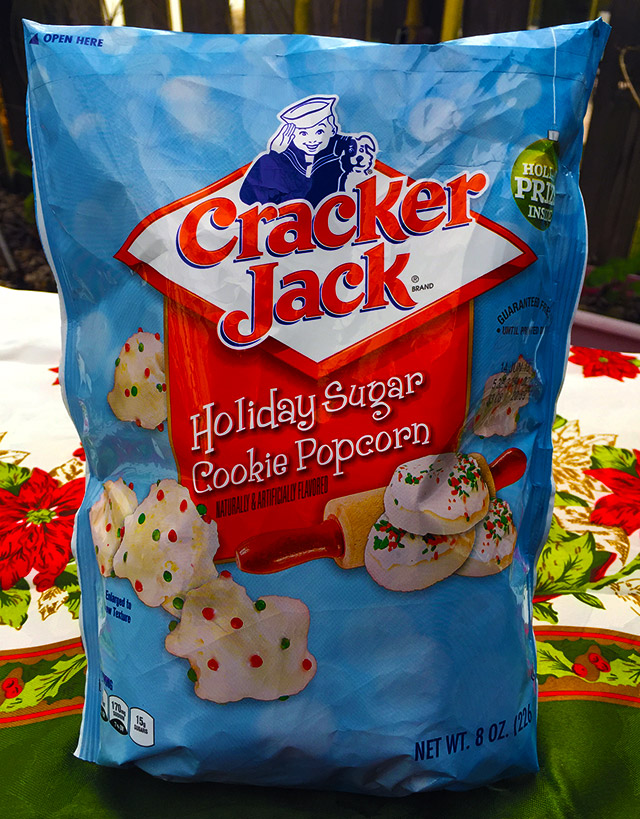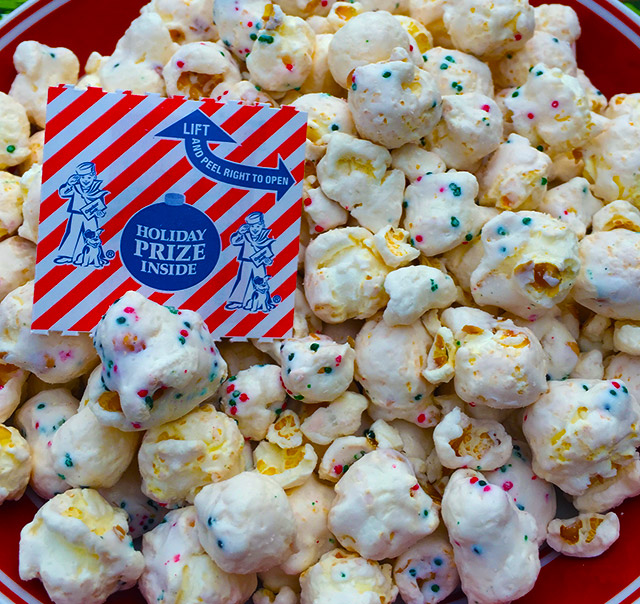 Cracker Jack Holiday Sugar Cookie Popcorn!
It took me over a month to find a bag, but it was worth the wait. I'm not a big Cracker Jack guy — it's honestly one of the last junk foods I'd ever buy for myself — but I was still super intrigued by their obvious dedication to the theme.
It's not just "Cracker Jack with a twist," but really a whole new product. The popcorn is coated with snowy frosting and topped with holiday sprinkles, and as promised, it takes like legit sugar cookies. It's not something I'd want to eat every day, but for the purposes of making a Plain Jane December evening feel like Christmas morning, I'm giving it the full 10 points.
Actually, I'm giving it 12 — one bonus point for the traditional Cracker Jack prize (mine was a reindeer sticker), and another for the fact that this shit will work great as tree garland. Read More…
When we think about "animated Christmas TV specials," our minds drift to the likes of Charlie Brown, Frosty, Rudolph and yeah, even Garfield, because we're never gonna let it go with that one.
Of course, the wealth of Christmas cartoons runs so much deeper than that. In the early '80s especially, it seemed like there were five new ones every year!
These were the halcyon days of television Christmas specials. It wasn't just that so many were produced, but also that the major networks gladly ran them in primetime. (In fact, there were years when multiple networks competed for young eyeballs by programming different cartoon Christmas specials against each other. When's the last time we've seen that happen?)
Down below: Eight animated Christmas specials from the '80s that you may have forgotten… and tips on how you can see 'em today!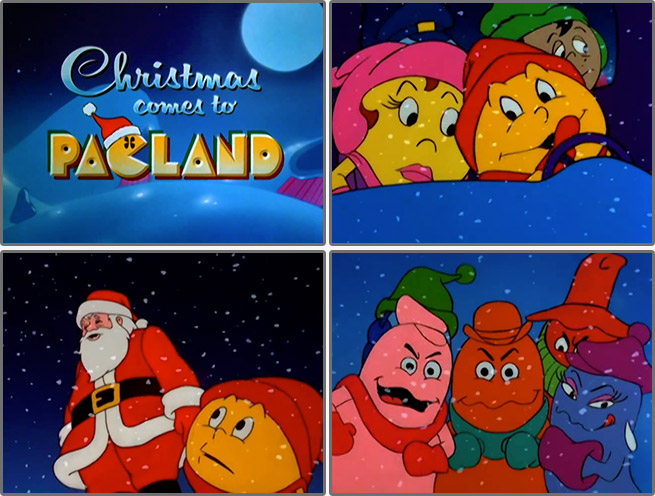 Christmas Comes to Pac-Land!
Premiered Thursday 12/16/1982 @ 8 PM
Synopsis: Santa crashes his sleigh in Pac-Land, so it's up to Pac-Man to save Christmas! In the end, Pac-Man feeds Santa's reindeer power pellets to get them back into flying shape (seriously), and the holiday is spared.
Highlight: Watching the usually-evil ghosts act like pretty okay guys, all in the spirit of Christmas.
Background: Christmas Comes to Pac-Land was spun from Pac-Man's Saturday morning cartoon series, which debuted earlier that same year. Now mostly counted as a mere holiday-themed episode of that series, it really was an honest-to-goodness TV special, with a spot in primetime. (In more recent years it became a Cartoon Network favorite.)
Viewing Options: While Warner allows a preview clip on YouTube, you can find the whole special on Pac-Man: The Complete Second Season. Read More…
Hooray! It's finally here! Dino Drac's December 2015 Funpack is available now, and I think this one qualifies as a doozy!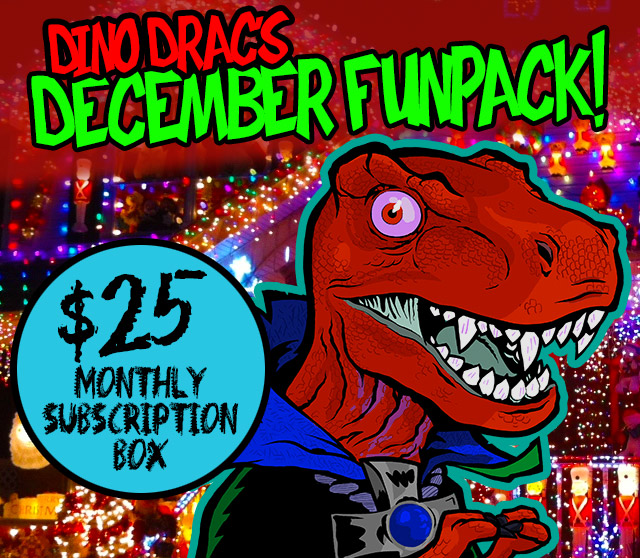 (Available in the United States only!)
Do I need to do the spiel again? Okay! If you haven't been watching the site too closely, I sell monthly Funpacks. Without them, there'd be no Dino Drac!
Subscriptions are $25 a month (that includes shipping), and for as long as you stay subscribed, you'll continue to receive new boxes of fun junk, each and every month. You can cancel at any time without penalty. In trade for helping to keep the site afloat, you'll get a box some some (arguably) awesome stuff!
Skip to the bottom of this post for additional subscription details and notes on how to order. Or keep reading, to see what's in store for the December 2015 Funpack!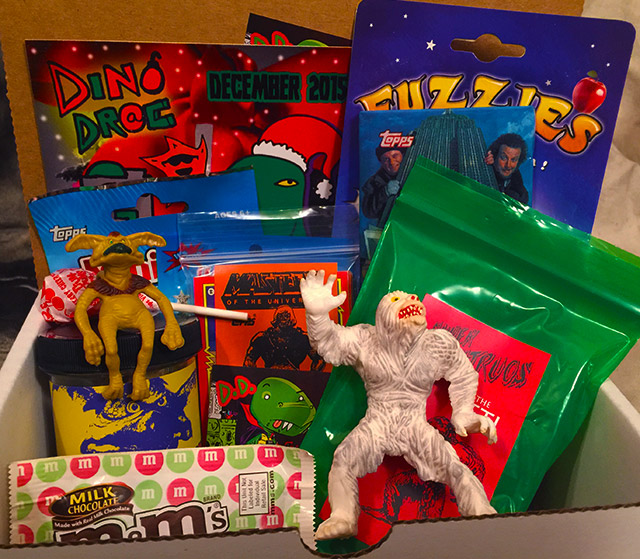 Duuuuudes, I think you're gonna like this box.
To celebrate the holidays, this month's Funpack will make you feel like a kid on Christmas morning… but more specifically like a kid on Christmas morning in 1985. Every Funpack is loaded with stuff that's either actually-vintage or retro-feeling. If you're the type of person who can stomach my mile-long tributes to the minutiae of yesteryear, I'm pretty positive that you'll love the contents.
EVERY subscriber will receive ALL of the following… Read More…
Hello! Tonight I'll be tearing apart another old toy catalog for your enjoyment.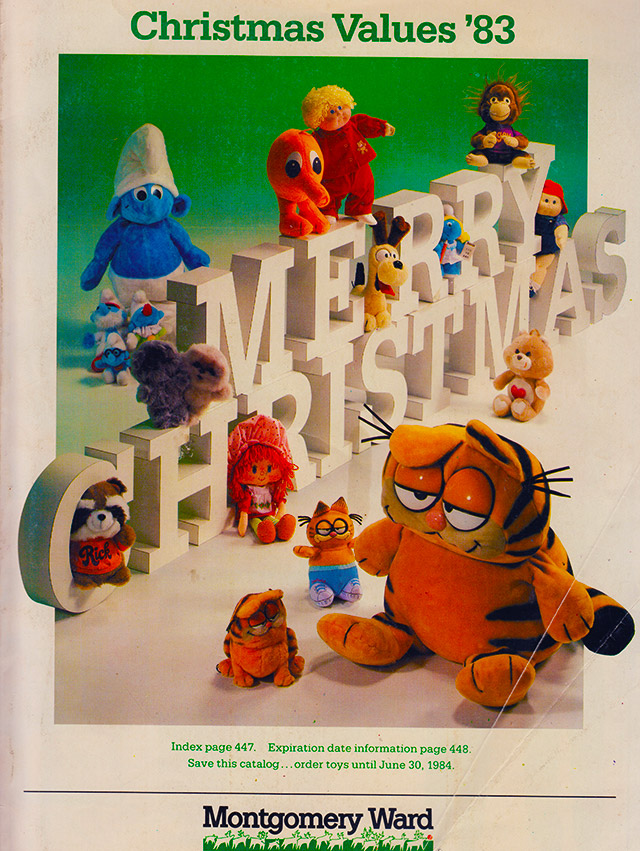 This time, Montgomery Ward's 1983 Christmas catalog is on the slab. We didn't have Montgomery Ward stores around here, so my firsthand knowledge is limited to stray references in long-ended sitcoms.
I was only four when this catalog came out, so I'm surprised that I remember its inclusions so clearly. I guess it's hard to forget Han Solo bedsheets, or tricycles meant to resemble KITT.
For the record, that year's hottest brands — at least according to this catalog — were The Smurfs, Garfield, Star Wars and Strawberry Shortcake. Below are eight of the highlights!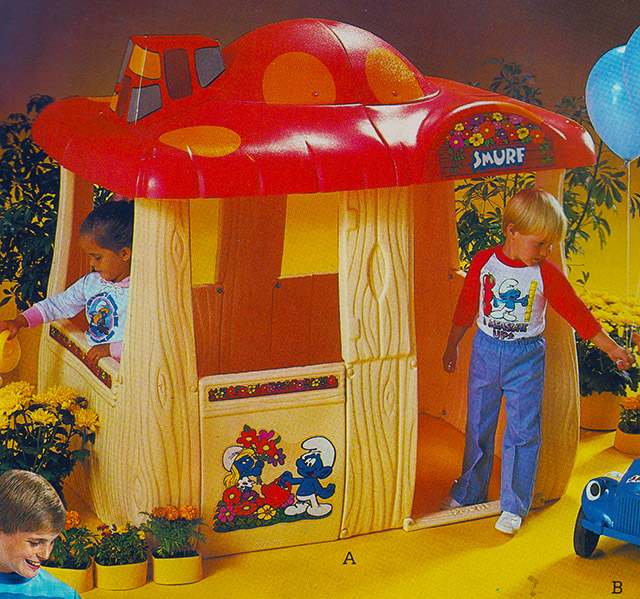 Smurf Playhouse!
($109.99)
I would've killed for something like this as a kid, Smurfs branding or not. Perhaps as a result of spending my formative years in a crowded house with few sacred spaces, the idea of my own clubhouse was riotously appealing.
Standing almost five feet tall and looking as much like Fred Flintstone's house as Papa Smurf's, the playhouse was mostly made for outdoor use, where it'd no doubt stay in the backyard for way more years than were necessary, slowly evolving into a filthy sanctuary for bugs and raccoons. Read More…