I love all of the toy store circulars that come with newspapers during the holiday season, even if the present definition limits that to Toys "R" Us and individual pity pages from Target and Walmart. You know what we're missing? Kay-Bee Toys!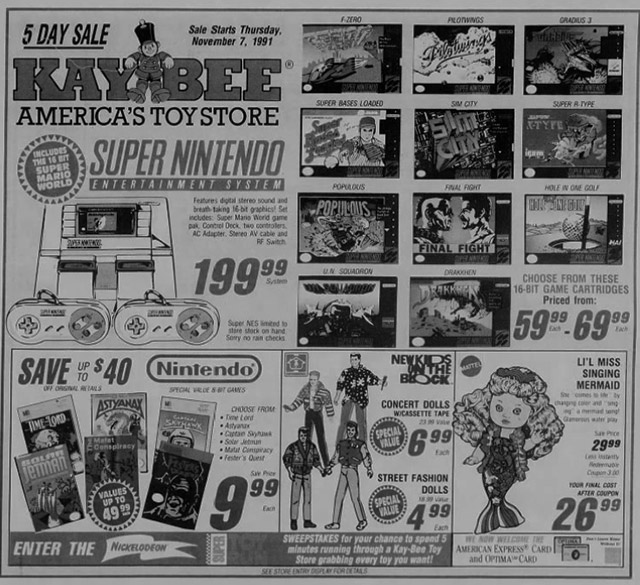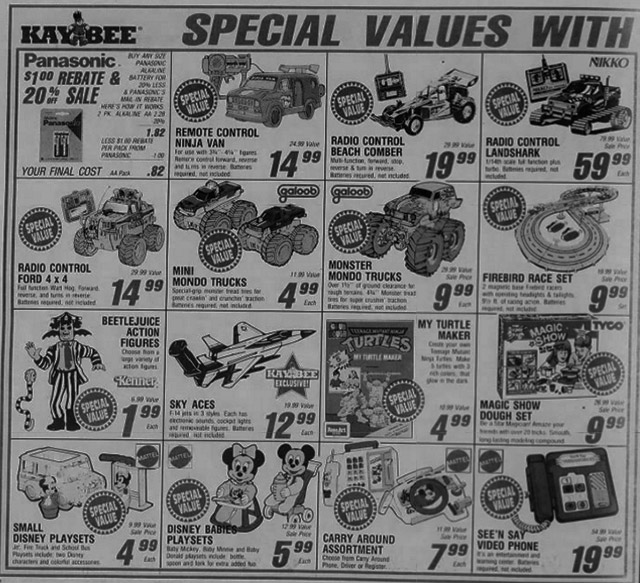 I've written about Kay-Bee (later KB) many times before, but here's the short version: It was like you took a Toys "R" Us store, replaced its manager with the weird guy who runs the local consignment shop, and told him to make do with an eighth of the space.
Kay-Bee was the bomb, but sadly in a way that most of us never fully appreciated until it was too late to do more than whine on nostalgia blogs. Sad trombone… available in Aisle 3, which is really just the back half of Aisle 1, and try not to step on the Godzilla toys because they had to put them on the floor.
The scans shown above were part of a Kay-Bee circular from November of 1991. They were having a big five day sale, which was less a "holiday sale" and more of a "GOOD GOD we need to make room for this year's Christmas junk sale." The complete circular was around eight pages long and completely full of win. I've collected ten of my favorite items featured in it, down below! Read More…
Below: Five cereal boxes from Christmases past. They're all from my personal collection. I'll thank you in advance for reading this, as it helps to justify why I have a personal collection of Christmassy cereal boxes. As always, you're my silent enablers. My tongueless Iagos. Go you.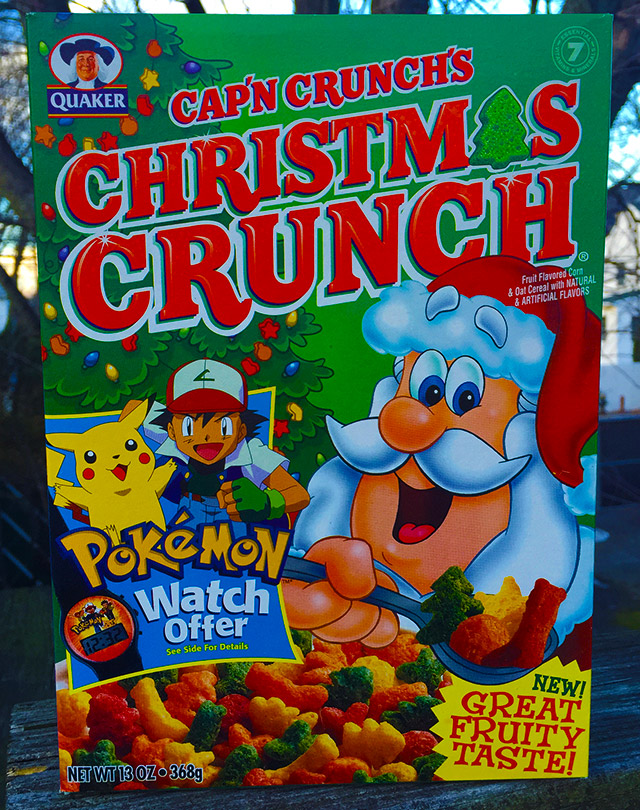 Christmas Crunch! (1999)
I love that Quaker still makes Christmas Crunch, but hate that they haven't updated the box design in umpteen years. It doesn't help that the current box looks like a Target circular, stylish as hell but completely bereft of the simplistic charm that originally brought Christmas Crunch to the dance.
Heck, even this box — which came out more than a decade after Christmas Crunch's debut — still knew how to work it. This is all I want from my Christmas Crunch boxes. Flat colors, art that looks like it was torn from Dollar Tree coloring books, and advertisements for Pokemon watches.
"Dear Santa, and this is gonna sound weird, but…" Read More…
It's time for another batch of Classic Christmas Commercials, featuring pizza and laundry detergent and Ronald McDonald. Three of these are from my collection; the remaining are from our pal Larry. May they fill your hearts with joy, and your brains with really old ad jingles.
A Toys "R" Us Christmas! (1984)
So much to love about this one, from Geoffrey's old school "baseball mascot" visage to that rare shot of Takara's Kronoform watches, which transformed from timepieces into robot warriors!
While the commercial highlighted some specific products, it was more meant to reaffirm Toys "R" Us's standing as the best place on the planet. For the seven-year-olds who hummed along to its theme song, that was 100% truth.
(And yes, you might notice that this "Christmas" commercial cannibalized footage from other, evergreen TRU commercials. Since the new footage consisted of Geoffrey and a little kid chilling in what was for all intents the house from A Christmas Story, that's totally forgivable.) Read More…
I'm back with another batch of this year's hottest holiday junk food. If you missed the previous reasons to look like Santa, click here and here.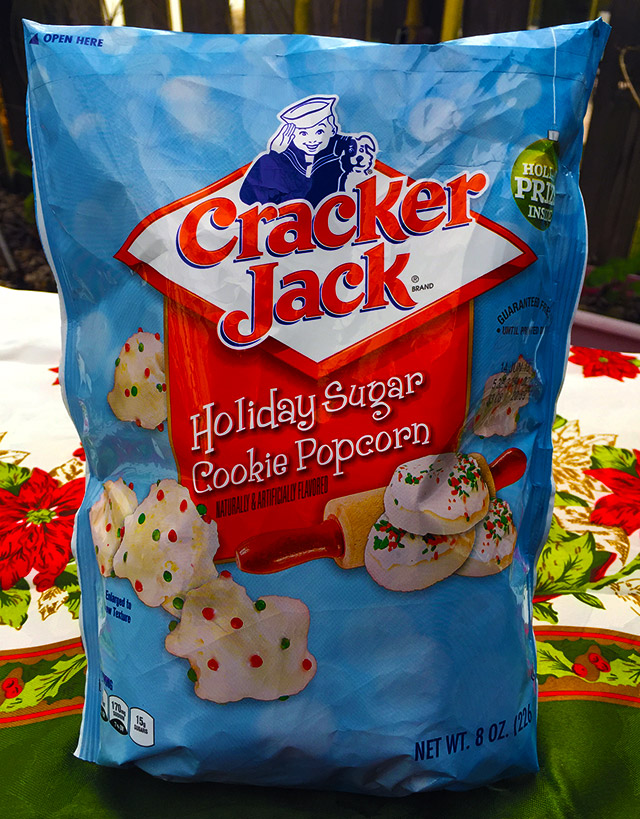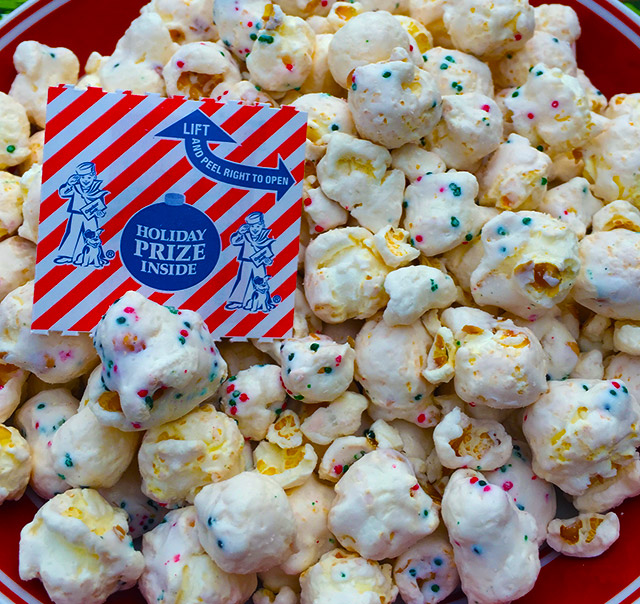 Cracker Jack Holiday Sugar Cookie Popcorn!
It took me over a month to find a bag, but it was worth the wait. I'm not a big Cracker Jack guy — it's honestly one of the last junk foods I'd ever buy for myself — but I was still super intrigued by their obvious dedication to the theme.
It's not just "Cracker Jack with a twist," but really a whole new product. The popcorn is coated with snowy frosting and topped with holiday sprinkles, and as promised, it takes like legit sugar cookies. It's not something I'd want to eat every day, but for the purposes of making a Plain Jane December evening feel like Christmas morning, I'm giving it the full 10 points.
Actually, I'm giving it 12 — one bonus point for the traditional Cracker Jack prize (mine was a reindeer sticker), and another for the fact that this shit will work great as tree garland. Read More…