It's been many moons — too many moons — since my last tribute to '80s and '90s comic book ads. Even during the drought, they've remained the only reason that I continually buy bundles of old comics.
It's always been that way. As a tween, when I spent every weekend clocking in as many comic shop hours as possible, old advertisements are what kept me interested in those fifty cent bins full of unloved titles. I couldn't tell you a thing about Dazzler, but I practically owned her whole series.
Back then, the ads in those comics helped me remember things that I was otherwise never prompted to think about. It's even more true today. Try skimming through a stack of comics from your childhood years. The ads are a hit parade of everything you played, played with, ate, drank, bought, wanted, loved or hated. It's awesome.
Below: Another six comic book ads from the '80s and '90s, starring Ash, Mario and the Silver Surfer. Enjoy!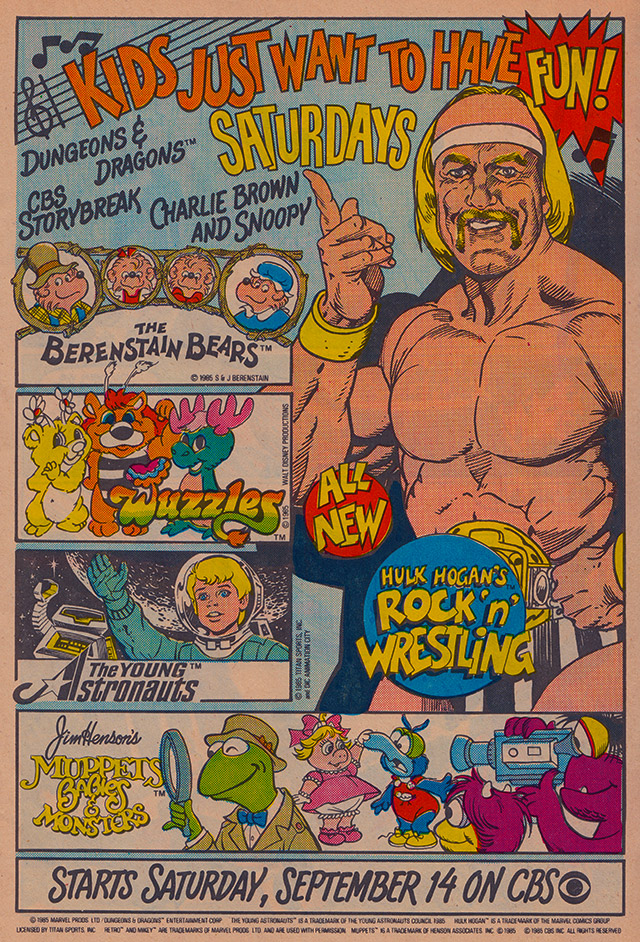 CBS Saturday Morning Preview!
(The Transformers #8, September 1985)
Throughout the '80s and into the '90s, television networks routinely advertised their Saturday morning fall lineups in comic books. Saturday morning television meant everything back then, and learning the various network lineups really revved us up.
This particular ad promoted CBS's 1985 schedule, which notably included the debut of Hulk Hogan's Rock 'n' Wrestling, starring many of the time's hottest WWF superstars. If I'm being honest, I thought the show was weirdly boring back then, and couldn't understand how an animated version of Mr. Fuji wasn't the greatest thing ever. Read More…