Old news, but still big news: Unsolved Mysteries is now streaming on Amazon, and for free if you're a Prime member.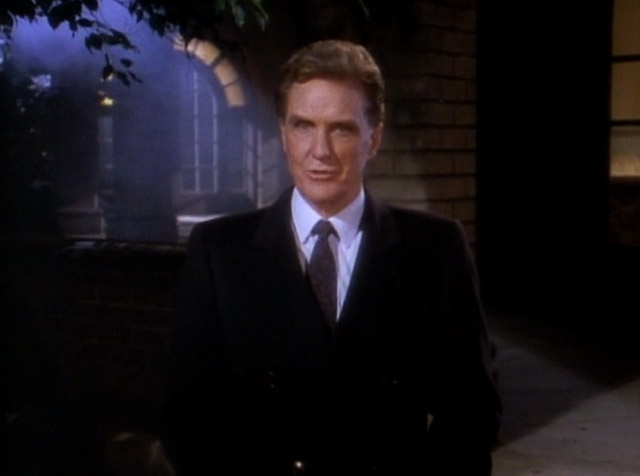 I've already written about five spooky segments from Season 1, but they've since added two more seasons. Season 2 admittedly misses more than it hits, but Season 3 is loaded with all-time classic segments. (It even has the one where that woman sweats gold foil.)
Below are five more segments that I've deemed CREEPY, from the show's second and third seasons. Not all of them are scary in an on-the-nose sort of way, but the thing about Unsolved Mysteries is that the segment could be about long-lost cousins and you'd still wanna shit.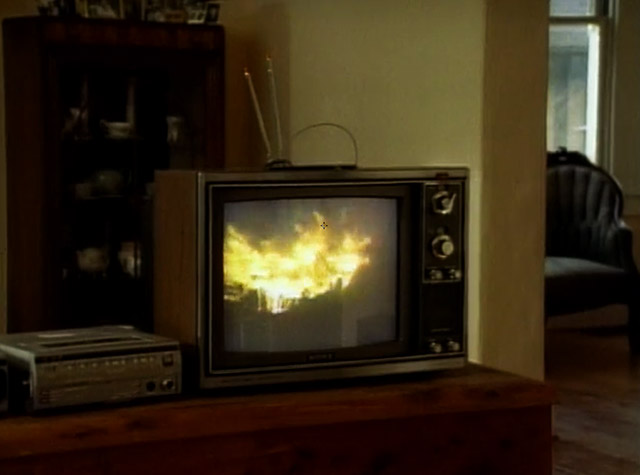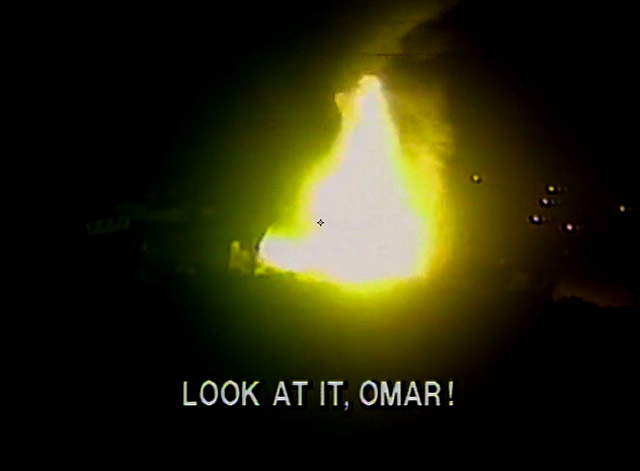 Stockton Arsonist
On Amazon: Season 3, Episode 1
This segment KILLED me as a kid. A family discovers a videocassette on the side of the road, which contains evidence of arson from an unknown locale. The video was recorded by the arsonist himself, who gnarls over footage of a house set ablaze with supernaturally-charged gibberish.
I suppose I should've known from the barely-pubescent monster voice that this was just an idiotic prank gone too far, and sure enough, we're later informed that the culprit was a troubled young man who flirted with satanism. (Specifically the sort of satanism that normally only exists on bad television, where all of the evil paraphernalia looks like junk from Pier 1.)
Course, when the segment first aired, that information hadn't yet been tacked on. I was ten years old at the time, and the idea of devilish boogeymen setting our house on fire and then doing spooky play-by-play from down the street kept me up night after night after night.
SCARIEST PART: The arsonist said many strange things during the recording, but the line that struck everyone most was "LOOK AT IT, OMAR!" We were never given any information about who Omar might've been, but I pictured Lucifer from Ghosts 'n Goblins. Read More…
I'm back with another review of old Kool-Aid. Just smile and nod and pretend that this is something you care about.
I said nod.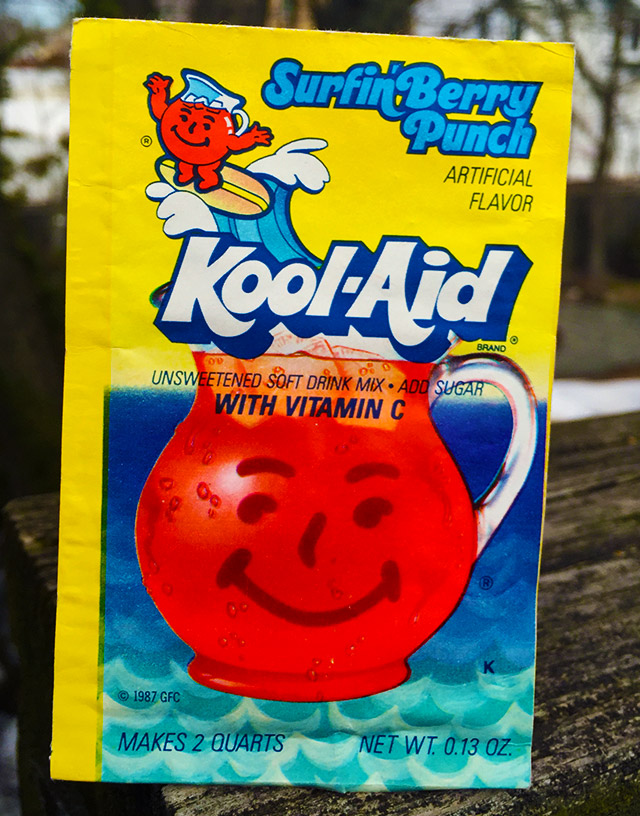 For the longest time, Surfin' Berry Punch was my white whale. My bright red white whale. It's one of the hardest Kool-Aid flavors to find on the collectors' market, and not just because it's been out of production for over 25 years.
Judging by my research, Surfin' Berry Punch only had one strong year: 1987, which was also its debut year. The flavor quietly lasted until the early '90s, but only because Kool-Aid takes a while to go bad, and hell, if you already made and packaged the stuff, that money's spent.
Since it was kinda rare even in its day, Surfin' Berry Punch is crazy rare now. In fact, it wasn't until 2017 that I finally saw a few packets pop up, and I'd been searching for this Kool-Aid nonstop — I mean 24/7 nonstop — since 2002.
Just smile and nod. Read More…
From baker's twine to pizza box tents, some of the best toys were never meant to be toys.
My all-time favorite example? L'eggs pantyhose eggs, baby.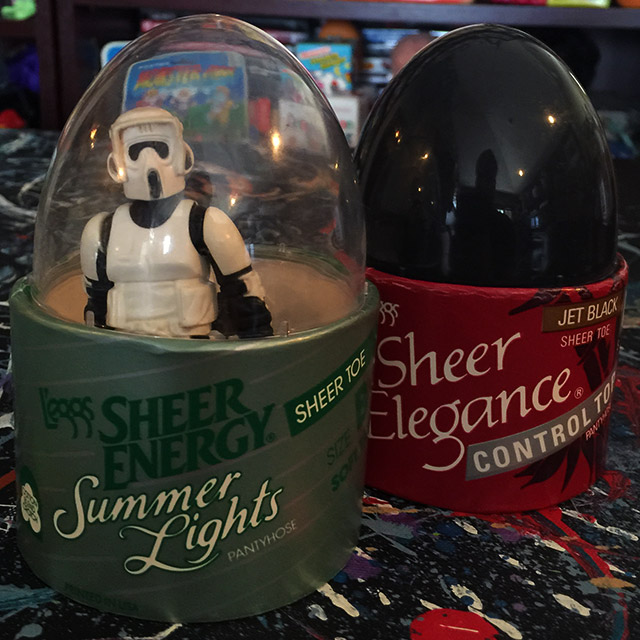 Back in the '80s, L'eggs stuffed bargain-priced pantyhose into plastic eggs. Some were clear, others white or black, and some even gold or silver. Growing up in a houseful of women, these eggs were never in short supply.
They were basically the same as plastic Easter eggs, but four times larger. Just big enough to work as action figure vehicles. Read More…
During Married with Children's fifth season two-parter, You Better Shop Around, the Bundys battled the D'Arcys in a bootleg version of Supermarket Sweep.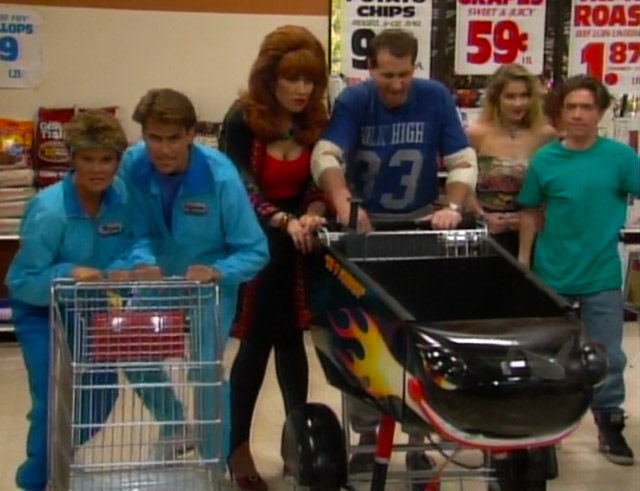 It's easy to see why these episodes are so beloved by fans: The cast had perhaps never been more willing to get physical and act like dopes. It's pretty great.
Course, as reader Justin E. pointed out, there's an even cooler reason to watch You Better Shop Around. Both episodes were shot in what was either a real supermarket or a remarkably well-stocked stand-in, and if you look close, there are tons of now-discontinued foods lining the shelves.
Below are five fallen food items that I spotted during the two-parter. (These episodes aired in 1991, but were most likely shot in 1990.)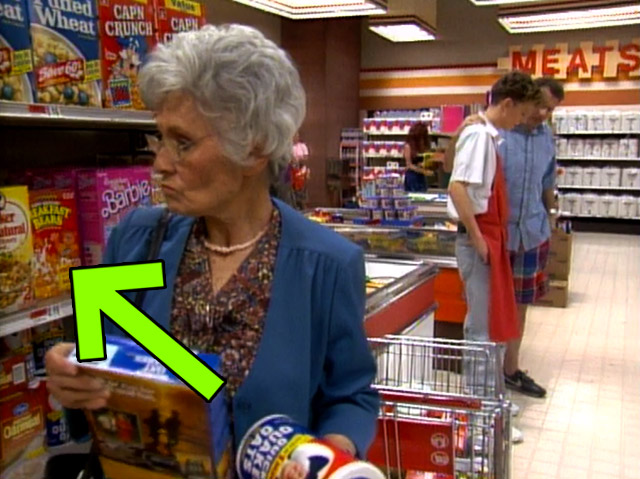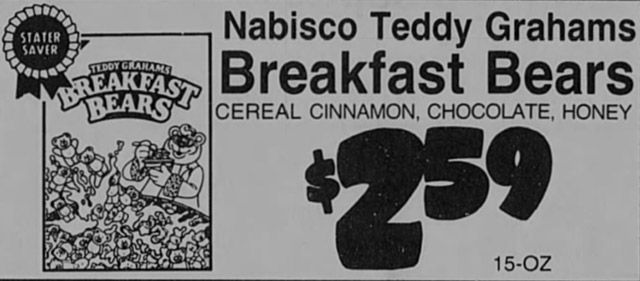 #1: Teddy Grahams Breakfast Bears!
Breakfast Bears didn't last nearly as long as the still-produced Teddy Grahams snack crackers, but it wasn't for lack of trying. In one TV spot, costumed bears sung about the cereal from a roving, car-towed stage. If kids didn't eat Breakfast Bears, it wasn't because they never noticed it. Read More…
Since we had so much fun recording our Friday the 13th show, this week's topic seemed only natural: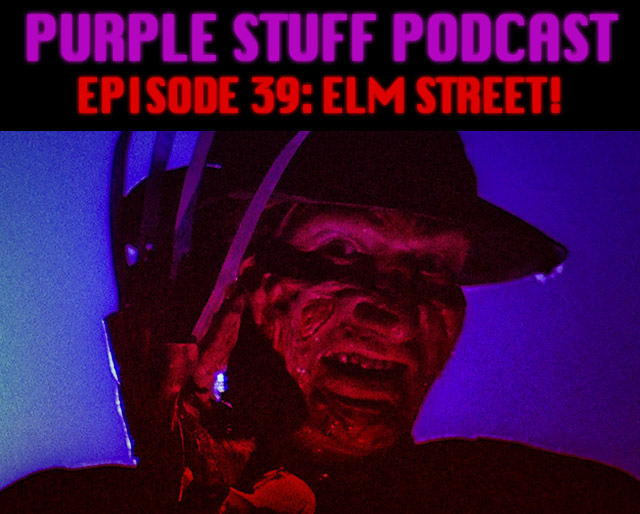 Yes, the latest Purple Stuff Podcast is all about FREDDY KRUEGER.
This week, me and Jay from The Sexy Armpit run through a dozen of our favorite things about the entire Nightmare on Elm Street franchise, from the most creative kills to the best toys to Freddy's strangest appearances outside of his movies.
Give us a listen by clicking the giant, ugly play button down below!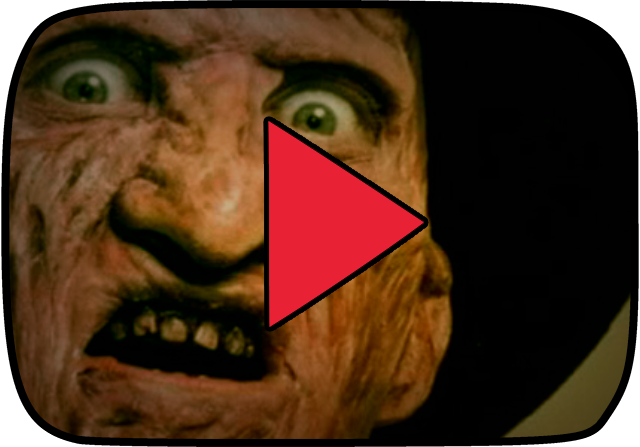 You can also download this week's episode by right-clicking here.
Thanks as always for listening to the show and for helping to spread the word! Hope we can add a little fun to your weekend! Read More…
Hooray! I'm finally ready to reveal the goods!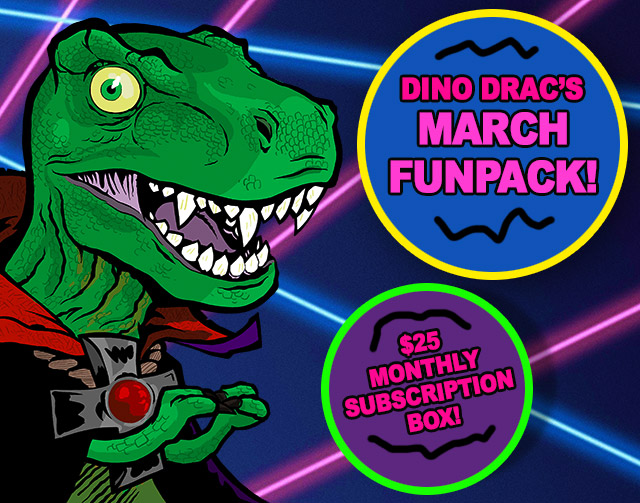 (AVAILABLE IN THE UNITED STATES ONLY!)
Dino Drac's March Funpack is here!
Obligatory spiel: I create and sell monthly Funpacks, stuffed with old and new nonsense. Without the profits from these boxes, I wouldn't be able to run Dino Drac. So on top of getting cool boxes filled with neat stuff, you're also ensuring another month's worth of Kool-Aid reviews and video store trip reports.
The Funpacks are $25 per month, and that includes shipping. Subscriptions are handled via Paypal. For as long as you choose to stay subscribed, you'll be billed automatically every month and continue to receive Funpacks! Of course, you can cancel at any time without penalty.
To all subscribers, old and new: Thank you so much for keeping the site afloat!
Let's see what's in store for the March 2017 Funpack! Read More…