Last night on Dino Drac's Facebook page, I randomly opened an old pack of Garbage Pail Kids. Doing so stirred many memories of my childhood GPK obsession, which had some incredible highs and lows.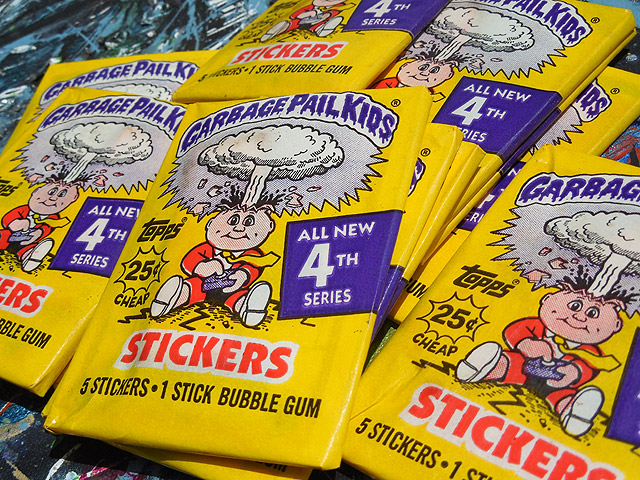 If you were alive at the time, you should remember the highs. Collecting Garbage Pail Kids was something most kids had in common. You could talk about those cards with just about anyone. They were a way to turn the most distant acquaintance into a fast friend. We'd compare collections, trade our doubles, and just be so comfortable in the weirdness of it all. Hey, everyone else was doing the same thing.
The lows, at least around here, happened after word spread that they were "bad luck." Things changed instantly. If you had GPK stickers on your marble notebooks, it was time to scratch them off. To be seen with them was to basically be a leper via accessory. Garbage Pail Kids were already sliding in popularity, but this was a different kind of peer pressure. Nobody wanted "the curse."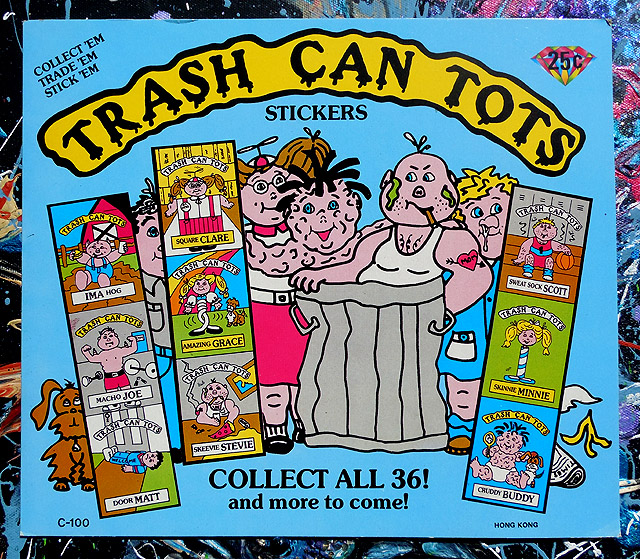 Opening up that pack also reminded me that I had this. Garbage Pail Kids were popular enough to inspire legions of would-be usurpers. Over the years, there must have been dozens of upstart trading card sets that took more than a little inspiration from them. Very few of those sets caught on in any memorable way, but if you were a kid who liked disgusting trading cards, boy, you had options.
What you see above is the teaser card for Trash Can Tots, a shameless GPK ripoff distributed solely through vending machines in the '80s. Sold in uncut strips of three, the set is legendary among GPK diehards for its crude art and uninspired designs. (more…)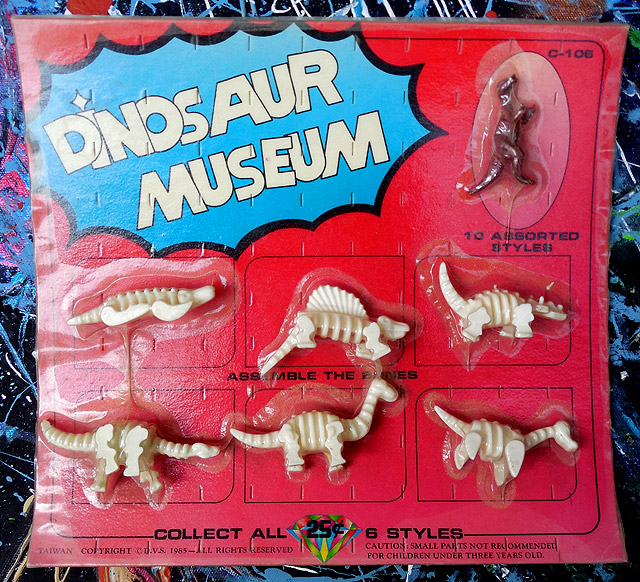 In this issue of Vintage Vending: More dinosaurs!
I would've been all over this Dinosaur Museum set as a kid. (And given that I would've been of the appropriate age in 1985, I'm sad that I missed the chance.)
The stars were a series of skeletal figures, meant to represent museum-assembled dead dinosaurs.
Of course, if you didn't want to play that way, you didn't have to. Most kids probably skipped the "museum replicas" idea and headed straight for "living monster skeletons" territory, treating their tiny dinos as supernatural demons, sent to terrorize whatever other one-inch figures happened to be in their collections.
The teaser card's bright reds and blues make me unnaturally happy, to the point where I felt compelled to research "color psychology." Believe it or not, that's a legit thing. Blue is supposed to relax you, while red is an "action color" that can actually raise your blood pressure. Looking at this card is like mixing uppers and downers. (more…)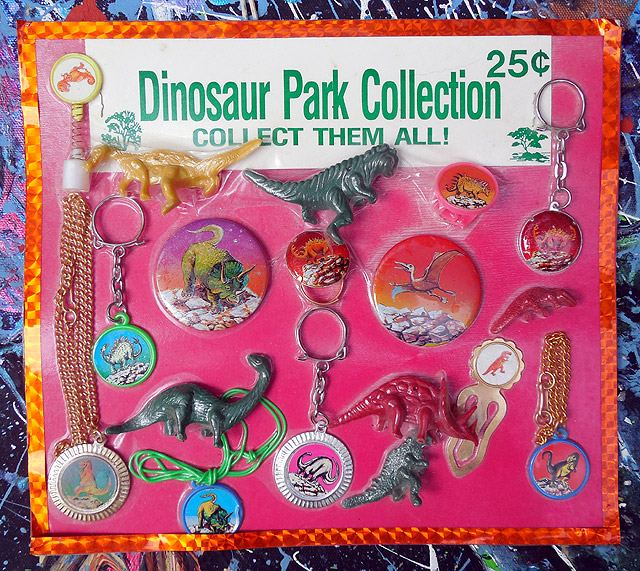 Vintage Vending continues with the Dinosaur Park Collection, an assortment of cheap dinosaur stuff that probably isn't at old as it looks. The title has to be a nod to Jurassic Park, right? If so, this collection would've been from around 1993.
Jurassic Park spiked interest in dinosaurs across the globe, but even as a kid, I remember mentally scoffing at those Johnny-Come-Latelies. I didn't need Spielberg to fall for dinosaurs. I was already there, man.
Even by vending machine standards, these prizes were on the rough side. Quarters didn't grow on trees, and you had to really like dinosaurs to spend one on this collection. Personally, I wouldn't have stopped until that strange wrinkly tyrannosaur was all mine. (more…)