APARTMENT 12D
Rented by: Penny Singer
Co-signer: Grace and Mahlon
Penny is an attractive, outgoing girl with a successful career as an underwear model.
She also has absolutely no friends, as they are all eventually repelled by her unnatural obsession with Uncle Joey from Full House.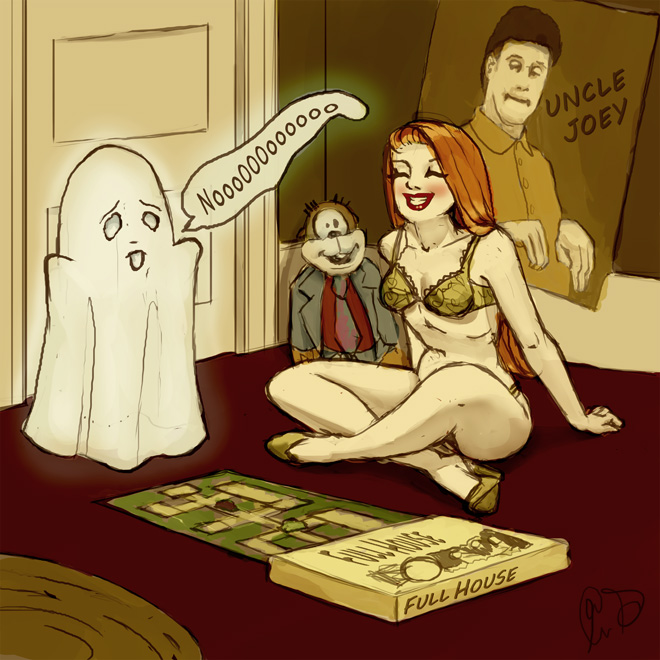 Her apartment is littered with evidence of this fascination, including thoughtlessly-hung posters that plaster the walls and a life-sized "Mr. Woodchuck" dummy that sits in the corner. She gleefully insists it's the one actually used on the show because "She can smell the Joey on him."
Penny gets her apartment at a discount because it is already inhabited by a ghost who haunts the closet. The residents refer to him only as "Closet Ghost," a name which he believed was demeaning until Penny dubbed him "Lil' Joey." He now stubbornly refers to himself by his previous moniker.
The living arrangements have worked out very well for Penny, who has found the short specter to be an obligatory companion who cannot leave the apartment. Because no mortal can stand her constant requests of playing "Full House Trivia," "Full House Charades," and "The Full House Board Game," he is now her only regular company. If you ignore her occasional, futile whispers to Mr. Woodchuck asking what it's like to have Uncle Joey inside him.
For his part, Closet Ghost's initial optimism towards finally having company again has understandably dampened. He is especially vexed by the fact that the closet he haunts is now full to bursting with a collection of brightly-colored oversized sweaters that any pedophile would be proud to own. As these are the only clothes Penny owns, she usually just wears underwear wherever she goes.