APARTMENT 15B
Rented by: Carter Shadwell — Paranormal Investigator
Co-signer: DJ D
You never know how you're going to react to a situation until it's staring you in the face, and what's staring you in the face right now is a 7 foot, green T-Rex wearing a cape and amulet. You've seen some shit in your time, but this takes the cake. At least he's polite. You're here to move into your new place and he points you in the right direction. At least you think he does. You make your way down an endless hall of doors and even though you're meant to be looking for 23B, you're actually on the lookout for 1A. You could have rented anywhere in town, but you've heard things about 1A. Everyone's heard about the girl in 1A.
You're wearing your usual kit on your back and it weighs a ton (the typical gear for your profession — electromagnetic signal readers, rope, flashlights, video and sound recorders, etc.), so you slide it off and  lean against the door for 1A. In your line of work, it's not the fear of ghosts and goblins you have a problem with, just more the long hours and oddballs. You'll take a good old fashioned poltergeist over another—you hear a moan coming from the other end of the door. Good. We'll have to check that out later. Rather than haul your kit back and forth, you elect to leave it here. This seems like a nice place and you trust it won't be disturbed. You're anxious to make your way down the hall to 23B and check out the new digs. What's with having the A's and B's on the same floor anyway? Whatever.
Your name is Carter Shadwell and for the past 14 years, you've worked in what people like to toss off as "the paranormal". Just when you think you've seen it all, you meet a damn talking dinosaur with a vampire fetish running an apartment building.  You've got a weird deal worked out with him. Because of a last minute scheduling conflict on another job, you had to move in today, even though that meant the place wasn't fully prepared. The last tenant left "quickly and unexpectedly", leaving behind all their personal belongings. The deal you worked out was that you could keep whatever he left behind, if you were willing to clean up whatever mess came with that. Plus, you get a generous discount on the first month's rent. The door's unlocked and you're supposed to let yourself in.
You open the door to a fairly normal layout. A bathroom to the left, kitchen to the right, and in the back right corner, what appears to be a bedroom. And then directly across from you are two red doors, side-by-side, spaced a couple feet across. They give you a hinky, uncomfortable feeling straight away. Another thing you know from all of your years in the field is that when you get that feeling, things are probably about to get interesting, and not in a good way.

SLAM.
The door closes itself behind you. Shit.
You turn around and give the knob a turn and shake. Nothing. Check the deadbolt. Locked on its own. Okay, we've been here before. There's probably some explanation for this one. Let's check the bedroom. You check under the bed, in the closets and in every other room. No one behind the shower curtain, even after a dramatic, quick sweep. What did you expect? A naked, dead starlet? Redrum, my ass. The only thing left is the kitchen.
Not surprisingly, it's empty too, save for a good stock of groceries. This place looks like it was occupied, but feels…off. The air is stale. Heavy. Cold. A quick sweep of the kitchen counter finds a half-eaten cupcake, a note, and a key. It's your typical skeleton key type.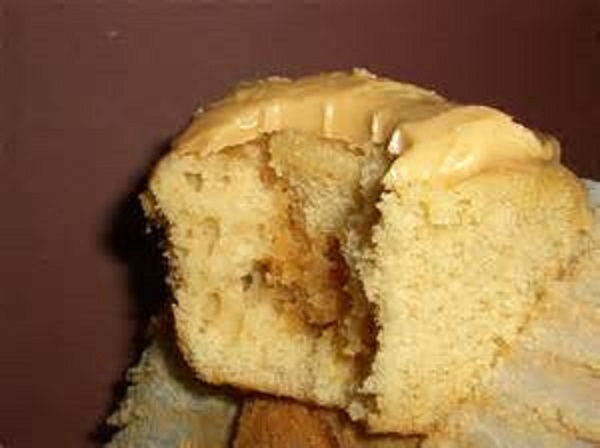 "Hope you enjoy!…Love, Agnes", reads the note. You poke it with your forefinger and sample the frosting. It's terrible. "Thanks, Agnes".
The only other element you've not inspected so far are the two red doors you saw when you first entered the place. You've intentionally not looked at them, knowing that at some point you would have to confront them, but would rather not just yet. Let's try the front door again. The deadbolt turns right away but the knob won't budge. That's when you notice that the keyhole matches the key from the kitchen. You go back to retrieve it, glancing at those two doors in the living room again. Such an odd place to put a couple of closets…or whatever they are. You can feel a wonky vibration emanating from them. These things are all kinds of wrong. The key works. You take a breath, swing open the front door and…
Instead of the apartment hallway, you're looking at the bedroom. The empty bedroom you were just in. You take a couple tentative steps and the door closes again behind you. You open it, and you're back in the apartment. Ok, let's work through this. You try it several more times only to find it's an endless loop. Now you're worried. Wait…the phone! Of course! We'll just call downstairs and…son of a bitch! It was in the kit…which is now sitting in the hallway, propped against the door to 1A. Damn it.
Right about now you're thinking you could clear your head a little if you just had a bite to eat, so you head in to the kitchen to scare up something. Heh, scare up. That's good. You open the kitchen cabinet to find a time warp. Deserts and snacks, all 20-30 years old. Chips Ahoy cookies, Teenage Mutant Ninja Turtles pies, a box of Batman cereal, sealed and complete with the plastic bank attached. Who the hell lived here? In the freezer, you find a Kid Cuisine frozen dinner with dinosaur shaped chicken nuggets and an expiration date you wish you hadn't noticed. A quick microwaving later, and your stomach's not rumbling anymore as you try to block out the fact that you just ate 25 year old processed chicken parts intended for children.
You decide to investigate the bathroom further. It's pretty standard. Nothing out of the ordinary there. You check out the medicine cabinet behind the mirror. It's the usual assortment of shaving cream, ointment and something in a small jar with a label that reads, "Nads". You unscrew the lid and take a whiff. It's rank. The label tells you it's used to strip away unwanted hair and you wonder what kind of nutball would willingly put this on their face. What the hell, why not? Things couldn't get any worse, right? You give it a poke and a taste. Christ on a crutch, it's the frosting from the cupcake. WHAT IS GOING ON?
Time to grow a pair and just do what you know you want to do. Check out those two red doors. At first you wrote them off as closets, but considering you've gone off and gotten yourself trapped in some kind of Twilight Zone kind of deal and these things are practically staring at you, something tells you things are not going to be that simple. You decide to check them out first before going all in. No use in making that mistake again. There is no keyhole in either one. You place your ear to both and hear nothing. They're both cool to the touch. Nothing left to do but do it. You turn the knob to the door on the left and…
You'd like to use the word "shock" to describe what overcomes your body next, but you know it won't do the job. All you know is you can't breathe and you're wet. It takes a full two seconds for it to register that you're under water. You thrash around, trying to get your bearings and nearly take in a mouthful of water when it dawns on you to just look up. Just swim up. But not before glancing down and seeing THIS.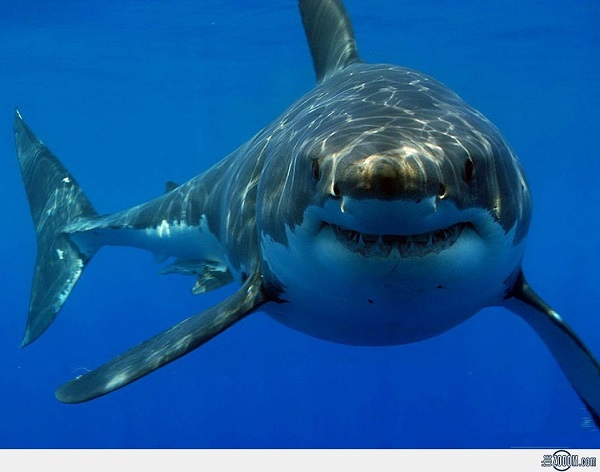 Move. Fucking move. Just start kicking. You look up and can see a large, dark rectangle floating in the water. Maybe it's a raft or boat. You pray it's not too late. You manage to break the surface, coughing up water, and discover by grabbing frantically that it's a hunk of wood. That will do. It's the door, the one you just went through, frame and all. You slip twice, scrambling for purchase, slipping back into the water, and manage to grab the knob and hurl yourself onto it just in time to feel what you can only imagine is teeth grazing your leg. You frantically look around and find the dorsal fin swimming away.
You put your head in your hands for several minutes and look back up. It's back. Not on you yet, but barreling down at full speed. You twist the knob just in time to see its head break the water, its mouth agape. You pull the door up, as you balance on the frame. You nearly topple over backwards and into its widening mouth and instead hurl yourself forward and fall into what seems like total darkness. You close your eyes long enough to feel yourself crash onto the floor.
Back in the apartment living room, soaking wet, puking up salty ocean water. "WHAT…THE… HELL!?"
Ok, let's stay away from that one. You're really not thrilled about the prospect of the door on the right now either, but you've got to get out of here one way or another. After a half hour of debating it, you decide to risk it, only this time, you're not going to be stupid about it. Man, the rope in that kit would come in real handy right now. Instead, you take off your belt, get a good grip on it, and tie it to the doorknob of the other door, praying that thing stays shut and doesn't unleash anything else from the other side. After convincing yourself you have a secure grip on the belt, you make a wide stance and reach for the doorknob. You turn it, open the door, and recognize what lies on the other side right away. It's the bedroom of your high school girlfriend.
You step in and realize you're dressed in your favorite old t-shirt from the 10th grade. She's dressed in…nothing. You look in the mirror on the wall and don't recognize the kid looking back at you until you realize it's you at 16. Dumbfounded, it finally dawns on you that you know this exact time and place. This was the moment you lost your virginity. It was one of the best days of your life.
This has to be another trick. What's the catch here? Will she turn into a great white and come back to finish the job? She beckons you over to the bed. You glance back at her bedroom door. It only looks like a bedroom door and given the current alternative, you really don't feel like going back to that apartment just yet, so you roll the dice. It pays off.
The night passes just as it did the first time, with the two of you falling asleep in each other's arms. You wake up, roll over and reach for her, only she's not there. That's right; she got up before you did. You open your eyes and look around to find you're back in THE apartment. You're all of 35 years old again and there's no girl to be found here. Maybe the whole thing was a dream. Nope. Real is real. You get up, try the front door again, and get caught back in THE LOOP. Shit. You realize you're famished and not in the mood for canned pasta from 1985, which is all the former resident of this place seems to have to offer.
Right on cue, you catch the smell of cooking meat. You know that smell. Someone's grilling out. Could a window be open? The window! God, you're a moron! There is only one in the apartment and it's in the bedroom. An hour later of trying to raise it and smashing chairs into it, and you realize that you're exhausted and hungrier than ever. The glass won't break. It was worth a shot. Making your way back to the living room, you realize the intoxicating smell of what can only be some sort of grilled meat is coming from the other side of the door on the left. Old Lefty. Our old friend.
Risking it, you try the belt trick again since it worked out so well the last time. You had the choice of stepping into that bedroom instead of being sucked in. It works this time too. Before you is not an endless ocean stocked with man eating monsters. It's a single table, chair, silverware, and a feast. Rib eye, baked potato, steamed veggies, and several bottles of beer. You grab it greedily and drag it into the living room. That seems to work. Wolfing it down settles your stomach and clears your head.
You formulate a plan. Since there seems to be no rhyme or reason to this, you decide to keep track of what lies on the other sides of these doors. Having gotten mixed results, you've thrown out the notion of a "good door" and a "bad door". But there has to be some "science" of sorts to it. Some pattern. You rifle through the drawers in the kitchen and manage to find a pen and some paper. You draw up a chart, labeling the door on the left "A" and the one on the right "B". You make two columns. You'll alternate back and forth, recording the results. Obviously, this is done with great risk. Who knows what's on the other side? You almost didn't make it out the first time, but maybe you can get help on the other side. It's not all bad over there. Somewhere, somehow, the other side is full of sexy time travel and steak dinners, right? What's the worst that could happen?
You spend months finding out. The first thing you find out is that time works differently there and there is NO MIDDLE GROUND. One instance brings nightmares – the most horrible, terrifying things imaginable that you barely escape from, and the next, pure bliss. At one point, you open the door to find a train yards away, racing toward you. You slam the door shut and you're fine. You're pretty sure you saw that in a cartoon once. And that's the thing. Sometimes, and it's rare, you find you can close the door just in time to avoid whatever is on the other side, but once closed, you never see the same thing twice. In one instance, you relived an entire day as a child. It was the best Christmas you could imagine. You got a new NES, watched cartoons, played with your brother, and made snowmen. In another instance, you were savagely attacked by wasps, and once you made it back on this side, spent hours nursing the stings that covered your body. You went to space. You were tortured. You raced cars. You were surrounded by brain-hungry zombies. With each horror, you always escaped just in the nick of time, but just barely, sometimes coming away with injuries. With every slice of heaven, you always returned wanting more. Sometimes you woke up in the apartment. Sometimes, mid-sentence, you appeared sitting on the couch, still talking to whoever you were last. Minutes here became days on the other side. It was both heaven and hell, and there was no pattern. But you kept track.
Finally, after the 22nd attempt, your mind reeling and nearly fractured, you realized that this might be all there is left. You were well fed (the doors supplied just enough meals to keep you going, and the stale, outdated food in the kitchen had started to grow on you), but the rush of opening those doors had become a sick kind of addiction. You wondered if this is what happened to whoever lived in 1A. Were the moans from that unit the sounds of some other poor soul, trapped in their own vicious game? Forced to relive past memories and subliminal nightmares, both sublime and hellish? Or was she just a good old fashioned haunt? That old bag Agnes probably has something to do with all of this. That bitch and her damn cupcakes.
So, here we are. The 23rd attempt. You open Door B. What now? Killer clowns? Lesbian shower orgy? Lesbian clown orgy? Who the hell knows anymore? Just bring it.
The door swings open to darkness. A set of stairs lies before you leading down. This is different. The one constant you've learned through all of this is that there is nothing vague about what waits for you on the other side, and you never have to wait to find out.  Within seconds you are either assaulted by terror or enticed quickly into bliss. There is no mystery about it. But these are just stairs leading to seemingly nothing. You feel a form of misplaced confidence in the knowledge that if this was a "bad" trip, you would have known it by now. You would have been sucked down into some basement full of fire and deformed children spewing bile down your throat, clawing out your eyes. But as it is, you see and hear nothing at all.
Time to check the chart. So far, after coming back from each trip, you've marked down a brief description of roughly how long you were gone and what happened, trying to find some connection or pattern. Some way of predicting what's next, and yes, you held some tiny sliver of hope buried way in the back, that the next time you turn one of those knobs, you would step back into your old life. That sliver grew ever smaller with every turn.
You trace the "B" column down to Box #23 and scribble, "Stairs". B-23. Cute.
You turn back to the stairs and something catches your eye. You wave it off at first, but there it is again. Way down deep, a flickering light, almost like the twinkling of a star, miles away. Only it's no random twinkle. It's more like a periodic flashing. You recognize the pattern — 3 quick flashes, followed by 3 longer ones, followed by 3 quick ones again. Then a few seconds of total darkness, then the pattern repeats. It's the one bit of Morse Code that you and everyone else knows — S.O.S.
"Oh come on", you say out loud. Your life has become one of extremes. Nightmares and wishes come true. Starvation and feasts. Horror and Heaven. You pray for stability. An end to the roller coaster. A purpose.
So, you scribble one last note — "Went down the stairs", and take that first step. Maybe someone else will stumble upon this apartment. You've done a good job of documenting everything, making painstaking notes about all the events that led to this moment. You'll have no answer as to how to escape, but maybe you can stop them from making the same mistakes you did early on. You think back to a show you watched as a kid about some guy that leapt around in time, trying to find his way back home. He made it home in the end, right? Wait, no. He never did. You're 3 steps in now. The door closes behind you. "Oh boy."