APARTMENT 15D
Rented by: Rippersnapper & Friends
Co-signer: Ed Watkins
As has been stated before, sometimes a toy comes along that is just special. Such was the case for Rippersnapper. I won him from a gift exchange from a Cub Scouts meeting when I was seven or eight years old. As soon as I tore open the package, I knew he was determined to be my new friend. It didn't matter that he was Evil. It didn't even matter that he was part of a larger team of Decepticons that I thought I would never own. I had plenty of Transformers that were part of a team I never bothered to complete. Nope, I liked my new buddy just as he was. I even remember waking up and watching Saturday morning cartoons with him sitting right beside me. Years later, after Ebay was invented, I was able to secure the rest of the team.
Sadly while uhhh….posing (because only a complete loser plays with their toys, right?) I accidently snapped the head off of Sinnertwin. No longer able to contribute as a gestalt, the boys are forced to live in an apartment while looking for new jobs. It's not exactly easy being a fearsome collection of robot monsters, but I think the move has done wonders for Rippersnapper's personality, as he has already purchased a sweet Chairy (Couchy?) couch, having long been an aficionado of 80's pop culture.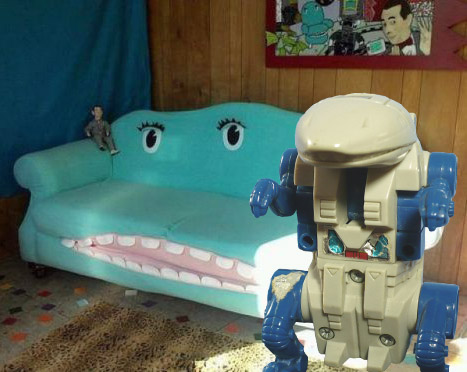 What kind of wacky shenanigans will occur in a small studio apartment stocked with five ex-cons? Will they be able to raise enough money to save the orphanage AND pay next month's rent? Who knows, but it is a reality show I would gladly pay to see.