APARTMENT 16C
Rented by: Yolanda and Kessie
Co-signer: Shantel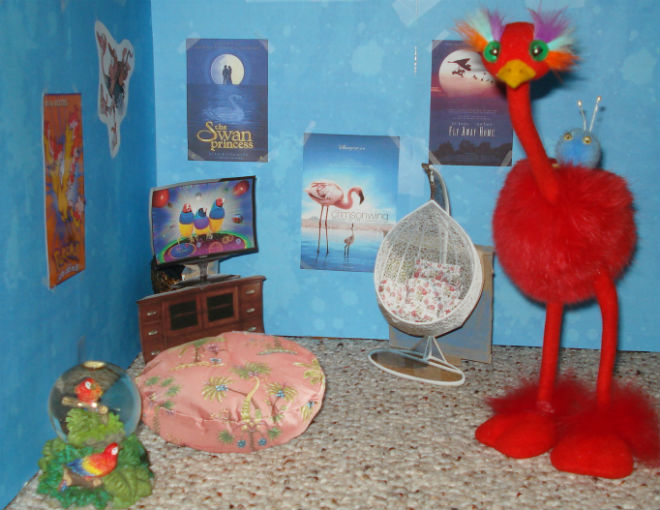 Yolanda lives here with her pet ostrich Kessie. She has loved birds since she was a little girl. On her walls she hung posters of a few of her favorite movies featuring birds: "The Swan Princess", "The Crimson Wing", and "Fly Away Home". She became a video gamer in childhood and when she found Stretch the helpful ostrich in "Donkey Kong Country", she promised herself to get an ostrich to ride when she became a grown-up to help her be taller and move faster. She allows children living in the other apartments take rides on Kessie.
The phoenix is Yolanda's favorite mythical beast and Moltres became her favorite bird Pokemon and Legendary Pokemon when she became a Pokemon fan in girlhood. The gorgeous macaw waterglobe was a gift to Yolanda from her parents when she graduated high school. Yolanda works as a massage therapist and during her free time, she plays leap frog with Kessie outside and listens and watches for birds.
If it's nasty weather outside, Yolanda likes to sit in her suspended chair and watch Animal Planet or one or two movies from her bird movie collection while Kessie preens on her futon bed or the pair will wander around the building and Yolanda will chat with other residents and meet their pets. Yolanda named Kessie after a baby bird Rabbit adopted in the episode "Find Her, Keep Her" from the "The New Adventures of Winnie the Pooh" TV show and the episode always chokes her up.