I'd like to remind everyone that Marino's Italian Ice is the best possible ice.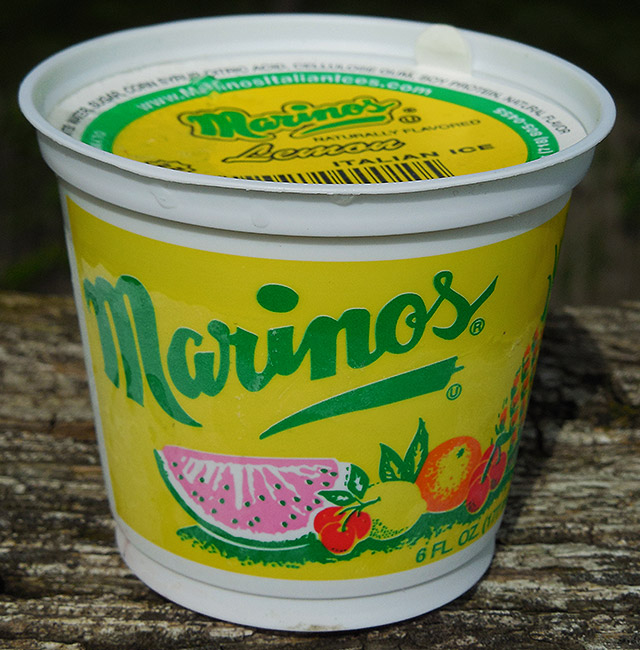 Never heard of Marino's? I'm pretty sure most of you haven't. It's regional. Apologies in advance for championing a water ice that you have absolutely no access to.
I was first introduced to Marino's as a kid, by my father. Experts estimate that his diet consisted of 50% Marino's Italian Ice and 50% sunflower seeds. His favorite flavor was lemon, which makes sense, because I'm pretty sure Marino's only made lemon ice back then.
Cherry wasn't far behind, and that's when I hopped on the bandwagon. Holy shit, guys. You have not experienced water ice until you've tried a cherry Marino's. Sold individually from ice cream trucks and in weird corner store delis, you can now buy 'em by the box at supermarkets. (Assuming you live in an area where they're sold… but we've already covered that.)
With summertime creeping up, we're reminded of the many disgustingly delicious treats that are only appropriate to eat at that time of year. For me, the thought of a summer season passing without the ingestion of 400 cups of Marino's is just cause to write sad songs and dress like The Undertaker.
Let me introduce you to Marino's three best flavors: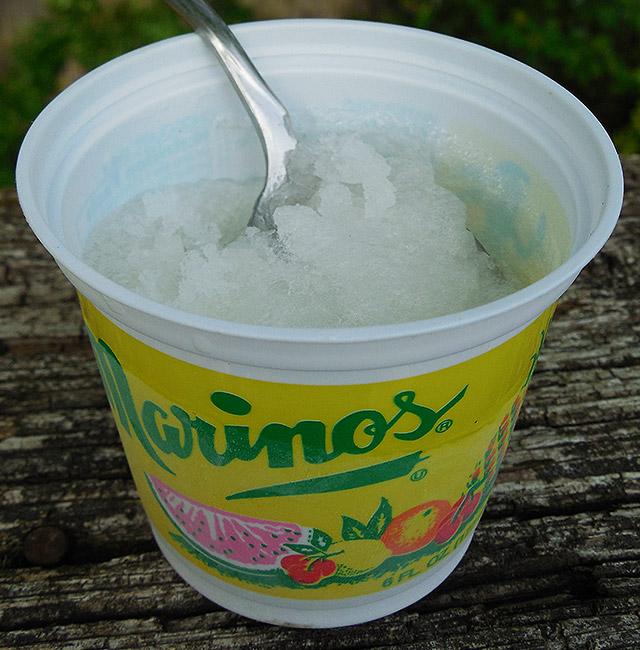 First is LEMON, eldest and leader of the ices. If you polled a hundred people, 95 of them would call lemon their favorite flavor. This is good news for rebels who never side with the majority, because lemon is NOT Marino's best flavor. Sorry, but it's not. It's good and it's refreshing, but it is clearly not cherry.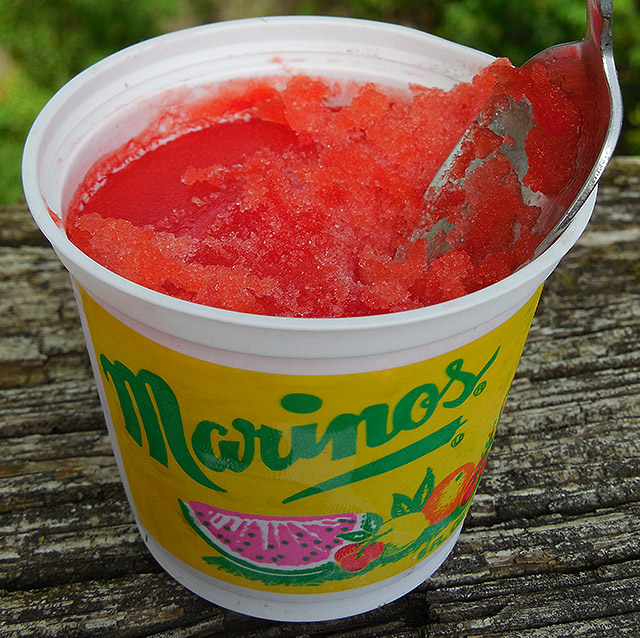 Yes, CHERRY. I could live on this stuff, and for stretches lasting several weeks, I have. Whether it's a Marino-branded water ice or a not-Marino-branded water ice, cherry is the ultimate flavor. From color to taste to the fact that it gives you Joker lips, cherry is the water ice by which all other water ices must be judged.
I've had a lot of cherry ices from a lot of different makers, and Marino's is by far the best of them. It's crazy good, it tastes like cherry sangria, and it's SO UNBELIEVABLY RED. (Other companies skimp on the food coloring, but water ice is no time to consider the ravaging effect of such chemicals. If I'm eating fake cherries, I want those fake cherries to look like blind, burning rage.)
I will never not believe that cherry isn't Marino's best flavor, but it's not why I chose such an obtuse topic to write about. No, the reason you've suffered through these umpteen paragraphs of hurried confusion is because I FOUND OUT THAT MARINO'S MAKES BLUE ICE, TOO!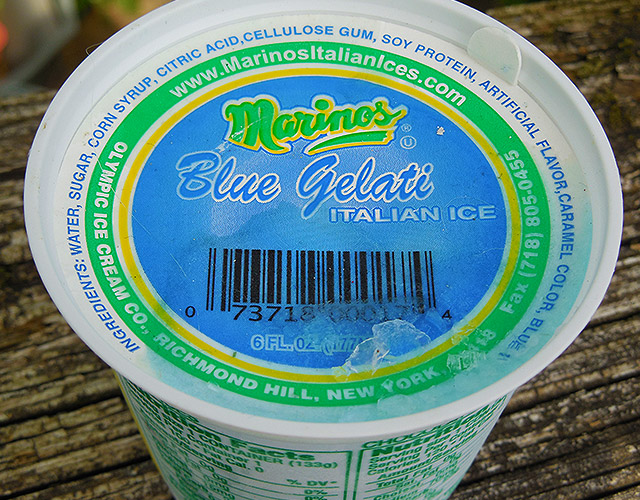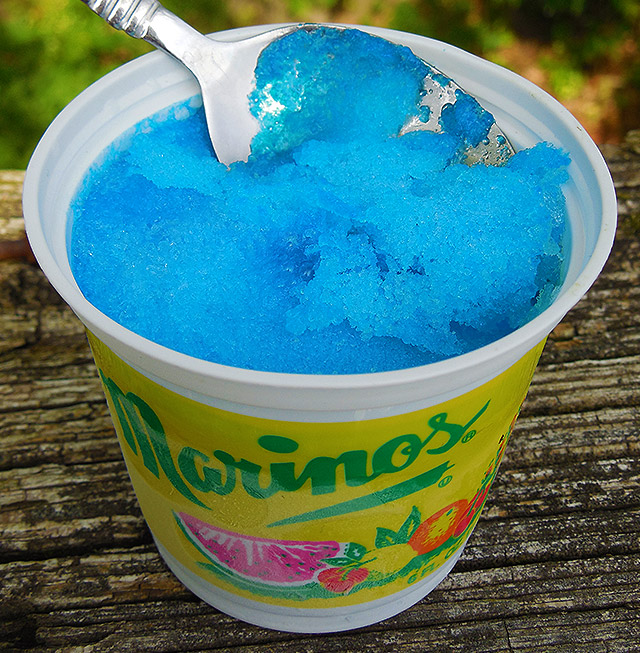 BLUE GELATI, to be precise. I'm sure it's not new, but I'm also sure that I'd remember something so utterly amazing as a BLUE Marino's Italian Ice. That this was able to escape my attention only proves that I've been governed by the dark lords of distraction, and must somehow repent.
Cherry may be my favorite to eat, but from a strict "I have to draw you" perspective, nothing beats blue water ice. I look at that photo, and suddenly I'm on the ferris wheel, shaking sand from my sneakers, and remembering that I'm deathly afraid of heights. Everything is pure and the air smells like coconuts.
I found the flavor to be somewhere in the realm of "blue Jell-O." It's better than lemon, but not quite on the level of cherry. As established, nothing is. Still, it's hard to pick even the godly cherry over an ice that is this motherfucking blue. I want to shrink down to an inch tall Matt and pretend that cup is my own private alien Antarctica.
Those are my favorite three, but Marino's has several other interesting flavors, including a tri-colored rainbow version that blends all of the aforementioned types. The only reason that one didn't crack my top three is because I only noticed it ten seconds ago. Goddamn, I will not rest until Marino's Rainbow Ice is pushing all of the expired Kid Cuisines out of my freezer.
With the admission that this review only exists so I could show off my pretty photo of blue water ice, I take my leave… perhaps for another seventeen months.
[stextbox id="info"]I'm still very busy in the real world, but hopefully things will start clearing up over the next few weeks. In the meantime, I'm posting garbage over on Twitter![/stextbox]