You've surely noticed the slew of "independent" toy lines that have materialized in recent years. You know, the kind you see funded by Kickstarter campaigns, which often take inspiration from retro lines?
I won't pretend that there's never a dud, but so many of these "microbrew" lines are fantastic. They're usually created by people around our age, who grew up loving the same toys we did. I've seen independent lines inspired by everything from M.U.S.C.L.E. to Battle Beasts, but always with a twist to make them unique.
This isn't something I write about often, because no matter how many toys I cover, "regular reviews" aren't really my thing. It's close to what I do, but not exact. I only mention this because it'd take something seriously great for me to be "straight and shilly." And yeah, I think today's subject is seriously great.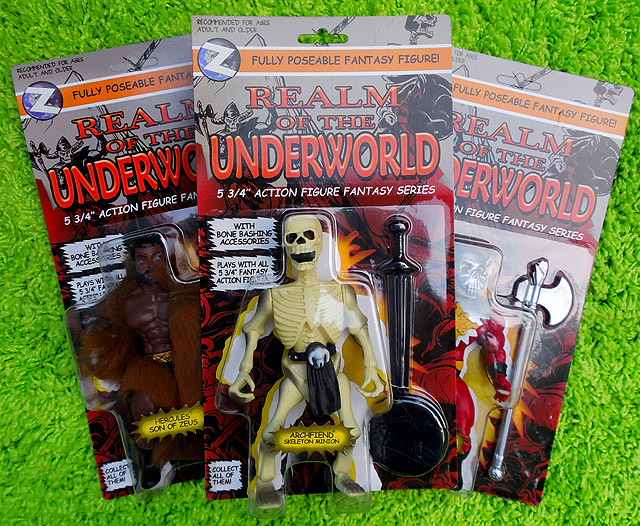 Made by Zoloworld, it's the Realm of the Underworld collection! A series of Masters of the Universe-esque figures that blend monsters, mythology and a whole lot of nostalgia.
The story, if I have it right, involves a team of evil Archfiends (skeleton warriors) from the Underworld, attempting to wreck shit in the Overworld. Only a couple of heroes stand in their way, but since those heroes are godlike and covered in bumpy muscles, the fight is fairer than it sounds.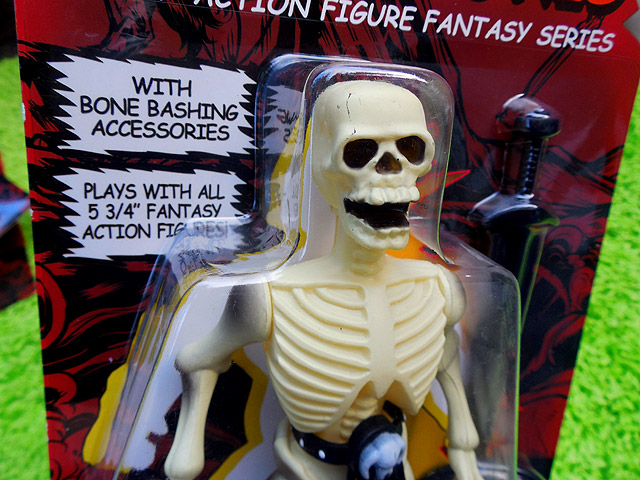 I appreciate the story, but what drew me to these figures was simply how they looked.
My first impression was that they were He-Man characters from a parallel dimension, but they're actually more reminiscent of the He-Man knock-offs that we used to find in grocery stores. If you remember those wild figures (goblins with human bodies carrying around laser rifles), you'd know that the comparison is a big compliment.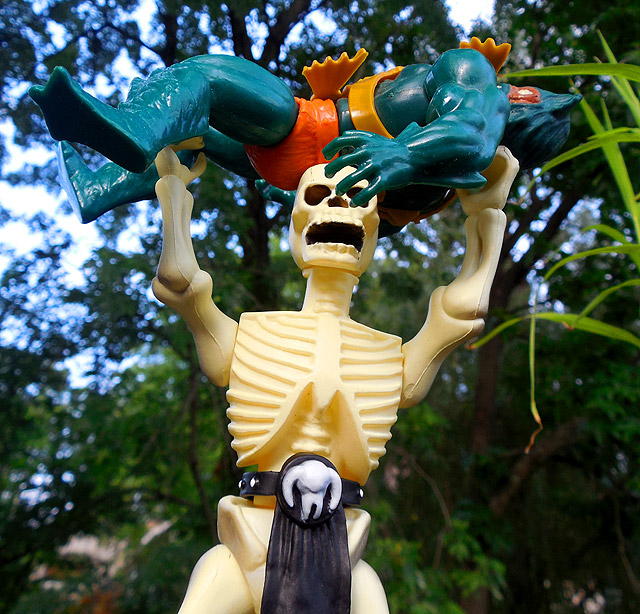 The other major plus was that they almost function as Halloween action figures. I mean, they're not AT ALL Halloween action figures, but when a collection includes skeletons, zombies, and an executioner carrying a comically oversized ax, it's no big leap to make. Seriously, check out the full collection. It's He-Man meets Halloween.
The figures are nearly six inches tall, come with the expected medieval accessories, and have the great bonus of interchangeable limbs. More on that later. First, a quick look at the three I got!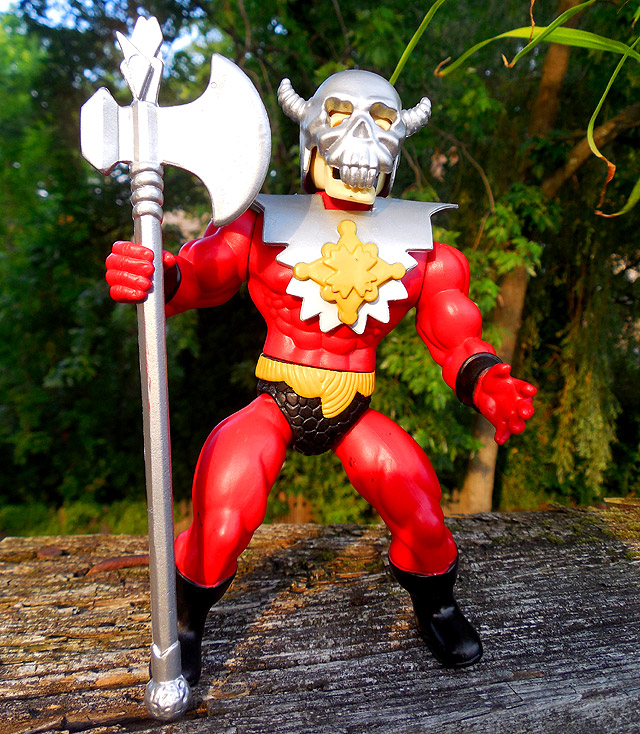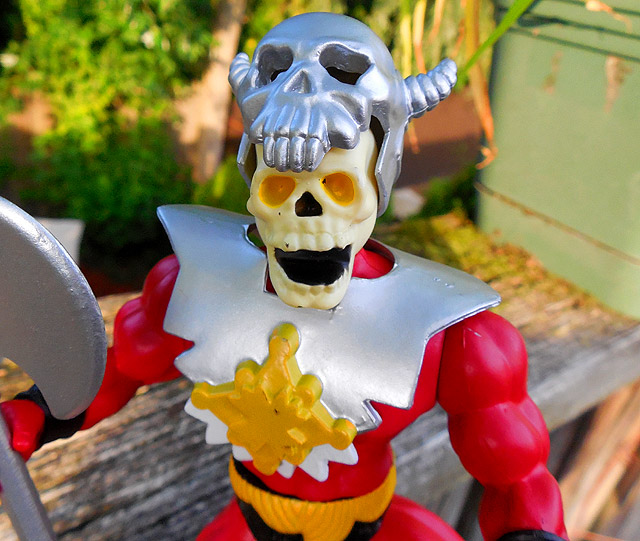 That's Acromancer. He's a skeleton dressed like Captain Marvel. He also rules the Underworld.
I love the removable helmet, as it puts an image to the many nights I've spent wondering what it would look like if Shao Kahn had a baby with Scorpion.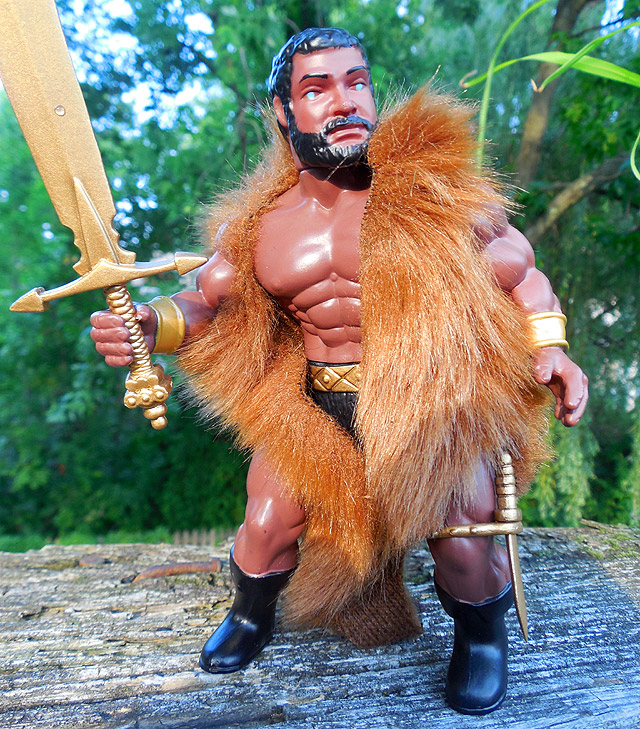 Here's Hercules, son of Zeus and one of the heroes. This guy is SMART. Hercules knew he'd be battling monsters that looked far more interesting than him, so he wore a great fuzzy jacket into battle. Consider the score evened, you horrible demons.
The jacket alone is worth the price of admission, because even if you have no interest in Hercules, you can give his clothes to one of the wacky skeleton dudes. (I did!)
The intentionally crude blue eyes are more tactful than they seem. If you're gonna contend with monsters from Hell, you want to look calm and collected. Eyes like that betray no fear. Bring on the undead luchadores.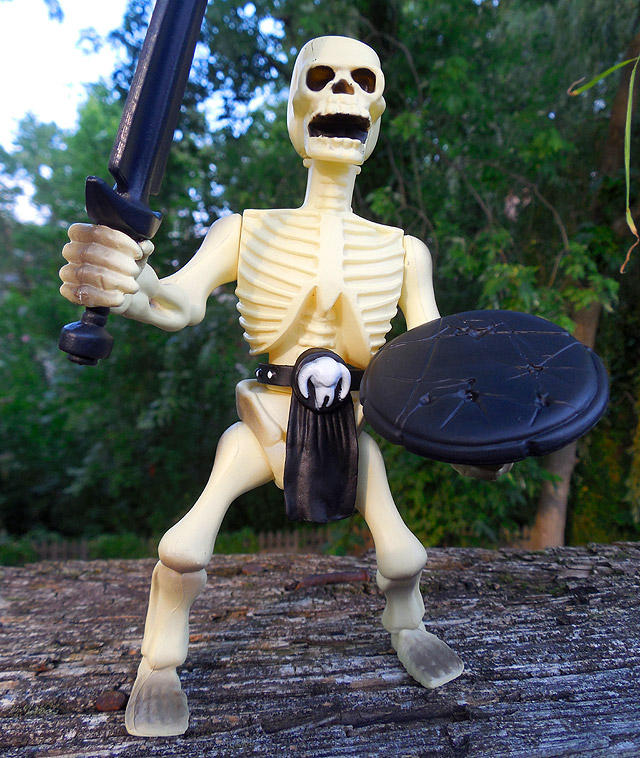 Here's my favorite of 'em all. An Archfiend Skeleton Minion, who basically serves the same purpose as a Foot Solider or Stormtrooper. In the collection's storyline, there's an army of these guys.
He's the whole reason for this review. A "simple" skeleton, who insists on a loincloth despite having nothing to hide. Toss in the ebon sword, and he is absolutely one of my favorite finds of the year. I'm doing my best to make Dino Drac's summer season summery, but when you give me a goddamned Army of Darkness action figure, all I can think about is October.
The Archfiend also works if you want to pretend that Acromancer is taking a shower. I bet he sings in there. Soap jingles, mostly.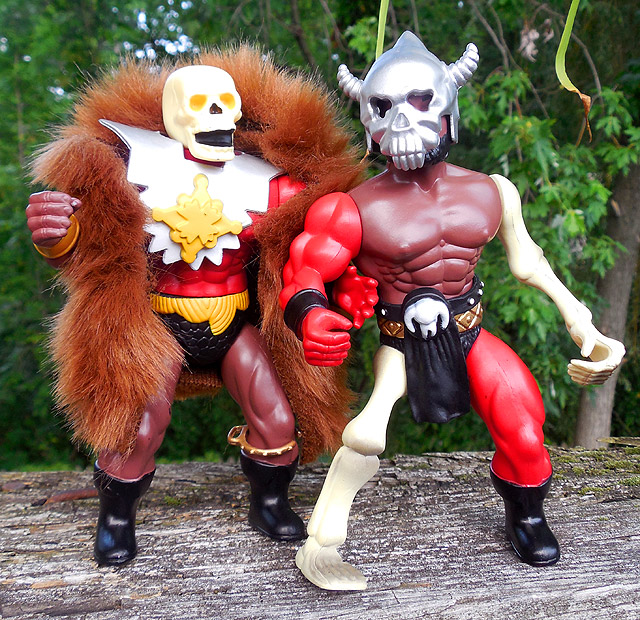 The figures' limbs are all interchangeable, so you can create custom psycho mutants tailored to your own taste. I'm particularly fond of the guy on the left, because DUH. He's like Skeletor's uncle slash oil tycoon.
(One note: You'll want to treat the figures gently if you try this. I know that seems weird to say, since you'll be ripping their arms and legs off. But I do suspect that if you force them too hard, you might crack a piece. The figures are made of plastic, not platinum.)
Pros: It's like you've gone to a 1986 pharmacy to shop for action figures.
Cons: At over $20 per figure, you'll need a pretty serious interest to invest.
I spoke to the team at Zoloworld, and admirably, their collection is completely self-funded. (I have no issues with great toys being crowdfunded, but there's something to be said for putting your money where your mouth is.) The figures are unbelievably '80s, and according to its makers, that's the point. The characters, accessories and even the whole gimmick are meant to be a collective throwback. If you've ever wished that action figures were more like they used to be… well, some of them are. You just have to look around!
Learn more about the Realm of the Underworld figures on their official site!