After our successful trip to Heights-Terrace Video in Hazleton, we drove another 40 minutes into the bowels of Pennsylvania, looking for more old video stores.
That led us to the city of Wyoming. If the little we saw was indicative of its totality, Wyoming is a mix of a sleepy college town and a place where affluent couples go to buy antique rocking chairs. We liked it.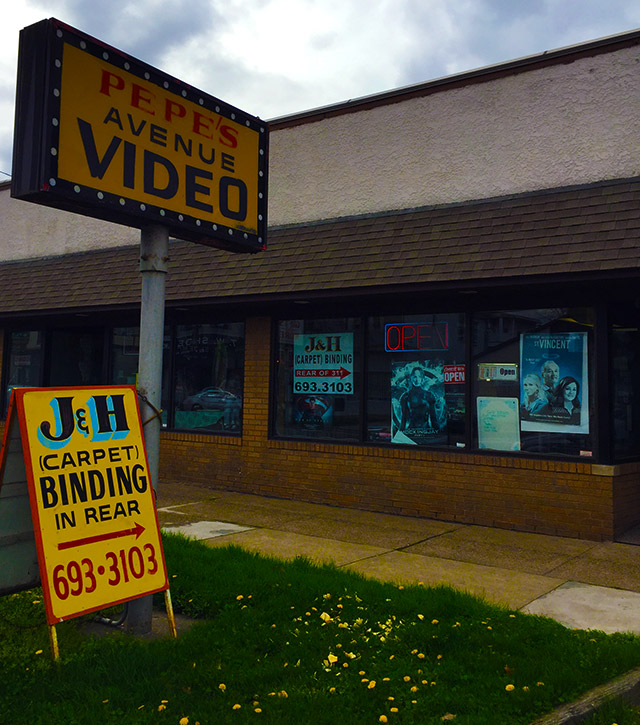 Finally, we hit our target. Pepe's Avenue Video. I was only half-sure that Pepe's was still in business, but the few photos I'd seen suggested that it was worth the risk.
We had to kill an hour before we could go inside, because apparently the only things that open in Wyoming before 3PM are wineries and Dollar Generals.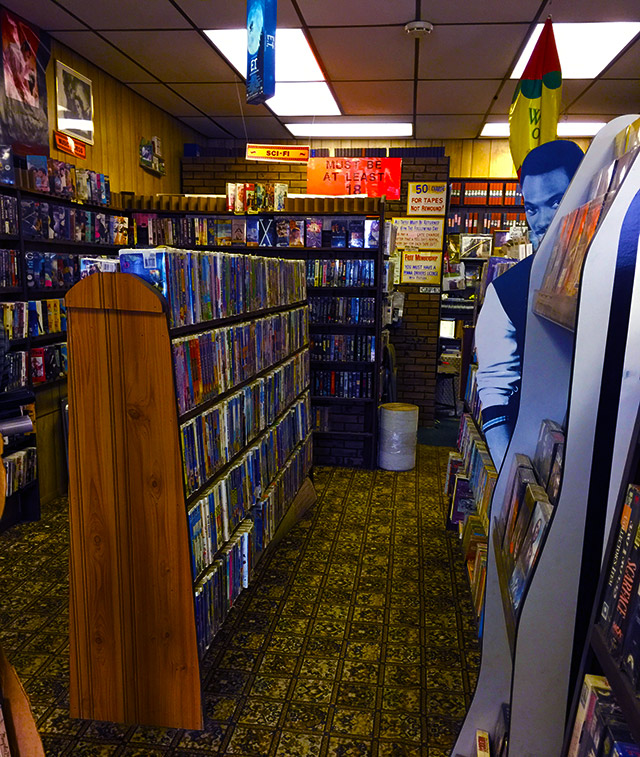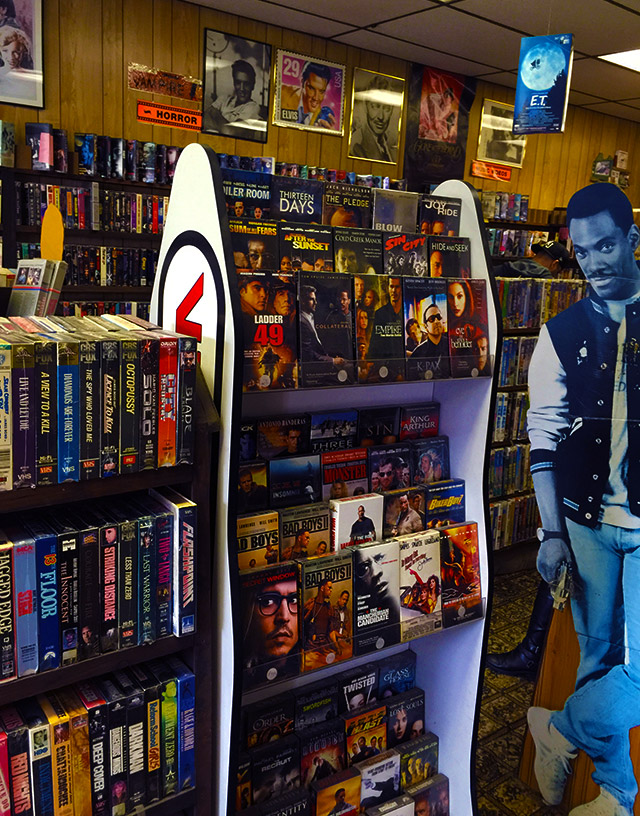 Pepe's Avenue Video shattered our expectations. Holy shit, this was an amazing store. The owners — a lovely couple whose graciousness made Pepe's one iffy Yelp review seem extra spiteful — opened the place in '89 and have been keeping at it ever since.
More than any of the other video stores that we've visited over the last few months, Pepe's felt trapped in the past. Literally everything near the front of the store was horribly faded by decades of sunlight. Promo items spiced up the decor, but most of them were from no later than the early '90s.
In Pepe's Avenue Video, a Home Alone 2 poster seemed comparably current.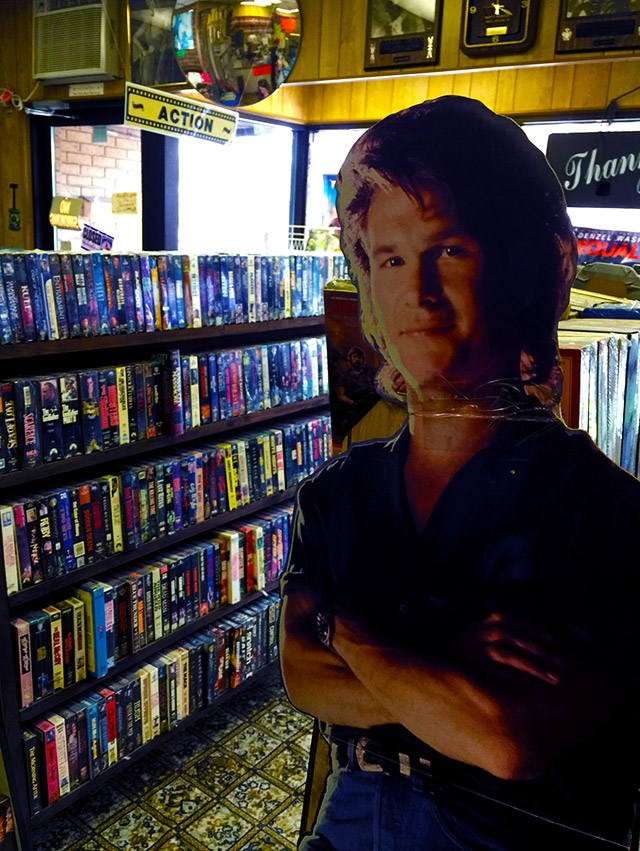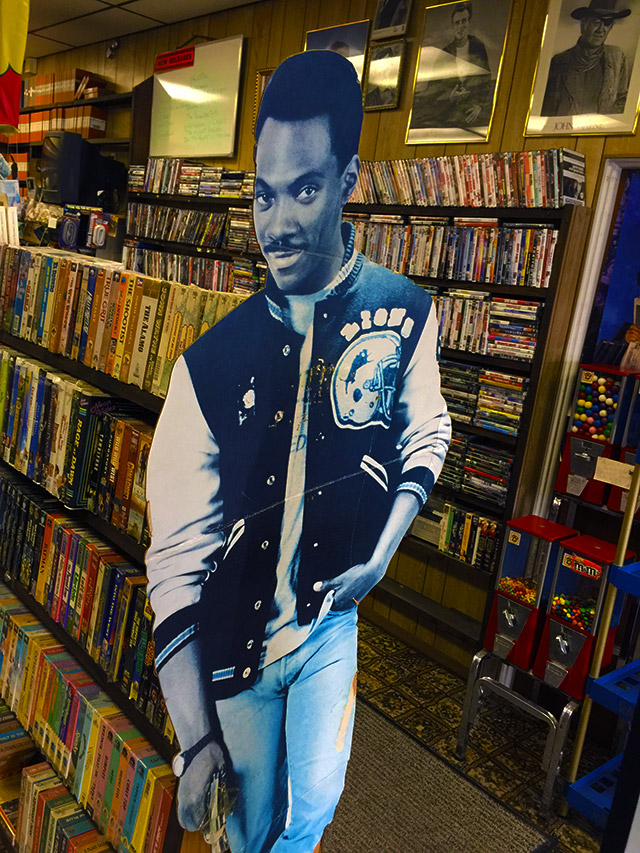 It was fantastic in every way, from the old wood paneling to the cardboard standees of Eddie Murphy and Patrick Swayze. Nothing in Pepe's Avenue Video felt like it'd moved an inch in 20+ years. The whole place smelled like carpets and Saltines. I wanted to live there.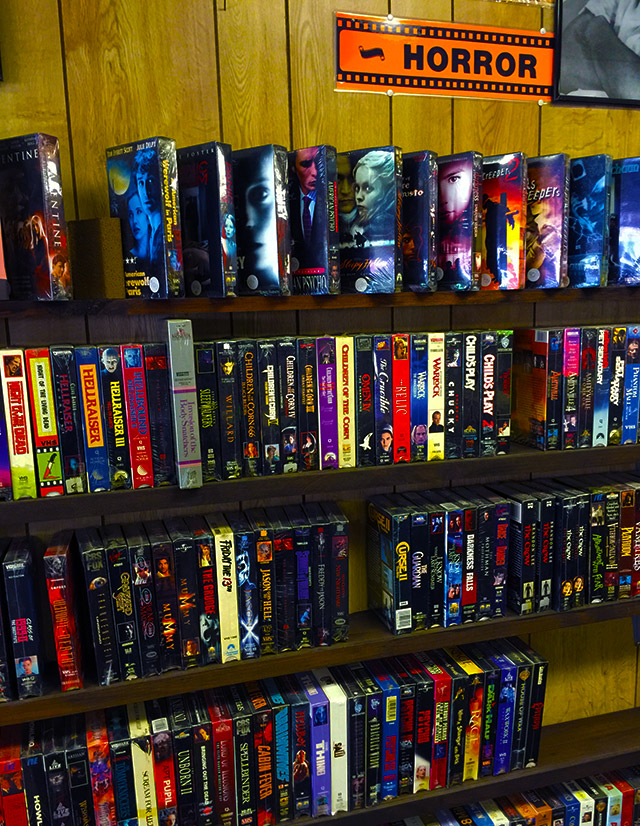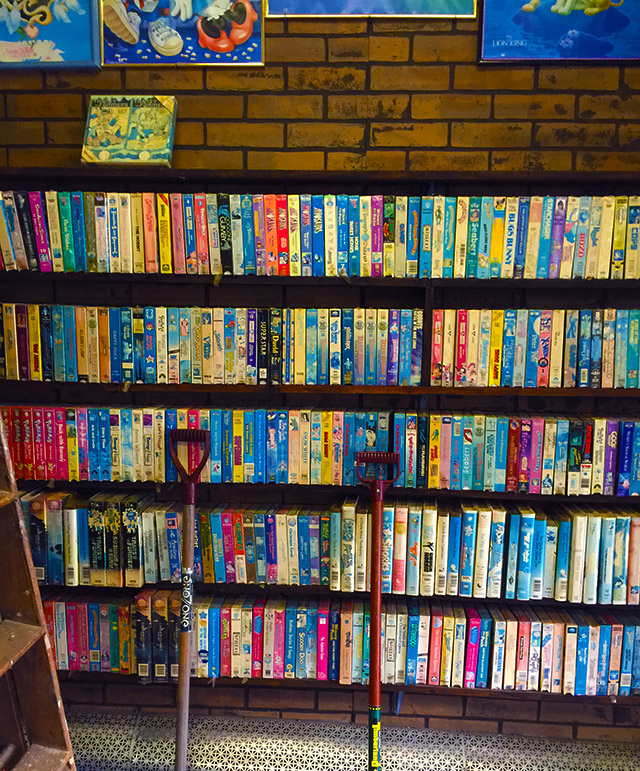 While Pepe's does offer DVDs, they are wildly outnumbered by the VHS tapes. So. Many. VHS tapes.
The good news is that they are willing to sell any tape in the store. The bad news is that they don't necessarily want to. Pepe's videos certainly aren't cheap, but if you know the market well enough, I assume you can make some decent scores in here.
(Or you could be like that one random guy who browsed the horror section while we were there. I saw you with the eBay app open, dude. Slick.)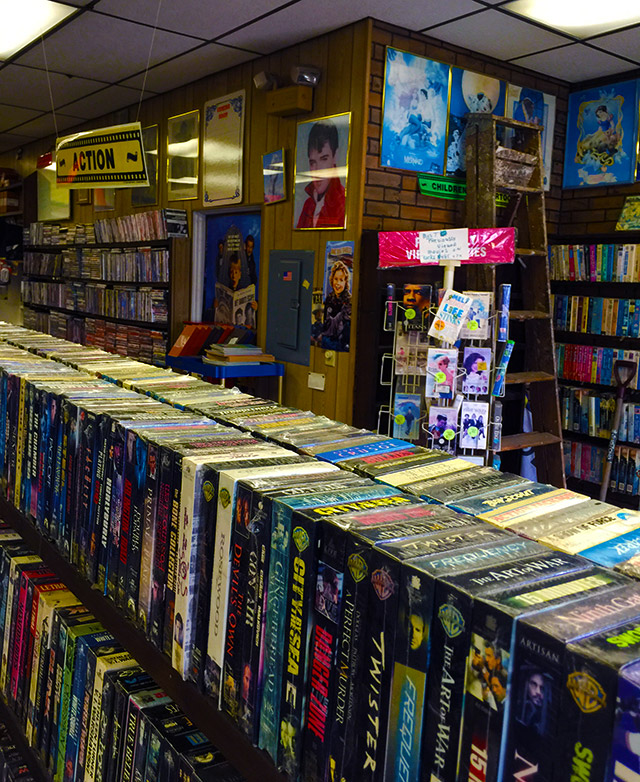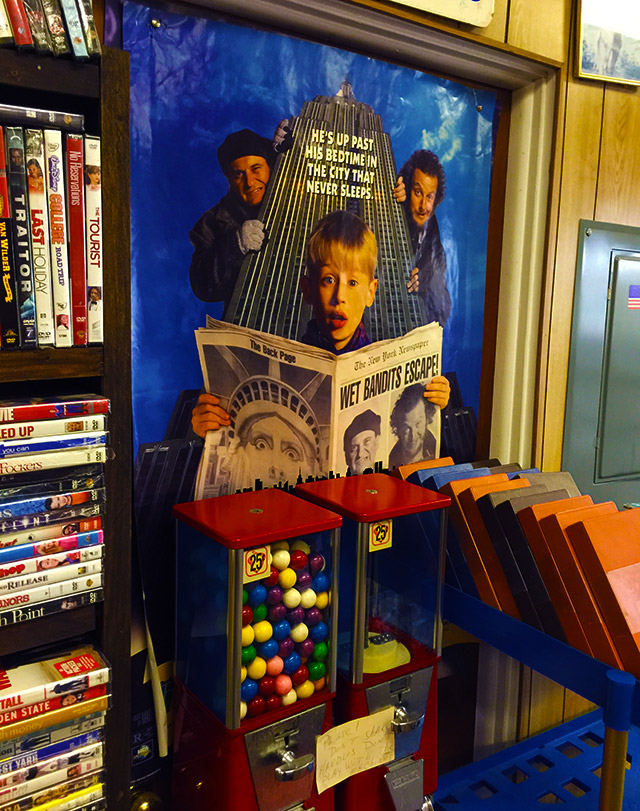 The owners told us stories about people coming from as far as Canada to raid their tape collection, so if anything I'm amazed that there was still so much left.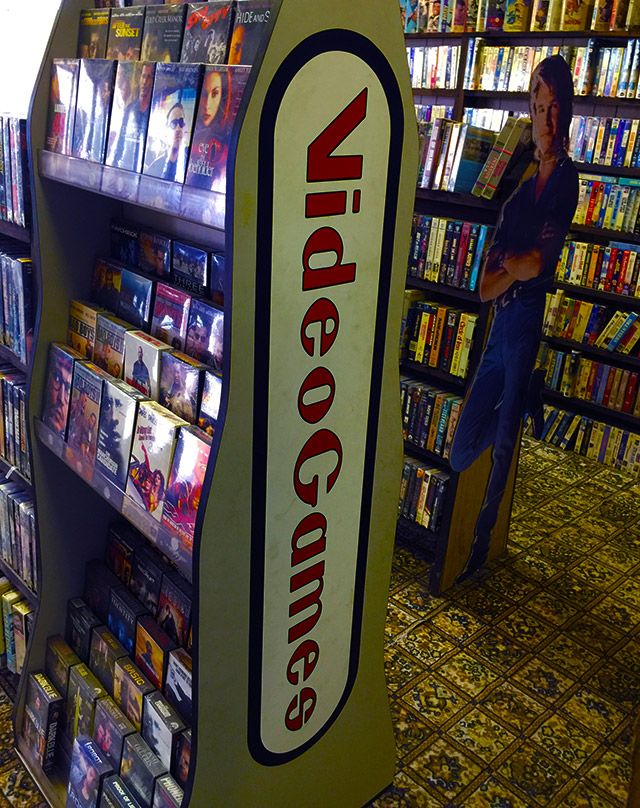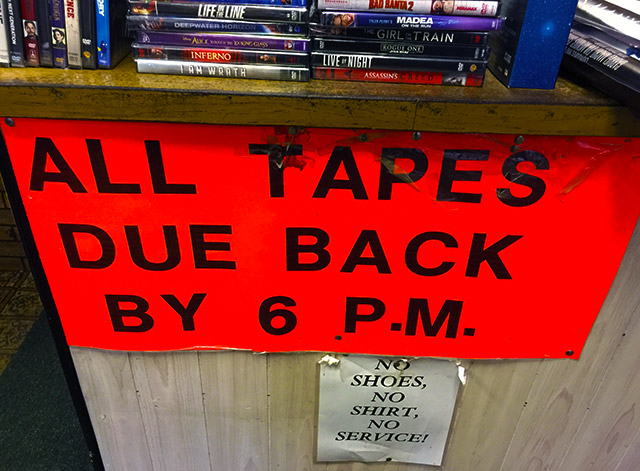 I pulled some tapes, but these photos are worth more than they'll ever be.
Team Pepe owns the property and won't lose money by staying open, but I got the impression that they stay in business more for love than cash. They've lived the "video store life" for almost half of their lives, after all.
I gave them my perspective on Selling vs. Renting. These days, the number of collectors absolutely dwarfs the number of people looking to rent tapes. They agreed with that assessment, but would still offer no discounts… in part because they remember exactly how much they originally paid for the things. (Well over a hundred bucks in many cases!)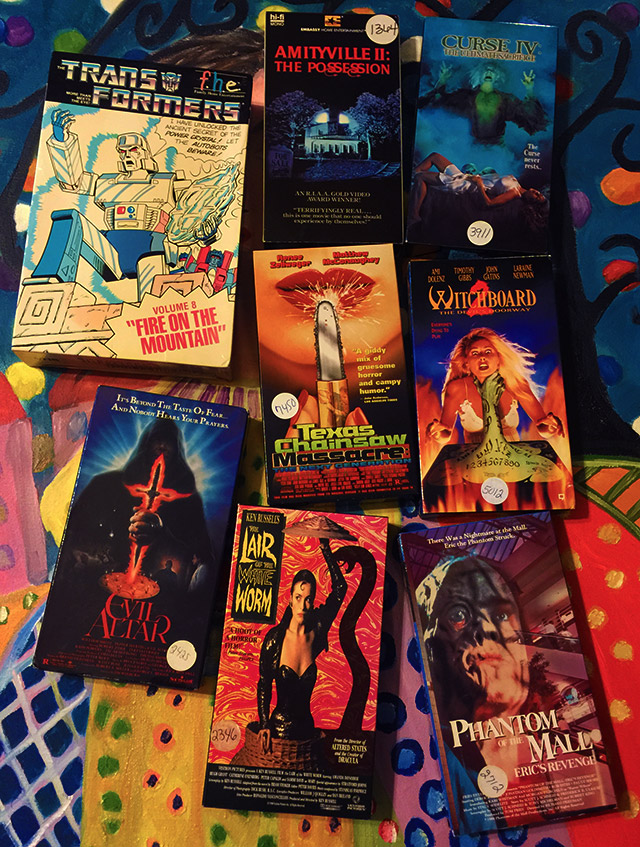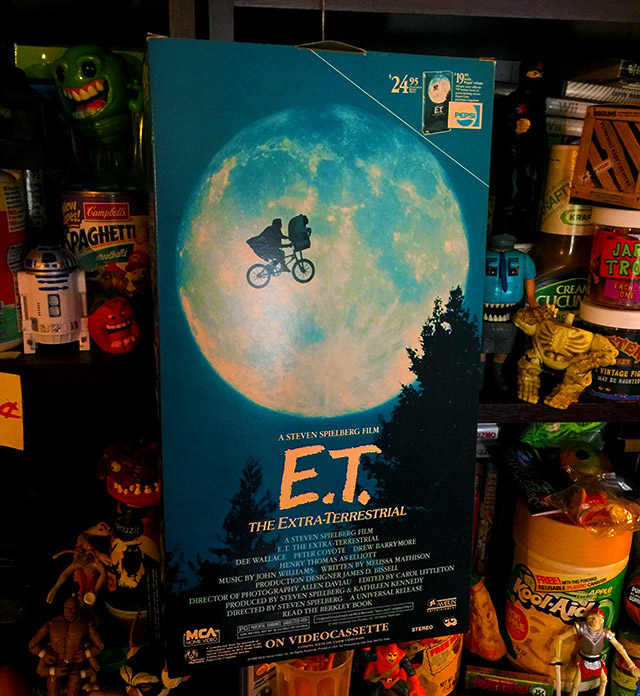 I left with all of the above. I'd rather not say what I paid for the tapes, which you might consider code for "Matt paid too much." They weren't hideously expensive or anything… just not cheap.
On the other hand, they're not the sorts of videos one often sees in the wild, which is probably for the best, because if I ever found a copy of Phantom of the Mall at a yard sale, my head would instantly explode and I'd be standing there, headless.
Actually, my best find was that old E.T. promo display — an oversized VHS dummy box from 1988. I saw it hanging in Pepe's, suspected that it had been hanging in the same place since Pepe's opened in the late '80s, and had to have it. They only wanted five bucks for that treasure. It was dustier than the Midnight Rider.
So, the breakdown:
You can skip Pepe's if you're only in it for the take-home tapes, but if you want to see an amazing old video store that defies all logic by continuing to exist, it's absolutely worth the trip.
(And please do plan to buy something even if you really don't want to. It'd be way rude to spend an hour ogling their wares just to settle on a selfie.)
After Pepe's came pizza, and then a long ride home. Loved this place. I hope it outlives me. It might.