Apple Uglies & Popcorn Uglies!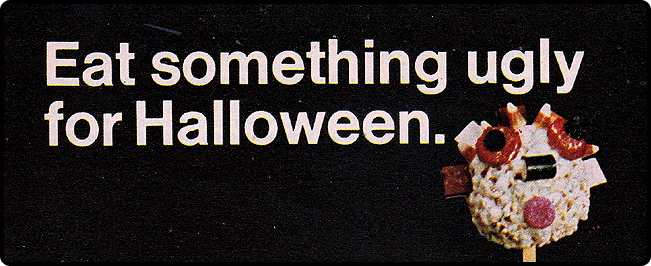 Apple Uglies & Popcorn Uglies!
A Stupid Halloween To-Do by Dinosaur Dracula
There are a thousand reasons why Halloween is so great, but "weird recipes" would easily crack the top 20. From cocktails that look like goat blood to using gutted pumpkins as soup bowls, this is truly the season for bizarre culinary experiments.
Aiding in my hobby is an immense collection of ancient homemaker magazines. Whenever I see an October back issue at a thrift store or yard sale, I have to buy it. Experience has taught me that even if there's nothing about Halloween on the cover, all October issues will have something spooky inside.
Proof's in the pudding: While thumbing through some long extinct "women's" magazine from the '70s, I learned how to turn apples and popcorn into hideous Halloween monsters. Meet the Uglies!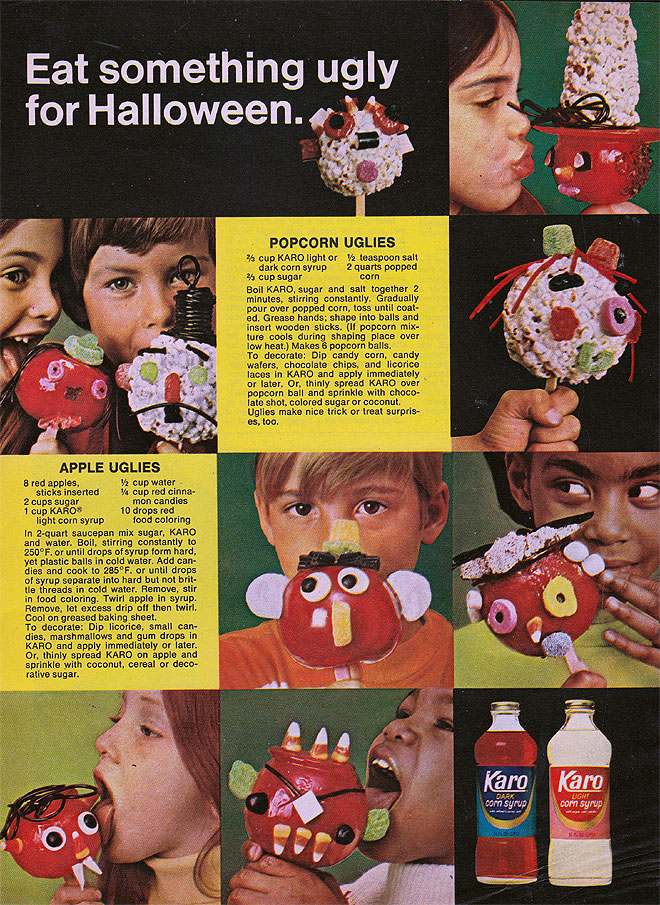 It's actually just a full-page advertisement for Karo corn syrup, but I was floored when I saw these guys. Apple Uglies and Popcorn Uglies! Strange creatures that I could bring to life! Strange creatures that I could force-feed to friends and relatives! The chance to give sticky apples hair made from licorice!
Simply brilliant and brilliantly simple, I couldn't let October pass without giving this a try. The first step was picking up the ingredients.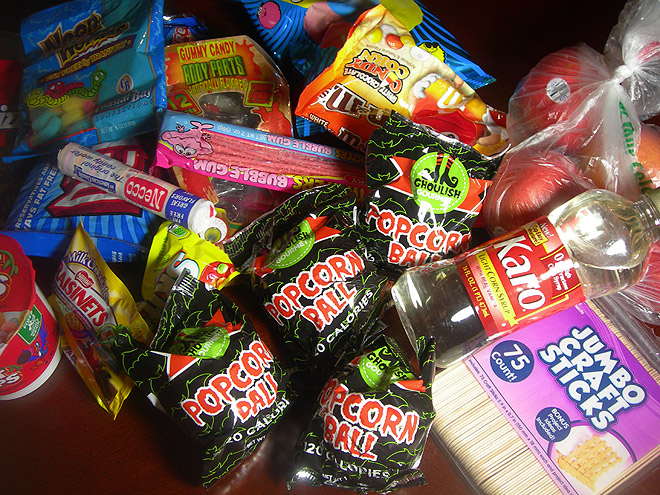 Maybe I went a little overboard. Aside from the obvious (apples, popcorn, corn syrup), you're going to need lots of candies to create the Uglies' faces. Judging by the examples in Karo's ad, pretty much anything edible was fair game. I grabbed all sorts of sugary body parts, from Raisinets to gummy worms, along with a variety of Skittles that I never knew existed until last night. Also, Froot Loops. I figured they'd work nicely as eyes.
Karo provided separate instructions for the Apple and Popcorn Uglies. Since I already had a bunch of premade popcorn balls, I could skip some of the boring steps in creating that version. Their apple cousins were another matter…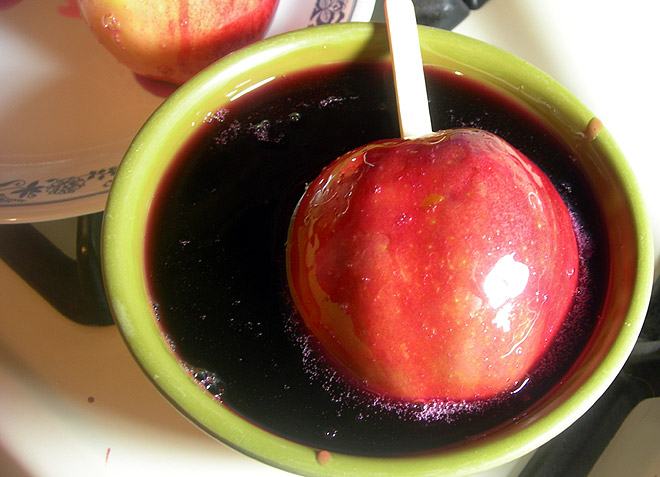 Okay, the Apple Uglies. You're basically making candy apples. Problem is, I've never made, nor eaten, a candy apple. Swear to God.
As a kid, I had such an aversion to them. I don't know why. I liked candy, and I liked apples. I just couldn't accept both at the same time. It was not an unnatural pairing, so I can only assume that I endured some horrible candy apple-related nightmare as a child. It's buried in the darkest recesses of my brain, and it's caused me to avoid candy apples for decades. Today, I fight the power.
Since I'm too unfamiliar with candy apples to "just make them," I needed to follow Karo's instructions. I don't know if you can read them clearly on the scanned ad, but those are some terrible directions. They read like an obtuse poem.  "Do-this and a do-that and a do-this one mo' time." Fuck you, Karo. Give me the steps as a goddamned numbered list, like normal corn syrup companies do.
My candy apples did not come out well at all. They were candy, they were apples, but I don't think I could legally call them "candy apples." They were regular apples donning cheap disguises, so they could infiltrate Candy Apple HQ and learn their secrets.
"Corn syrup!  So that's how they do it!  Fruity Frank to Core 1 — THE SECRET IS SYRUP!"
Still, they felt sticky enough. I didn't think I'd have any trouble giving them eyes made from Froot Loops.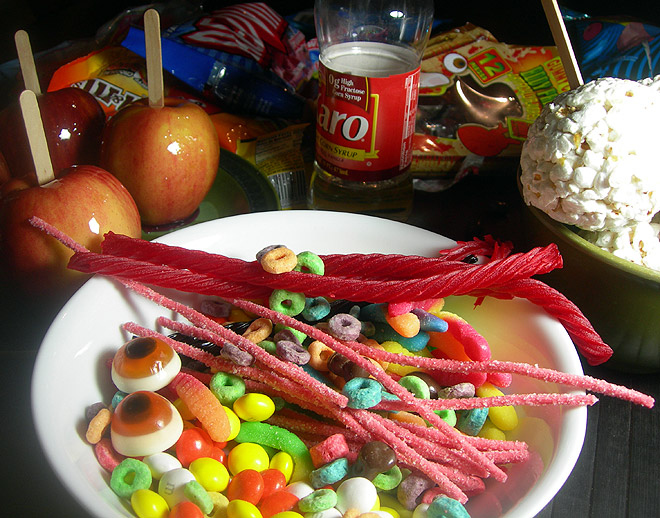 When it was time to decorate, I dumped all of the candy body parts into one huge bowl. It reminded me of what Mom used to do for our birthday parties. This was going to be fun!
And I guess it was fun. But it was also a lot of work. A lot of frustrating, tear-your-hair-out work.
Maybe my "abridged" take on Karo's instructions made the process harder than it needed to be. Or maybe Karo was a little presumptuous to insinuate that heavy candy was ever going to stick to apples and popcorn without the aid of Krazy Glue.  Or maybe I just live within a difficult altitude. All of my old candy recipe books make such a fuss about altitude. Was this why?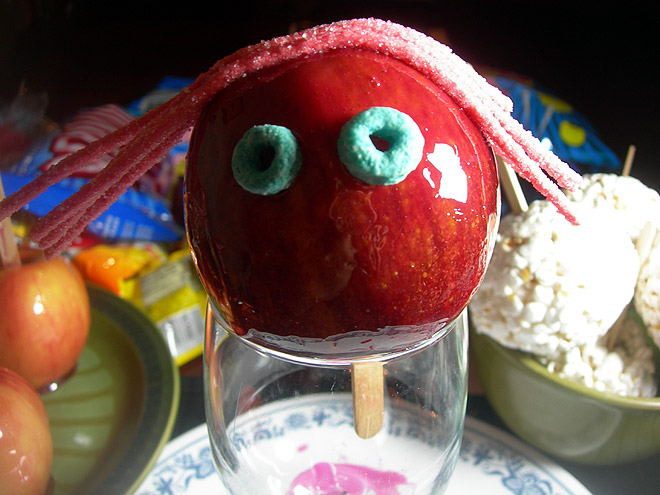 The candy would just NOT STAY ON. I mean, it would, but to get it to that point took a ludicrous level of effort. Hell, even the simple task of keeping the Uglies upright nearly destroyed me. This was a big, messy, sticky challenge, and it forced me to wash my hands more times in an hour than I usually do in a week.
This was all too infuriating to do on my own, so I enlisted Ms. X for help. I made half, and she made half. We're no longer speaking, because turning fruit and popcorn into monsters has a special way of bringing out the worst in people.  Even a day later, things are still so delicate that I'm not even going to tell you which are hers and which are mine. I just feel like I'd get in trouble if I did.  Not since the "I want to go to Disney/I want to go to shitty Arizona" argument has a subject more darkly defined the tone in La Casa De Matt.
Below are our combined efforts. Four Apple Uglies, four Popcorn Uglies.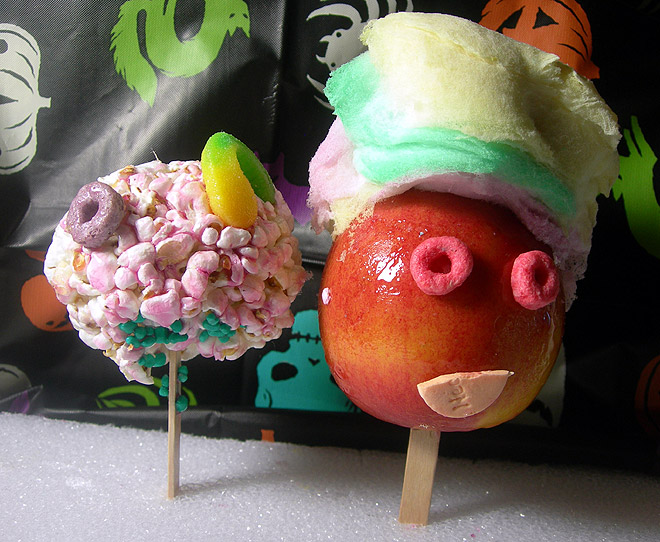 Fester: The Popcorn Uglies were easier to handle, but way harder to make. Since I utilized dry, premade popcorn balls, we used the spare candy apple goo as glue. Anyway, one of Fester's eyes has been eaten by a gummy worm. That's his claim to fame.
Mrs. Poofy: Our first Apple Ugly has cotton candy hair. Since that created such a striking look on its own, we saw so reason to go overboard on her face. Two Froot Loops for eyes, half of a Necca wafer for the mouth, and it was time to move on. Boy, was it ever.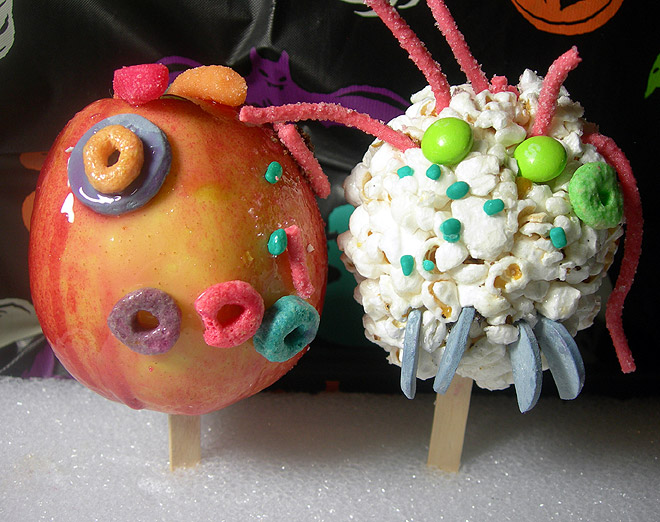 Stranger: A truly bad apple, Stranger likes to confuse his victims. Is that an eye? A mouth? Is this Apple Ugly upside-down? Stranger isn't telling. He wants you to get a closer look. When you're in range, he'll attack and eat you while Mrs. Poofy takes pictures. This will ultimately be revealed as a grand scheme to submit the winning definition of "irony" to some lousy publishing house's pictorial dictionary contest.
Dan the Zombie: One of most defined of the Popcorn Uglies, Dan has fangs, wild hair and eyes that taste like sour apples. I especially like that one lone Froot Loop. It conveys the right sense of zombie skin decay.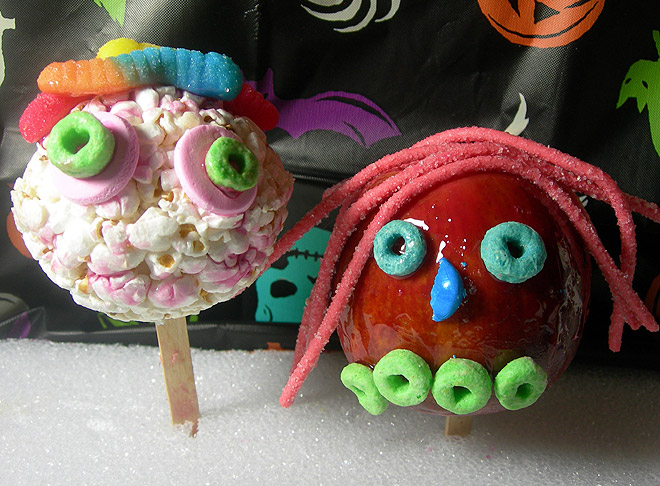 Bitchy Ball: So named because she looks like a bratty tattletale. Maybe I should reconsider this, as I don't know how she could "tell" on anyone without a mouth. It's not like she has hands to sign with. I remain steadfast: That hairdo could only belong to someone obnoxious.
Adam Apple: Adam really isn't a monster. Yes, he's a candy apple with a face made from cereal and M&M's, but to call him an "Ugly" seems a bit much. He's the Marilyn Munster of this crew. I'm very fond of Adam's hair, which was fashioned from strands of sugar-encrusted chewing gum. I found those in a dollar store; normal supermarkets draw the line at candy that weird.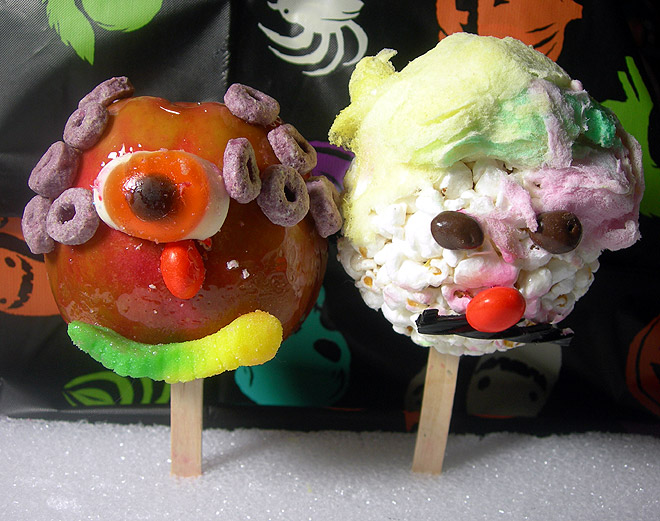 The Leader: Though I'm trying to keep an air of mystery about which of us created which Uglies, I'll admit to making this one. His stupid gummy eye was an absolute nightmare. I was determined to make a Cyclops, and Cyclopes really need something showier than Froot Loop eyes. That gummy eye would NOT STAY ON, no matter what I did or how hard I prayed. Even after I bit off the back half to reveal the gummy's stickier insides, it still wouldn't cooperate. Moments before and moments after this photo was taken, that eye was down on the table.
Rick the Ripper: He may look unassuming, but he's the most evil Ugly of all. With Raisinet eyes and a mouth made from a black Twizzler, Rick uses coy silence to deflect any suspicions that he's in fact responsible for the Tampa Massacre. Since they share cotton candy hair, Mrs. Poofy likes to think that Rick is her best friend. He feels otherwise.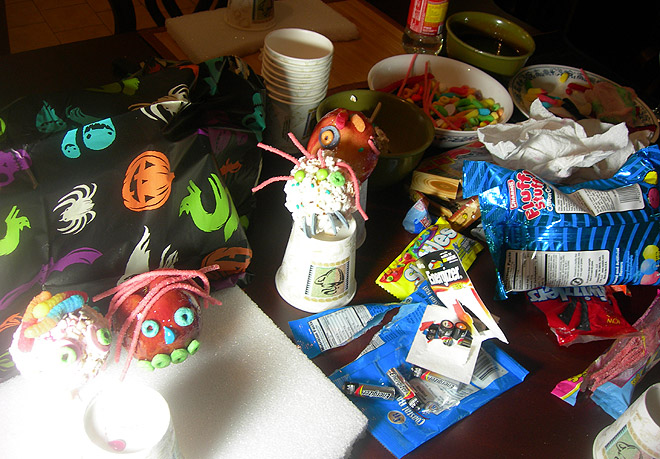 When all was said and done, our dining room was a disaster. Aside from the obvious trash, small puddles of corn syrup were all over the table and floor, necessitating a cleanup process that was 40 times longer than I'm ever okay with. Oh, the lengths I go to for your entertainment. If only you weren't so demanding that I pen a 2000 word article about Karo corn syrup monsters. This is all your fault.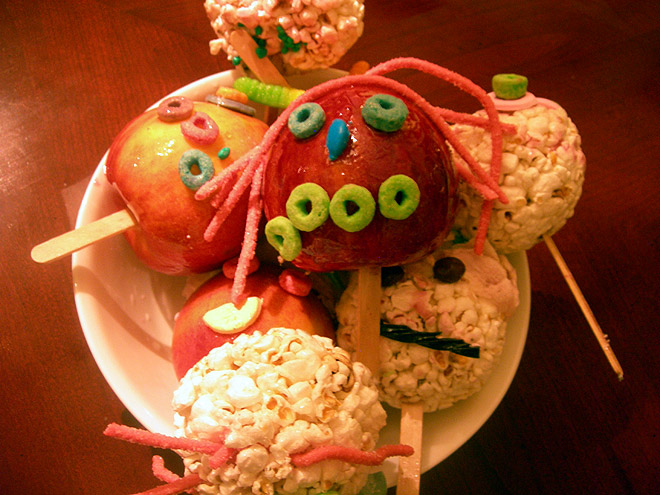 Even if I didn't make the candy apples correctly, and even if I'd sooner feed myself to alien hogs before doing this again, it was still lots of fun. I strongly recommend that you make a batch. Even if you don't eat them, a bowl of apple and popcorn monsters really is worth the trouble.  They just look so good, sitting together in a bowl like that. It's like Warhol teamed with a clinic for sick kids to decorate my dining room table. But the kids are actually monkeys.
Some tips:
#1: Make your candy apples the right way.
#2: Choose lightweight decorations, because candy pieces that weigh more than a quarter do not enjoy being stuck to fruit or popcorn.
#3: Consider rubber gloves.
#4: Spread out one of those cheap plastic tablecloths before trying any of this.
#5: When Karo says "saucepan," they mean saucepan, so don't use a small pot instead.
#6: Set a budget and stick to it. I'm not sure it was wise for me to invest $25 in this project.
#7: Don't try to mimic the works of art seen in Karo's advertisement. The only way you can make Uglies that gorgeous is with the Infinity Gauntlet.
See that, Karo? Numbered list. It's not hard to do.
All issues aside, this will surely go down as one of my favorite "Halloween 2012" experiences. Thank you, Karo. I hope your name is pronounced like the capital of Egypt. That's how I say it, and I don't want to stop.