The Top 30 Cabin in the Woods Monsters!
The Top 30 Monsters from The Cabin in the Woods!
PAGE 1 | PAGE 2 | PAGE 3
#21-30, from racists to redneck zombies!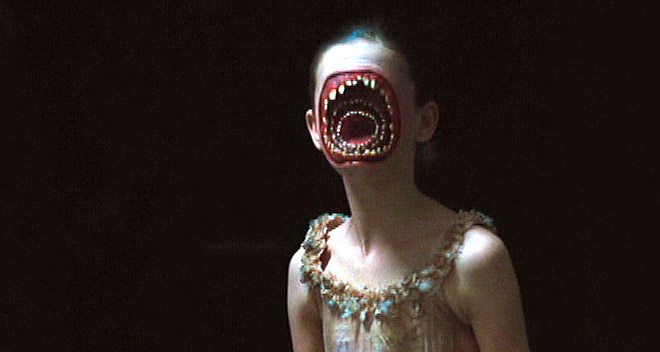 #21: Sugarplum Fairy
Basically, her whole face is teeth.
There are several possible inspirations for the Sugarplum Fairy, but Pan's Labyrinth is the strongest vibe I get. Objectivity dictates that I must include her, but if I'm being honest, I didn't want to. These sorts of monsters don't do much for me. In movies, they so often exist more as "twisted art," never truly interacting with the people who are so afraid of them. On the other hand, it's a little girl with a face made entirely of teeth. I guess it'd be be dumb to exclude her.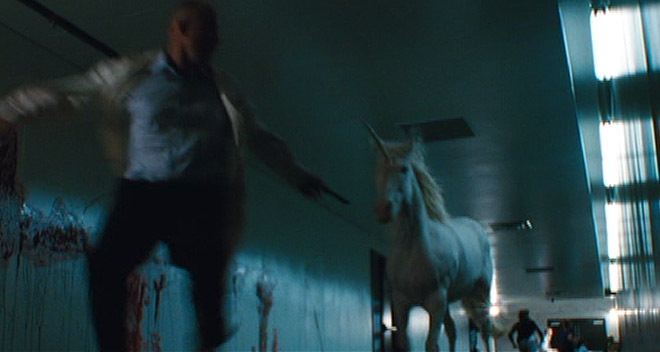 #22: Unicorn
It is TIRED of your bullshit.
Fans have discussed the unicorn's appearance to no end, but I think the simplest explanation works best: It's a "gag monster," meant for a chuckle. If I wanted to dig deeper, I don't think I'd worry about connecting it to some other movie, or piece of ancient folklore. Different people are afraid of different things, and most of us are scared of something that nobody else seems to be. Hornoequinophobics, consider yourselves represented. (Bonus points: This unicorn actually gets one of this grisliest kills in the film!)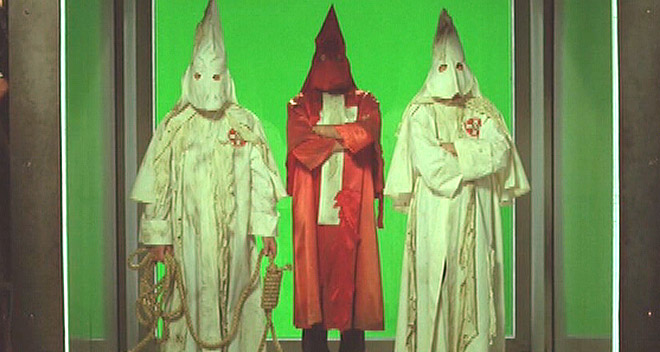 #23: The Ku Klux Klan
The red ones are worth extra points.
Remembering that the available monsters were meant to play on fears of all types and not just fears of supernatural/nonexistent things, the KKK fit right in. They're what I call a "gateway monster," because if these guys had a cube, you have to wonder what other "real life" monsters had one. The film showed us a lot, but it's interesting to think about what we didn't see. (To that end, hell, the novelization mentions more than a dozen monsters never seen in the film, and some of them sound way creepier than the ones we got!)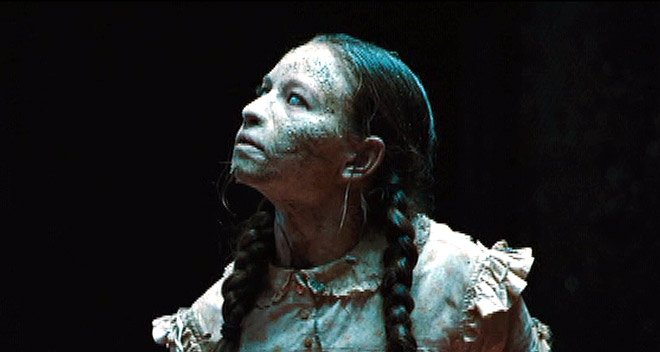 #24: Zombie Redneck Torture Family
Like the Sawyers, sorta.
Fans are divided on the Buckners, colloquially known as the "Zombie Redneck Torture Family." They're the main monsters in the film, and until the final act, pretty much the only monsters in the film. I think they were an okay choice. They were conceptually common enough to make TCITW seem like "just another horror movie" even despite its spin, lulling you into a false sense of "been there, done that" before the shit hits the fan. Those redneck zombies served a purpose, and they were certainly scary/vicious/compelling enough to carry the movie's earlier acts.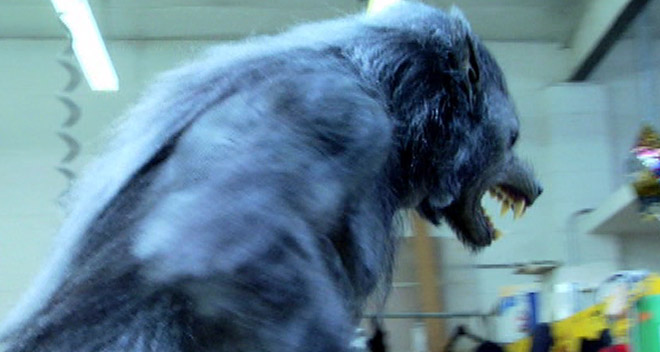 #25: Werewolf
Not the slim, stupid kind. The big, gnarly kill-you kind.
I'm not particularly big on werewolves, but when they're presented like this, count me in. While every bit as destructive as any other monster seen during the purge, I prefer to think of this werewolf as a victim of circumstance. He's alarmed, confused and just trying to survive. If the facility was on fire and my job was to save as many monsters as possible, I'd start with this werewolf. I believe that he can be reformed.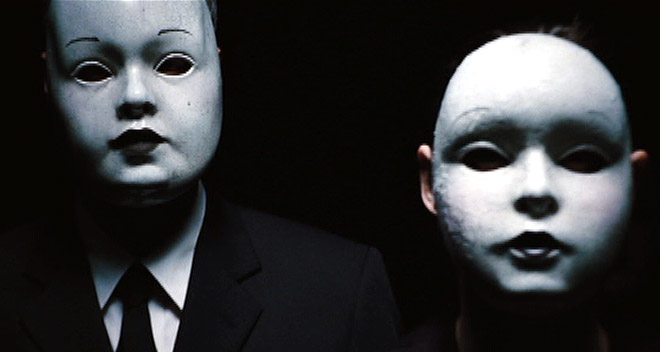 #26: Dolls
Gloom is their business and business is good.
Likely pulled from The Strangers, I'm assuming that the "Dolls" listed on the whiteboard referred to this crew of masked murderers. It was nice to get some "plain old serial killers" in the mix, and if you watch the movie closely enough, you'll even catch them setting people on fire. What fun! Given that they'd be no match for most of the other monsters, I guess there was some sort of unspoken law forbidding them to fight one another? Thank God that facility had such a big staff, or too many monsters would've had nothing to do!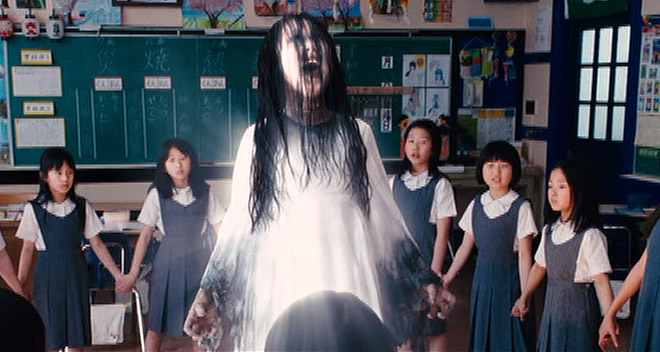 #27: Samara II
A dead ringer.
I know that the root lore is much older and goes much deeper, but come on, this monster was obviously inspired by Samara. (Or Sadako, for you Ringu purists.) Sh only appears in Japan's version of the ritual, and though the Japanese schoolgirls were able to defeat her, "Samara II" was definitely spooky enough to crack the top 30.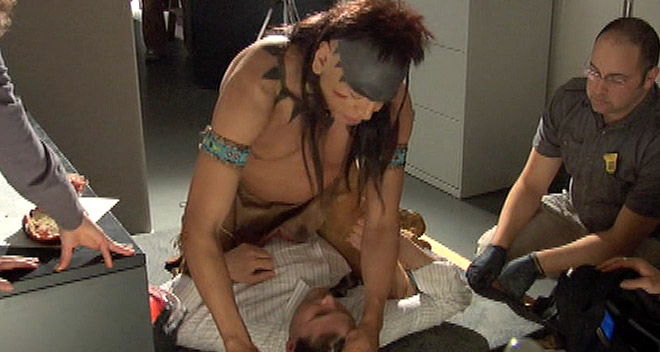 #28: The Huron
I like those things on his arms and assume they have a special meaning.
I gave up on finding this guy in the actual movie, so please pardon this not-so-scary shot from the special features. The Huron was a nod to early colonists' fears of Native American revenge, but I can't see a monster like this and not think back to Creepshow 2's Old Chief Wood'nhead. Even though Huron is clearly not made of wood. I guess I'll take any excuse to bring up Old Chief Wood'nhead, justified or not.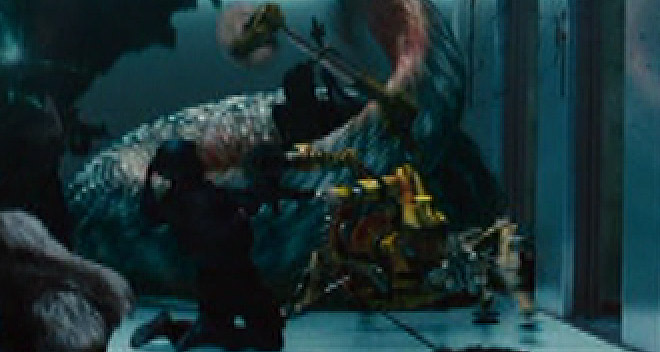 #29: Death Robot
Fluent in over six million forms of evisceration.
Love this guy. Seen a few times during the purge, Death Robot is large, fast and super efficient. We never get a clear enough look to identify all of its tools and tricks, but it definitely had hooks and saws, and a big evil robot with hooks and saws is reason enough to cry. (I also love how Death Robot marched out at the start of the purge, right in the middle of all the more "classic" monsters, confident that it belonged there. Hey, it did!)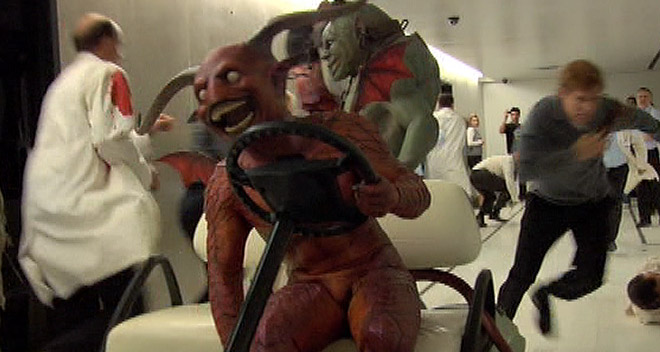 #30: Dismemberment Goblins
Ghouls just wanna have fun.
I'll remind you again that aside from #1, this list really isn't in a particular order. If it was, the Dismemberment Goblins would need to be much, MUCH higher. A pair of very different demons work together to wreak havoc, and to justify their name on the whiteboard, they spend the opening moments of the purge literally tearing a guard in half. This image comes from one of the special features and wasn't meant to be seen so clearly, but it does help explain why I'm so into them: The green guy in the back looks like one of the Ghoulies!
Incredibly, even after listing thirty monsters, I still feel like I skipped too many good ones. If I missed any of your favorites, share them in the comments. And if you actually read this list despite having never seen The Cabin in the Woods, now is the time to change that. Even if you just watch the last 30 minutes or so. I'll tell no one.