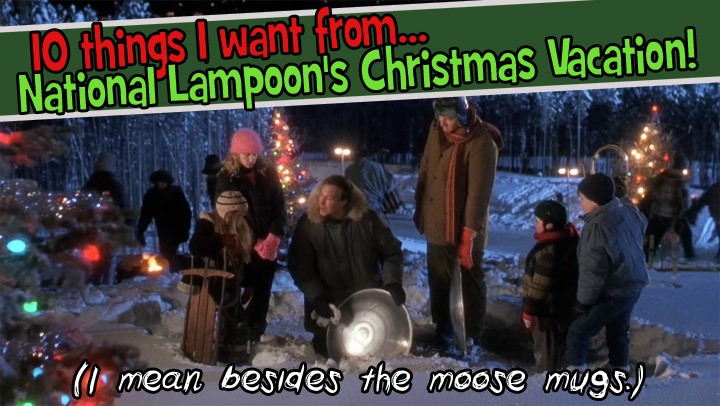 10 Things I Want From Christmas Vacation!
PAGE 1 | PAGE 2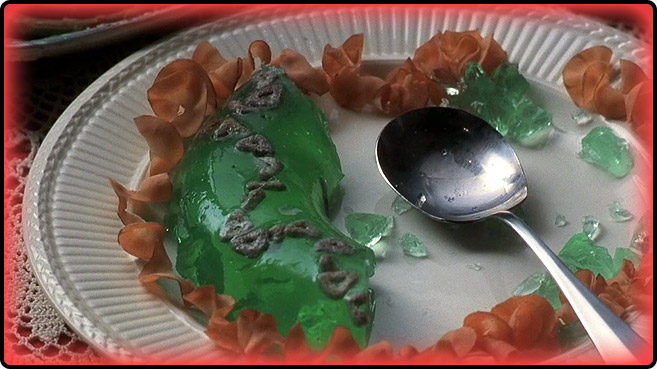 #6: Aunt Bethany's Cat Food-Topped Jell-O Mold!
Where to see it: The big Christmas Eve dinner scene late in the movie. You know, with the turkey. "There's the heart!"
Why I like it: YES YES YES! This is the whole reason I'm here! I admit it: Everything before and after this is filler! I just wanted to gush about the CAT FOOD JELL-O.
I know I'm not normal, but I can't be alone in this. I don't know what it is about this dish, but I love it. If you've never seen the movie, senile Aunt Bethany adds cat food to her gelatin mold, and for some reason, instead of picking off the offending bits and serving it "clean," the Griswolds just eat it as-is.
I'm trying to pinpoint exactly why I'm so into this CAT FOOD JELL-O, but even when I'm willing to totally fabricate a reason, I can't come up with anything. It's not like I want to eat it, and frankly, I'm not even a big Jell-O guy to begin with. If I had to guess, it all goes back to the recurring "food as art" theme in the stuff I write about.
It can't just be that I'm a sick bastard who secretly wants an excuse to try 9 Lives.
Ehhhh. It's probably that.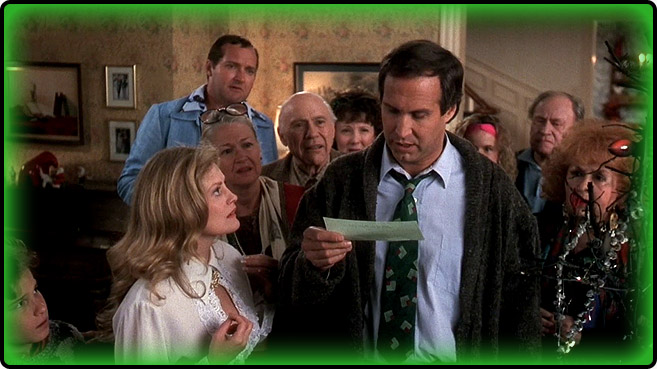 #7: An Enrollment into the Jelly of the Month Club!
Where to see it: Late in the movie, Christmas has gone to shit. Clark thinks the day will be saved by a special delivery, which he assumes to be his Christmas bonus. And it is – but it's not money. No, as a thank-you for another year of loyal service, Clark's enrolled into the Jelly of the Month Club.
Why I like it: I understand Clark's frustration. He needed that money for the swimming pool. Also, few would accept "jelly" as a suitable replacement for "cash." At the same time, I can't help but feel that if viewed objectively, a year of jam is way, way solid.
I did a little Googling just now, and yeah, it seems terrific. And that's coming from someone who kind of hates jelly. With twelve months to fill, most of these clubs get pretty creative with the flavors. If you're lucky, you'll end up with jalapeno-pummelo jelly. Which is GREAT.
Really, it's not so much the "jelly" part that thrills me. It's the "of the month" part. I'm so enamored with that. The idea that you'll have some small thing to look forward to, every month for a whole year. Could be jelly, could be fruit, could be exotic nuts. I don't care, just send me shit once a month. For twelve days a year, I will be okay with the world.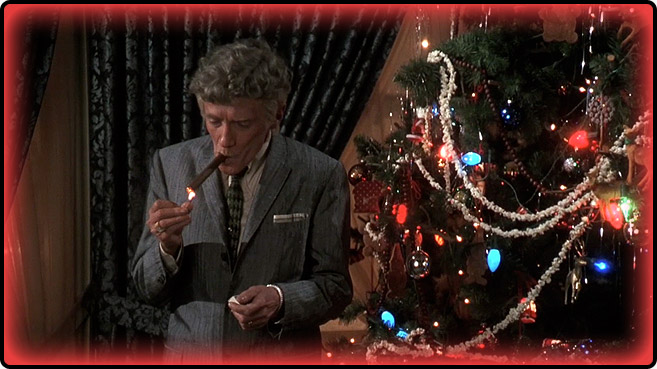 #8: Honest-to-Goodness Popcorn Garland!
Where to see it: Best seen just moments before Uncle Louis kills the Griswold family Christmas tree with his flamethrowing stogie.
Why I like it: Popcorn garland looks awesome and is so easy to make, and yet, very few of us ever bother to go through the trouble. It's such a shame, because even the crappiest Christmas tree looks totally passable with popcorn all over it. We would all do well to remember this.
Bonus points if you use the three kinds of popcorn from one of those holiday tins. Or at least the "regular" and "caramel" kinds, because nobody can see that "cheese" flavor and not eat all of it immediately. We are human, not gods.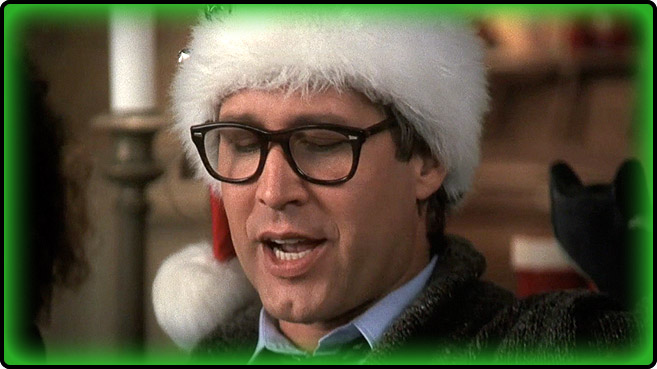 #9: Clark's Glasses!
Where to see them: During the scene where Clark reads 'Twas the Night before Christmas to all of the kiddies.
Why I like them: I have a confession to make: I have 20/20 vision. If you knew me for my whole life, you'd wonder how that's possible. I haven't done this in years, but I admit that there have been stretches when I wore glasses for purely cosmetic reasons.
I liked 'em just like Clark's. Big, thick, nerdy and black. I used to buy them by the bunch on the Wildwood boardwalk, where they were sold alongside much brighter sunglasses for the same price. They looked like real glasses, but there were no…things…done to the lenses…I don't know how to put it, but you know what I'm getting at. I just wanted the world to think I had imperfect vision. I'm calling myself "damaged" because it sounds a lot cooler than "stupid."
I still hold out hope that my many years spent staring at blazing white Word documents will cripple my eyes and make that dream a reality. Failing that, I'll just scratch at the fuckers until I can't see.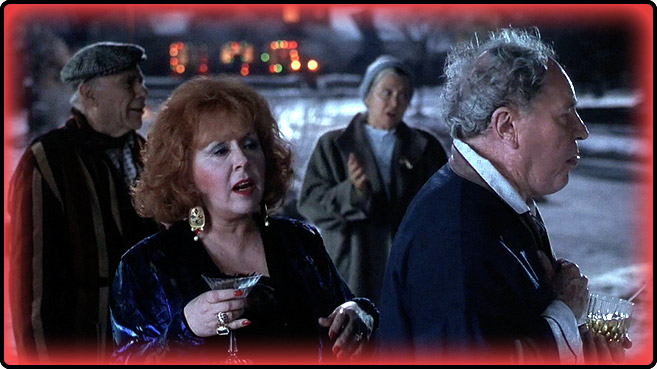 #10: Francis Smith's Martini!
Where to see it: During the legendary "house lighting" scene.
Why I like it: I love Doris Roberts, but she was pretty wretched as Clark's mother-in-law. (Well, doy, she was supposed to be.) From yapping about hemorrhoids to goofing on Clark's "silly waste of resources," Big Mama Francis is certainly in the running for Christmas Vacation's least likeable character.
On the other hand, she introduced me to martinis.
I was still a kid when I fell in love with this movie. My experiences with alcohol were still limited to quick sips of wine when nobody was looking. Ol' Francis turned me onto the brighter potential of hard liquor. She was positively blitzed, and loving it. If being drunk meant being free to hiccup while firing snide remarks off to everyone within earshot, I couldn't wait.
Many years later, the martini became my favorite cocktail. Keep in mind, I've never seen a Bond movie in my entire life. If a fictional character is to blame for this preference, it's Francis Smith.
Course, I'm taking a hope shot on that actually being a martini. It's in a martini glass, at least.
This article should end here, but I just can't get down with its final image being that of Francis in mid-belch.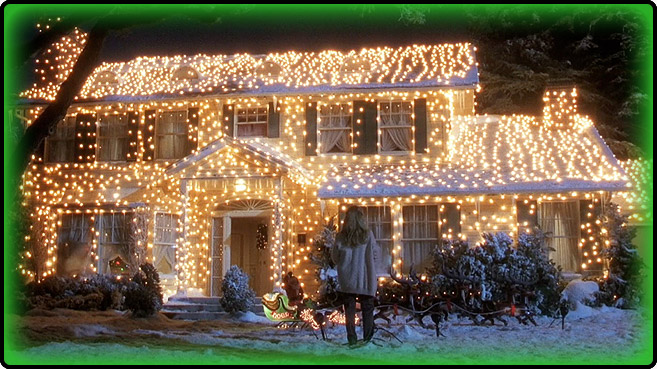 There. That's better.
I want that house, too.