Count Chocula Through The '90s!

Count Chocula debuted in 1971, many years before I was born. I never knew a world without him, and I'm thankful for that. With his chocolate brown cape and cereal bits shaped like Pac-Man ghosts, I honestly can't remember a Halloween season that Count Chocula didn't add to.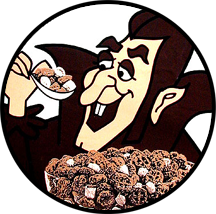 While formerly available all year, General Mills finally pigeonholed Count Chocula as an autumn-only deal. (Some may debate the truth of that, but all can agree that most stores only sell it near Halloween.)
With Franken and Boo Berry (no relation) at his side, the trio of "monster cereals" has been the one single constant of my spooky celebrations.
Now that the Count is only around for a limited time, General Mills doesn't have to try as hard to get our attention. Just seeing Count Chocula again, in any form, is enough.
Of course, that wasn't always the case.
When Count Chocula was available all year, the cereal didn't seem that special. It was easy to take for granted. To survive in the notoriously competitive breakfast arena, General Mills needed to pull out all the stops. It hit the point where Count Chocula couldn't just "be Count Chocula," anymore. If we the hungry public were to stay loyal, the Count had to keep evolving.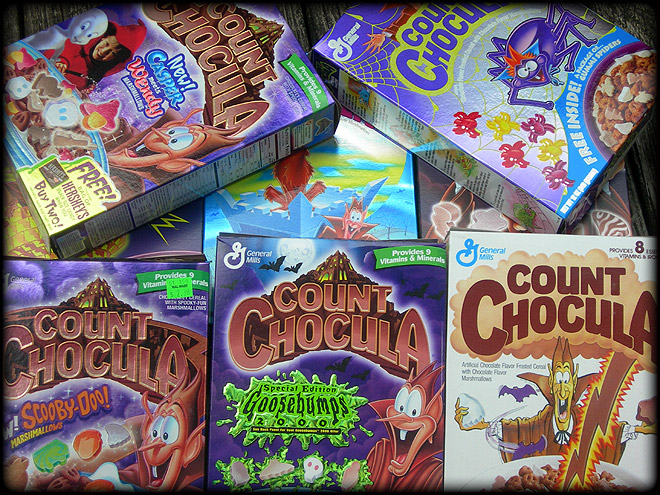 At no time was this more apparent than the 1990s, when it seemed like Count Chocula changed his look and gimmick on a monthly basis. With competition approaching from all sides, the Count fought back with new freebies, new marshmallows, and perhaps most importantly, progressively wackier box designs.
Barring the great expense of grafting neon strobe lights onto the boxes, General Mills couldn't have done more to keep Count Chocula relevant.
Below: A look at how Count Chocula redressed himself through the '90s. I've amassed eight boxes from that most perilous decade, and though this doesn't cover everything the Count did to keep his cowl above water, it'll give you a good impression of just how far he was willing to go…or sink.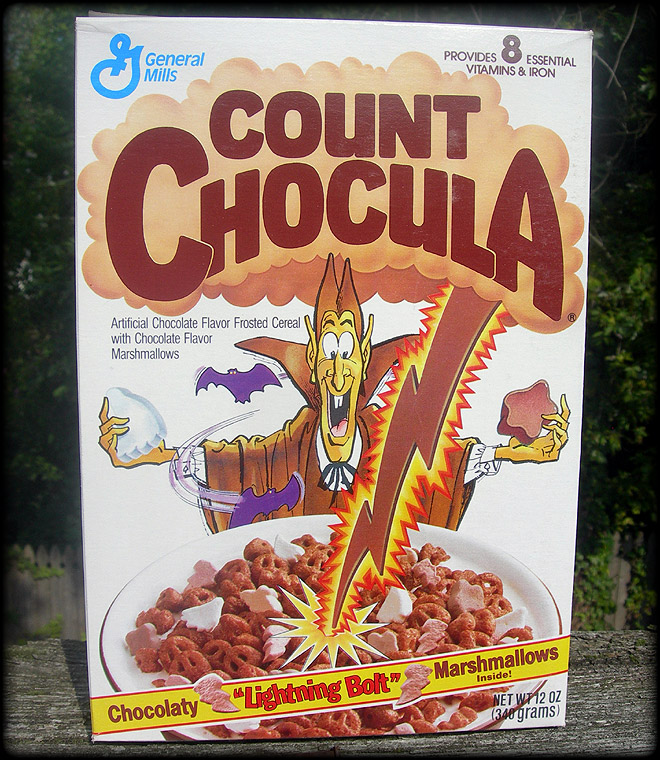 Year: 1992
Gimmick: Chocolaty "Lightning Bolt" Marshmallows!
At this stage, things were still pretty rosy for Count Chocula. His act may have gotten a little stale, but it wasn't as if he was in any danger of execution.
You might think this explains why the "twist" was so lightweight, but really, in 1992, a little went a long way. Cereals "messing with themselves" was so much rarer, and adding bolt-shaped marshmallows truly was that big of a deal.
This is by far the most "vintage looking" of all of the boxes featured here, from an era when Count Chocula still hedged his bets on mostly-white boxes. 1992 may have also been the last time Count Chocula looked like a comic book drawing. From the next box on, he was a wild-eyed cartoon character, ready to be radical.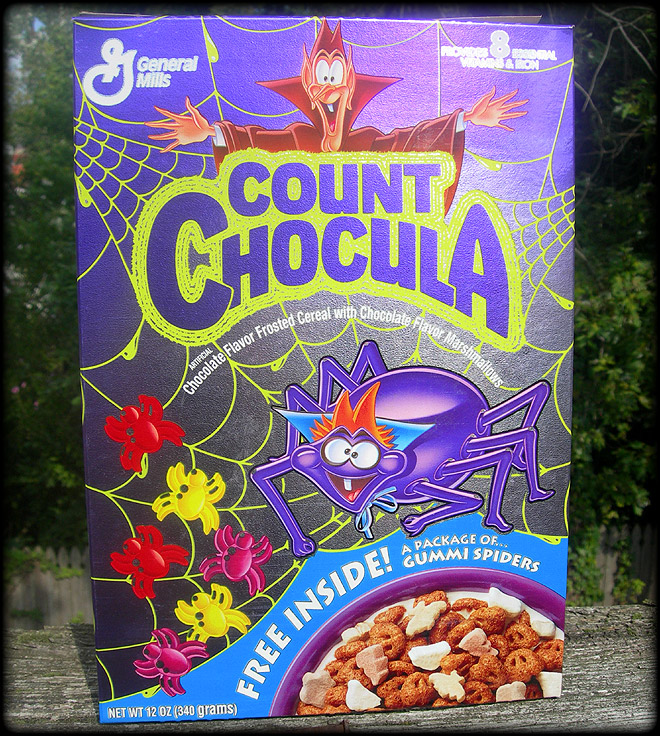 Year: 1993
Gimmick: Arachnid Takeover!
What a difference a year makes! Seeing the Count go to these lengths was more of an exception than a rule, but this was still way over the top.
Count Chocula himself was nearly a non-factor, allowing some giant, oddly matronly spider to take center stage.  (The matronly thing was just a trick of the eye. Look closer. Spiders with orange punky hair and weird bibs are rarely female, let alone mothers.)
It's a total arachnid takeover, and the front of the box was just the start of it. The side panel lists a bunch of spider facts (e.g., Nephila spiders make super strong webs), while the freebie was a sweet package of fruity gummi spiders!
Since they tossed in spider gummies but left the marshmallows unmolested, I take that as General Mills' admission that a spider's eight legs are impossible to represent in tiny marshmallow form. Counting that and the Nephila factoid, I learned two things today!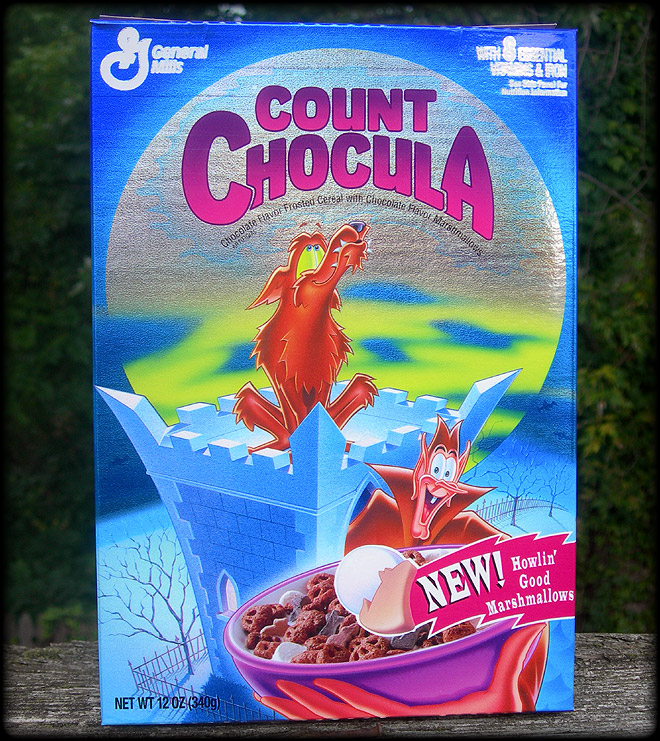 Year: 1994
Gimmick: Howlin' Good Marshmallows!
Maybe I'm being too obvious, but this is my favorite of the '90s boxes. The photo doesn't do it justice at all. With the entire box covered in a holographic laminae, it just feels like such an enormous production.
Believing that he gave 1993's giant spider too much prominence, the Count was only willing to split top billing this time. Joining him is a goofy wolf. This situation really called for a werewolf, but after the Frute Brute fiasco of '83, I can understand why General Mills was so hesitant.
Though Count Chocula was still being made year-round, it seems clear that this was a Halloween edition. I'm totally in love with the box's moonlit castle motif. I will soon find out if it's suitable for framing.
The shiny box was the obvious attraction, but you can't sell that shit in a TV commercial. To boost awareness, General Mills also added "Howlin' Good Marshmallows," which included tiny moons and absolutely bizarre representations of wolves. You know you're in trouble when even the marshmallow illustration on the front of the box looks nothing like a wolf. If this cereal hadn't come out three decades too early, I'd swear it was a Nosepass.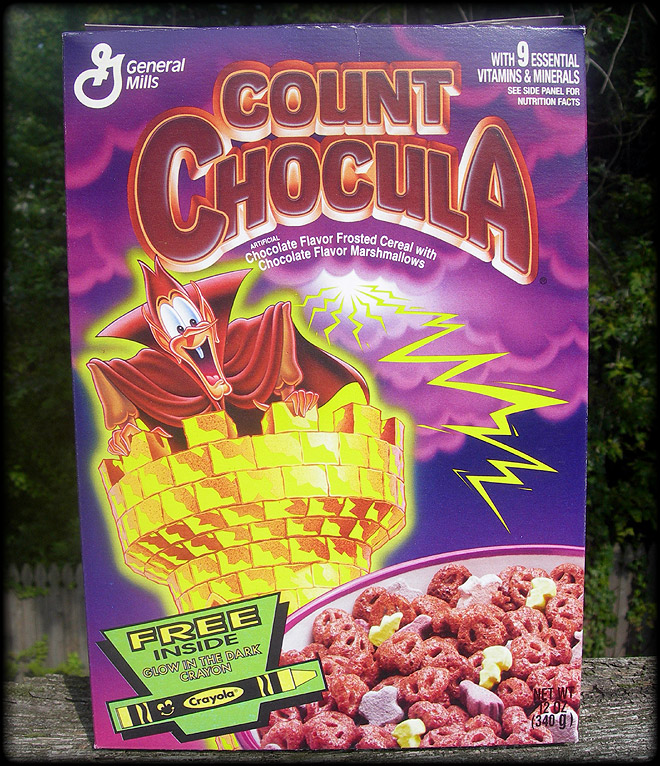 Year: 1995
Gimmick: Glow-In-The-Dark Crayons!
Free inside specially marked boxes – like this one – kids could receive a glow-in-the-dark crayon. The entire box design reflected that freebie. You don't render castle towers in lemon yellow unless you're trying to fit a theme.
The lightning bolt marshmallows introduced in 1992 had become a Count Chocula staple by this point, but for one time only, General Mills made them yellow. You know, to match the castle tower. Which matches the crayon. Just call him Count Coordination. Actually, don't. It's lame.
Dyeing the marshmallows helped them to stand out, but it also made it much easier to see that their shapes could more accurately be compared to Philips-head screws.
Hey, Chocula. Here's a new shape for you: Foghorn.
Since I'm mostly judging these on box art alone, I'm down with this one. I've always been a sucker for stormy skies in red and purple. I don't know what that's about. Maybe my real father was Cronos.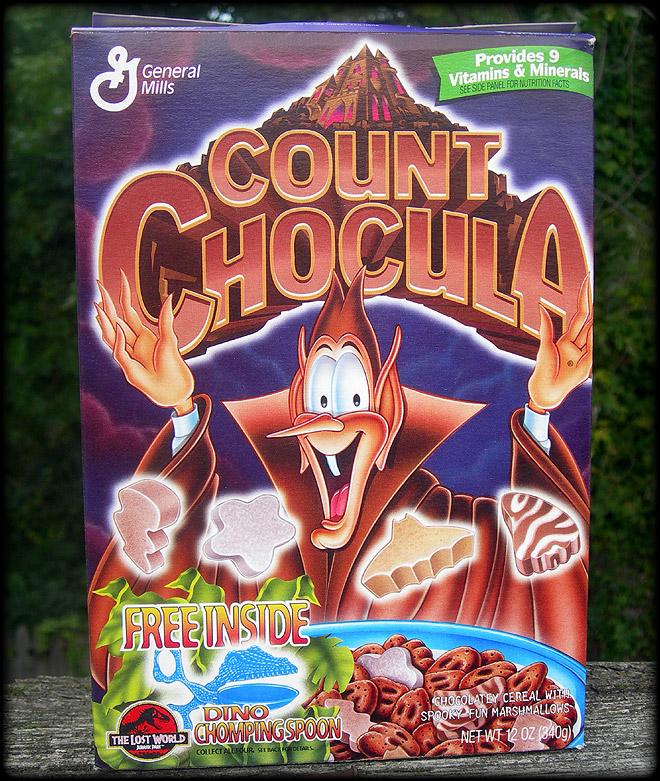 Year: 1997
Gimmick: Dino Chomping Spoons!
Now we're entering more troubled times for Count Chocula. At some point during 1996, General Mills issued the ultimatum. The Count had to catch on, not just hang on.
After spending more than two decades confident that his position could never be challenged, the Count was thrown for a loop. You can see his expression of frenetic desperation right on the box. A textbook example of "pleading eyes."
Count Chocula was no stranger to cereal premiums, but before this point, he never really had to rely on them. Well, when the chips are down, that's the best defense.
Toss in a free gift. Make it colorful. Shape it like a dinosaur.
So, with mounting guilt and too many regrets, Count Chocula agreed to peddle stupid dinosaur spoons. He would also implore his followers to go see The Lost World. He hated to do these things, but what choice did he have?
If only you could walk a mile in Count Chocula's shoes. Is it really "selling out" if you won't survive any other way? Something tells me that with a little guidance and the right rhymes, Count Chocula could become one hell of a songwriter.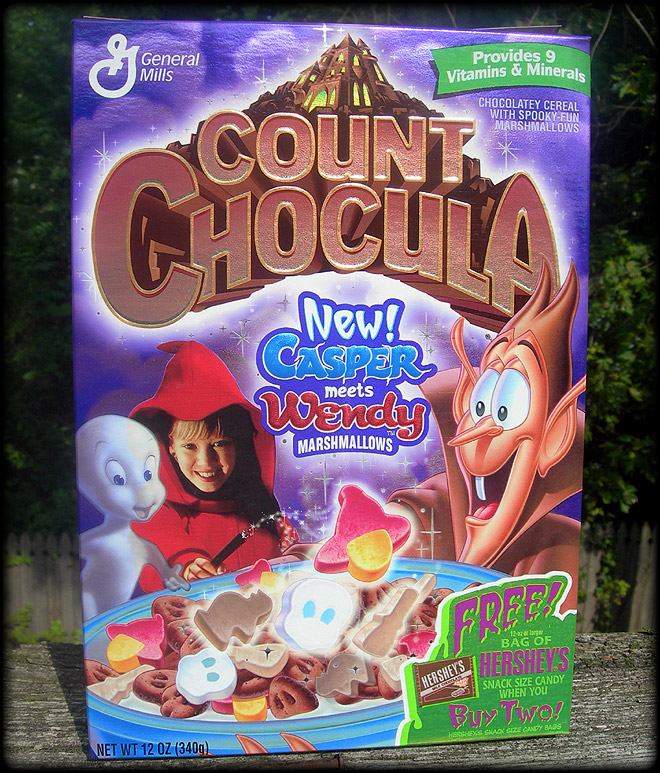 Year: 1998
Gimmick: Casper Meets Wendy Marshmallows!
It had been one year since the infamous "Dino Spoon Incident." Count Chocula lived on, but survival didn't come without a price.
His soul.
No longer the principled monster so many of us looked up to, the Count had tasted momentum, and he would do whatever it took to taste it again.
When Casper visited Castle Chocula's door with a little a cross-promotion in mind, he was barely two sentences into the pitch before Count Chocula grabbed a phone to order thirty million Wendy marshmallow heads.
"I don't know what she looks like. It doesn't matter. Just make thirty million girl marshmallows!"
And wait, what was that? Hershey's wanted in, too?
"Sure," Count Chocula said. "But they're only getting a corner, and they have to top Sunkist's offer."
The Count had changed, my friends.
Truth is, I like these Casper Meets Wendy marshmallows. I've never seen the movie, and I can say with all confidence that I never will, but the addition of Casper and Wendy heads sure made for an interesting looking bowl of cereal.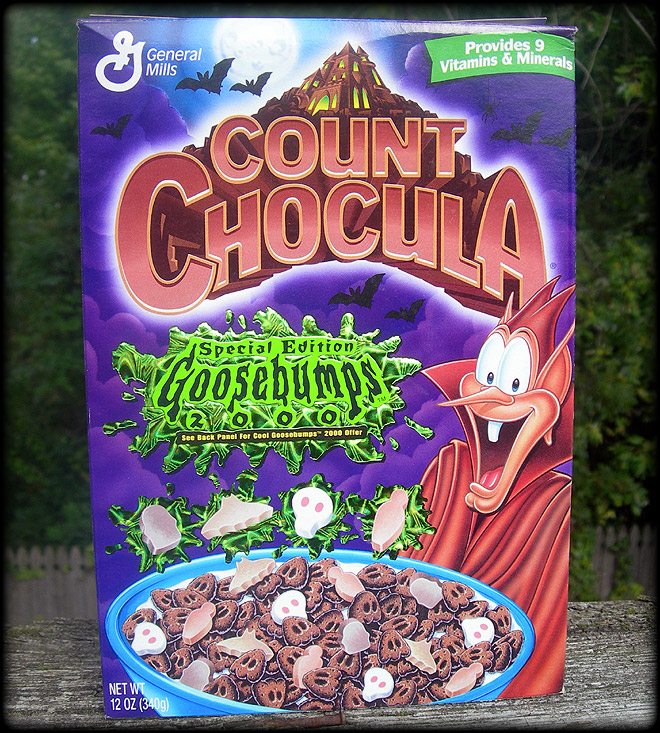 Year: 1998
Gimmick: Goosebumps 2000 Marshmallows!
That's no typo. This one came out in 1998, too. Even if you could've convinced the old Count Chocula to trade pride for success every once in a while, he never would've agreed to do it twice in a row.
In fact, Casper and Wendy were still vacationing at Castle Chocula when an agent from Goosebumps came knocking. This agent was over seven feet tall, seemingly forged out of tar, and made simple phrases like "let's make a deal" sound absolutely fucking terrifying.
Count Chocula liked him. He'd heard about those Goosebumps dudes. They couldn't spend money fast enough.
And so, Count Chocula allowed his bread to be buttered with Goosebumps-themed marshmallows, which, now that I think about it, sounds like a fantastic thing to do to bread.
Nobody was in this for the artistic merit, and that was made perfectly clear by the dumb marshmallow shapes. I'm not even sure what two of the four were supposed to represent. I see the bat and the skull, but what about that one on the far left?  No idea.
And the one on the right? I guess it was a sarcophagus, but someone should've established that in an official way. Otherwise you were gonna have a thousand assholes running around, swearing that Count Chocula had bowling pins.
The back of the box included a cutout order form. I hope the 1998 version of you liked six dollar Goosebumps 2000 caps, because that's all they were selling.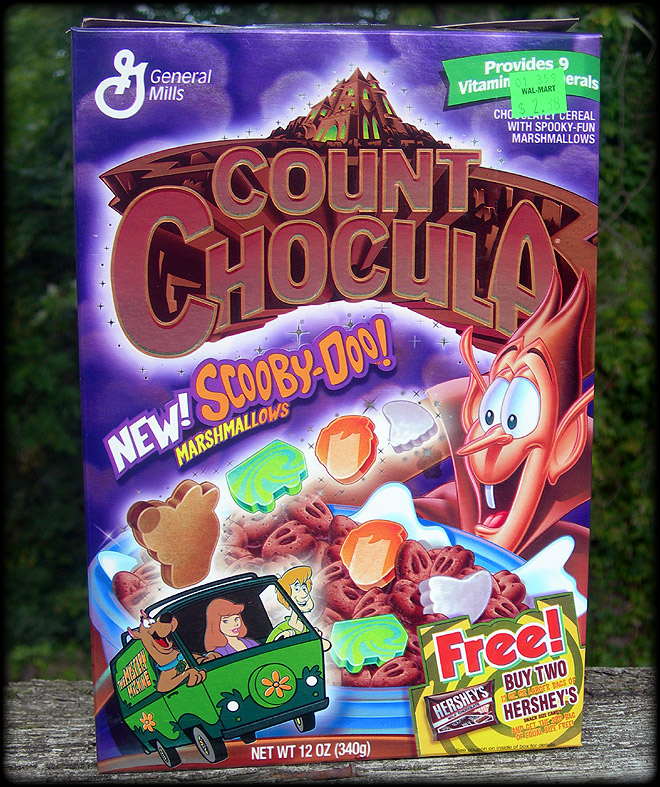 Year: 1999
Gimmick: Scooby-Doo Marshmallows!
The end of the decade, and Count Chocula was ready. He would enter 2000 with a new attitude.
As far as I'm concerned, he was completely just in his decisions. The Count did what he had to do. He deserved the two houses and the Mercedes just as much as the next cereal mascot. If the Trix Rabbit could spend his vacations buying top dollar art in Tuscany, he was right to expect the same.
At the beginning of the '90s, Shaggy-shaped marshmallows would've been front page news. By 1999, it was just more of the same. Even the Count himself could no longer feign enthusiasm, and in fact settled on the very same drowsy pose he'd already used on the Casper box.
Such marketing ploys helped Count Chocula in the short term, but ultimately, General Mills pulled the plug. These days, the Count only comes out of his coffin for Halloween.
But you know what? That scenario has done wonders for him. He's gotten the old swagger back. Count Chocula may not be on top of the world, but he's a monster again, and damn proud of it.
I'm proud of him, too. And now I am going to go eat him. Byeeeee.