Eight Great Comic Book Ads!

I was pretty heavy into comic books during my teens, but I wouldn't call myself an "expert." The truth is, I enjoyed collecting comic books way more than I enjoyed reading them.
There were times when I was an absolute poser with my hobbies, but I don't think this was one of them. It wasn't like I had lots of friends who collected comics. In fact, I don't think any did. I certainly wasn't in this for the bragging rights. I just happened to enjoy owning lots and lots of comics, and it was easier to organize back issues of Dazzler by release date than it was to make time to read the things.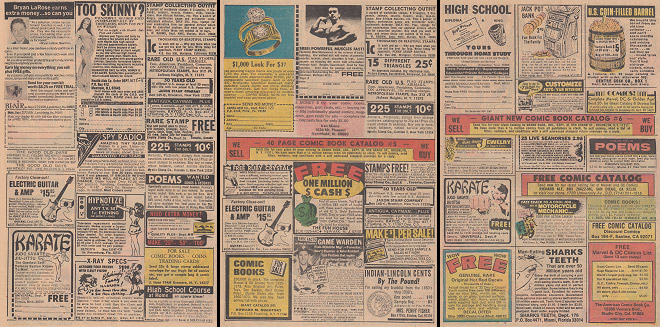 That's not to say that I didn't at least thumb through every comic I ever picked up. I totally did, and not for the stories. I did it for those old comic book ads.
I'm not talking about the big, full-pagers, either. Those were nice, but what really thrilled me were the crude, tiny classifieds for things you could order by mail.
Reading those over was simultaneously fun and infuriating. The stuff looked so cool, but as my preference was to buy cheap, ancient comics, most of the offers were well past their expiration dates. (I'd still kill for that silver-plated cobra belt buckle, and I still have no idea why.)
Below are eight great examples of such ads. Don't let the image sizes fool you. In reality, these were TINY come-ons, often no more than an inch tall, stuck on a classifieds page with dozens of other offers.
Really makes me miss the joy of ordering stupid things by mail and having no idea what those stupid things might actually look like.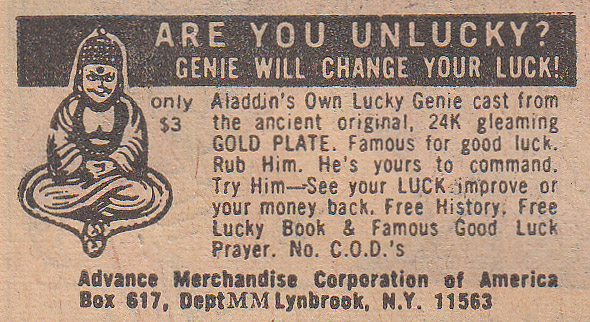 "ALADDIN'S LUCKY GENIE"
The Son of Satan #7, December 1976
It may seem like a crummy Buddha charm that would barely pass muster at a dingy flea market, but with the promise of magical luck-improving powers, this crummy Buddha charm becomes something bigger.
I've fallen for the luck-improving classifieds before. There used to be ads in the back of Weekly World News, supposedly from witchy gypsies, who'd vow to cast "fortune spells" in your honor for just two dollars.
Those sucked. It wasn't that the luck never came, because you knew it wouldn't. The problem was that you had nothing to show for your money, other than the impossible vision of some old lady chanting your name into a bowl of dry ice.
With this, at least you got a malformed Buddharupa in return.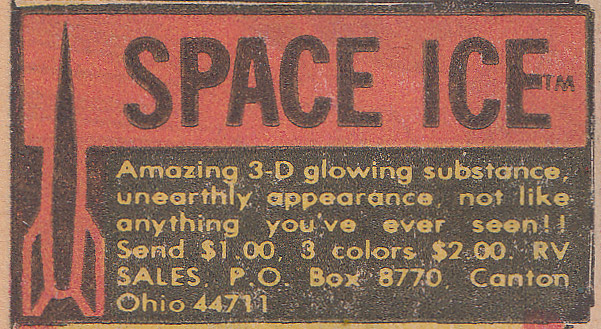 "SPACE ICE"
2001: A Space Odyssey #3, February 1976
Space Ice is driving me CRAZY. What could it possibly be?
My primary goal with this feature is to locate someone who bought Space Ice in 1976. If the description fits, you NEED to step forward.
I can't concentrate. All other tasks are being handled half-assedly. My mind is consumed with Space Ice, and it will continue being consumed with Space Ice until I KNOW WHAT SPACE ICE IS.
My first guess was that they were polished stones of some sort, but that "3-D glowing substance" bit doesn't seem to match up.
Maybe they were just blocks of plastic? Plastic is boring, so I could see why they'd call it a "substance."
Yeah, you know what? I bet it was plastic. Oddly shaped plastic blocks, in various fruity flavors. Not very cool until you remember that it came from outer space.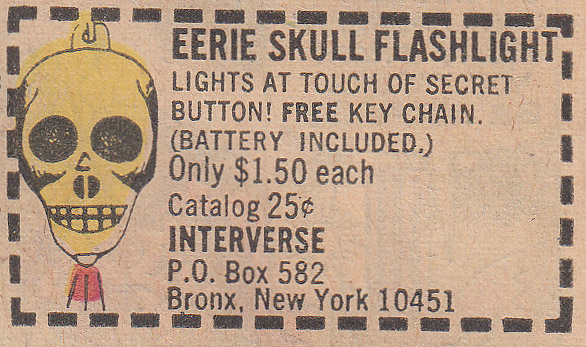 "EERIE SKULL FLASHLIGHT"
The Son of Satan #7, December 1976
This was something you ordered not because you were dying for an Eerie Skull Flashlight, but because it was there, it was cheap, and if nothing else, you'd have 6-8 weeks to dream up a proper use for a flashing skull keychain.
I'll never understand "keychains" as a "kid thing." Maybe it's because I never had keys. My parents seemed to believe that we had nothing worth stealing, and the only time I can remember anyone locking the door was as we were leaving for a six month vacation to Saturn.
I hated having nothing to do with my keychains. I'd just sit there, fumbling with the unforgiving metal rings, injuring my fingers over and over again.
Still love the ad, though. This skull belonged to a man with two noses.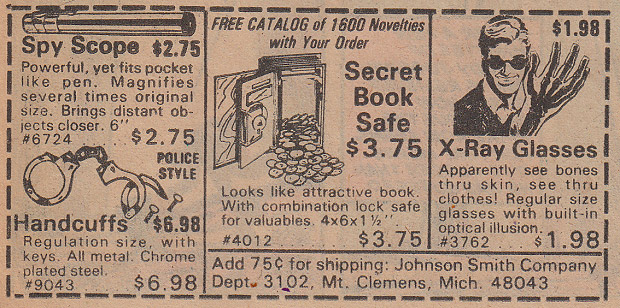 "SECRET BOOK SAFE"
The Thing #11, May 1984
The Johnson Smith Company was a major player, so they normally took out full page ads. This is a rare case of a smaller one, with just a few random novelties.
Let's zero in on that secret book safe. If there's one thing I know plenty about, it's secret book safes.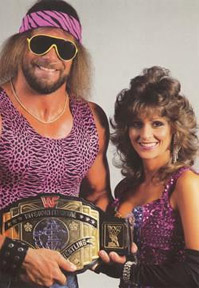 Confession time. My first real crush was Miss Elizabeth, the valet and former wife of pro-wrestling legend, Randy "Macho Man" Savage.
At home, this crush was hush-hush. It was my only good secret, and I loved keeping it from my brothers and sisters. I just felt so empowered.
But, like Thanos in the Infinity Gauntlet, I guess I knew that I was unworthy of such power, and subconsciously laid the groundwork for my own destruction.
I used to cut photos of Miss Elizabeth out of magazines and store them in my secret book safe. Now, I don't just mean that I "tore and saved the pages." I literally cut around Miss Elizabeth, slowly building a sick collection of Miss Elizabeth paper dolls.
I carried that secret book safe all over the house for weeks. Eventually, it came out that my siblings had already peeked inside, and were only letting me think I had a secret.
I was embarrassed. Furious. Whiny.
On the bright side, with the secret out, I was finally free to put Miss Elizabeth posters up on my wall.
Both Elizabeth and Randy Savage have since passed away. God always takes the ones with the best entrance music first.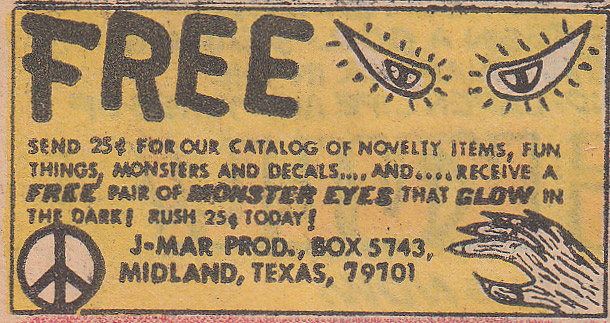 "MONSTER EYES"
Amazing Adventures #21, November 1973
They were probably going to be stickers, but you didn't know that for sure. Kids will always buy the hype, and had I ordered them, I'm sure I would've expected three-dimensional model quality monster eyes.
Best of all, there was no room for disappointment. The monster eyes were free! Fork over a quarter for J-Mar's whoopee cushion catalog, and you were set.
I was a junk catalog junkie. Even without the eyes, J-Mar would've had my money. But with that kind of bonus? Clearly a bargain sent from whoever the patron saint of monster eyes is. Adrian of Nicomedia, I think.
Note the randomly included peace sign and werewolf paw. They didn't want you to know if your eyes belonged to a creature of good or evil. Maybe one was good and the other was bad? This could explain why the left eye looks angrier.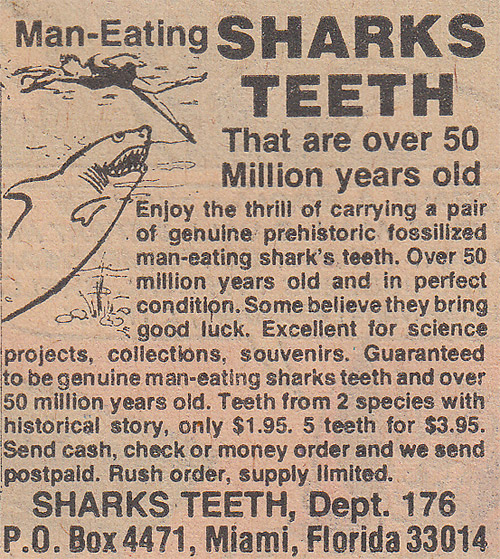 "MAN-EATING SHARKS TEETH"
The Son of Satan #7, December 1976
There was nothing remotely close to human beings fifty million years ago, so if the sharks' teeth really were that old, they could not have been man-eaters.
On the other hand, sharks' teeth were great no matter who they bit or how old they were.
Besides, it was always good to replenish your collection. Whenever you got a bunch of sharks' teeth, you lost a bunch of sharks' teeth an hour later. They were only interesting in a "ride home from the aquarium" sort of way.
But man, those were great rides.
Gotta love the little note in the ad. "Some believe they bring good luck." Dude, they were sharks' teeth. Sharks' teeth advertised by a crude drawing of a berserk great white. You didn't need to pull the luck card. This was working fine as-was.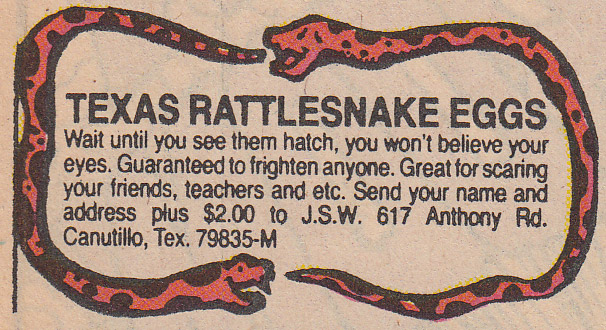 "TEXAS RATTLESNAKE EGGS"
The Thing #24, June 1985
Ah, Texas Rattlesnake Eggs. One of the most popular yet least effective of all the classic "pranks."
Basically, it was a small envelope – marked "rattlesnake eggs," of course – stuffed with a weird contraption made of plastic and string. This contraption would shake when the envelope was opened, to give the impression that there were live rattlesnakes inside.
It sounds cumbersome when I describe it, but it was worse in practice. The gag rarely worked well, and even when it did, few victims would believe that a tiny, too-flat envelope had any snakes inside. The joke was on you, busta.
Notice how they never explicitly mentioned that you wouldn't be getting real rattlesnake eggs. I can only imagine how many kids fell prey to the scam, envisioning bright futures with baby snake pets.
I speak from experience. I once fell for a similar ad, for what was clearly advertised as a "magic live mouse." When it arrived, it was just some tiny plastic rat with a bit of fishing line glued to its nose. (Thus enabling you to make the mouse glide across tables, "magically.")
Of course, I firmly believed that I'd be getting some kind of amazing robot super mouse. Spent weeks building its cage out of cardboard and LEGO pieces. When it came, I was devastated. The bright side was that my parents finally let me get a real, live hamster a few weeks later.
I suppose there's a moral in there, somewhere. Cry when things don't go your way?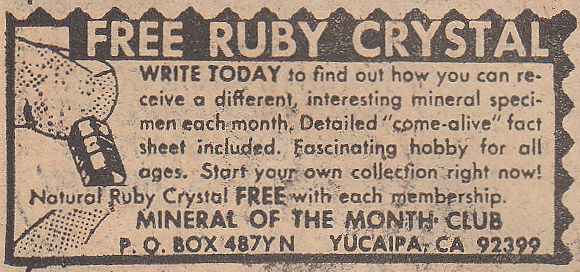 "FREE RUBY CRYSTAL"
Amazing Adventures #22, January 1973
I often say that I'm bad at being a geek, but the fact that I'm so excited by a "Mineral of the Month Club" kind of indicates otherwise.
I would've joined this as a kid, and I'd still join it now. In fact, I find the idea so exhilarating that I'm going to blitz through the rest of this article so I can start Googling around for still-active Mineral of the Month Clubs.
I *love* this.
To draw you in, they promised a free ruby crystal with each membership. Who wouldn't flip for a free ruby crystal in the shape of a spinach can?
I know better than to send mail to a PO Box from 1973, but I can't say I'm not tempted. What do I have to lose? A stamp? Dignity? Maybe these guys are still peddling pyrite today. If nothing else, I'll get to write "Yucaipa" on an envelope.  I can't explain it, but the thought warms me.
Each mineral was to be sent with a "come-alive" fact sheet. I think they added the quotation marks as an admission that "come-alive" was a really stupid way to describe fact sheets about rocks. I've done the "put quotes around awkward phrasing" thing enough to see through them.
NOTE: To order everything mentioned above, it would've cost me 13.45.  Well, 14.45 if I wanted two extra pieces of Space Ice.
And 17.45 if I wanted additional sharks' teeth.
17.70 if I wanted a catalog with my Eerie Skull Flashlight.
Let's just assume that the world could've been mine for less than $20.