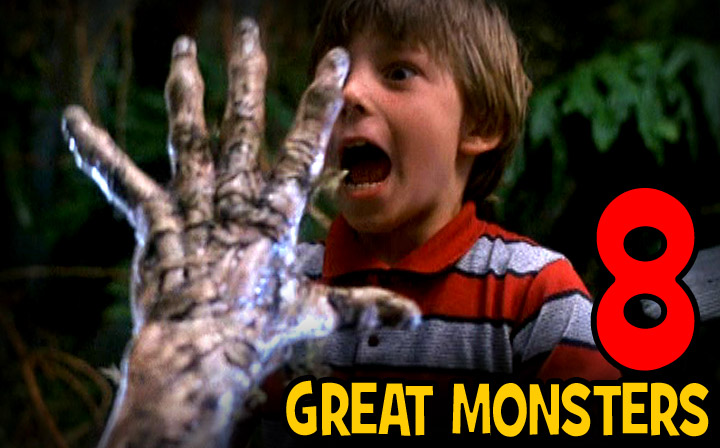 To celebrate Dino Drac's 1st Birthday, here's a look at eight great monsters. Because that's how you celebrate website birthdays, I guess.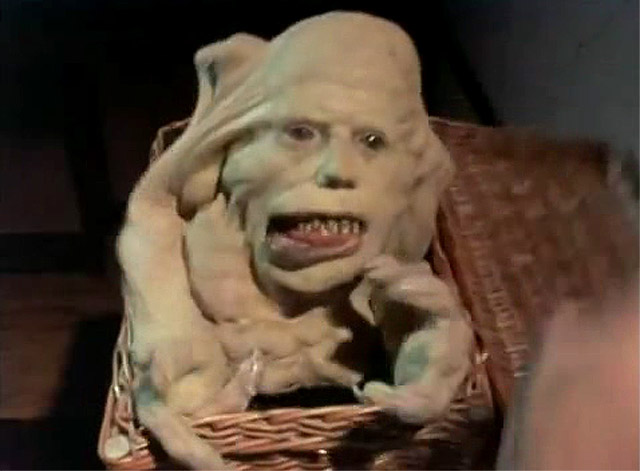 #1: Belial!
Basket Case (1982)
Written and directed by assured madman Frank Henenlotter, Basket Case is about Siamese twin brothers who can't shake each other even after a surgical split.
But there's a twist. One of those brothers didn't get much of a body out of the deal, and exists as a Krang-like mound of flesh, with arms, sharp teeth and not much else.
Aided by his comparatively normal brother Duane, Belial spends most of his time in a big picnic basket, escaping only when he decides that someone needs to die. Fortunately, this happens often!
Best described as a Boglin, Belial is a vicious bastard who uses his monster paws to make quick work of anyone who offends him. Even more sinister is a subplot involving Belial's jealousy over his brother's blossoming romance, which culminates with the most indefensible rape scene since Humanoids from the Deep.
Basket Case inspired a pair of even weirder sequels, which repositioned Belial as a sort of lead hero. I much prefer him the original way: A big glob of raging rubber with eyes than glow red for no reason at all.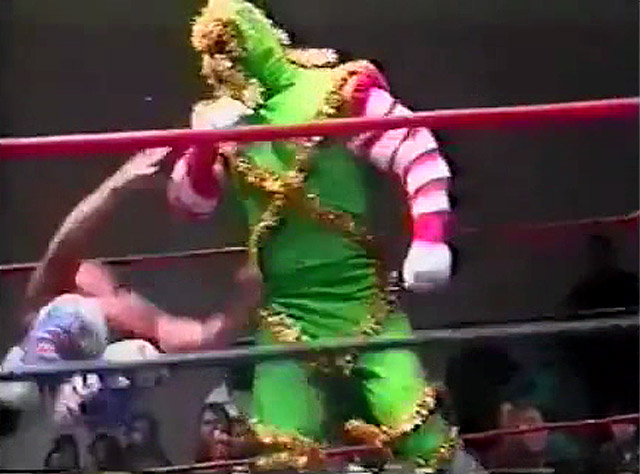 #2: The Christmas Creature
United States Wrestling Association (1992)
The USWA was a Memphis-based wrestling company that shut down in the late '90s. It never had the scope or polish of World Wrestling Entertainment, but it sure had a distinctive style: Theatrical, bloody and produced on the cheap. (In Bret Hart's autobiography, he recalls the USWA ring ropes being made of garden hoses.)
But a lot of hot talent went through there, including a guy named Glen Jacobs – who'd later go on to incredible fame as WWE's most lasting psychopath, Kane.
Back in 1992, Jacobs was still a rookie, ready to do his best with whatever horrible gimmick the boss threw at him. That's how he became THE CHRISTMAS CREATURE, a seven foot monster in an oversized elf costume, adorned with what was literally Christmas tree garland.
The Christmas Creature was a villain, naturally. Nothing screams "bad guy" like a crotch lined with gold garland.
He was easy to laugh at and many wrestling fans did, but I gotta be honest. I think this is awesome. A monster covered in Christmas decorations, sent to break the spirits of heroic pro-wrestlers? What's not to love?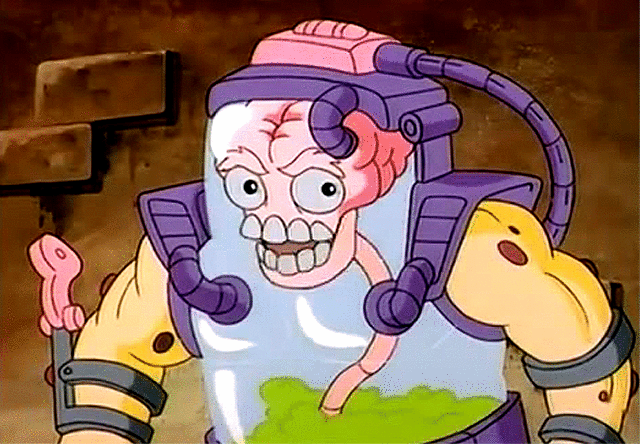 #3: Mutagen Man!
Teenage Mutant Ninja Turtles (1991)
Mutagen Man was one of the most creative characters in the Ninja Turtles universe, and a rare case where the cartoon counterpart was just as cool as the toy.
After getting slopped with mutagen, Seymour Gutz regresses into a messy pile of LIVING ORGANS. Surviving with a special suit that looked kind of like a Super Soaker, Mutagen Man also gained the power to assume the appearance of anyone he chose. (Course, I hated when he used that power, because nothing beat the sight of Mutagen Man as he actually was.)
He was just another of the many disfigured freaks exploited by Shredder, this time with promises of being returned to normal. Even in this sad shape, Mutagen Man still had a conscience, and couldn't bring himself to serve the powers of evil. This is in sharp contrast to his action figure bio, which suggests that Mutagen Man stayed under Shredder's control indefinitely, trading misdeeds for a steady supply of the ooze he so desperately needed to survive.
(And boy, Mutagen Man was one of the best TMNT figures of 'em all. You could even fill his life support system with water, ostensibly so his organs would stay vital, but really because the chamber was filled with little plastic doodads that floated around gloriously. Plus, if you took a hammer to the action figure, you got to play with a helpless spinal cord monster.)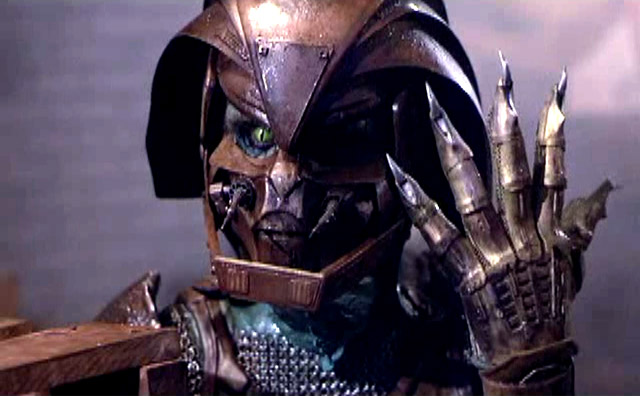 #4: Saurod!
Masters of the Universe (1987)
If you've never seen the live-action Masters of the Universe movie, you're missing out. I'm not being facetious, here. It's a ridiculous film, but it is fully committed to its ridiculousness. There comes a point where things are just too weird to be bad, and this film is a perfect example.
I don't know if it's a common observation, but to me, the movie always seemed like such a Star Wars ripoff. Gwildor was Yoda, Skeletor's troops were essentially the Stormtroopers, and the whole thing was riddled with nods to the original trilogy.
In keeping with that theme, there's a bit where Skeletor investigates a group of evil warriors assembled by Evil-Lyn. It's an obvious riff on the "bounty hunter scene" from The Empire Strikes Back, and the cast of baddies is just as compelling. There's a bald swordsman, a grey-haired demon, a monstrous beast man (aptly named "Beast Man"), along with the weirdo shown above. SAUROD.
Saurod had really cool armor, but close-ups proved that his best features were only hidden by it. With scaly skin and snake-like eyes, Saurod looked like one of the rat-eating invaders from V. It's the best costuming in the whole movie, and if you've seen the part where Skeletor's clothes magically morph into shiny gold metal, you know that that's saying a lot.
Unfortunately, even in a live action universe, He-Man's enemies continued to be great big clods. As punishment for failing on a mission, Skeletor eeny-meeny-miny-moes the group, and kills Saurod with a single blast of fiery energy. The surviving warriors promise to do better next time.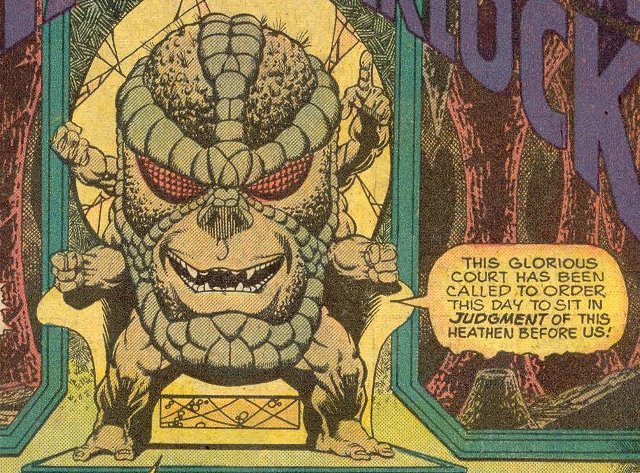 #5: Grand Inquistor Kray-Tor
Marvel Comics' Strange Tales #180 (1975)
Grand Inquisitor Kray-Tor (sometimes called "Judge Kray-Tor") is one my favorite comic book characters of all time. If you were reading Adam Warlock's adventures during the '90s, you probably only remember him as that big "coconut guy" hanging out on Soul World.
Actually, Kray-Tor was so much more than that! Back in the '70s, he served The Magus as part of his Universal Church of Truth, acting as the judge for sham trials meant to shame Magus's enemies. While presiding over Adam Warlock's trial, shit got funky, and Warlock ultimately used a cosmic gem to steal Kray-Tor's soul.
After that, Kray-Tor's spirit lived in Soul World, a kind of metaphysical dimension that looked like a grassy paradise. No matter what they were in life, everyone was happy in Soul World. Formerly an aggravated sycophant caught up in a universal domination plot, Kray-Tor became a simple, four-armed monster who gleefully waved to more important characters from faraway cliffs.
The above will read like Greek to 98% of you, so just enjoy Kray-Tor for what he is. A giant tiki god coconut bug.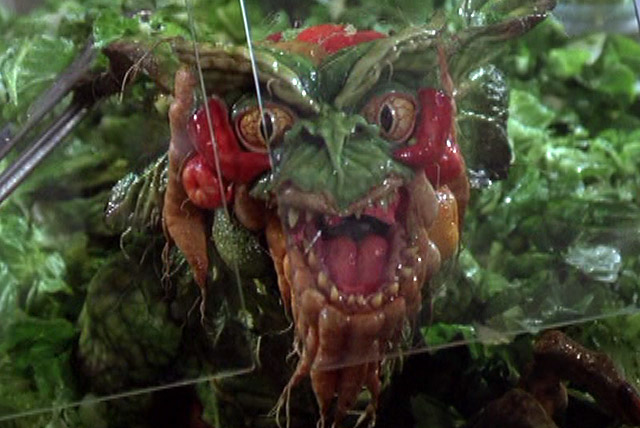 #6: The Vegetable Gremlin!
Gremlins 2: The New Batch (1990)
Gremlins 2 was all about giving its titular creatures distinct looks and personas. Save for Stripe's hair, all of the Gremlins from the first film looked and acted the same. In the sequel, many of them were completely unique.
So how did they pull that off? Why, with a clever subplot wherein the monsters invade a sketchy laboratory to drink from comical beakers! Yeah! One of the Gremlins swigs from a beaker with a big spider sticker on it, and sure enough, he quickly morphs into a SPIDER Gremlin. Another becomes a bat. Another becomes a big-lipped woman. You get the picture.
Perhaps most ridiculous was the Vegetable Gremlin, a monster who traded his ears for big lettuce leaves. Because that just wasn't bizarre enough, the only way Vegetable Gremlin could communicate was through belching. Constant belching.
Late in the movie, the legion of Gremlins celebrates their pending takeover of New York City. To mark the occasion, some of them decide to hit the sauce, and pluck olives right from our poor friend's head to use as martini garnish.
Did I mention that Gremlins 2 is my favorite movie? Because it so is.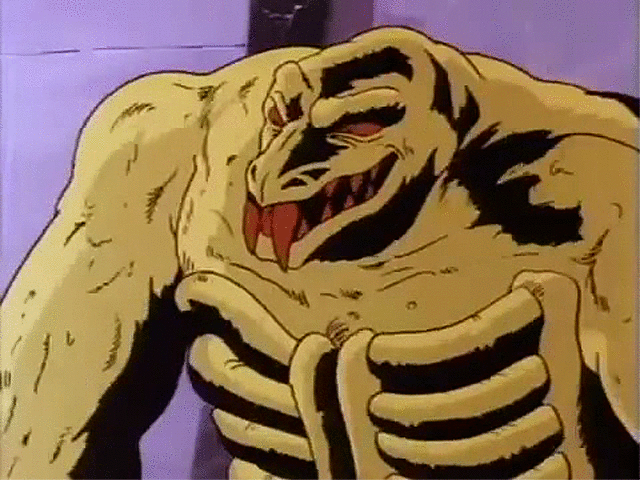 #7: D'Compose!
Inhumanoids (1986)
I've written about Inhumanoids before, but in terms of its three evil monsters, I usually focus on Tendril, a Cthulhu-like beast with whipping appendages and glowing mustache fangs. He was my favorite, but if I'm being objective, D'Compose was much more interesting.
Let me break it down for you! Picture a giant, undead demon with a head like a dinosaur's, who can turn normal humans into super-sized zombie minions just by touching them!
In the cartoon, D'Compose was voiced by Chris Latta, so there was the extra benefit of hearing a bit of Starscream in every line he spoke.
D'Compose also had an exposed ribcage, which he used like a prison cell to jail his victims. (And they somehow made this trait work just as well on the toy as in the series.) He may not have been the leader of the horrible monsters, but considering all that D'Compose could do, you damn well knew that he should've been.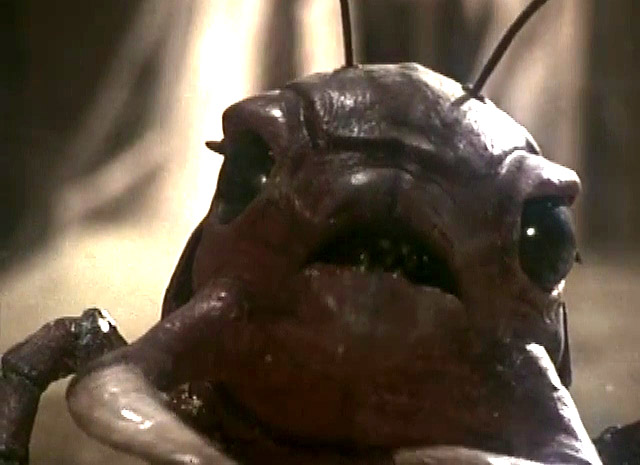 #8: The Sandkings!
The Outer Limits (1995)
Hooo boy. I'll try to keep this succinct, because I am fully capable of writing ten thousand words about these things.
Remember The Outer Limits? Not the original series, but the version from the '90s? It wasn't my favorite of the "spooky anthology" shows, but when it clicked, it REALLY clicked.
And actually, I don't think it ever clicked harder than during its inaugural story, a too-long two-parter called The Sandkings.
Based on a story by George R. R. Martin, Beau Bridges stars as Dr. Simon Kress, a government scientist who gets fired for being dangerously obsessed with his top secret assignment of raising alien life forms from microscopic eggs found in Martian soil. I admit that that was a mouthful.
Unwilling to let go, Kress swipes a bit of the soil and restarts the program from home. Soon enough, he's got a huge tank filled with "Sandkings." They're essentially super smart alien scorpions, only with more expressive faces and the ability to eat people.
Kress slowly loses his mind to his obsession, believing himself to be the creatures' "god." Of course, the Sandkings are just primal animals from another world, and when they get the chance to wreck shit and eat things, that's what they do.
For all of the trouble they caused (they even devour a poor dog), the Sandkings were awfully cute. The best scenes come early, when we just see them going about their business in that big tank. There they build complicated castles, splinter into warring factions, and zip under the dirt like miniature Graboids.
I adored them, and still do. They were like Sea-Monkeys on steroids. If I've piqued your interest, the whole two-parter is currently on Hulu.
I hope you've enjoyed this scatterbrained tribute to eight great monsters. I wrote it with a 101 degree fever!