The Masters of the Universe Slime Pit!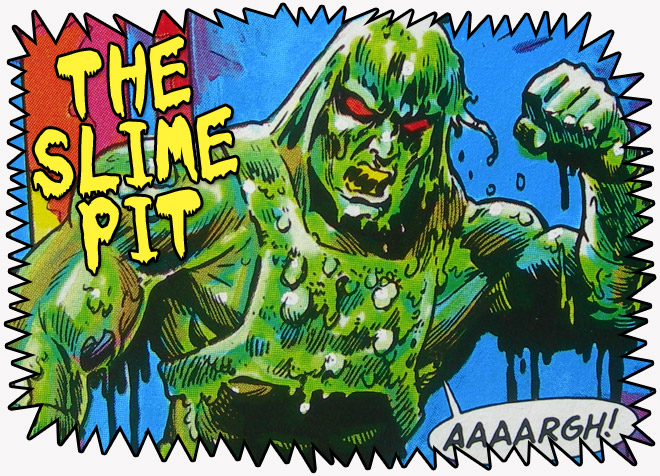 Warning: This review has the potential to grow long and scatterbrained.
Frankly, the subject intimidates me. I love the Masters of the Universe Slime Pit to death.  I'm going to hate this review if I can't convey that love in a complete and total way. This feeling will likely manifest in the form of lots and lots of words. If I'm lucky, almost 10% of them will be on-point.
If you can't deal with it, then at least admit that I took great pictures of Jimmy Hart getting slimed.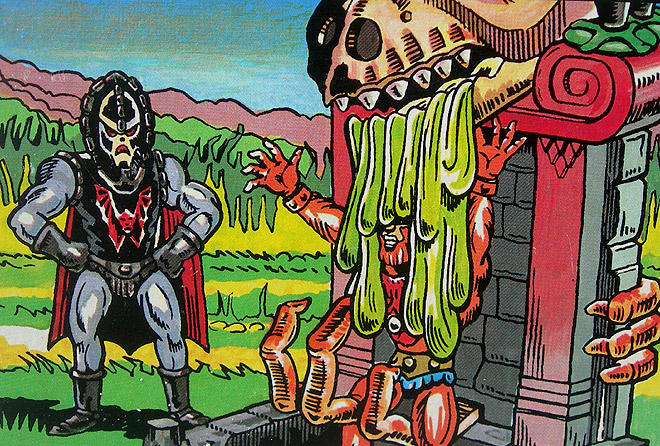 When He-Man's shine started to fade, Mattel made a Hail Mary pass with the "Evil Horde" – a new set of villains, led by Hordak.  That's him up there, with the grayish blue skin. Save for a few crossovers, the Horde's animated appearances only occurred during She-Ra: Princess of Power.  That was reason enough for me to watch a "girls' show." Hordak and his minions were a hundred times cooler than anyone living in Skeletor's Snake Mountain.
But in the action figure arena, the Horde was firmly under the Masters of the Universe umbrella. I can't recall the exact number of Horde-related figures and toys, but each was more impressive than the last, and in their entirety, this splinter group of baddies was easily the pinnacle of the entire MOTU line.
I could go on for hours about Modulok and the hideous Fright Zone, but I won't. I've already reserved those hours to drone on and on about the Horde's #1 offensive measure against any and all enemies. Fresh out of its 1985 cardboard prison, it's time to visit THE SLIME PIT.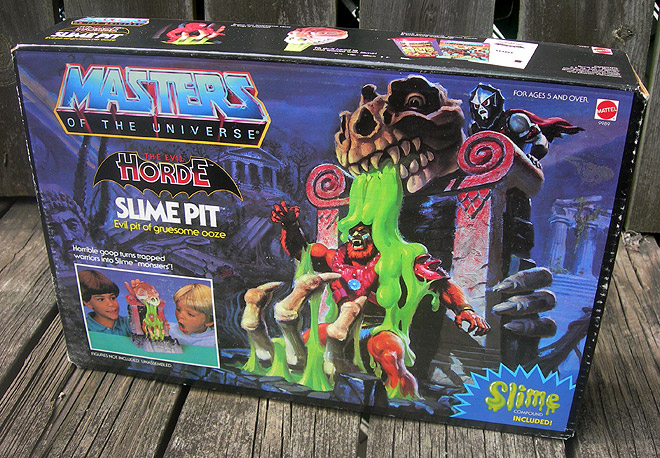 Though the Slime Pit was technically a "playset," I think "weapon" fits more accurately. While Skeletor's crew limited their arsenal to swords, guns and land rovers shaped like sharks, Hordak developed a more creative way to wreak havoc: He slimed the fuckers.
He strapped them into a big bony shrine and slimed the fuckers.
I can't remember if it was Christmas, a birthday or some carefully orchestrated off-month act of whining that brought the Slime Pit into my life, but I do remember the first thing I did with it. Took the whole unopened box to my best friend's house, so he could sulk and seethe at the sight of my figurative new Ferrari.
Big mistake. My friend had four dogs. His house was carpeted with their hair. Not the right place to unveil a toy that plied its trade with lime green ooze. My Slime Pit spent mere minutes in pristine shape, but those minutes made such an impression that they're still clear as day to me, over 25 later.  I guess the takeaway is that I'm too old for this shit.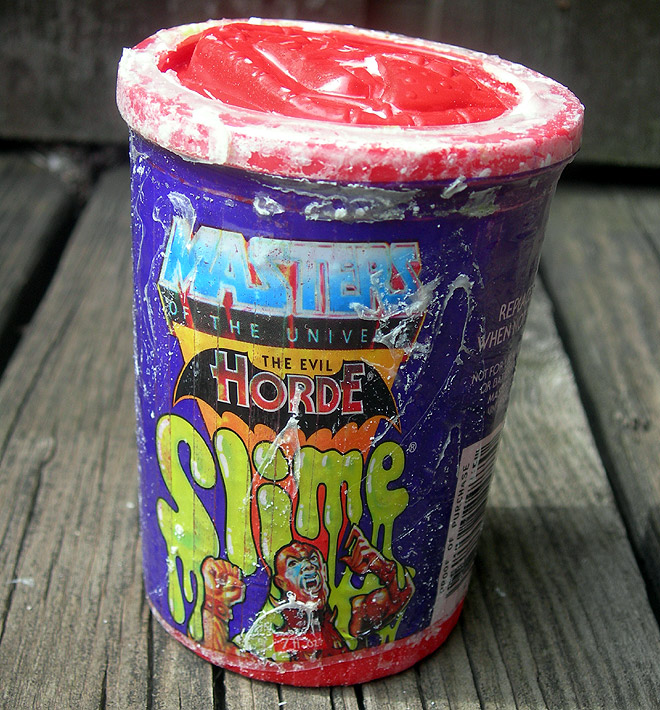 The showpiece of the playset? A sealed can of Masters of the Universe Slime. This was, no doubt, the best toy slime of all time. Better than cans of Ecto-Plazm, better than Retro-Mutagen Ooze. Even better than those neon blue wads from grocery store vending machines. If I've ever said otherwise, I WAS LYING.
It was amazing stuff. Not too liquid, not too solid. Colored like the cartoon sneeze of something disgusting. Since Mattel had been peddling this same slime compound for years under different names and with different gimmicks, they'd totally perfected the formula. No other slime has come close to its majesty.
Unfortunately, after decades, toy slime is going to dry out no matter how hard you try to protect it. You can see the sorry remains of my MOTU Slime all over the can.  My fantastic snot has turned to bird shit, and I hope that's the only time I'll ever have to write that.
For purposes of this review, I'm going to use other slime. It's a reasonable facsimile, but it lacks the subtle malleability of Mattel's original. I can't pinpoint why, but I hope I'll never have to write that again, either.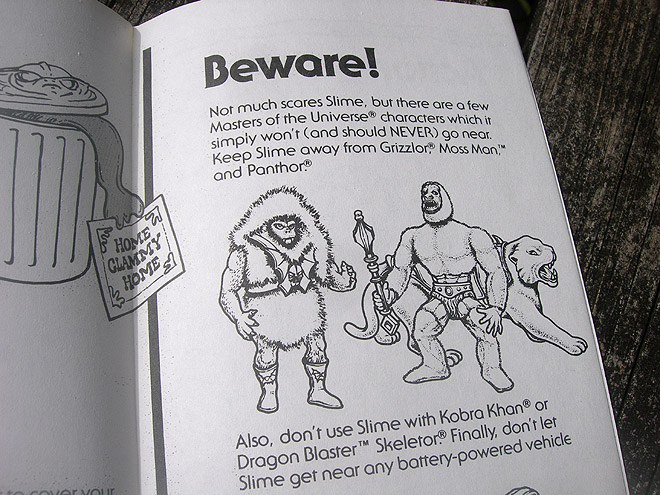 Before we dive in, a quick tribute to the Slime's instruction manual, which is awesome enough to merit a review of its own. (Actually, I did review the instructions alone, years ago on X-E.)
There's a reason I capitalize the "s" when referring to Masters of the Universe Slime. The instructions treat it like a living creature, with its own mind and needs. If the Slime was a weapon, it was more of an attack dog than a laser rifle.  Fine line.  Fine slime.
After providing many suggestions on how to keep your Slime moist and happy, Mattel discourages you from dropping it onto Grizzlor, Moss Man, or any other MOTU figure with a fur-or-felt finish.  Evidently, Mattel was a complete stranger to the art of reverse psychology.  Upon reading this way back when, Grizzlor was of course the first to go in the soup.
In my defense, I used my friend's Grizzlor.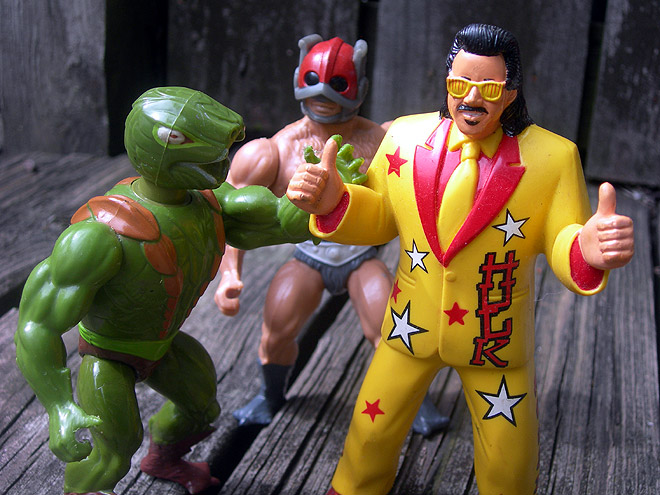 Okay. This is the situation:
It all started when Zodac and Kobra Khan caught Jimmy "Mouth of the South" Hart cheating at cards. Zodac and Kobra Khan were far from allies, but was it not Dick Tracy himself who once came extremely close to saying, "the enemy of my enemy is my friend?"
Now they had a bond. They wanted to teach Jimmy Hart a lesson. And they wanted their money back, because nobody catches straight flushes on three damn hands in a row.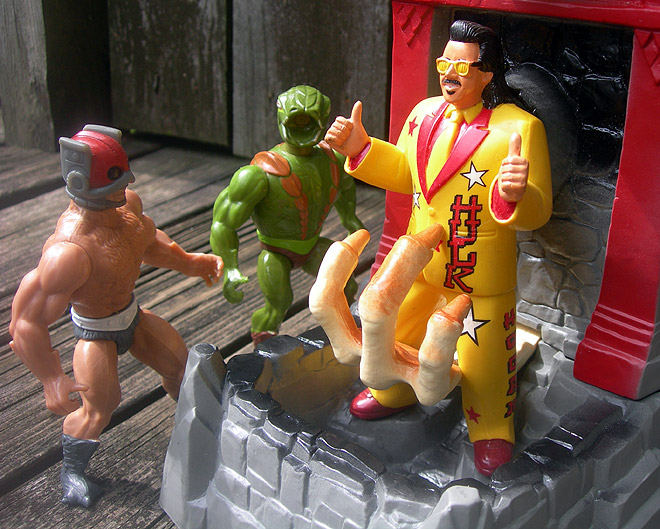 Zodac suggested beating Jimmy to death with rocks, but Kobra Khan had a far nastier method of discipline in mind. He'd been hearing rumors of this "Slime Pit" for weeks, and if any endeavor was worth Hordak's disapproval for messing with his stuff, it was sliming Jimmy Hart.
Especially the version of Jimmy Hart in the red-and-yellow pro-Hulk suit.  Ugh!
Jimmy showed little concern as they fastened him into position, using a large, bony claw. This was because Jimmy couldn't look up, and had no way of noticing the giant dragon skull above him.  This skull was about to vomit green sludge right onto his promotional Pizza Hut sunglasses.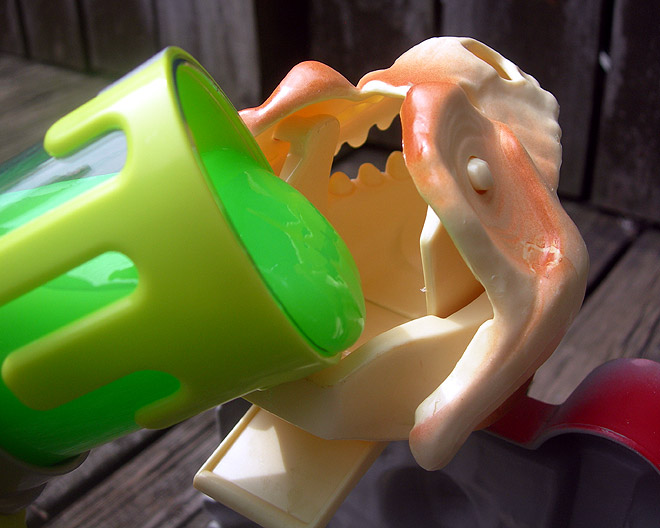 You start by filling a secret compartment on the dragon skull with slime. You can't fit a full can in there, but it'll be more than enough to make Jimmy Hart look like a screengrab from a Nickelodeon rerun.
PS: If you come upon a Slime Pit and can't locate official MOTU slime, make sure your backup is the right kind of green, with a slightly firm consistency. I had to do the photos for this article twice, because the slime used during my first attempt was too watery and yellow. You haven't walked a mile in my shoes until you've spent three hours snapping, resizing and exporting photos of toy slime, only to realize that you used bad slime and had to do it all over again.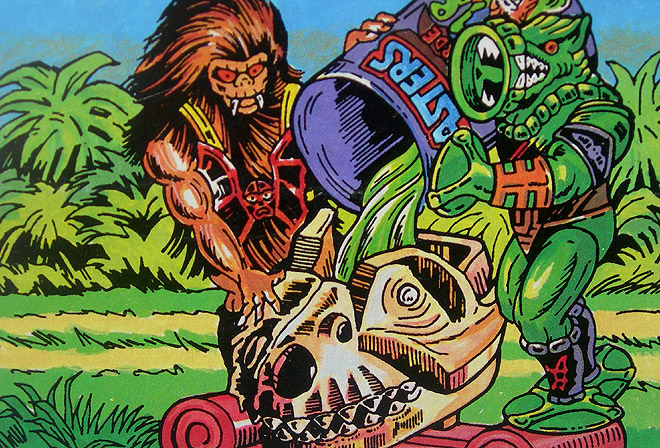 I guess now would be a good time to mention this terrific illustration from the box. I love how the Horde uses an official can of MOTU Slime, even within canon. These were bold sunuvabitches, and they were gonna ooze the holy hell out of the fourth wall.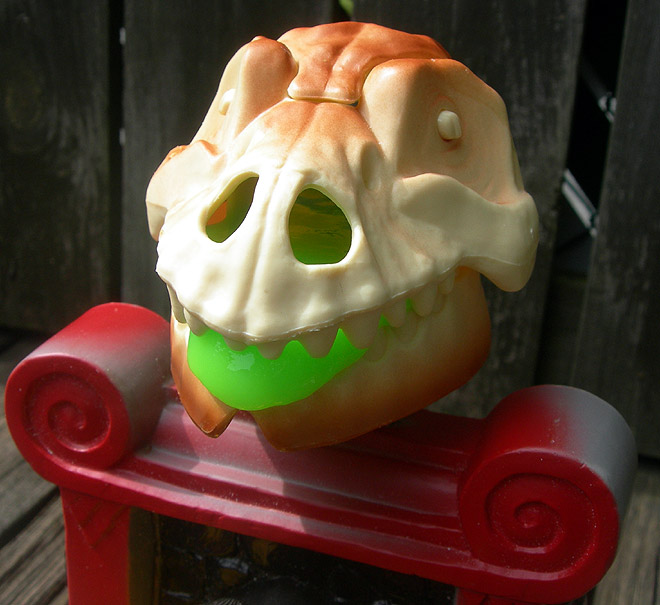 It's ready. This dragon skull thing is ready to gleet gunk all over Jimmy Hart.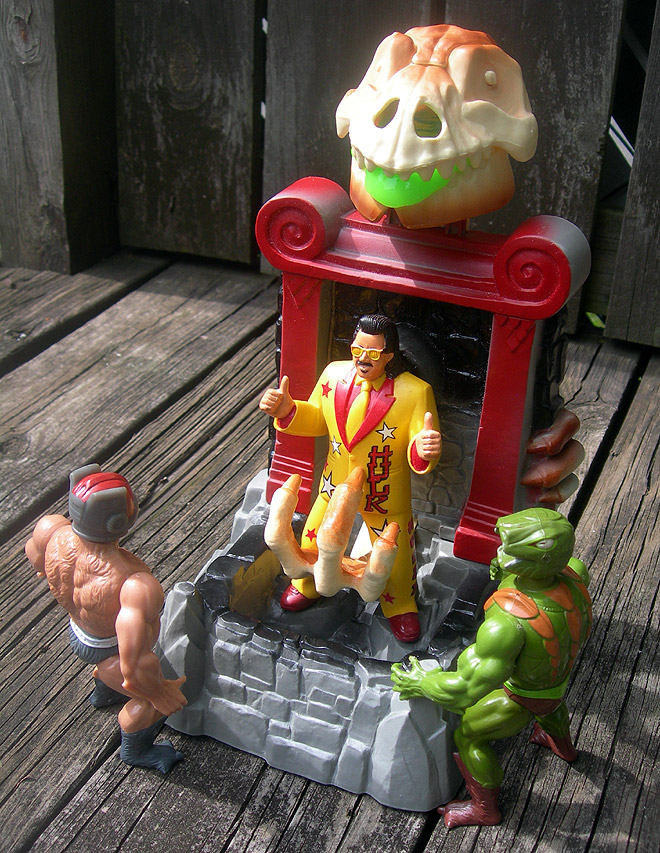 Jimmy remains unrepentant. He still hasn't noticed what's above him. In his eyes, this bondage is just part of some lame-o interrogation. All he has to do is outtalk Zodac and Kobra Khan, and he'll be out of there.
Opening the debate with a gesture of friendship, Jimmy gives each of his captors a thumbs up.  Vile Hart aims to trick them into a false sense of camaraderie.
The fool!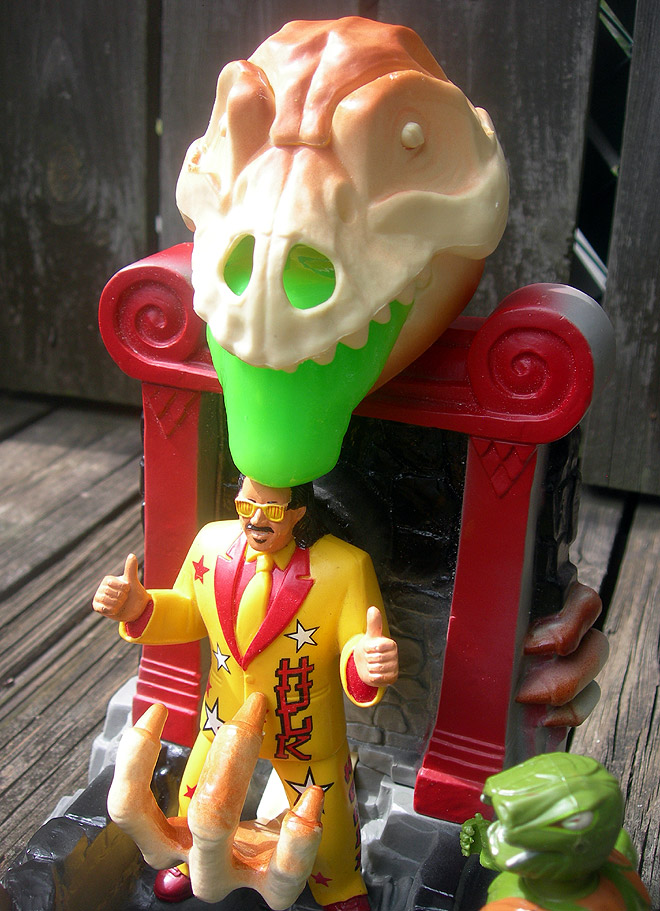 When you tilt the dragon skull forward a bit, the slime begins its descent. Within moments, Jimmy knows that he won't be able to talk his way out of this one. His last hope is that the animal lard used to fabricate his unflinching almost-pompadour will somehow counteract the slime's effects.
But it won't!
You wouldn't go through the trouble of dispensing slime through a museum-quality dragon skull if it wasn't powerful enough to nullify animal lard.
My one regret is that I can't attribute that as a second Dick Tracy quote.  Then again, I don't know everything he's said.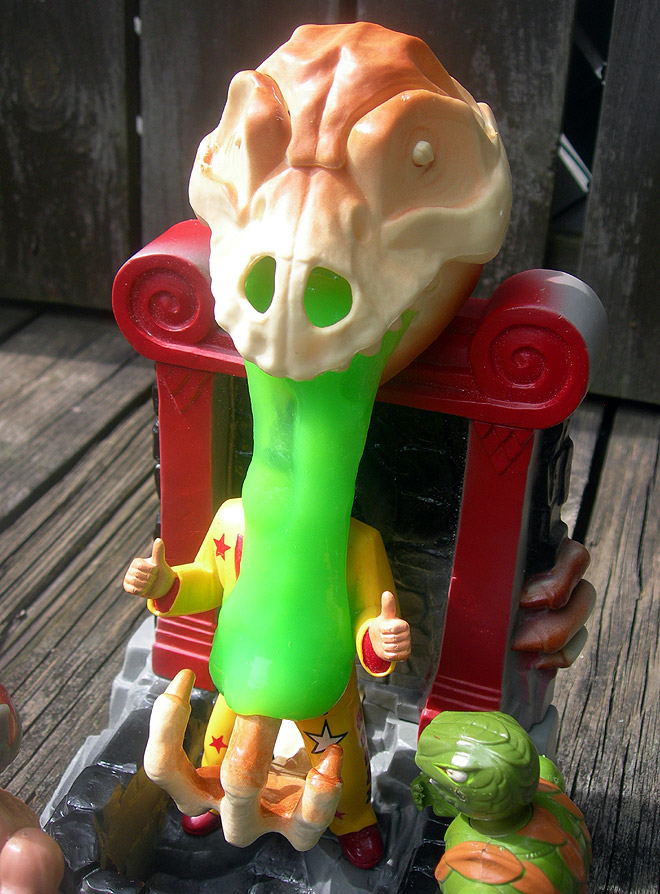 The slime continues gooping Jimmy, and it's a beautiful sight. This playset is a bitch to clean up when you're through playing, but that's a small price to pay. When working its mojo, the Slime Pit is oddly artful and makes at least seventy political statements.  "Makes at least seventy political statements" is the exactly the kind of bad, meaningless punchline you can get away with when you write really long articles that nobody actually reads.
Jimmy begins to feel something stirring inside him, but it isn't exactly "pain."  He wonders what the point of this was. If the slime isn't hurting him, and it isn't going to kill him, then all he stands to lose is his stupid pro-Hulk suit…right?
Wrong.
Jimmy, you idiot. You should've read the mini-comic.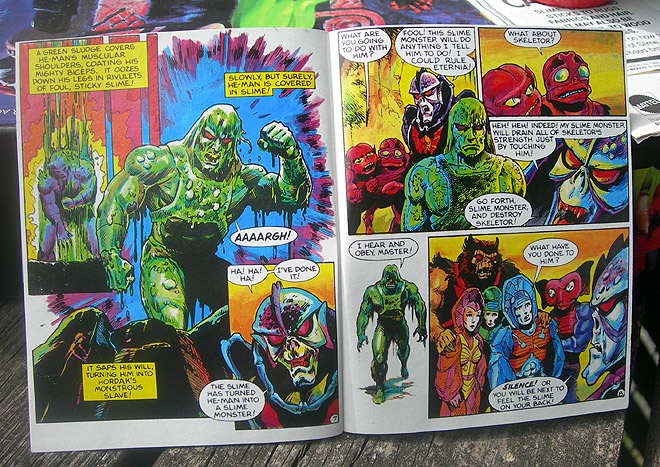 Many Masters of the Universe toys came with "mini-comics," which explained their origins, powers and affiliations. The Slime Pit was no different, but boy, its mini-comic was the stuff of legend.
Synopsis: To save a bunch of idiot rock people, He-Man surrenders to Hordak, and willingly enters the Slime Pit. After getting gooped, he mutates into a mindless, super-powerful monster slave, ready to obey Hordak's every command.
So yeah, the slime doesn't kill you. It just makes you gross and eager to please.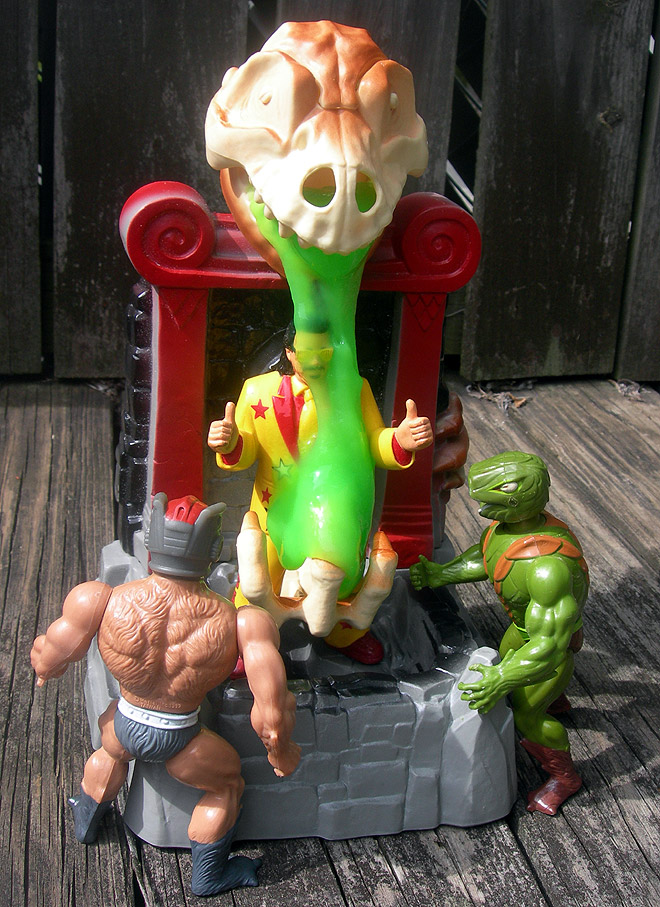 Now covered in slimy filth, the Jimmy Hart we once knew has forever changed. Far removed from his days as the megaphone-toting, motor-mouthed manager of the Fabulous Rougeau Brothers, Jimmy has become a grunting green slave.
Kobra Khan was elated. "I told you, Zodac! I told you this would work!"
But Zodac was nonplussed. "The fool Hart merely stands there covered in slime. Explain how this is a big deal!"
Then the dragon skull surprised them both by joining the conversation.
"Zooooodaaaac. Back hair."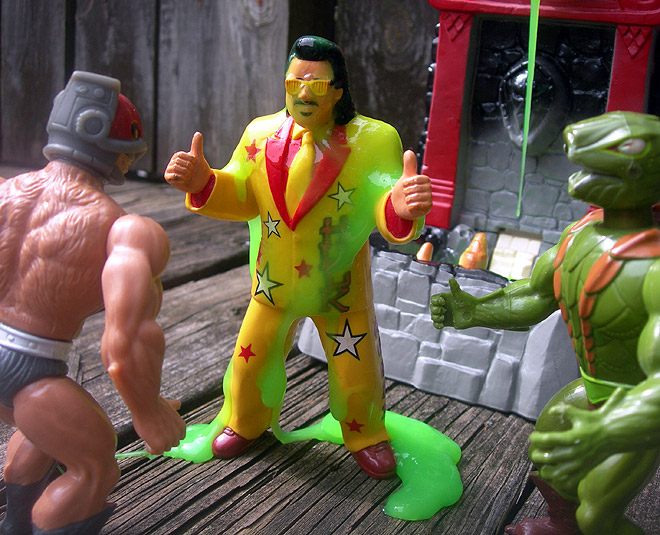 It took all of ten seconds for Jimmy to divulge the location of his stolen riches. He even agreed to stop wearing Hulk Hogan outfits. Then he lifted a car over his head while making Sawzall noises. For Zodac and Kobra Khan, owning a slimy, super-powered Jimmy Hart was way better than winning poker games.
This is a fantastic playset. I love you, Slime Pit.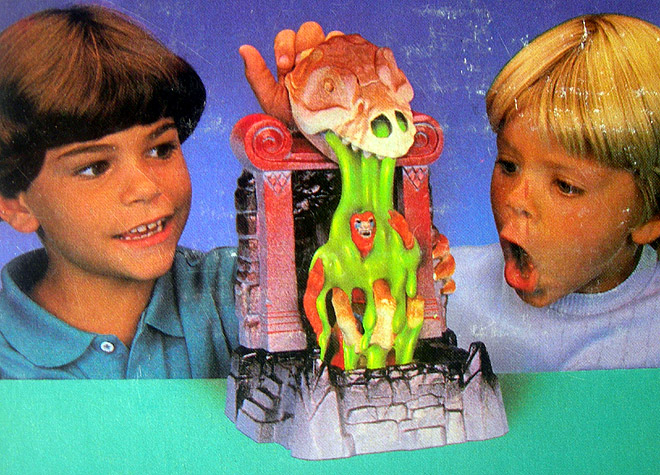 I want to say that there hasn't been anything like it since, but that's not exactly true.  When Mattel brought He-Man back in the early 2000s, an all-new Slime Pit wasn't far behind. Mattel even tried to do Slime Pit spins in other toy lines. (Believe it or not, there was a Harry Potter version, too!)
Still, none came close to the original. I admit that it's partly the nostalgia talking, but I think there's more to it than that.  The original Masters of the Universe Slime Pit was deceptively complex. Strangely primal. Innocent yet depraved.
There were just so many ways to use this thing. Even after you ran out of slime and could no longer transform intolerable action figures into oily servants, the Slime Pit made for an absolutely boss throne. So many kings of my toy universe ruled from that bony claw.
Or maybe I just liked it because it had a dragon skull and came with a free comic book. I don't know, we're 2000 words in. I'm winded.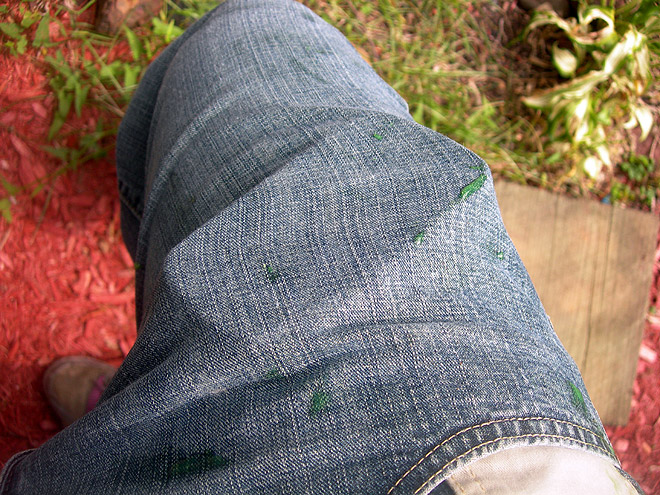 My jeans were ruined in the making of this article. Toy slime gets everywhere.  If you liked what you just read, you owe me 50 bucks.
Okay, 25.