Real Crimes: The Unicorn Killer!

The almost-short skinny on Ira Einhorn: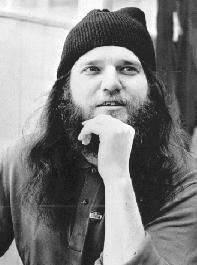 A counterculture cornerstone of the '70s, Einhorn achieved modest fame for being what he called a "planetary enzyme" — a go-to-guy for everything on the fringe, from progressive sciences to extreme activism to plain old drugs.
Raised in Pensylvania, Ira traveled the world but was more comfortable at home. Looking and stinking like a hippie stereotype, Einhorn was an information junkie, who seemed to know so much about everything that even top execs from Fortune 500 companies found themselves bewitched by his ideas.
Ira also murdered his girlfriend, shoved her body into a steamer trunk and left it to rot in his apartment for over a year.
Yip, really. Scary red text don't lie. Holly Maddux was her name, and she and Einhorn had been on-and-off for years. While broad-stroked breakdowns of their relationship may paint Holly too much as the clueless angel, this much is true: Even before it turned physical, Ira dealt out plenty of emotional abuse. In fact, from any account that seems believable, Einhorn killed Maddux simply because she was two steps away from leaving him for good.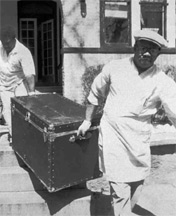 When Ira's case was pending trial, he skipped town and spent years on the lam, hopping across Europe on funds provided by the few stupid idiots who never lost faith in him. Tried and found guilty in absentia, Ira was granted a rare retrial upon capture – and found guilty again.
He's now serving a life sentence, still protesting his innocence. (And using middlemen to pick apart his "unfair" trial online, still today!)
The case has fascinated me for years, and I've gobbled up every piece of information I could find about it. From Steven Levy's incredibly thorough book to Einhorn's own pretentious gibberish, I couldn't get enough.
Hey, everyone likes a good thriller. This is a guy who killed his girlfriend and left her corpse in his apartment for over a year. A guy who might've gotten away with it if his girlfriend's decomposing body hadn't begun dripping into the apartment below. That's Poe-level macabre.
The really strange thing? I honestly can't think of anything I've Googled more thoroughly than this case, and yet, it was only a few weeks ago that I learned about the Ira Einhorn video game.
What?!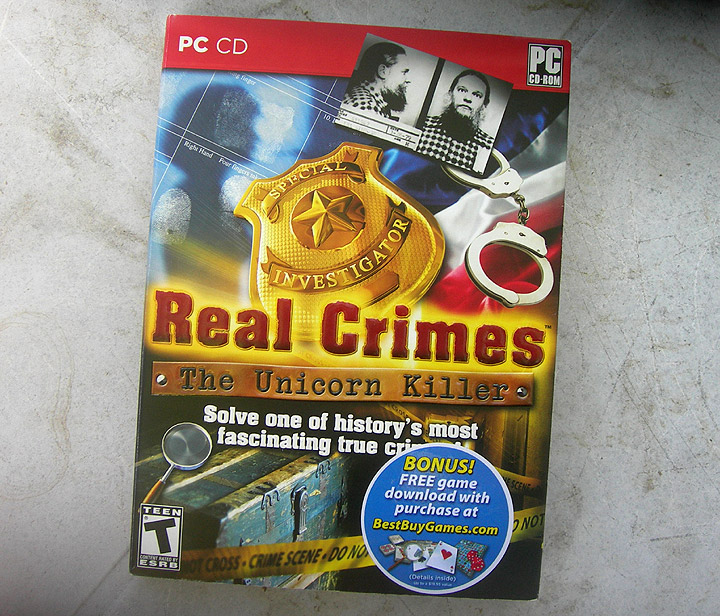 Look, I can't kid myself. As much as this shocks and intrigues me, I freely admit that you'd need to know a little bit about the case to care. So yeah, I've given you a really long introduction to a review of a small-time computer game that you assuredly have no interest in.
Welcome to Dinosaur Dracula. It's just like X-Entertainment!
Real Crimes: The Unicorn Killer was released by ValuSoft in 2009. While available on CD, it's easily downloaded online, and cheap to boot.
At core, it's one of those "hidden object" games, which you've surely played before. It's simplistic and maybe a bit boring, but the amount of research that went into this thing was crazy. The team who put it together was obviously clued in to every intricacy of the Einhorn saga.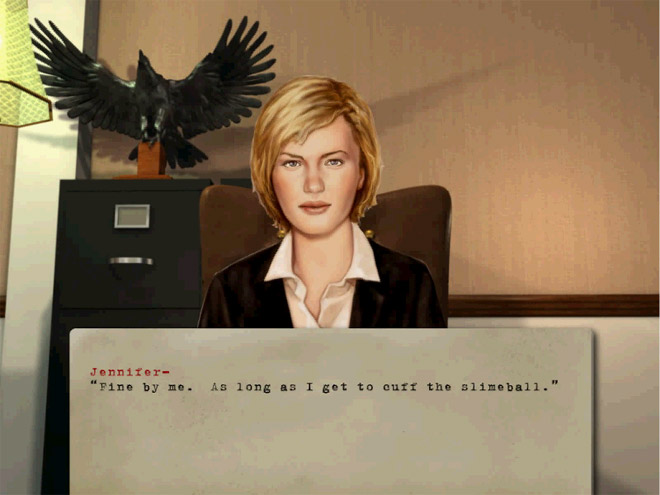 No matter your gender, you portray Jennifer Lourdes, an FBI agent hunting Ira Einhorn. As Jennifer travels the world looking for clues, she does little to hide her contempt for the Unicorn Killer. It's hysterical, really. In words only a little less direct, she calls him a fat pig like twenty different times. I like Jennifer, and not just because she collects weird bird statues.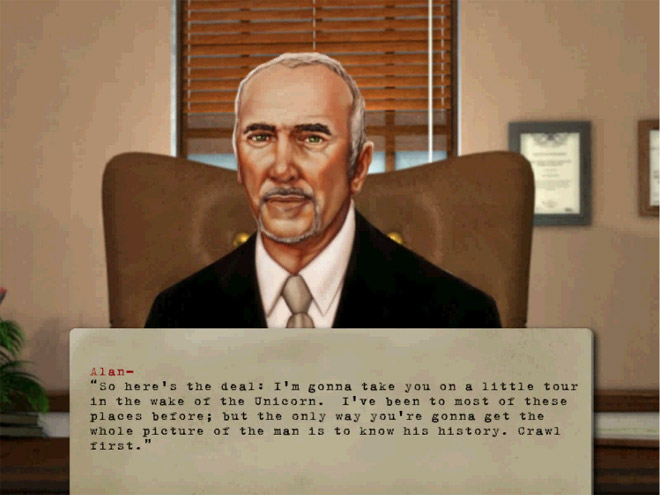 Helping Jennifer along is Alan Michaels, the original detective from the case. This guy cracks me up. Alan has a few quirks which I'll explain later, but since I posted that screencap, his biggest quirk is already out of the bag: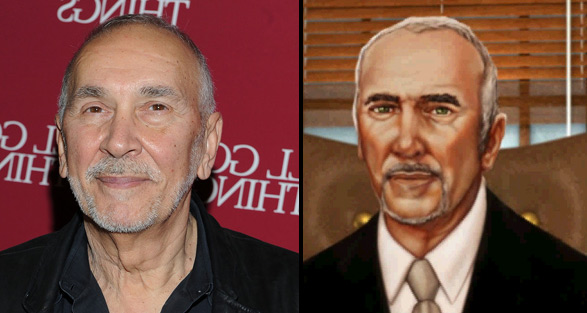 Alan Michaels is actually Frank Langella.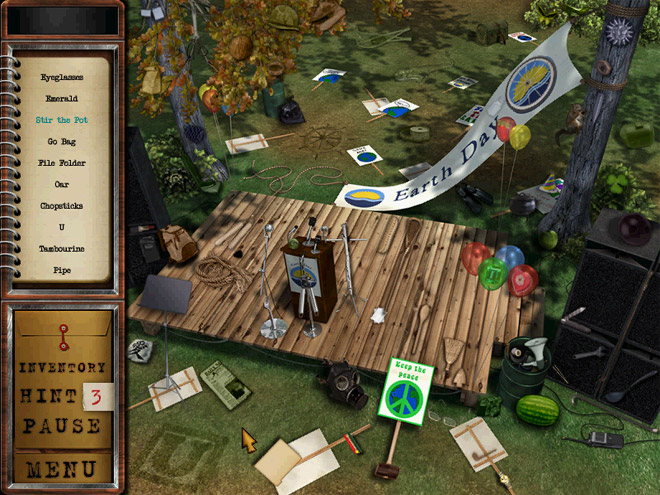 The game starts here, on an Earth Day stage, owing to Einhorn's exaggerated claims of founding that event. (In reality, he was loosely tied to the organizers of an event only in his own town, where he muscled into the position of a goofy MC.)
From there, you travel around Pennsylvania all the way to Europe, searching for clues within Einhorn's known haunts.
And that's where the game gets…odd.
A list on the upper left tells you which items to look for, and sometimes, they're relevant enough. Secret documents and official IDs seem like items that might help one track down a murderer, but a tambourine and chopsticks? I'm not so sure.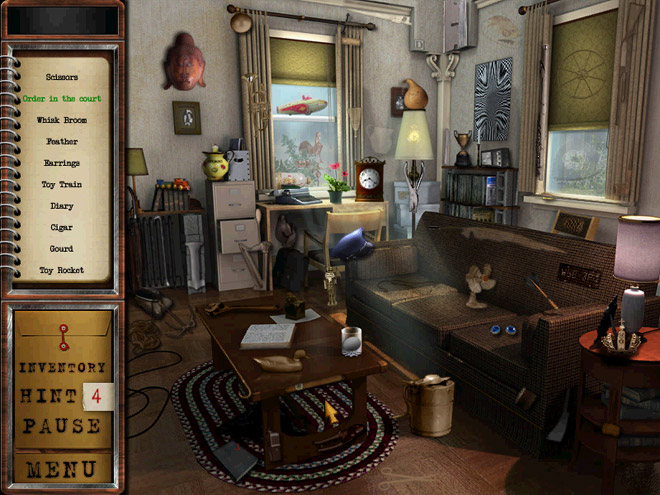 To increase the difficulty, there are tons of wholly ludicrous items littered throughout each stage. In Real Crimes: The Unicorn Killer, the world is presented as an enormous dump. Everywhere you go looks like the aftermath of a frat party in a pawn shop.
Take the above example. That stage represents Einhorn's apartment. A cursory examination reveals the following items:
1. An egg in a glass of water.
2. A ship's anchor.
3. A harp.
4. A semi-opaque giant snake head.
Einhorn was a strange dude, but a semi-opaque giant snake head is pushing it. Maybe this was a nod to Ira's well-publicized experiences with LSD.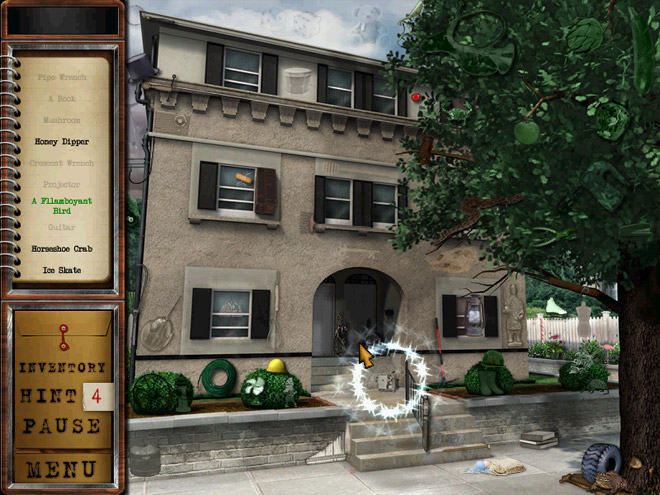 As the stages continue (there are more than 20 of them), the objects become harder to spot. Sometimes they're tiny, sometimes they're practically invisible. Plus, when you're instructed to find a tuba, a tree is the last place you'd look.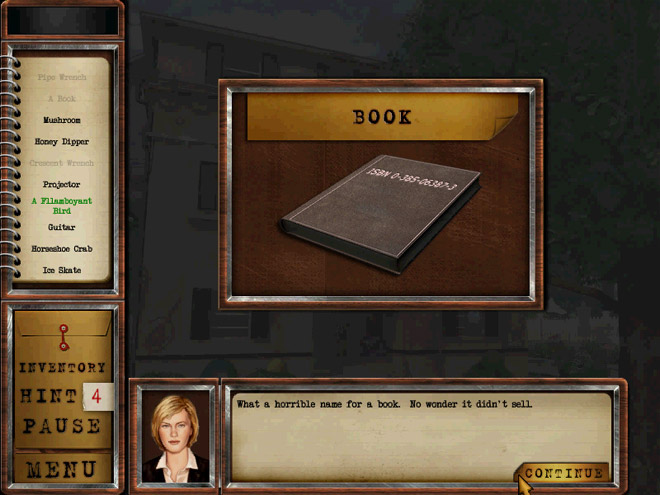 On occasion, you'll locate items relevant to the real life case. It's rare, but in the middle of finding all of those flamingos and baseball gloves, it does happen.
In the above example, Jennifer has located Einhorn's novel. That's based on a real book, really written by Einhorn, long before he started keeping bodies in boxes. (The book is actually titled 78-187880. The game uses a made up name for it, I guess because they didn't want to throw any business Ira's way.)
I own this book, and it is AWFUL. It's not so much a novel as a bunch of disjointed thoughts and partial poems, pasted over nonsensical images and strange graphic designs. Not much different from the horrible zines my friends printed in high school. Or Dinosaur Dracula.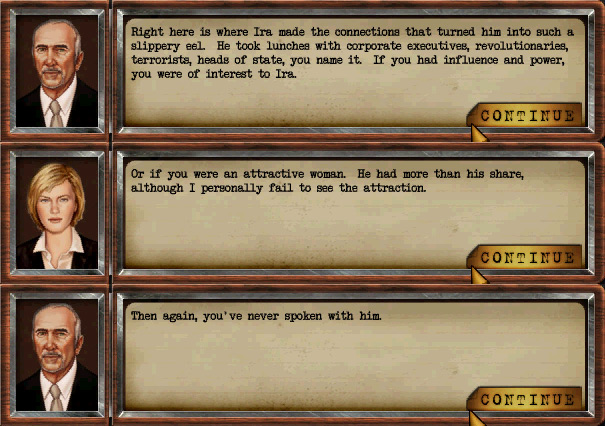 I mentioned that Detective Alan Michaels was quirky, and boy, he is. Throughout the game, his little text blurbs indicate a weird respect for Einhorn. It got to the point where I wasn't sure if he wanted to bring Ira to justice or wanted to bring Ira a Carvel cake.
Einhorn: Detective Michaels! You finally found me. Guess it's off to the big house?
Micheals: Park bench. Two spoons. Fudgie the Whale.
Einhorn: You know that I killed my girlfriend and am generally an affront to everything holy, right?
Michaels: That's why you'll get the smaller half of Fudgie.
After a while, even Jennifer couldn't stay quiet about it:
But maybe the quirk fits. After all, this is Frank Langella, posing as a detective, for reasons known only to Frank Langella. A guy who scouts murderers by picking semi-translucent watermelons off of buildings. It makes sense that he'd sympathize with Ira. The disturbed have a bond.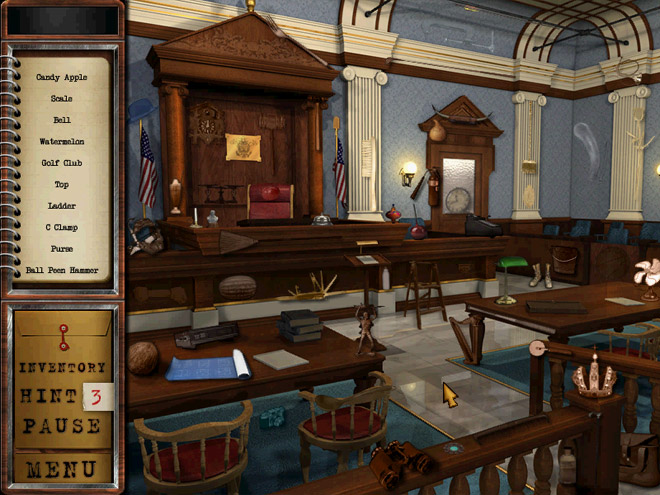 Oh God, this courtroom. There is a coconut on the defense's desk.
Perhaps the coconut was evidence, sure. Ira seemed like the type to frick around with coconuts, I'll concede that.
Or maybe some attorney really was brazen enough to eat coconuts in court. It isn't likely, but I guess it could happen.
Fine, fine. But just you try to explain that tomato built into the judge's chair. Or the floating ghost tusk of a wooly mammoth.
I gotta admit…I kinda love this game.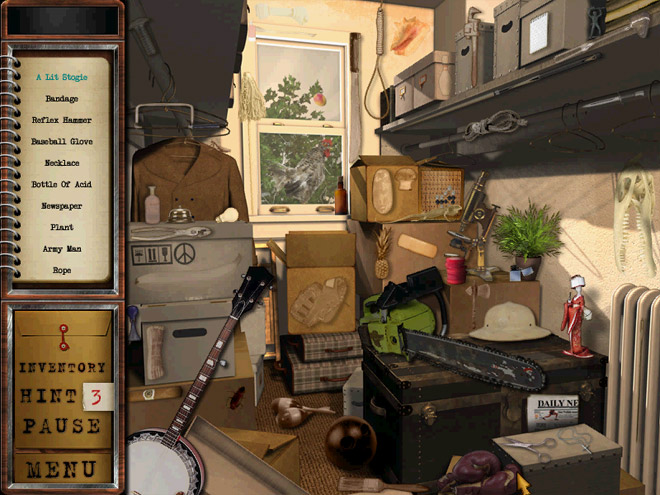 Eventually, you'll search through ground zero: Ira's closet. That's where he kept Holly's corpse for over a year, locked in a black steamer trunk. You can see this trunk quite clearly, and yet, in the game, you totally ignore it to look for a toy army man.
And the dinosaur skull floating on the far right? Don't get me started. Between that and the maracas, this would absolutely be my favorite place ever if there wasn't a dead body in it.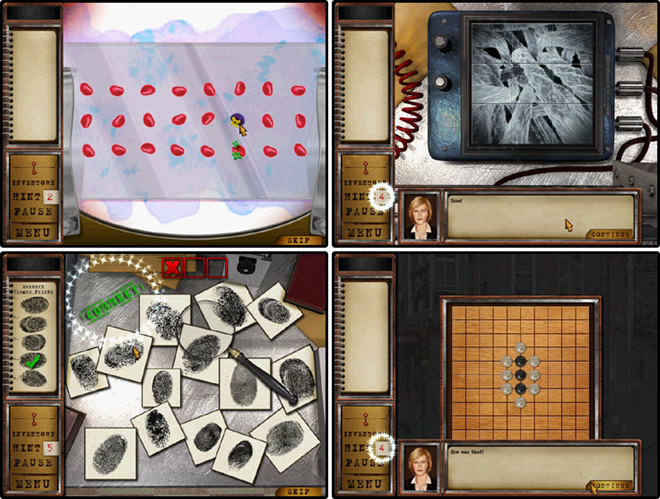 Peppered throughout the game are several puzzles. Complete them, and you'll get extra hints. You'll really need those hints, too. There are levels where you're implored to locate tiny, half-invisible screws. If you didn't have hints, Ira would own Brazil by the time you found him. Can't really explain how a person coming to own Brazil is a sound measure of time, but since we're trying to catch a murderer by retrieving horseshoe crabs and candy apples, nothing seems out of bounds.
One puzzle challenges you to match up DNA strands. Another has something to do with x-rays. Then there's one that makes you mess around with fingerprints. I don't know, I usually skip these.
Finally, you can play "Go" several times for additional hints. Go is an ancient board game that Ira was positively obsessed with. (Even while on the lam, Einhorn risked identification by organizing Go competitions with his new neighbors. For as ridiculous as the game is in a lot of ways, the attention to detail is phenomenal.)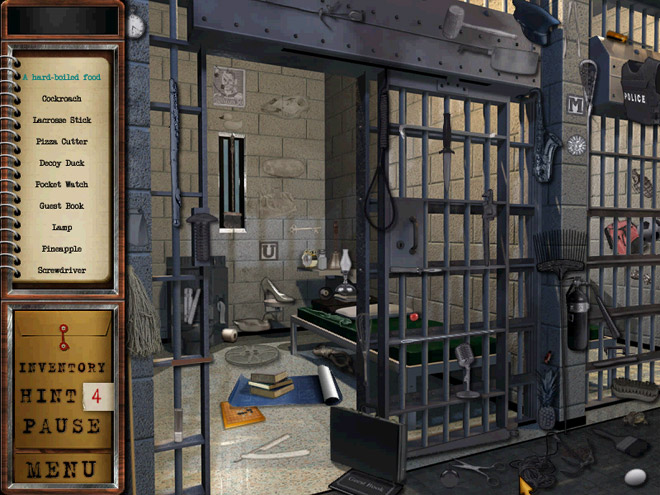 After finally locating Ira in Europe and completing one last level in his own jail cell, Jennifer closes the case and becomes a Jedi master. Not entirely unfitting, since my backup comparison for Alan Michaels was Christopher Lee.
And then we get the ending. Oh, the ending.
It starts off happily enough, with Ira behind bars: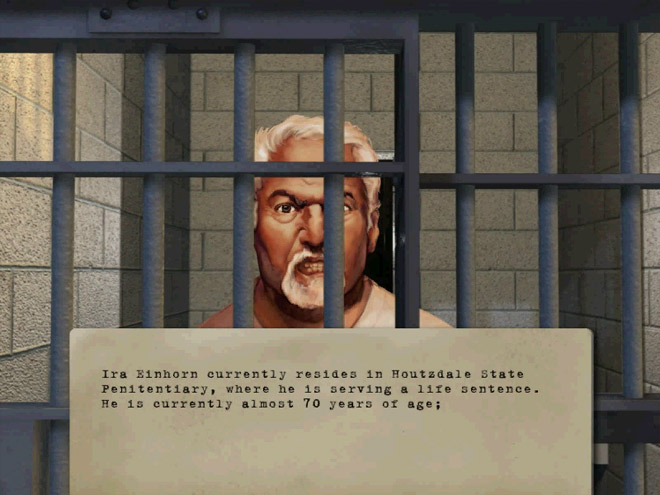 …but the onscreen text is quick to point out that his incarceration came too late for most. This might've been true, but after searching for darts and frogs in over twenty stages set against elevator music, I was hoping for something a bit more rewarding.
Instead, most of the ending sequence is dedicated to showing off the graves of Holly Maddux's parents…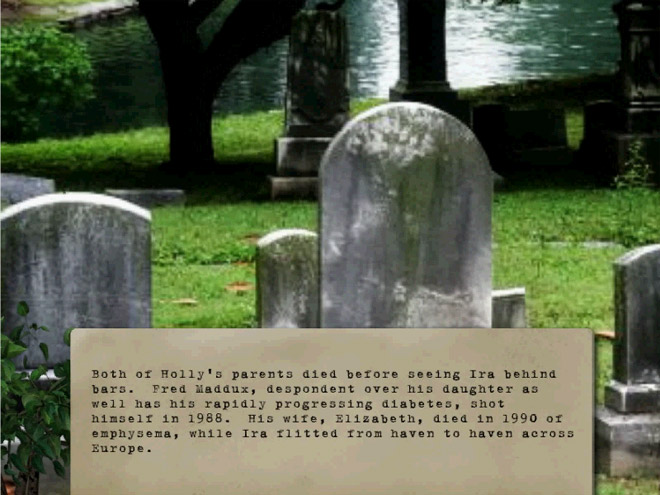 …and telling you that her father killed himself before Ira was caught. That's actually true, but c'mon, a little fiction wouldn't have hurt. Show me Ira in an electric chair, with a cackling Holly Maddux ghost flipping the switch or something. It might go against the title's "Real Crimes" boast, but at least I wouldn't have spent an hour clicking sneakers just to find out that everyone who would care is dead.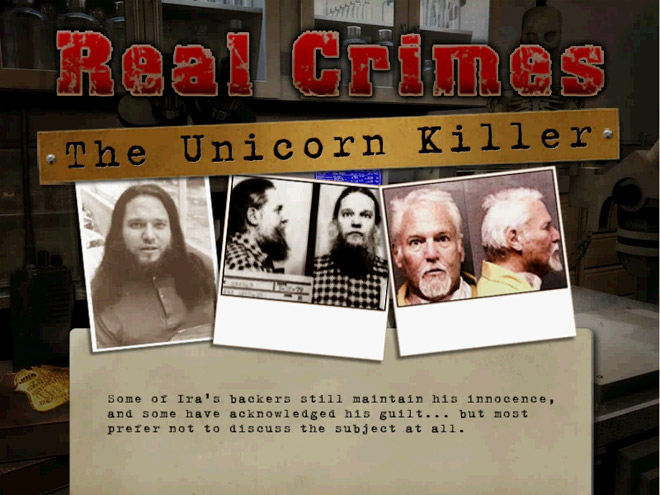 But you know what? A downbeat, creepy ending works with a subject like Ira Einhorn.
And "creepy" is a good way to describe Real Crimes: The Unicorn Killer. It does a nice job of giving the wacky locations and activities context, and as you play, you're given a pretty good sense of what happened, how it happened and why it was so messed up. Not bad for a such a cheapo game.
Plus, you'll get to see Frank Langella in video game form. Nobody's ever gonna make a game for Dave or Frost/Nixon. This is your one shot, guys.
I do have a question, though. Who profits from this? I can't imagine that they paid Ira for his name and likeness. Are you allowed to make video games based on real people if those people are dead or in jail? There's no red tape to cut through? I can't imagine that there was. Who would go through so much trouble for Ira Einhorn?
My best guess? ValuSoft uncovered Universal Rule #766-B.
Universal Rule #766-B: You can do absolutely anything without consequence so long as you graft a tomato onto a judge's chair.