The 1992 Sears Wish Book!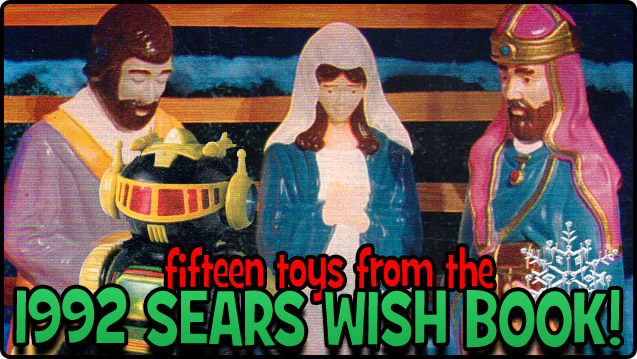 Fifteen Treasures from the 1992 Sears Wish Book!
PAGE 1 | PAGE 2
The Sears Wish Book, often imitated but never duplicated, was the ultimate best thing ever. Hundreds of pages filled with toys, video games and other pieces of retail awesomeness, complete with color photos and catchy descriptions. In its era, no child built his or her wishlist without a Sears Wish Book.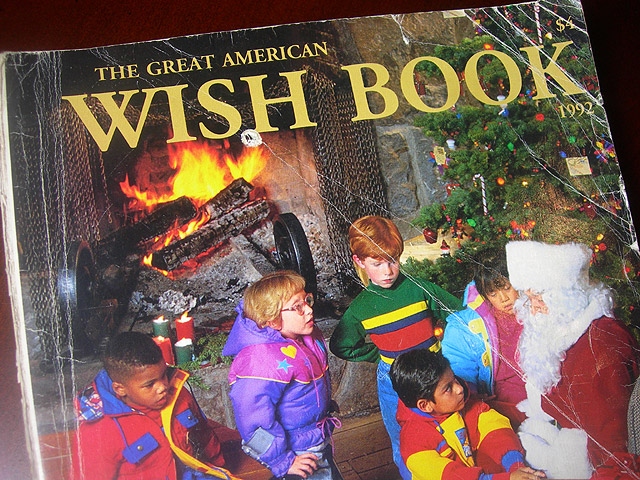 Below are fifteen highlights from the 1992 edition, including everything from log cabins to crayon-shaped fish tanks. Enjoy!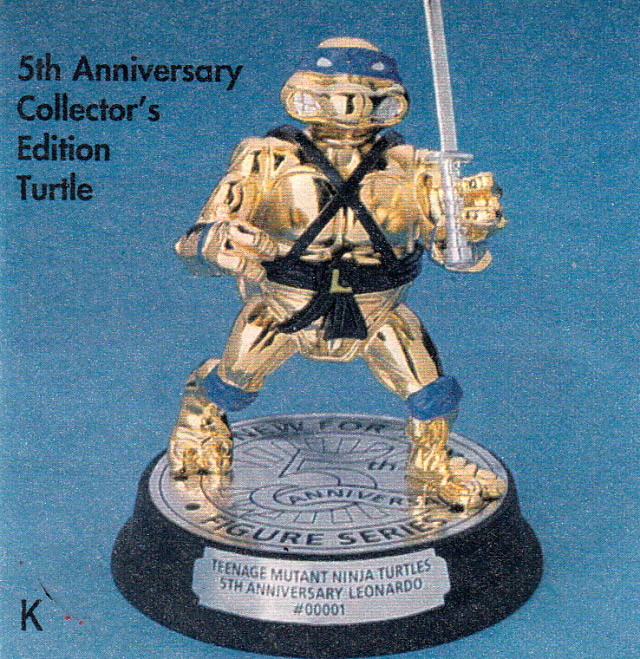 Ninja Turtles 5th Anniversary Leonardo Figure! ($11.99)
In its time, the original Ninja Turtles toy collection was the hottest thing going. Five years and five bazillion dollars later, Playmates celebrated their successes by selling us gold Leonardo figures. Hoookay.
A TMNT figure that doubled as a trophy was kind of neat, but when you applied some imagination, Gold Leo became so much cooler. You could've pretended that he was some cyborg Super Turtle, composed of equal parts reptile and robot. Like a more organic Metalhead. In that form, he'd crack less jokes than a normal Ninja Turtle, so it was extremely fortuitous that Playmates chose the already humorless Leonardo for their self-congratulatory project.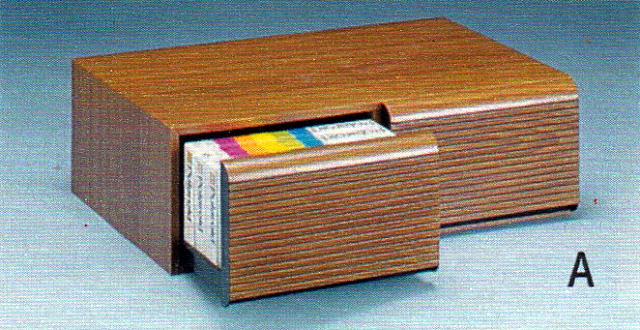 Videotape Storage Case! ($11.99)
I know it may seem strange to include this, but man, THE MEMORIES.
With a combination of Christmas and birthday money, a VCR was one of my biggest childhood purchases. Sure, my family already had one, but this VCR was for my bedroom. Who cares if I had the worst hand-me-down television ever? Now I could watch Wayne's World in private!
The best part was amassing my own collection of videos. I bought a storage unit just like the one pictured, complete with that ultrathin shiny wood — the kind that was just so easy to chip. When I finally filled that baby up – mostly with taped-off-television stuff, complete with handwritten labels – I was so proud.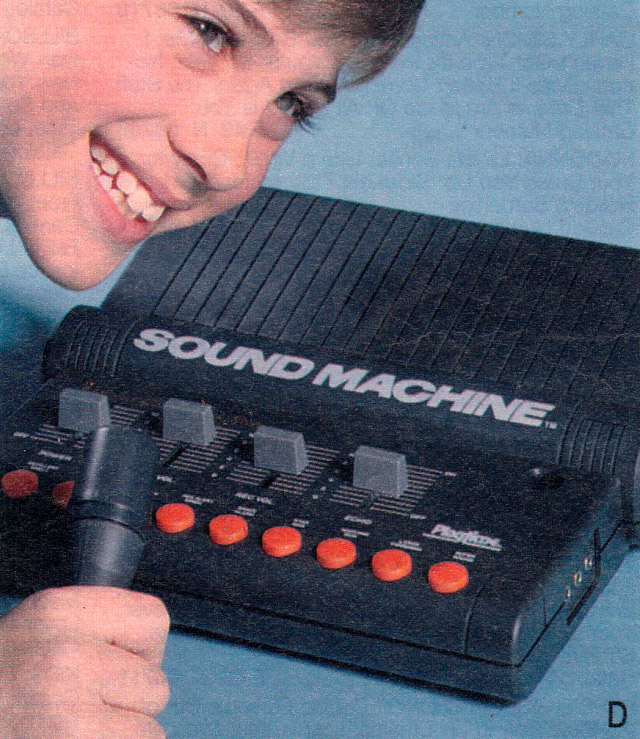 Solid Gold Rock Star Sound Machine! ($21.99)
I absolutely owned a Sound Machine. My memories of it are pretty faded, but it was basically an oversized "sound effects keychain," where you'd push buttons to create strange noises. Just like a real DJ, according to the description.
The detachable microphone was a nice touch, but since I have zero recollection of it, I'm guessing it was easy to misplace. This couldn't have been a gift I outright asked for, but I doubt I was disappointed. It looked expensive, and it made crazy noises. If I could get excited about videocassette storage drawers, I could get excited about a Sound Machine.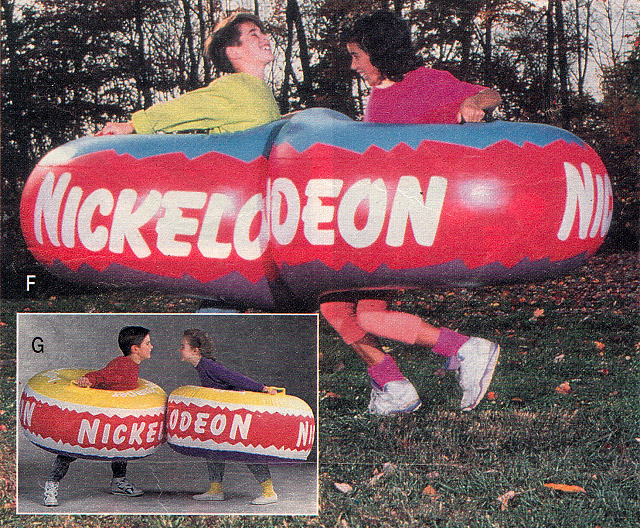 Nickelodeon Belly Bumper! ($29.99)
I've never seen nor heard of Nickelodeon's Belly Bumpers outside of this Wish Book. From what I can tell, they were just pool tubes. Forgoing their typical use as floatation devices, kids were encouraged to treat the Belly Bumpers as bouncy armor.
It looks like fun. It also looks like an easy way to blow out your knees. I can't see many Belly Bumper battles ending without one or both kids on the ground, bleeding and cursing. I'm sure the Bumpers' box featured severe cautions about doing virtually anything with them.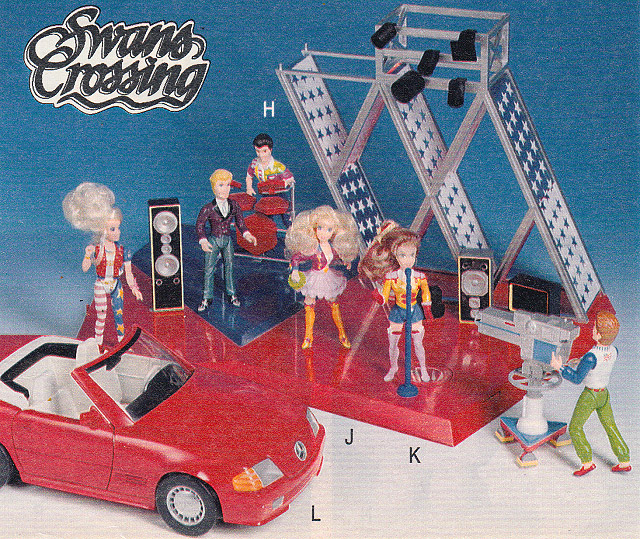 Swans Crossing Dolls & Accessories! ($16.99 per three figures)
Haaaaa. I think I was the world's only fan of Swans Crossing. If you don't remember that show, it was a cross between General Hospital and 90210. The absolutely insane teen drama aired five days a week, usually right after a block of cartoons. Its story was way too big for its budget, so you'd see kids inside submarines that looked like normal bedrooms, and "massive explosions" made from bottle rockets.
The existence of Swans Crossing dolls probably owed less to the show's popularity and more to what the partnered companies assumed it would be. The show couldn't have been huge, as I remember its timeslot changing on a seemingly daily basis. In its waning days (which wasn't long after its debut), Swans Crossing aired at like 7:30 in the morning, weekdays. (I will admit to using the aforementioned VCR to tape episodes and watch them after school. I can also guarantee that I was the only person on the planet who did that.)
Swans Crossing featured the not-yet-famous exploits of Sarah Michelle Gellar and Mira Sorvino. Sadly, neither of their characters' dolls are shown in the photo. I'm not even sure if their characters had dolls.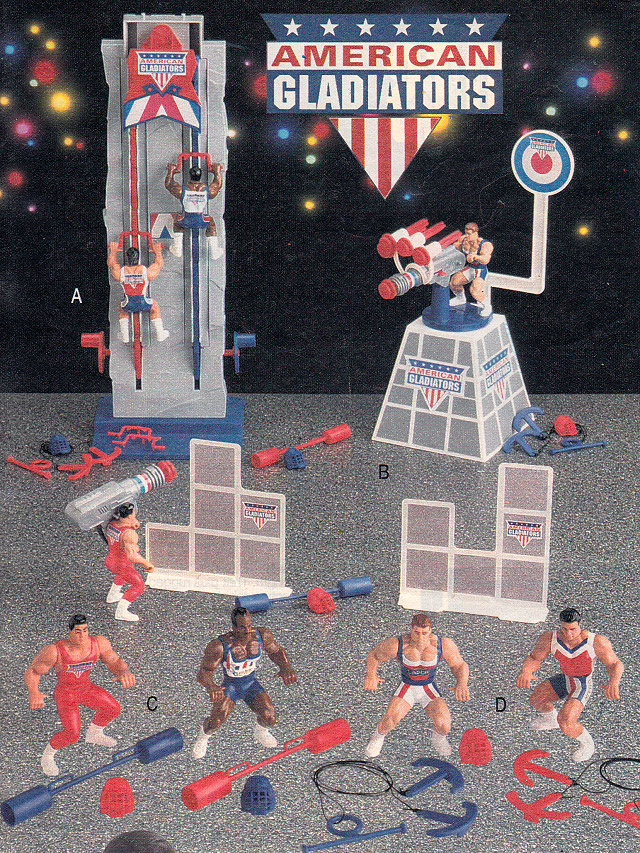 American Gladiators Figures & Playsets! ($10.99 per Gladiator/Challenger two-pack)
There was a serious shortage of cool action figure collections in 1992, so even if American Gladiators wasn't your bag, chances are, you had some of these.
To make the figures work with all of the accessories and playsets, they were given absolutely wretched poses. The Gladiators looked like they were trying to shit while standing. If you've always wondered what that might look like, just take a gander at Gemini up there.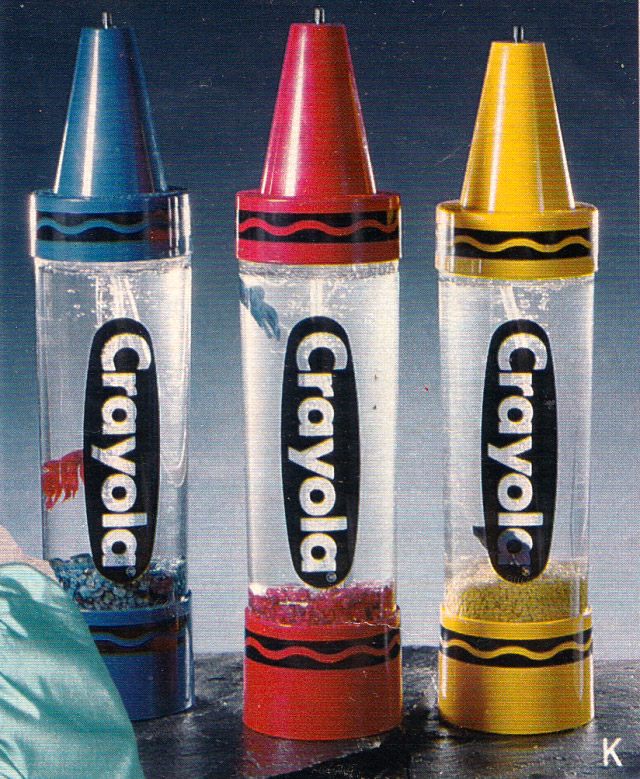 Crayola Aquariums! ($26.99 each)
I wanted one of these FOREVER. Wish Books were always stuffed with elegantly bizarre fish tanks, but nothing topped the one-gallon crayon. The tanks bubbled, lit up and did all of the normal "fish tank things," but let's not kid ourselves: We wanted them because they looked like giant crayons.
I distinctly remember putting this on my list, with a note about how I wanted a red tank, but would accept blue in a worst case scenario. I thought the trick was avoiding yellow, but the real trick was convincing Mom to buy me an extremely vertical fish tank that was practically begging to crash on the floor.
I never did get one. 🙁