Ninja Turtles Mega Mutants!

Playmates' original Teenage Mutant Ninja Turtles toy line began in 1988 and kicked ass halfway through the '90s, and it's still among my favorite things ever. Being a fan of the cartoon helps, but I don't think you need to know April from Irma to agree that those were some inspired action figures.
I had a lot of Ninja Turtles toys. They were my sick, unnatural obsession. Even as I entered the hip circles of middle school and had to go about my action figure dealings in constant fear of peer reprimand, Turtles toys remained the most important cog in my sad little universe.
If you take nothing else from this review: Universes have cogs.
For as many TMNT toys as I had, some of them still eluded me. I never did manage to get the Technodrome playset, or that color-changing version of Ray Fillet. These were serious failures, but nothing compared to my biggest miss of all.
I never had the Killer Bee.
Not until today, at least!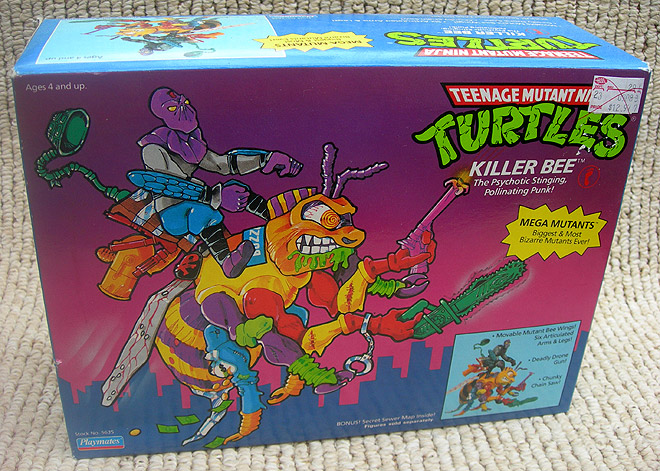 Bum buh bahhh. Roll out the red carpet and cue the heavenly hum, because this is the Mona Lisa of action figures. Let's all take a moment to thank our respective higher powers for the vision of Leonardo being attacked by a giant fucking bee.
A "psychotic stinging, pollinating punk," Killer Bee was from the elusive collection of "Mega Mutants," which were somewhere between "figures" and "vehicles for figures." Henceforth, "vehifigures."
Not content to be a mere giant bee, this is actually a giant mutant bee, which is a shorter way of saying, "it's a giant bee, but it's also fifteen other things."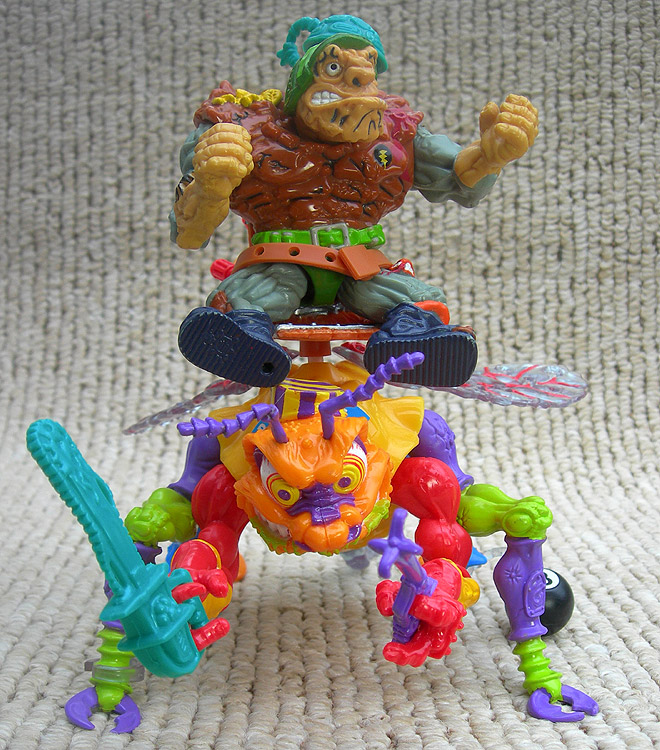 Here's where I get into trouble. I'm sure there are words that could sufficiently capture the magnificence of this bee, but I fail to conjure them. This is the definitive litmus test for toy bloggers, and the fact that I can't come up with the right superlatives is crippling my self-esteem.
Whatever. It's great. It's really, really great. I hold Killer Bee and feel not like a man-child, but like a curator who's unearthed some lost work of art. I'm a something-ologist.
(Don't focus too much on General Traag, because he isn't a part of this. See, Killer Bee had a chair surgically grafted onto his back, and he looks silly in pictures without a bad guy sitting in it.)
As you can see, Killer Bee is only partially a bee. His several sets of limbs betray roots in other animals and monsters. Let's examine some of the finer details: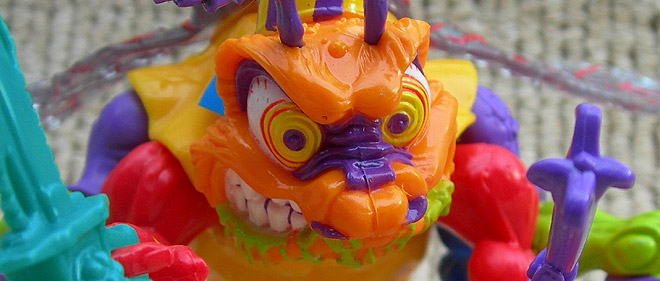 The head? Glorious. Killer Bee is a villain, and he certainly looks the part. A lesser bee would've retained some of real bees' "facial heroism," but between the spiraled eyes and the random green drool, this dude wears his Bad Guy Badge™ with honor.
Though mostly unseen in the photo, I'd like to give a special mention to Killer Bee's weapons: A chainsaw and a laser gun. This guy can destroy you in so many ways. He could tank the entire Turtle team and never kill the same way twice. Whoever designed Killer Bee really had their finger on the pulse of the sadist.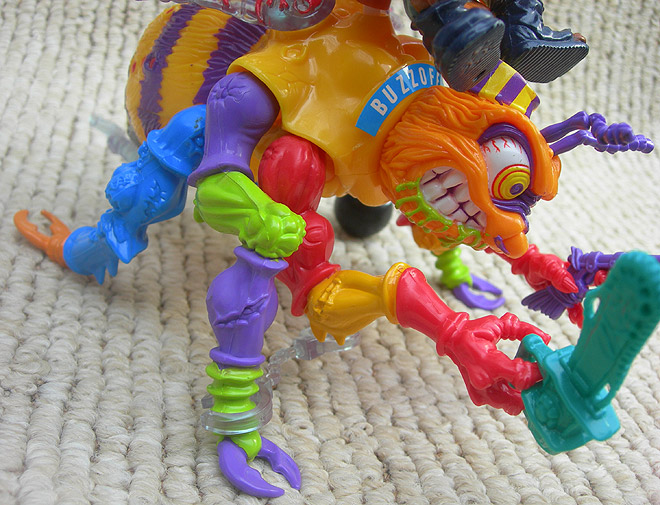 The legs and arms? Bee-utiful. Killer Bee's disjointed parts  could only be the result of a tag effort from Ed Gein and Dr. Frankenstein. With their powers combined, we were awarded one extra cool Wuzzle.
Gotta love that "BUZZOFF" sticker near Killer Bee's neck, too. Since he's like a weird car, that's like his weird bumper sticker. A better one might've read, "If you're close enough to read this, you're about to get quartered by a gigantic bee."  Granted, the font would have to be pretty small. I imagine it in the Calibri family.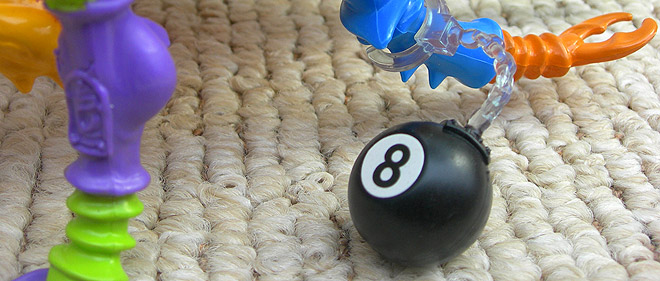 Then, there's this. A detachable ball-and-chain, in the style of an 8-ball, for reasons that are not immediately clear. I guess it's there to increase the weirdness, but it's not like Killer Bee was having much trouble being weird. Maybe billiards-based charms are considered high fashion at the mutant beehive? A sign that you're not just another number?
Or maybe it's a bomb? Hah, yeah, it is a bomb! Take that, Turtles! Donatello spent months devising defenses to Killer Bee's various attacks, but he never considered the 8-ball bomb! Stupid Donatello! You know nothing about pre-pro!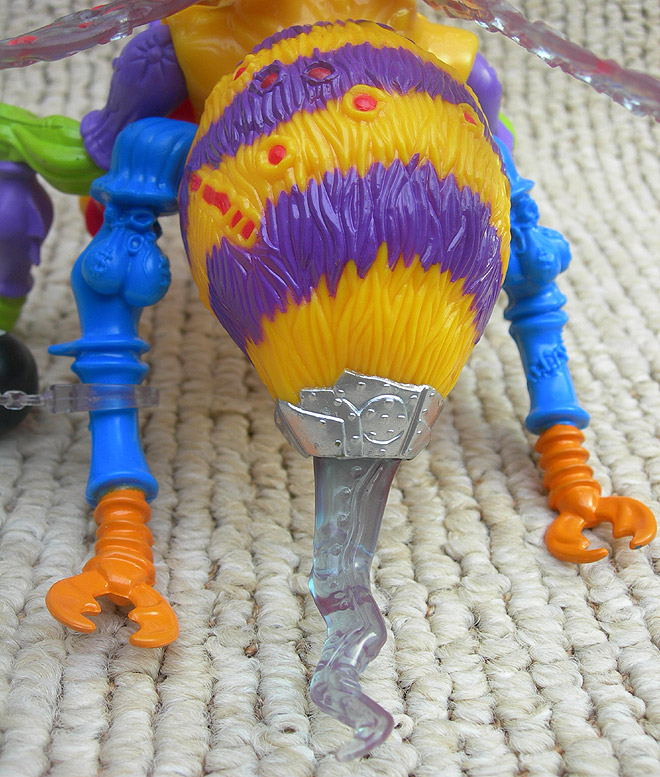 And let's not forget Killer Bee's giant bee ass, with an icy stinger that is almost certainly electrified.
Good Christ. I'm torn, here. I soak up these fantastic aspects of Killer Bee, and I want to write a song in his honor. I want to, but in order do it right, the song would require no less than 40 verses. And that sounds like a lot of work.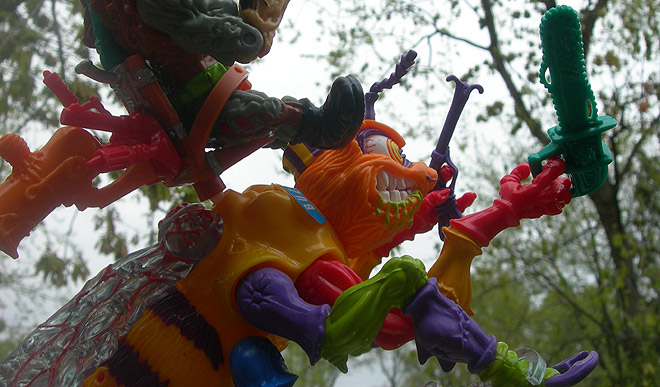 It seems almost unfair to the Turtles, really. How were they supposed to fight this? There's a fine line between daunting and impossible, and a car-sized bee with a chainsaw definitely crosses it. I can just see Mikey now, handing his bandana back to Splinter and retiring on the spot.
"But Michelangelo," Splinter would say, with his usual windless timbre. "Technically speaking, this isn't a bandana. It's a mask."
Then the both of them would get stung to death, and Shredder would do that laugh that sounds more like a cough.
Oh, Ninja Turtles. If only you had your own Mega Mutant to neutralize this bee.
Actually…they did!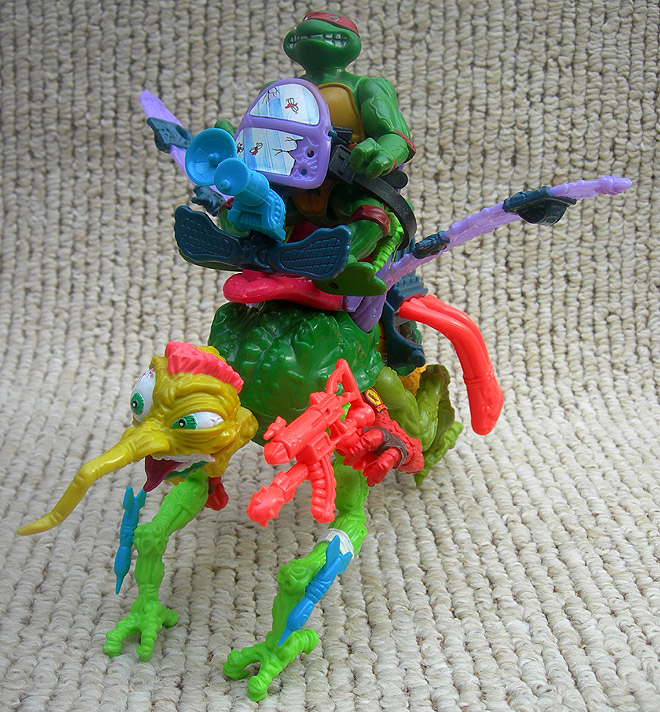 Just as weird and arguably even cooler, Needlenose was the Turtles' response to the Foot Clan's sudden deployment of enormous insect heavies.
While boasting body parts from all manner of unknown creatures, Needlenose is predominantly a giant mosquito, with a proboscis big enough to shoot pool with. He seems just as berserk as Killer Bee, so I imagine that it's only a matter of time before he reverts to type and eats Raphael.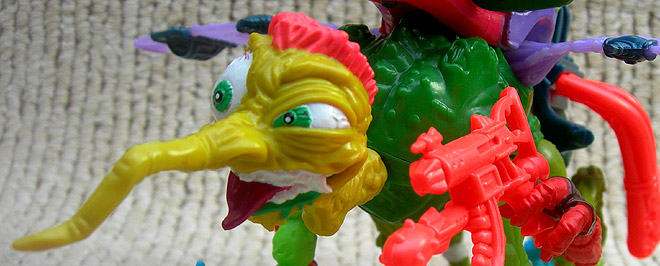 Dig that head. Needlenose's expression conveys total confidence. This makes sense. If I was the size of four men and had darts built into my elbows, I'd swagger just as hard.
Neither Killer Bee nor Needlenose ever appeared in the animated series, and it's easy to understand why. If they had, there would've been nowhere to go but down. A shark jump times ten thousand. You can't introduce giant mutant insects who spit green slime unless you're prepared to make the entire series about them. It's a spin on Urkel rule.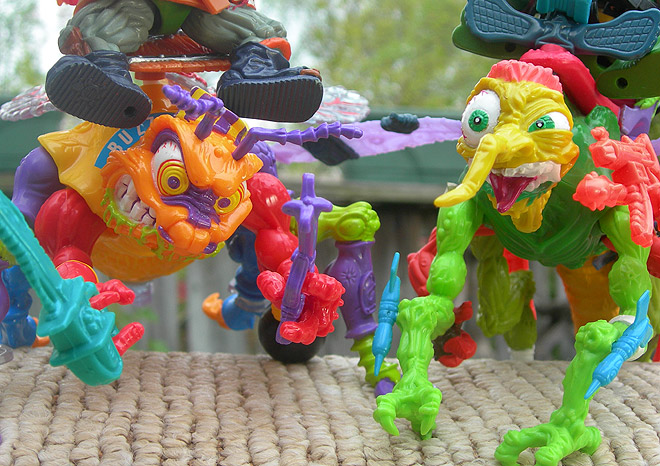 Amazing toys. Maybe the greatest in the entire Turtles series, from any era. I just find them so inspiring. I want to break out the markers and develop giant maniac bugs of my own design.
And I would, if I was still 11. If only I'd gotten the Killer Bee back then.
Eh, frig it. If I can spend a day taking pictures of twenty-year-old toys against a backdrop of a floor mat, I can draw a big bug.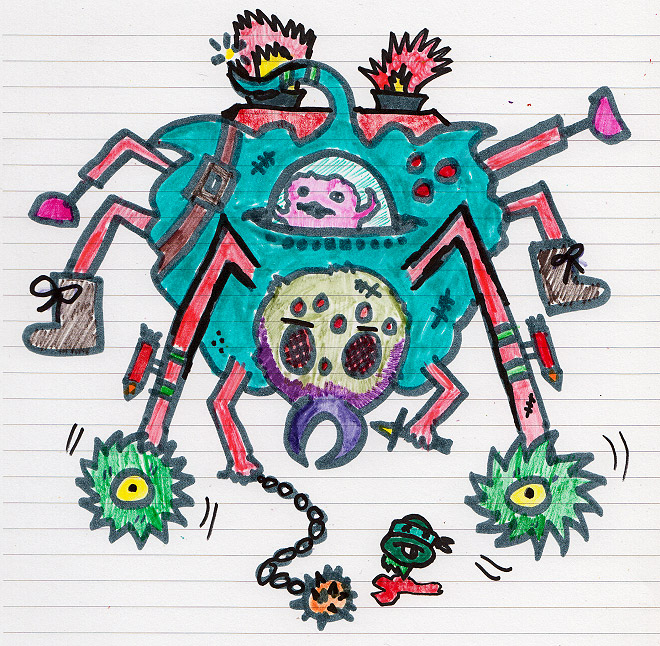 I call him Spiderazor. He'll show those other two how it's done.