DD Halloween Prints For Sale!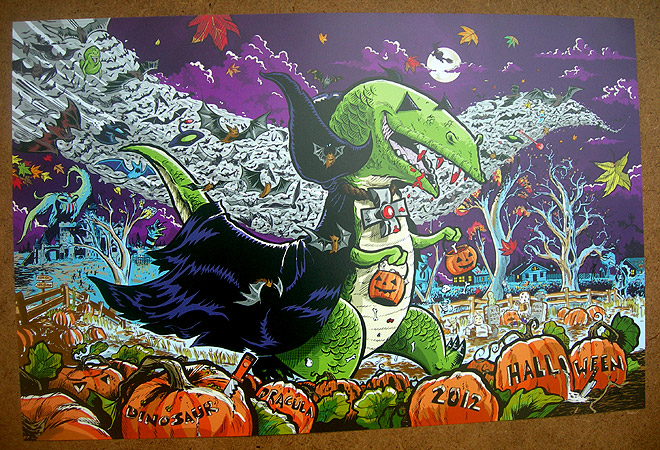 whoa hey i'm selling something:
Dinosaur Dracula's "Halloween Countdown 2012" 11×17″ Print
$20 Shipped Anywhere in the Contiguous United States!!
$30 Shipped Anywhere Else!! 
TAKING NO ADDITIONAL ORDERS AT THIS TIME, SORRY!
STILL HAVE A FEW LEFT — TO BE SOLD AT A LATER DATE.
THANKS TO EVERYONE WHO PURCHASED A PRINT!
After more than ten years of website-running, this is unbelievably the first piece of "official" merch I've ever offered. Let's see how it goes!
So, yep, here it is, Dinosaur Dracula's official "Halloween Countdown 2012" print! Drawn and colored by Jason Week, it's a gorgeous landscape of doom and gloom, stuffed with site references, Halloween icons and TOMBSTONES AND BATS!
Here's the scoop: Running this site costs money, and during the Halloween Countdown, it costs a lot of money. I needed to do something to make this all a little less ridiculous, and rather than going down the usual "hey donate via Paypal" route, it seemed like a good time to roll out something you could BUY BUY BUY.
Quantities are limited and once they're gone, they will never be resold. Here's a handy FAQ to let you know what you're buying, should you decide to!
Q: How big are the prints?
A: 11×17". They're not huge. Think of two vertically-held sheets of paper, side by side. That big.
Q: What type of paper are the prints, uh, printed on?
A:  Cardstock. Nice quality, kinda glossy – almost like a photograph, but not quite. They definitely wouldn't be easy to "roll," put it that way.
Q: How will they be shipped?
A: This is important. All prints are being mailed FLAT, in nice, hard envelopes. Not rolled! All prints will be shipped via USPS First Class mail.
Q: When will my print be shipped / when will it arrive?
A: All prints are shipped within one day of payment. Domestic orders should only take a few days to arrive. All other orders will be shipped quickly but I can't give you a precise estimate on arrival time. I realize it's a bit late in the game to be ordering Halloween prints, but we worked as fast as we could, and I think they're nice enough to decorate with long after October, anyway. At least, I have to think that, otherwise it's a little silly to launch Halloween merch in mid-October!
Q: I live in Hawaii, or Canada, or Australia, or someplace else. Details?
A: Your print will be shipped in the same fashion as domestic orders. The $30 price covers shipping anywhere. (Sorry, but to keep things simple I needed to come up with a flat rate, and that's the best I can do.) Your orders are still shipped via first class mail. The only difference is that I don't know how fast first class mail will get your poster to you. Please consider this before ordering, depending on when you do. If you just want some cool site merch, all good. If you're dying for a Halloween decoration, consider how long orders usually take to get to you before making this one. All I can say is that I'll ship it fast!
Q: How was the art developed?
A: MAJOR PROCESS. This was not at all just slugged together. Jason spent WEEKS on this thing – sketching, tweaking, inking, tweaking, coloring, tweaking. This is not a tablet job. Take a look at some of the progress photos: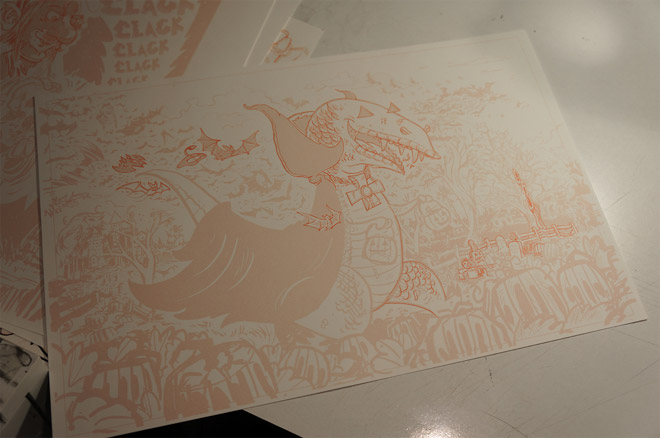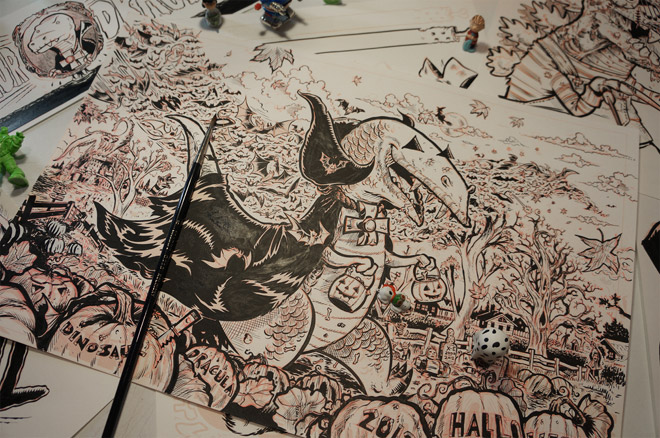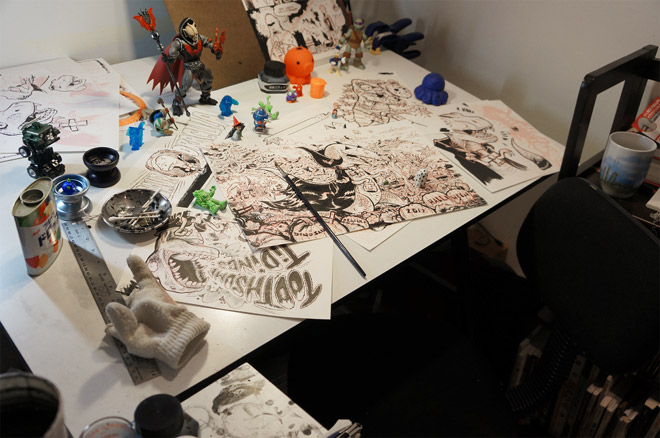 It really became a passion project for us both. I think we have something good, here!
Q: Anything else?
A: When you get your print, be sure to inspect it closely! There are tons of little references strewn throughout the landscape. Some obvious, some almost entirely hidden. I just dare you to try to locate the "Giant Ape Juice" reference, for example. There's a LOT to look at.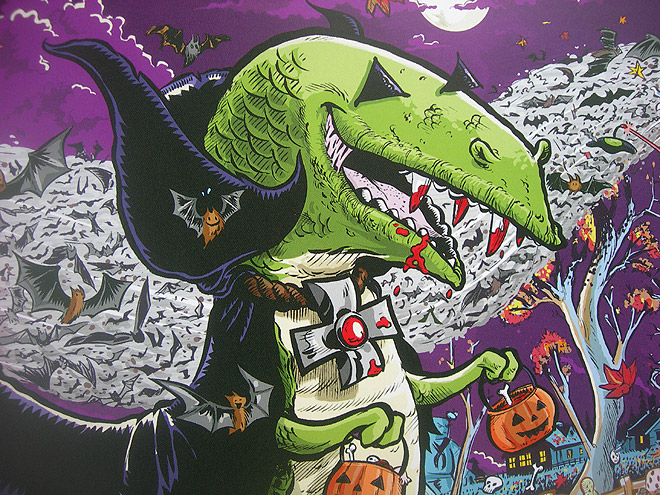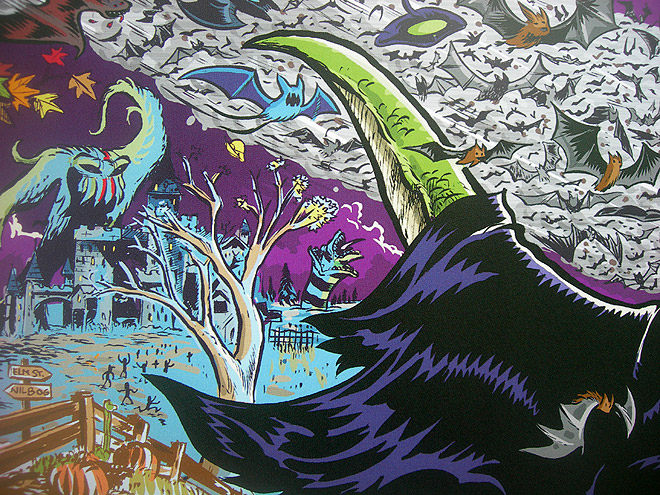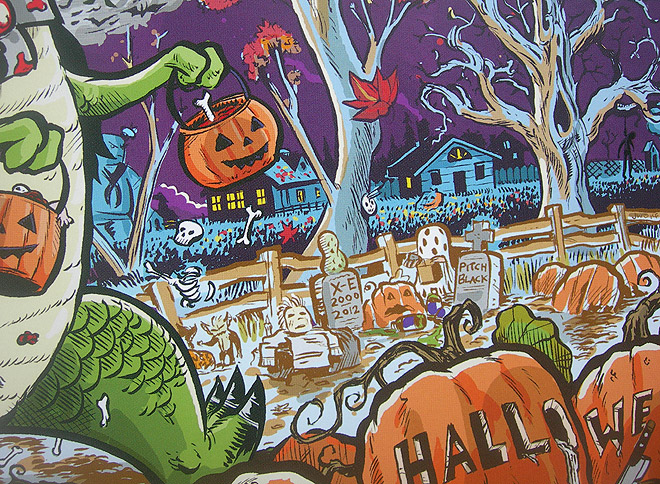 Thanks for supporting the site!