Attack of the Vending Machine Toys!
dsdsdd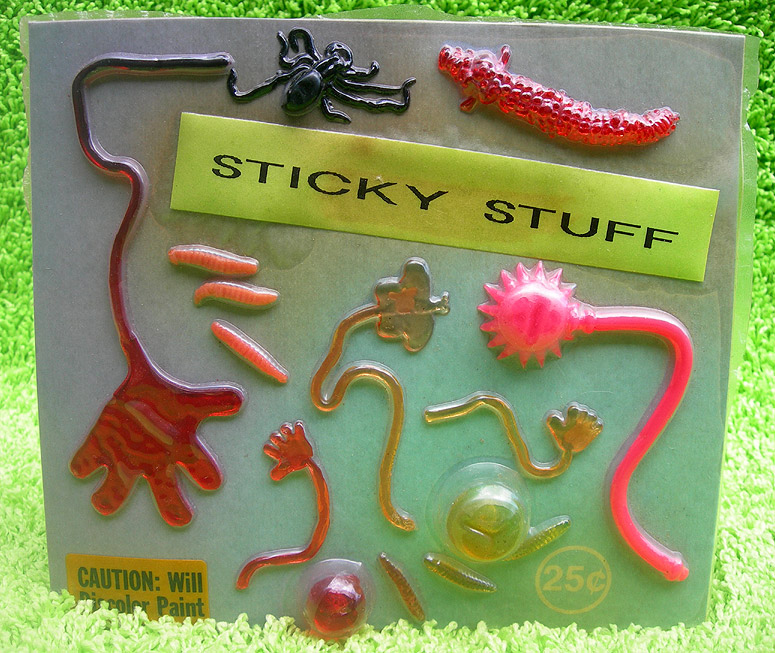 DINOSAUR MUSEUM:
Ooh, this one is good. The brick red card design would grab eyes even if it didn't have a bunch of dinosaur bones stuck to it.
The prizes are a group of dinosaur skeleton figures – even the mighty plesiosaur — along with one "regular" dino who has not yet suffered the loss of flesh. Despite the bone-to-skin ratio suggested by the card, I imagine that you were just as likely to get regular dinosaurs as the cooler bony versions.
(I have too much experience with vending machine toys; I always assume the worst.)
The weird thing? They don't really appear to be based on dinosaur skeletons. Not exactly, anyway. They look more like those dinosaur skeleton model sets. You know, the kind you buy in a museum gift shop? When they're all out of rock pencils and astronaut ice cream?
Somehow, that makes 'em even cooler. Things based on things based on things are better than things based on things. Think that's a Cato quote.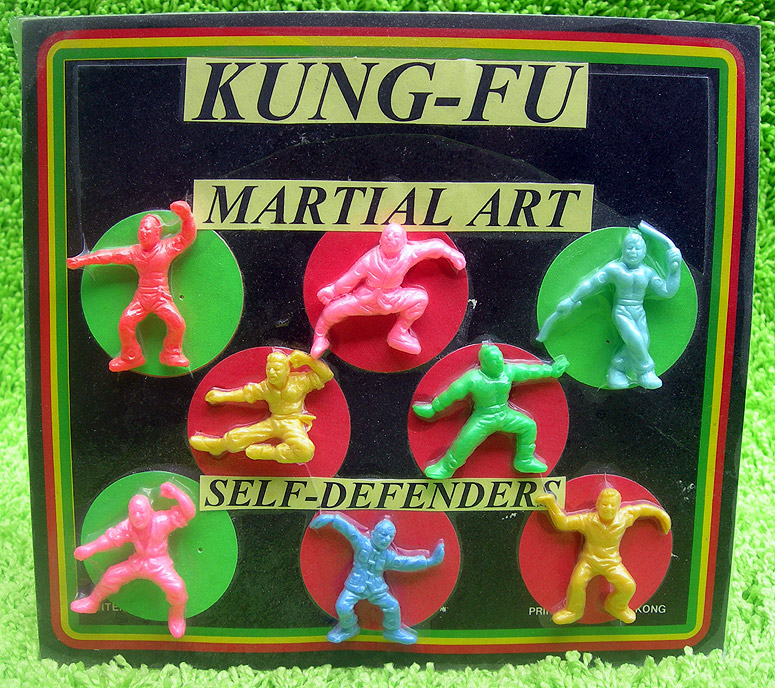 KUNG FU MARTIAL ART SELF-DEFENDERS:
I'm confused by this "SELF-DEFENDERS" thing. What are they driving at? I guess the implication is that these kung fu warriors are in it for themselves. They will not fight your battles, because how else will you learn?
They're just little kung fu guys in bright colors, or at least, that's all they are upon first glance. A closer inspection reveals a confidence boost for everyone who ever doubted their own potential to learn "martial art."
See, for every spin on Bruce Lee, like this guy:
…there's an "everyman" character, like this guy:
Just a husky white dude in jeans and a polo shirt. If he wasn't packaged next to so many ninjas, I'd just take him as the invasive drunk at a bad family party. If he can do kung fu, anyone can. Even that red idiot on the upper left. The one who can't even fully commit to the patented chicken pantomime.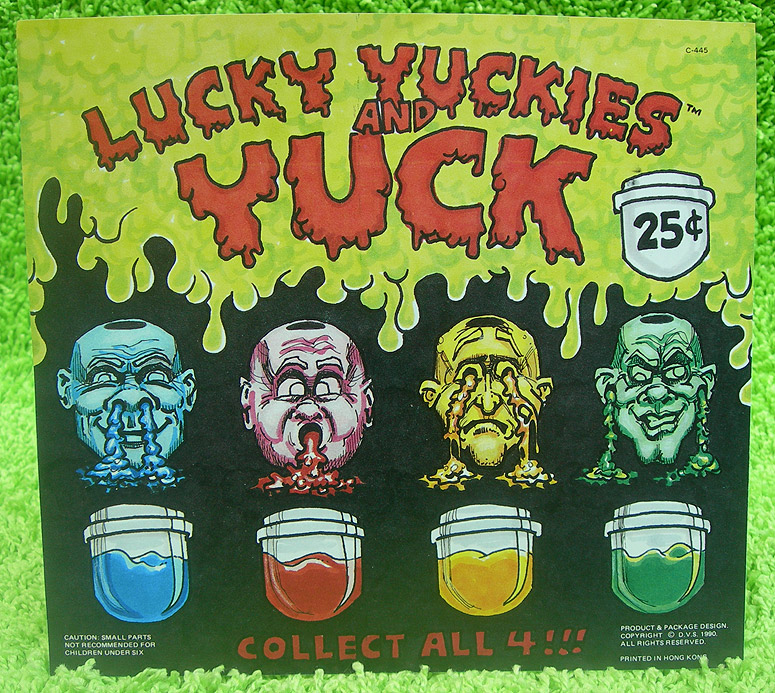 LUCKY YUCKIES & YUCK:
I don't have the prizes for reference, but the display card alone makes this a worthy inclusion.
My best guess is that your quarter fetched a small capsule of slime, OR a plastic "Little Yuckies" heads — which were apparently hollowed out to allow slime to ooze through various orifices. Genius.
It's possible that you got a monster head along with some slime, but that sounds like a crazy deal for one measly quarter. Too good to be true.
I dig how effective this is in making a big deal out of the "smaller" slime capsules. Toy slime was typically sold in two types of plastic eggs: The big ones, and the small ones. The big ones were more famous, and before everyone started charging fifty cents for them, it seemed pretty stupid to buy half the slime for the same price.
But marketing the "smaller" slime capsules this way turned them into something else. Something better. Something that could make a bald blue oaf discharge wads of cornflower snot. Love it.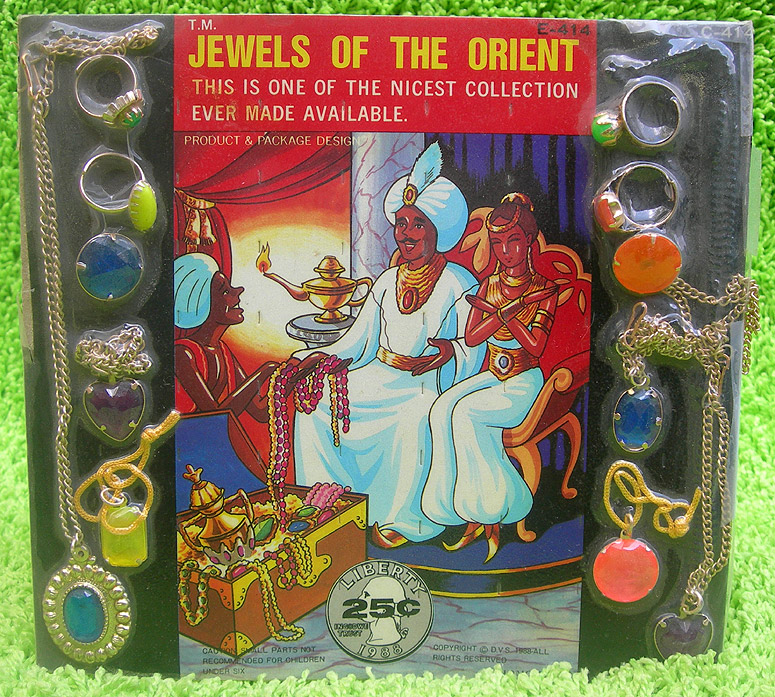 JEWELS OF THE ORIENT:
Call me crazy, but dark-skinned guys in turbans do not scream "Orient." It may be geographically acceptable, but it still feels off. I've been too misinformed by old comic book villains.
"This is one of the nicest collection ever made available." Short an "s," but not on confidence.
The card motif really brings it all together. Junky plastic jewelry is a vending machine staple, too common to be exciting. Yet, when presented as found foreign treasure, everything in the set seems like true gold.
I could totally see the kid version of me being into this, even if the kid version of me would've known better than to wear heart-shaped necklaces out in public. I had enough trouble staying punch-free, what with the haircuts, lisp, and a batting stance that looked something like a transitional move in the Paso Doble.
I wouldn't have worn the stuff, but I still would've collected it. I'd have treated the jewelry like priceless artifacts, and kept them hidden inside a VHS clamshell case.
That sounds like ten minutes of sheer joy. Baby, that's worth a quarter.