Attack of the Vending Machine Toys!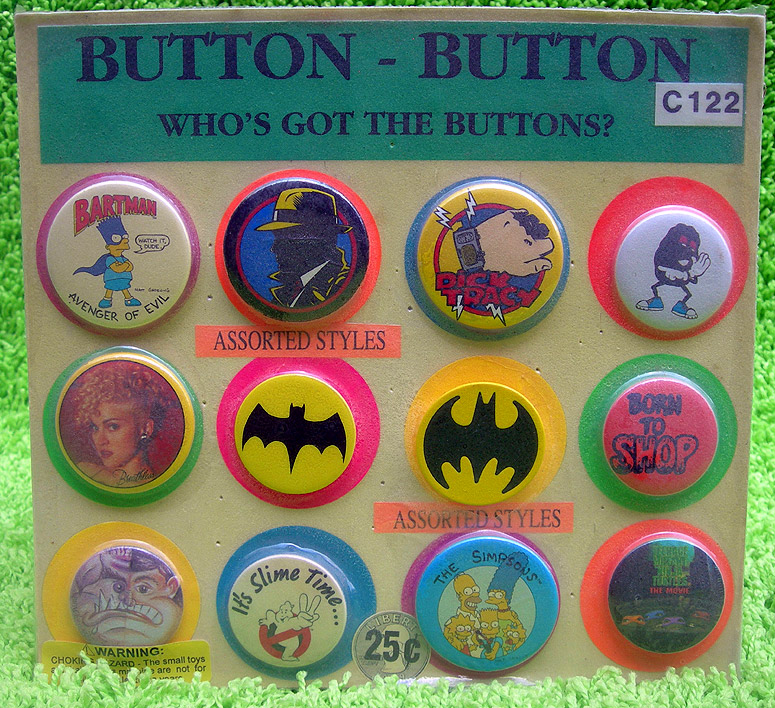 BUTTON BUTTON:
This is just tremendous.
You'd need to be in a certain age bracket to get it, but this assortment is just such a perfect window into the most gleefully geeky portion of my childhood. All that's missing is a Gremlins 2 button.
I was infatuated with almost everything represented in this set. Ninja Turtles? Of course. Dick Tracy? Yup. Ghostbusters II, The Simpsons and Batman? You betcha.
These weren't things I just "liked." I was obsessed with this stuff. Completely obsessed. Flames on the side of my face.
The only "bad" button in the entire collection is that "Born to Shop" one, but I don't mind it. Vending machines are supposed to be a gamble. There's no thrill if you're in no danger of getting screwed. At least with this, I have great odds. There are eleven buttons I'd be okay with, and only one that'd cause me to set fire to the vending machine.
Knowing when the films and shows debuted, it's easy to pinpoint the set as a 1990 release. I guess I would've been aiming for the Bartman button, but not because it was my favorite.  The Simpsons was new and fresh, and wearing Simpsons stuff was an easy ticket to schoolyard superstardom.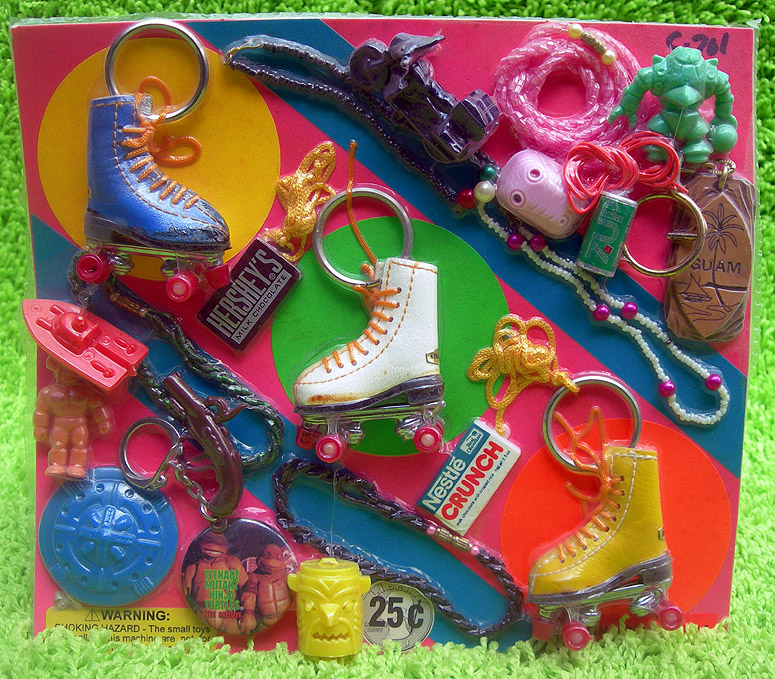 RANDOM TOYS:
I'm not sure where to start with this one. The roller skate keychains? The candy bar charms? That slab of balsa wood celebrating Guam?
It's like one of those personality tests. Wherever your eyes land first says everything about you.
Mine darted for the angry yellow Tiki god. I take this to mean that I have unrealized talent in spearing fish.
Maybe it's better to skip the individual parts and look at this as a sum. That's the real appeal of the spread. These "random toy" vending machines are a classic, and they're still rocking today. Lacking a central theme and looking like the not-sock drawer of an eleven-year-old, assortments like this were an absolute crapshoot.
To say that you had no idea which prize you'd get is saying too little, because that's true for most vending machines. With this, it went to the extreme. Aside from the featured prizes, it's probable that there were dozens of other possibilities hidden in the capsules. It's even possible that NONE of the featured prizes were actually in the machine!
(ahhh gif)
It was all about managing expectations. You may have yearned for a tiny-sized Nestle Crunch charm, but you had to be reasonable. You were just as likely to get the Guam keychain.
And being reasonable? That's easier said than done. I'm living proof, because there's something in here that I would've wrestled a live cobra for:
A bootleg M.U.S.C.L.E. figure! See, that's even better than a real one. I could've gotten real ones at any toy store. God, I would've carved out and pressed my own kidneys into the slot if it guaranteed me a bootleg M.U.S.C.L.E. figure. What else was I going to use that Swiss knife for? I was seven; I didn't need to uncork wine bottles.
Course, I'm sure I would've gone home with the one-inch plastic speedboat. Then, I'd cry. And since the boat was so small, my tears would serve as its ocean. A minor miracle, right in my lap.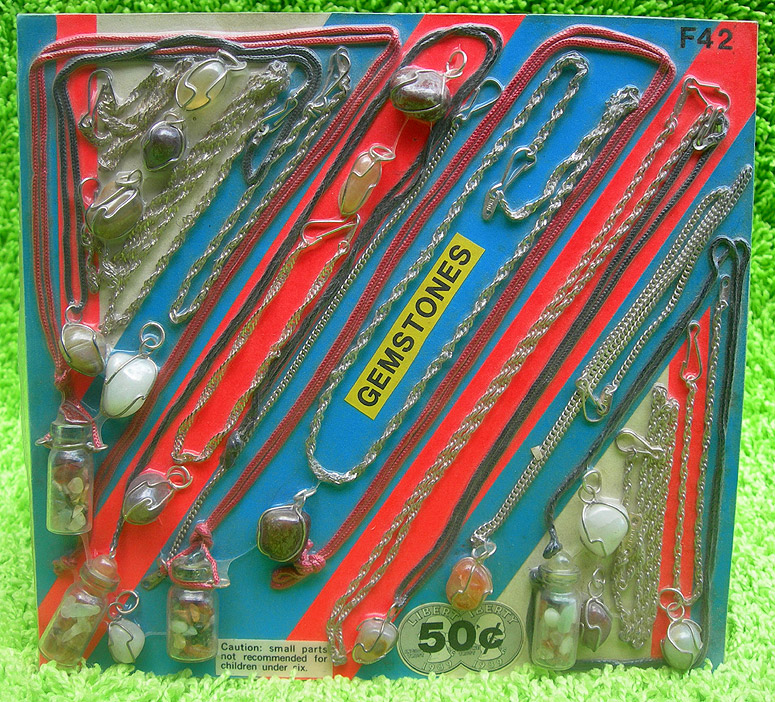 GEMSTONES:
Fifty-cent vending machines are the norm nowadays, but back then, they needed to have something special.
I can think of no better word to describe polished rocks than "special."
I wasn't some big rock collector, but I was a rock enthusiast. The Nature Store is one of my all-time favorite fallen shopping mall icons, and it's all because they sold so many rocks.
And quartz crystals? Forget it. For a time, I loved the things so much that I strongly considered going Wiccan. It didn't pan out, but I still admire any faith that encourages people to carry quartz crystals everywhere.
Best of all, if the card was an accurate portrayal of everything in the machine, there wasn't much in the way of junk prizes. It's all good stuff.
Still, there were certainly chasers in the set. Those tiny glass jar pendants filled with even tinier gemstones were the obvious things to aim for. They're unbelievably cool, and they had so many conceivable purposes. You could wear them, or ditch the necklaces and use the jars as enviable action figure treasure. And I assume that's just for starters.
This is one case where I would not have gone home without my desired prize, no matter how many quarters it took. Tiny jars full of bright stones? That's worth fighting for.
If Mom didn't have any quarters left, she'd really need to think things through before pulling the Mom card and making me give up.
Because I so would not forget those jars five minutes later.
Or an hour later. Or a day later.
I would not be right with the world until I had one. And neither would she, because a kid's best form of expression is bitchy whining.
I can't help but yearn for the days when vending machine rocks could be the most important thing in the universe.
Even at my age, knowing that I own this card and everything on it makes me feel so satisfied. Like nothing could ever go wrong again. Kick me, flay me, knock me down. Doesn't matter. I'm going home to lots of little rocks.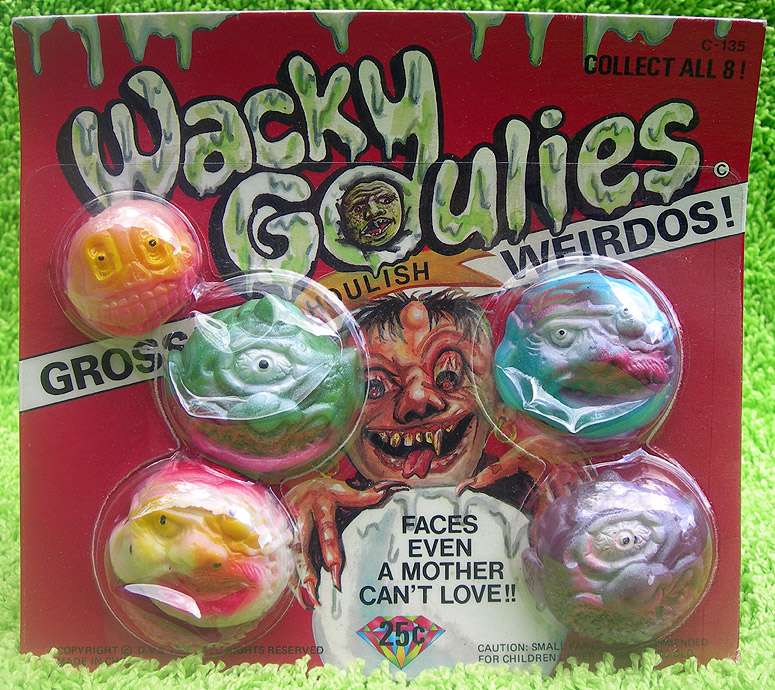 WACKY GOULIES:
This is the big one. The vending machine prize assortment that told me, flat out, "You must construct a giant website feature about vending machine prize assortments."
I must do this right. Coffee and pot until I'm Dickens II. Wacky Goulies deserves it.
The prizes were inarguably based on Madballs. It wasn't just hinted at. They may not be balls, but those are Madballs. Hornhead, Slobulous and all the rest.
I've barely scratched the surface with Wacky Goulies, and they're already batting 1000. Or however you say it. Baseball something-something.
Knockoff Madballs were all over the place in the '80s. I don't think it had so much to do with their popularity, because even if a lot of us owned them, it isn't as if Madballs was ever the hottest thing going. It was more likely due to them being insanely easy to rip off.
Foam monster balls? That's simple. Taiwan could crank out a zillion of 'em before finishing their morning ablutions.
While I'm way familiar with bootleg Madballs, these are different. They are not balls. They're…
Well, I don't know what to term them as, but they stick to windows!
X
Each Wacky Goulie is essentially half of a Madball, with a rubber suction cup taking the place of the rest of its head.
They stick to things. The give glass class. And they were an unfathomable bargain at a quarter a pop.
Think I'm through talking them up? WRONG.
As the "Wacky Goulies" title proves, the collection didn't only ape Madballs, but the Ghoulies movies, too! Yes! I love the Ghoulies movies, but they were pretty obscure. I can't believe that anyone would think to use Ghoulies for fast recognition.
But I'm not complaining.
See that disgusting creature up there? Notice how he's hiding behind some orb-like white thing? That's clearly based on the "toilet shot" from Ghoulies videocassette box.
Okay, let's review!
– A bunch of monstrous window clings based on Madballs.
– A product title and card design based on Ghoulies.
– Me, holding up a scorecard with the number 10 on it, scrawled in my own blood as a tribute.
I hope you didn't skip around and start reading this feature here, because it isn't going to get better.
It can't.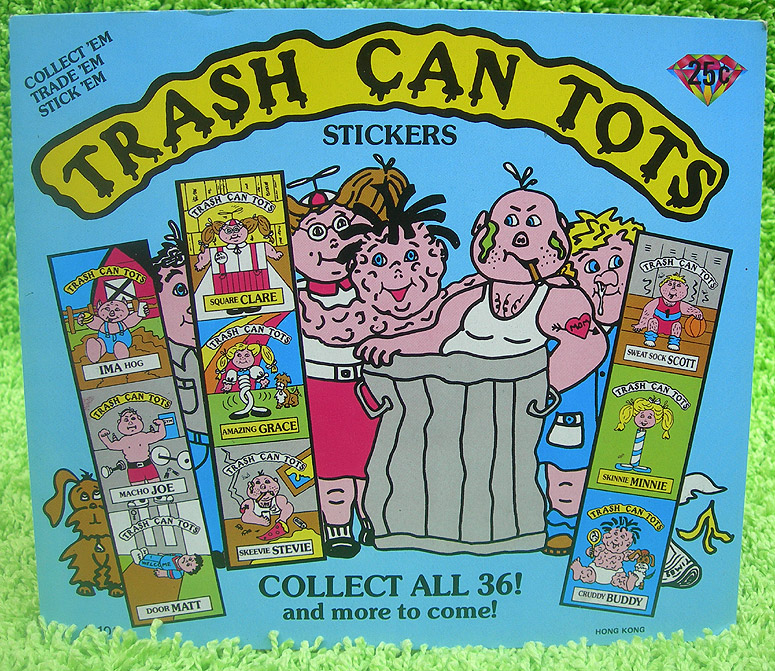 TRASH CAN TOTS:
Trash Can Tots were an absolute Garbage Pail Kids rip-off, with the same focus on baby-faced freaks with all manner of impossible deformities. The difference with these stickers was…well, not as much thought went into them.
Like, there's this one character named "Square Clare." Her body is a…square. She looks like she was drawn by a blind six-year-old who had a passing interest in Garbage Pail Kids.
Interestingly, while most of the Trash Can Tots characters could be considered "gross," none of them came close to that famous GPK level of depravity.
And for that, I'm thankful. I loved Garbage Pail Kids, but they really did freak me out. I didn't find them cleverly twisted: I was downright upset by them.
I remember collecting them and I remember being really into them, but when push came to shove, and I was sitting alone with piles of bleeding, vomiting children who sometimes bore bird feet, it was all so uncomfortable.
I'll never forget the day it came to a head. In grade school, a rumor about Garbage Pail Kids cards being bad luck spread like wildfire. Many of us took it to heart, ditching our collections at the first opportunity. For me, it was only the excuse. As I tore the stickers off my bedroom wall, I realized that I never really liked them there, anyway. Bad luck aside, the things were just ugly.
If nothing else, Trash Can Toys were a bit, uh, "nicer."
Plus, one of them was named after me!
X
Figures. In a sea of really bad GPK rip-offs, mine is the really baddest of 'em all.
Or maybe that was Macho Joe?
X
I don't understand Macho Joe. There's nothing gross, weird or disturbing about him. He's just a kid who works out. What's the big deal?
EDIT: Oh, now I see the big deal. Look close and you'll note that Macho Joe's muscles are represented as short stacks of fleshy pancakes.
Okay, he's fine.
X
But my favorite Trash Can Tot? Gotta be Cruddy Buddy. He looks like the ugly baby version of a Ferrero Rocher.