If you didn't hear the news, IHOP just unleashed a special SPOOKY menu in celebration of the new Addams Family movie, which hits theaters on October 11th. I'm pretty sure I'll be seeing the movie, but I was 100% sure that I'd be eating purple pancakes within 12 hours of IHOP's announcement.
And, well, mission accomplished: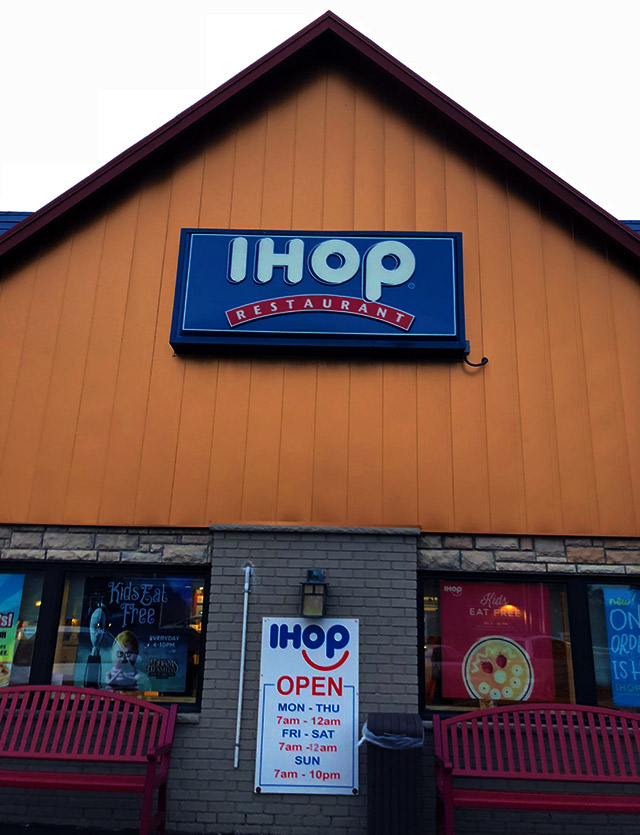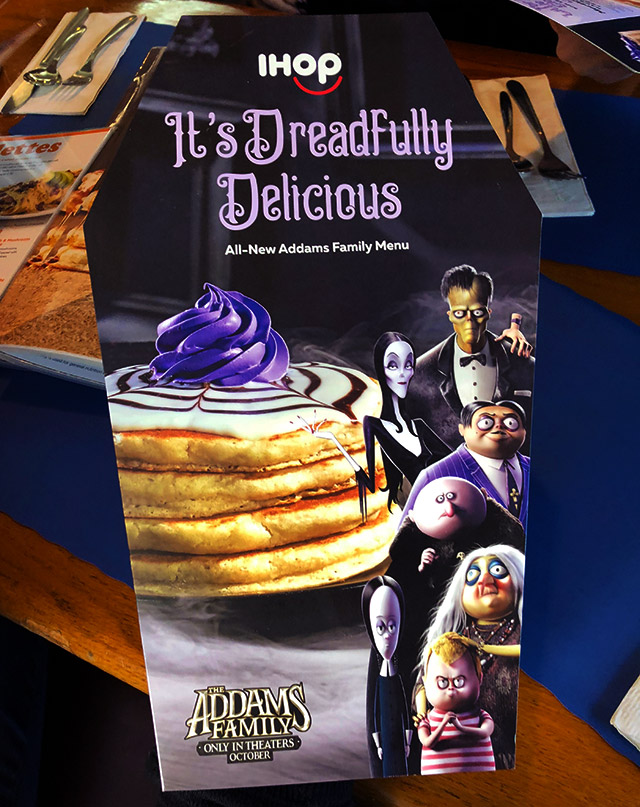 We picked the perfect IHOP for this. It was tiny, empty and had so much wood paneling. They even decorated for Halloween, lining the walls with crude bats made from black construction paper.
The special Addams Family menu is a laminated, coffin-shaped beauty that I might have possibly stolen before we left. As for what's available, it's mostly a reskin of what IHOP did for last year's Grinch movie, meaning pancakes, hot chocolate and an omelette that's big enough to be genuinely disquieting.
I went with Jay, and there were four of us total at the table. We all wanted to try the spooky treats, but nobody was down to turn this into a 5000-calorie extravaganza. Instead, we each ordered "normal" meals, and then sampled from communal plates of the various purple monstrosities. Good thing IHOP was empty: The sight of four people forking at one plate of pancakes must've been something.
We skipped "Gomez's Green Chile Omelette" partly because we didn't want to waste food, and partly because it looked like an inside-out pig mixed with a beached whale. But we tried almost everything else: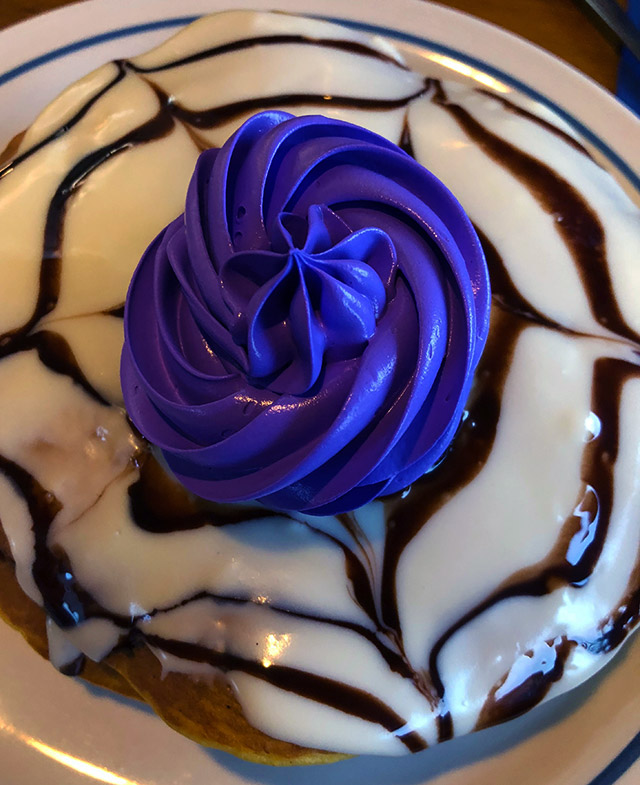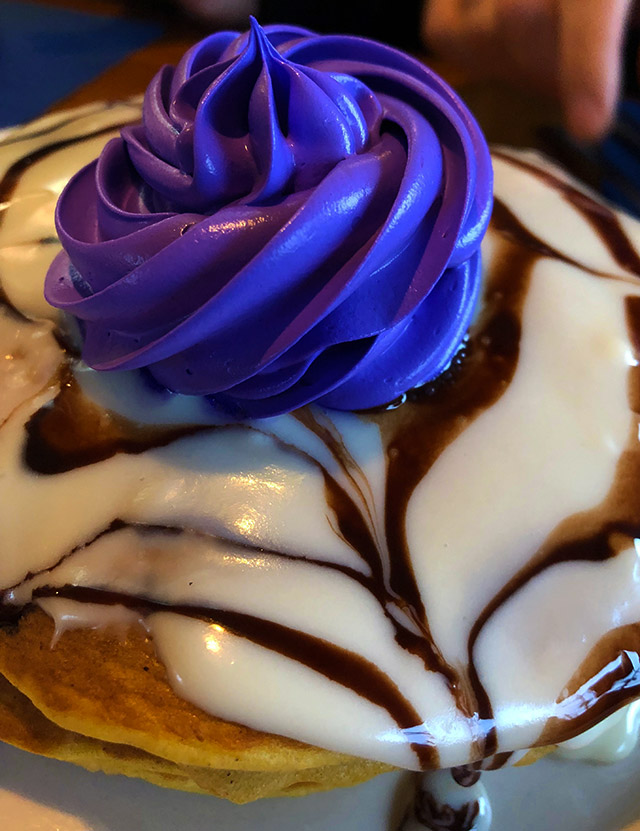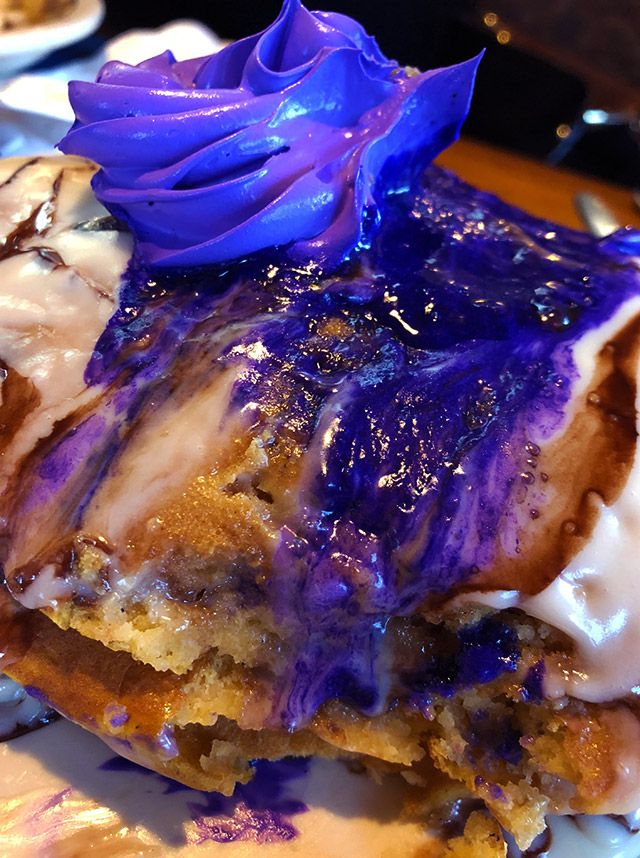 First we have Wednesday's Web-Cakes, which are buttermilk pancakes smothered with cupcake icing and chocolate syrup, and then topped with the world's hugest dollop of "violet whipped topping."
Since IHOP is also selling pumpkin pancakes, Jay got the idea to request an upgrade. We had to pay extra for it, but if your IHOP is willing to cooperate, it's so recommended. Really makes everything taste more "seasonal," and not just like a big pile of birthday cake.
The pancakes are beautiful, with drizzles of chocolate syrup forming a neat spider web design. The art falls to pieces once you start eating it, of course, but it's still kind of gorgeous even after you wreck it. Picture Grimace at the beach, and then picture some unseen enemy nailing him in the gut with 15 missiles.
All that said, the pancakes are sickly sweet. Like to the point where this felt much more like a dessert course. IHOP claims that the whole plate is 680 calories, but I have my doubts. This felt like 1000+, easy. They're tasty as hell, but I'd recommend splitting them with a friend or three.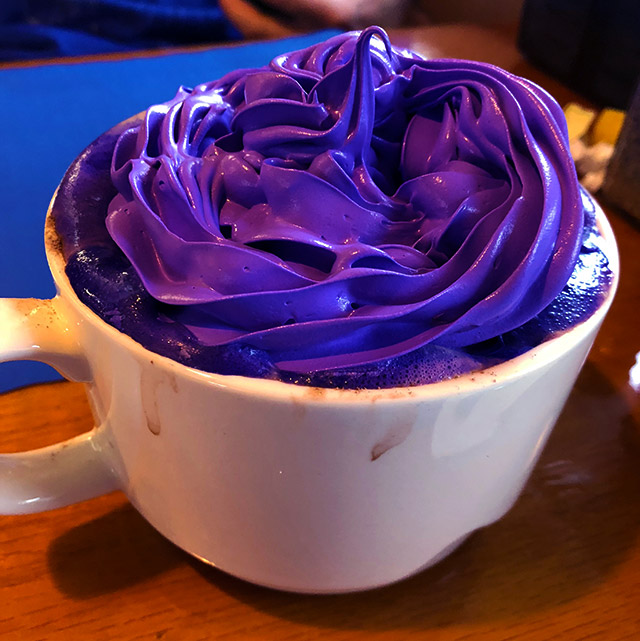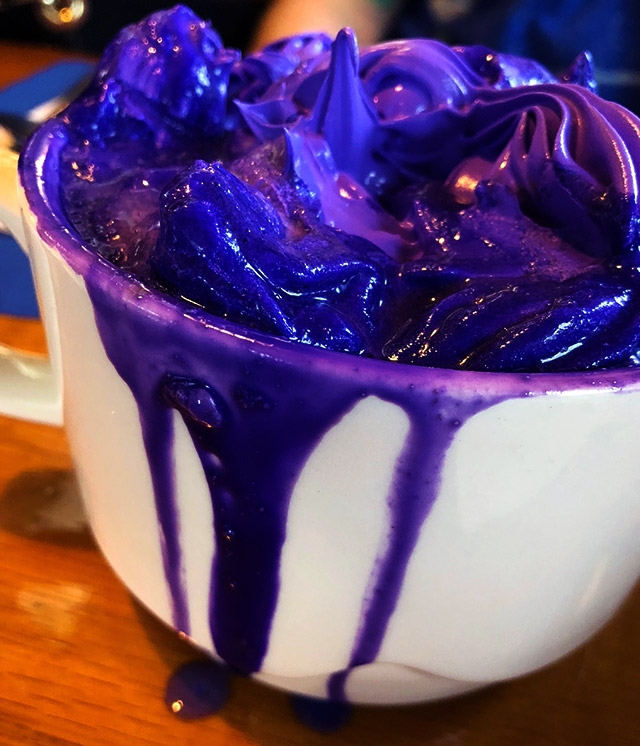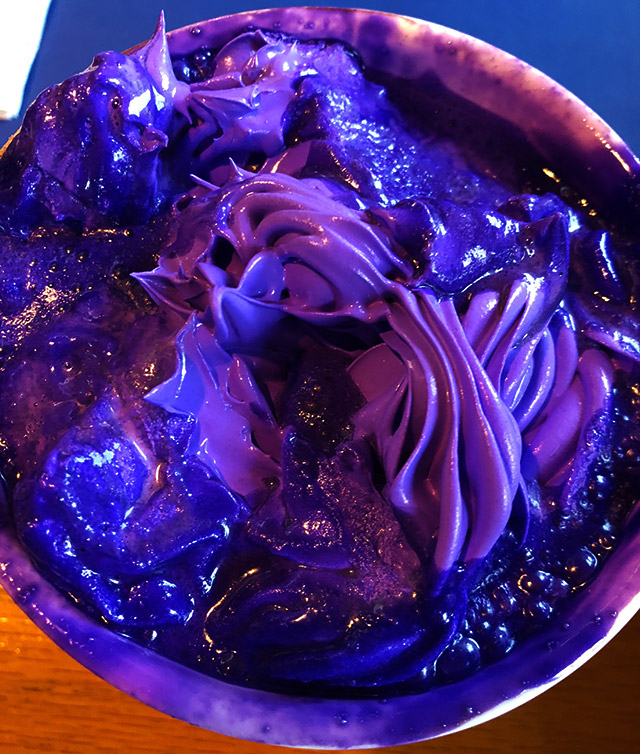 Next up is Morticia's Haunted Hot Chocolate, which reuses the same "violet whipped topping" as the pancakes, though somehow in even greater quantities. There was enough purple goo in that one cup to paint my bedroom closet.
My first thought was that it very strongly resembled Manic Panic hair dye, and I got so lost in funky hair memories that I was the last one to take a sip. By the time I was done, we were a quartet of purple lips and purple noses. Like straight out of the pie scene from Stand By Me.
The chef forgot to add chocolate syrup, but this was still delicious. Lord knows what IHOP does to their hot cocoa, but every time I try it, I'm ready to have children. I also appreciated how ghoulish this looked. We wanted to have a "Halloween meal," and a cup with streaks of purple slime running down its side helped delivered on that front.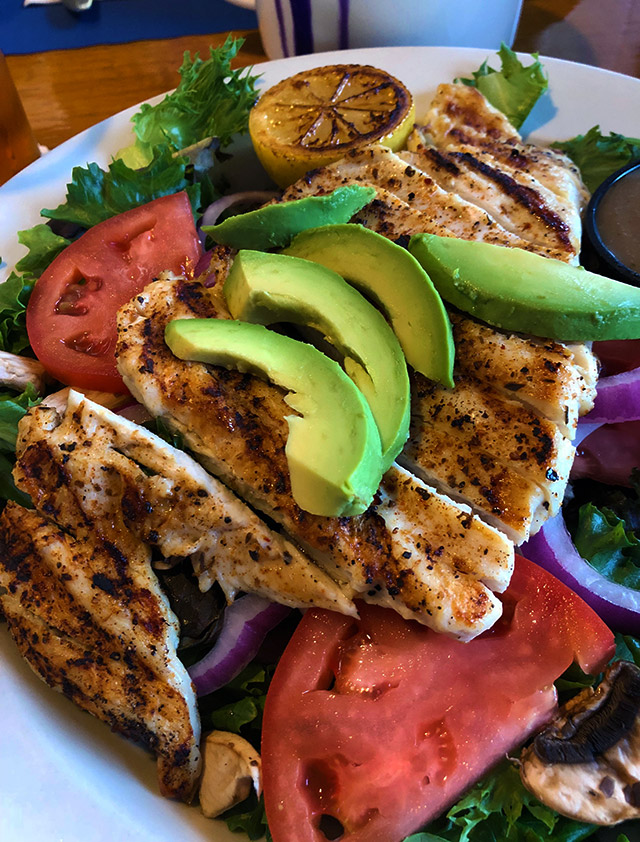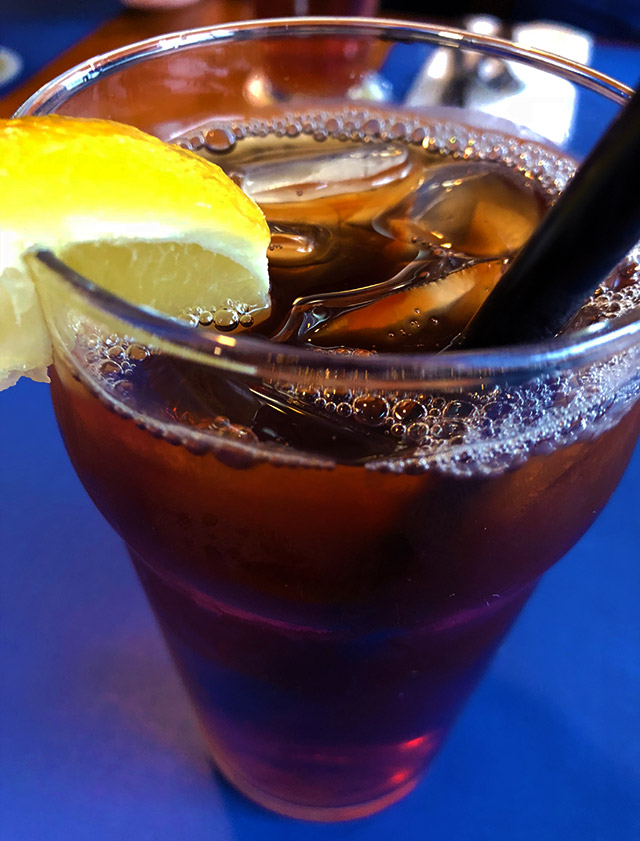 Lastly, here's IHOP's Grilled Chicken & Veggie Salad. No, it's not part of their Addams Family menu. This was my "regular" food, along with the requisite glass of unsweetened iced tea, because it's literally illegal to not order unsweetened iced tea at anything that even remotely qualifies as a diner.
Aside from the giant scary omelette, the only other thing we didn't try was "Uncle Fester's Chocolate Ice Scream Shake," since it was basically a cold version of the cocoa. Overall, we were thrilled. The pancakes were pretty, the hot cocoa turned my lips purple, and the unrelated salad came with an entire half of a roasted lemon, which is now something I will demand from all salads.
Mostly, though, we were in this for the experience. We'd normally never dine at IHOP without some strange food to draw us there, and a night spent eating purple things at a chain restaurant covered in fake bats was just the best possible Halloween outing. Make time for it, if you can!
On the ride home, we listened to Drive to Santa Mira from the Halloween III soundtrack. So yeah. Perfect night.