Welcome to the fourth edition of 2021's Best Halloween Junk Food, which isn't even gonna be the last one. I'll need the benefit of hindsight to be sure, but I can't remember another year when we got sooo much great stuff. From a foodie perspective, this has gotta be in the running for Best Halloween Ever.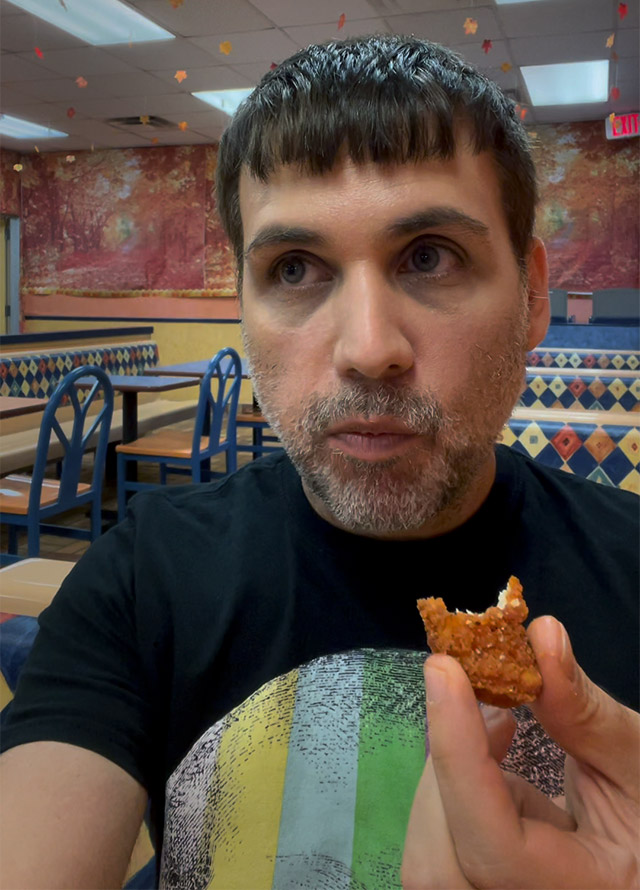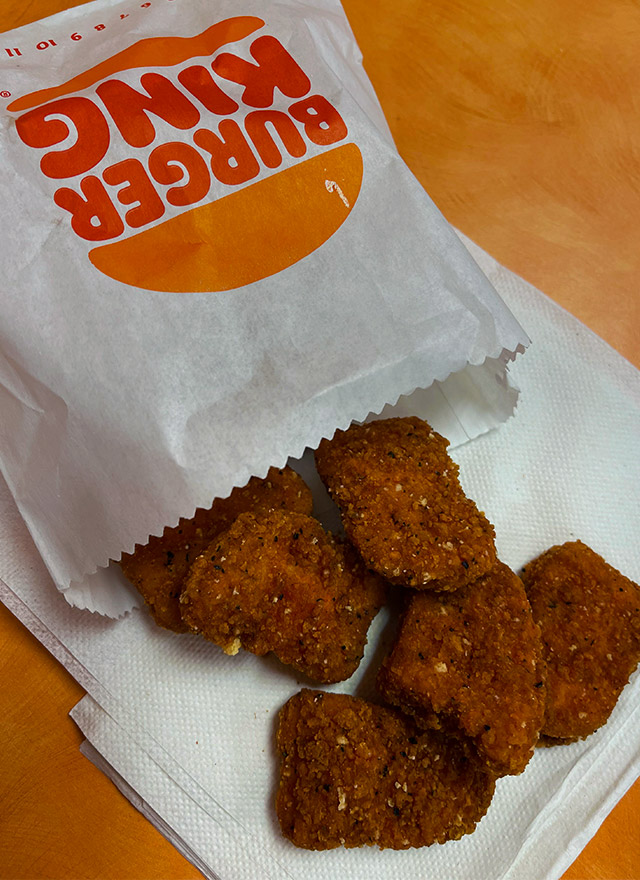 Ghost Pepper Chicken Nuggets!
(Available at Burger King)
Even without any special packaging, Burger King's Ghost Pepper Chicken Nuggets might be my favorite food of the entire Halloween season. They're that good!
The heat isn't daunting, exactly, but it's pretty severe by fast food standards. It's that sneak-up-on-you kind of heat, too, which leads me to believe that there's some capsaicin extract in the mix, along with whatever "real" peppers the King diced up.
Beyond that, they're just good nuggets in general. Can't remember the last time I had BK's chicken nuggets before this week, but they've evolved into the perfect midpoint between Applebee's chicken tenders and McDonald's McNuggets.
GRADE: A+. I noticed that Burger King is using shadowy ghosts in the online promo images. If those end up in restaurants as window displays, I promise you that I will steal one or die trying.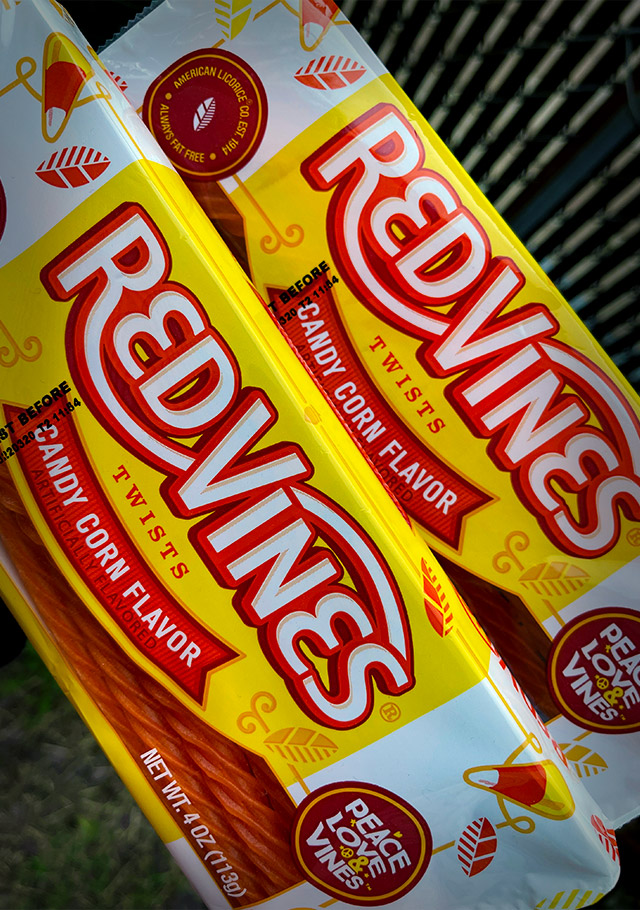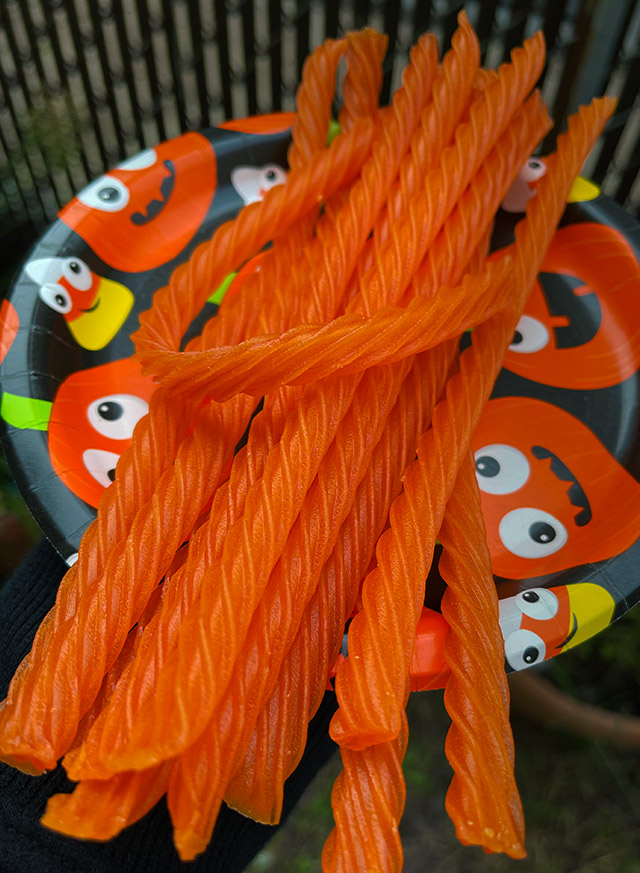 Candy Corn Red Vines!
(Found at Michaels)
While the smell is 100% candy corn, the flavor is more of a pure caramel, or maybe even a cream soda. As I'm not exactly fond of candy corn, I can't say that I was hoping for better accuracy.
And like, I'll eat them, but this one's really about the presentation. God knows what sort of alien food dye Red Vines imported from Jupiter, but it's blessed this candy with the most amazing shade of orange. It's like someone cut off Wendy's pigtails and turned them into licorice.
Also digging the wrapper, which makes such good use of its colors that you don't even notice how little the design has changed from the Red Vines' normal one.
GRADE: B+. While we're on the subject, I'd like to formally announce that I am Team Red Vines, now and forever. I enjoy Twizzlers, but it's not even a close race.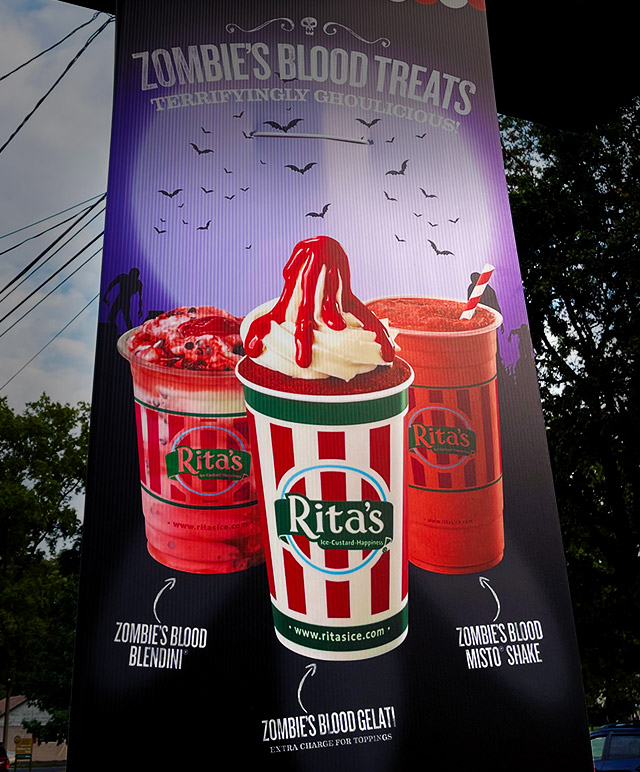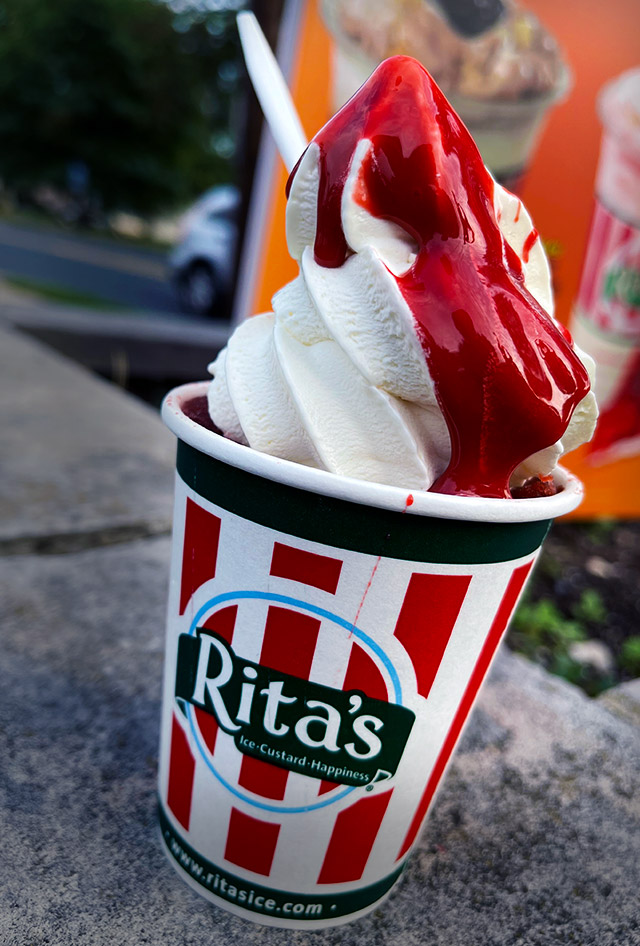 Zombie Blood Gelati!
(Available at Rita's Ice)
Rita's has a trio of limited edition "Zombie Blood" treats, but this gelati is the clear leader — and by far the most picturesque.
If I can believe Jay, it's just a modified version of Rita's normal cherry gelati, which blends cherry ice with a bit of creamy custard, and then tops the whole thing with more custard. What separates this version is the addition of a blood red syrup that tastes like an extra-tangy Hawaiian Punch.
There are Rita's locations on both coasts, but you'd still have to classify the chain as "regional." If you don't live near one, I feel awful for you, because this is just the latest in a long string of irresistibly goofy shit. (Over the summer, they put out a slime sundae that was even cooler than this!)
GRADE: A. Rita's isn't the first place you think of when the weather cools and the hoodies come out, so I gotta give 'em props for muscling into the Halloween scene. All it took was some murder syrup.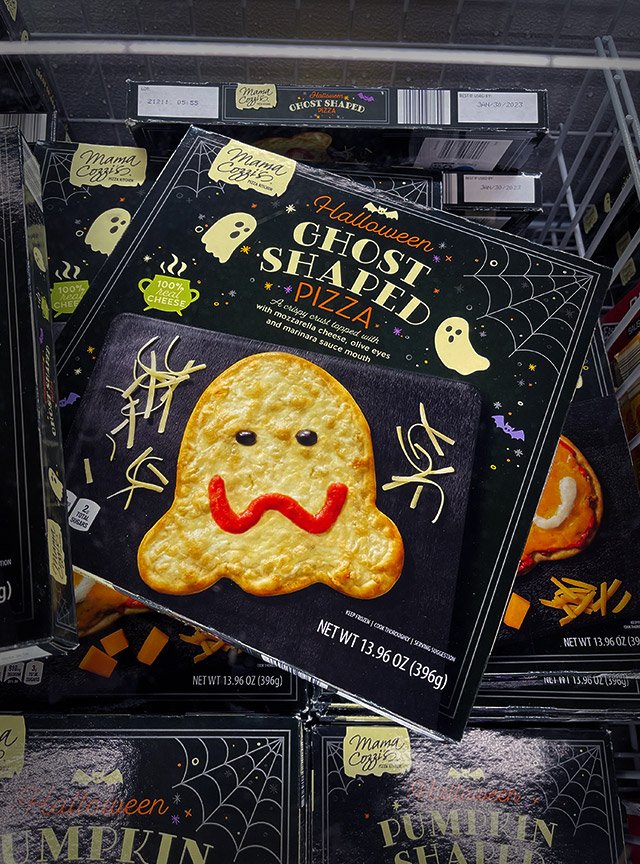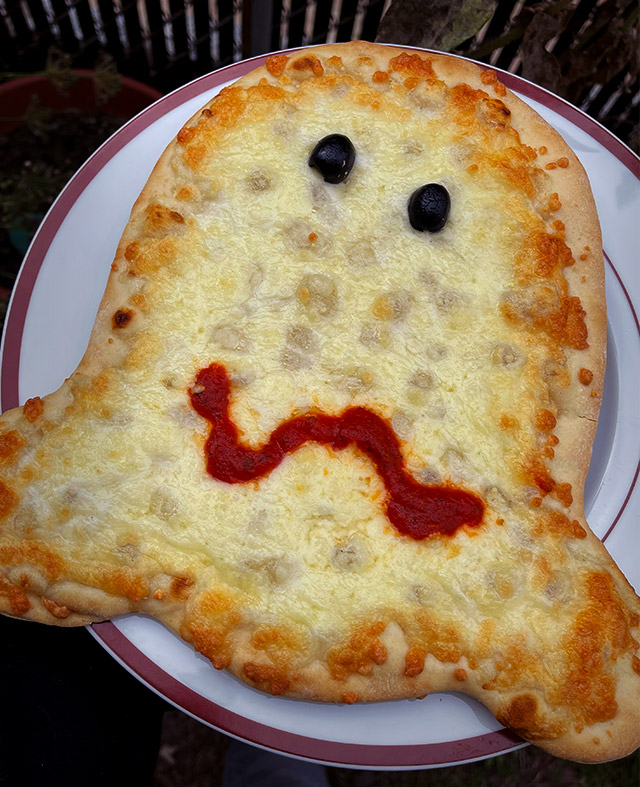 Halloween Ghost-Shaped Pizza!
(Available at Aldi)
Man, Aldi is KILLING it this year. I could easily do one of these articles just with stuff from Aldi.
For starters, lemme give it up for this Ghost-Shaped Pizza, which is damn near perfect by every metric. Halloween novelty pizzas normally rely on a pumpkin shape (which Aldi also carries), so this ghost really pops. I don't even care that it looks more like a nose.
The big surprise, though, is that it's actually pretty good pizza! It's not often that food looks better IRL than it does on the packaging. I was expecting dry cardboard, but what I got only fell slightly short of "real" pizza.
I adore the haphazardness of the eye and mouth placement. Like snowflakes, no two of these pizzas are exactly alike. Compared to the one on the box, my ghost seemed more bashful and innocent. Which of course made me feel extra bad about eating him to death. I dunno, can you even kill a ghost?
GRADE: A. Pizza and Halloween are peanut butter and chocolate, so I'm all-in on this ghost. Tempted to throw a costume party just for the excuse to buy five of his brothers.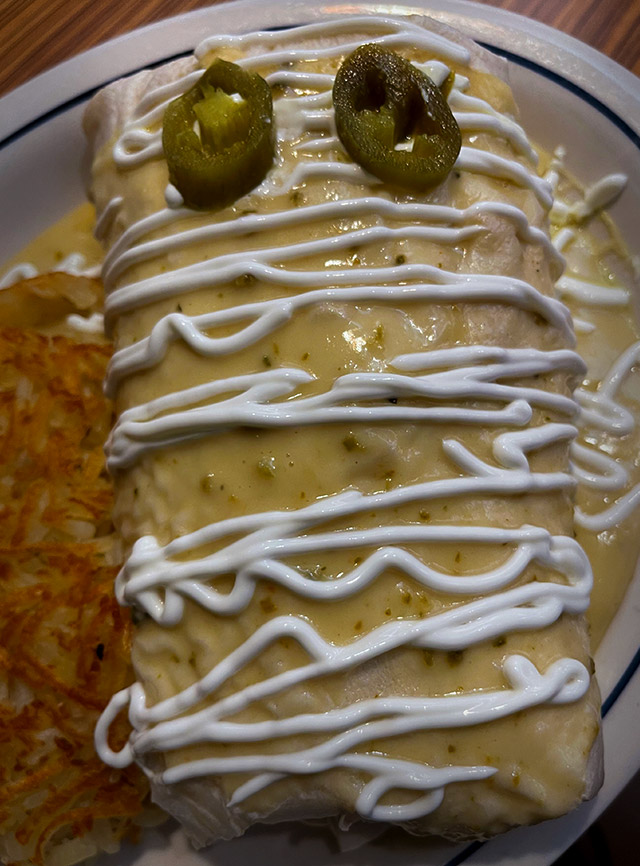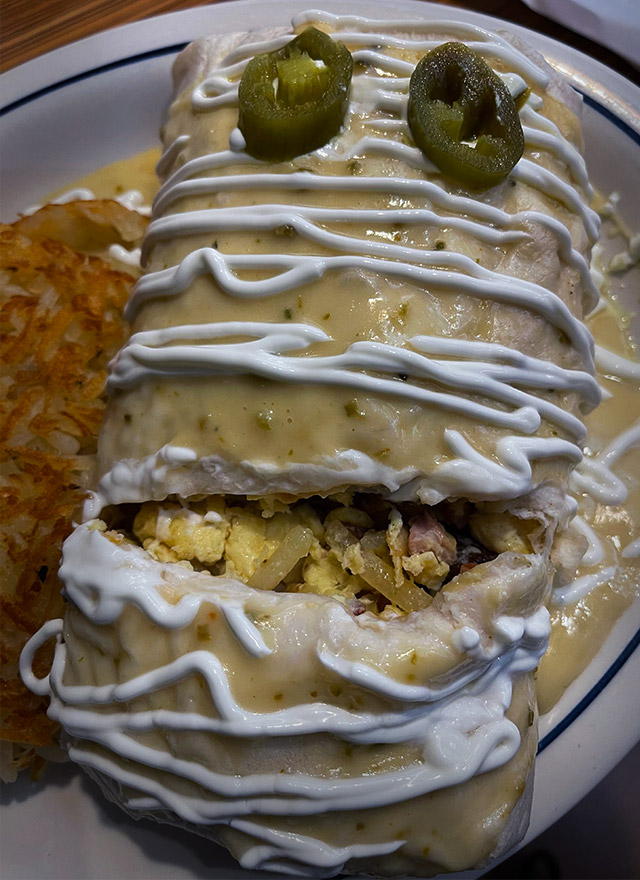 Monster Mummy Burrito!
(Available at IHOP)
IHOP's Halloween menu is enormous this year, but I think the Mummy Burrito is their most noteworthy offering. I can't tell if I find it super cute or totally gross, but if there was ever anything that could be both, it's this.
The burrito is just obscenely huge. It's hard to imagine anyone eating it in one sitting. Stuffed with eggs, cheese, potatoes and like sixteen different meats, the burrito's mummy bandages are made from sour cream, while jalapeno slices act as the eyes.
Can't believe that you get a choice of sides with this. The burrito alone is enough food for three days! Preppers should Saran wrap these and toss 'em into bug-out bags.
If I'm being honest, I can't say that I found the presentation all that appetizing. I made the mistake of cutting my Mummy Burrito a mouth, which made me feel like I was eating food that he'd already eaten himself.
GRADE: B. It's showy and Instagrammable, but you might be better off ordering some of IHOP's Halloween pancakes instead. They've added a Reese's Pieces stack, which smells even better than the spray from Mickey's PhilharMagic.
Thanks for reading! If you missed the three previous installments, they're here, here and here. Also, some of these spooky goodies were procured during a Purple Stuff field trip, so if you wanna hear the stories behind the food, listen to our new bonus ep on Patreon.