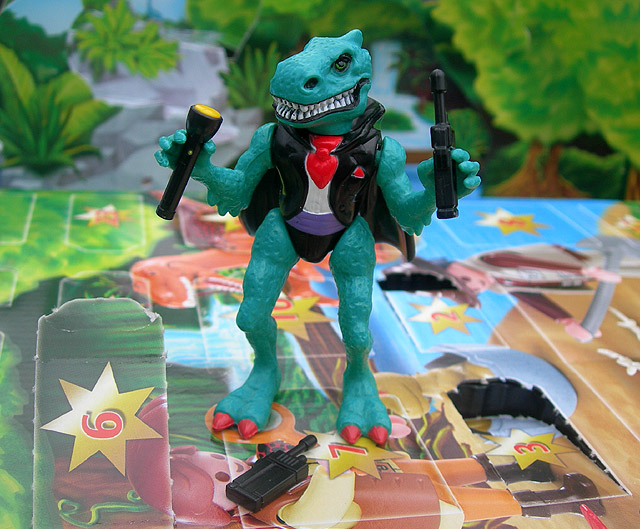 Today's gifts include a flashlight and a pair of walkie-talkies. Hoookay.
They're junky presents, and Dino Drac isn't shy about telling me so. "How am I supposed to make your stupid feature successful with this kind of stuff?"
Hell, I don't have the answers. I don't choose the gifts. I just know that there are real honest-to-God DINOSAURS hiding in some of those boxes, and, let's face it, everything is filler until we start seeing them.
I tell Dino Drac to "wing it." He flaps his arms like a bird. I don't think he's trying to be a dick, though. Dinosaurs have horrible vocabularies, and it's unreasonable to expect mine to know the multiple meanings of "wing."
Finally, he gets the message. He'll try to entertain you as best he can. The words below come directly from Dino Drac, and it's for this reason that I shall present them in a bold red font.
WHAT I NOTICE FIRST IS THAT THIS WALKIE-TALKIE AND FLASHLIGHT HAVE VERY COMPARABLE WEIGHTS. LIKE BROTHERS FROM DIFFERENT MOTHERS. WHAT I NOTICE SECOND IS THAT THE FLASHLIGHT COULD EASILY PASS AS A NOVELTY GOBLET FOR THE GOTHIC SET. I HAVE NOT NOTICED A THIRD THING YET.
It was a good effort, Dinosaur Dracula. You winged like a pro.