One of Dino Drac's very first articles was about Fright Flicks trading cards, released by Topps in 1989.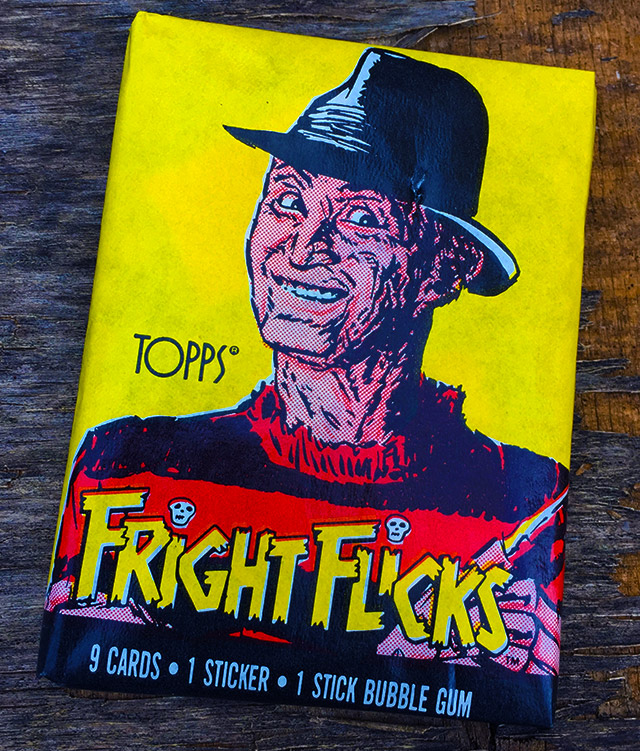 Whereas most of Topps's trading card sets dealt with only one property, Fright Flicks tackled tons of them. A huge pile of classic horror movies were represented, from A Nightmare on Elm Street to Fright Night to Pumpkinhead to Predator. (Even Ghostbusters was in there, because kids who were apprehensive about Freddy Krueger were still so ready for Slimer.)
These were "movie cards" in the traditional sense, where single frames from various films were immortalized in cardboard. Topps didn't pull many punches in the '80s, so a fair amount of them featured truly frightening images with all sorts of gore and gross-outs. Neutralizing them were the goofy captions, which managed to give even the most upsetting scenes an air of comedy… and make them more digestible to kids who were only beginning to cut their teeth with spooky stuff!
Course, I've already written about this. It's not why I'm here!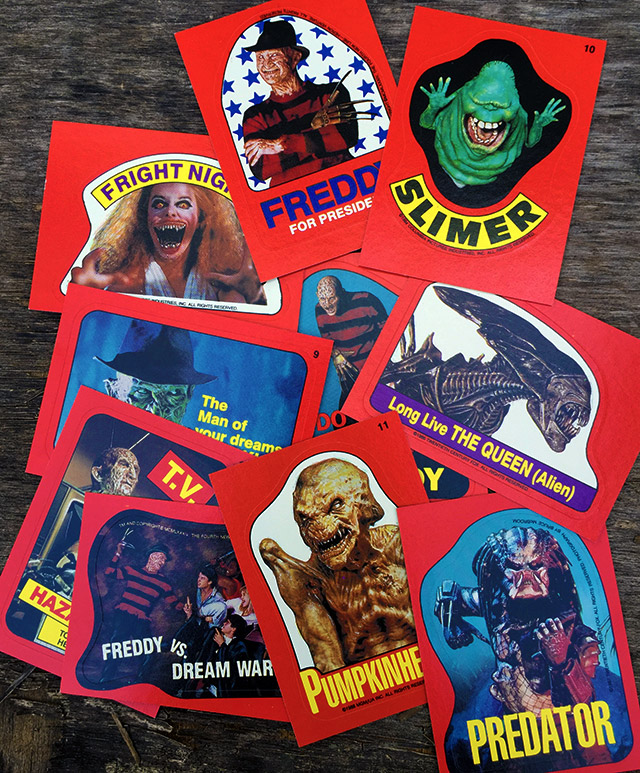 Adhering to the Topps standard, each pack of Fright Flicks cards came with one beautiful sticker. They were the set's biggest draws, looking like the sorts of higher-tech stickers that kids bought individually from vending machines.
I doubt that Fright Flicks cards were very popular in their time, competing against the likes of Batman and the Ninja Turtles. It's safe to assume that a comparative few fans managed to collect all of the 11 stickers, which was tough to do even when you were particularly dedicated. (Remember, only one per pack. A kid could've purchased 30 packs and still not netted all 11 stickers!)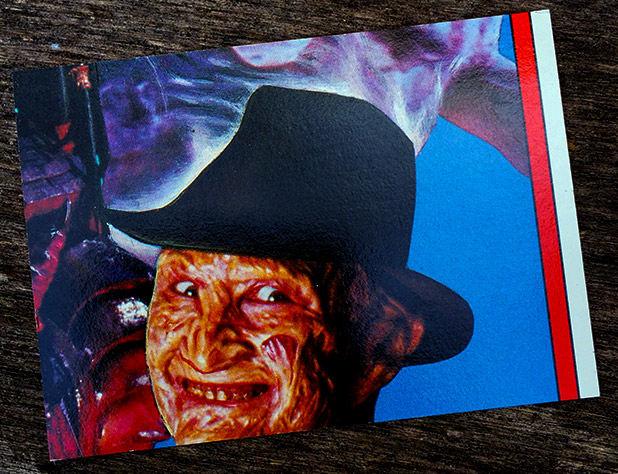 …which brings me to the point of this article.
The back of each sticker acted as a puzzle piece. (Well, ten of them did — the 11th merely instructed you on how to assemble the puzzle.)
That so few fans were able to complete this puzzle is utterly criminal. As was the case with so many of Topps's sticker sets, the completed "puzzles" doubled as posters. With Fright Flicks, Topps created what I still consider one of the very best horror-themed posters ever — an image so damn cool, it's hard to believe it was localized to one obscure trading card set.
Yesterday, I finally finished collecting all of the stickers. The results were phenomenal: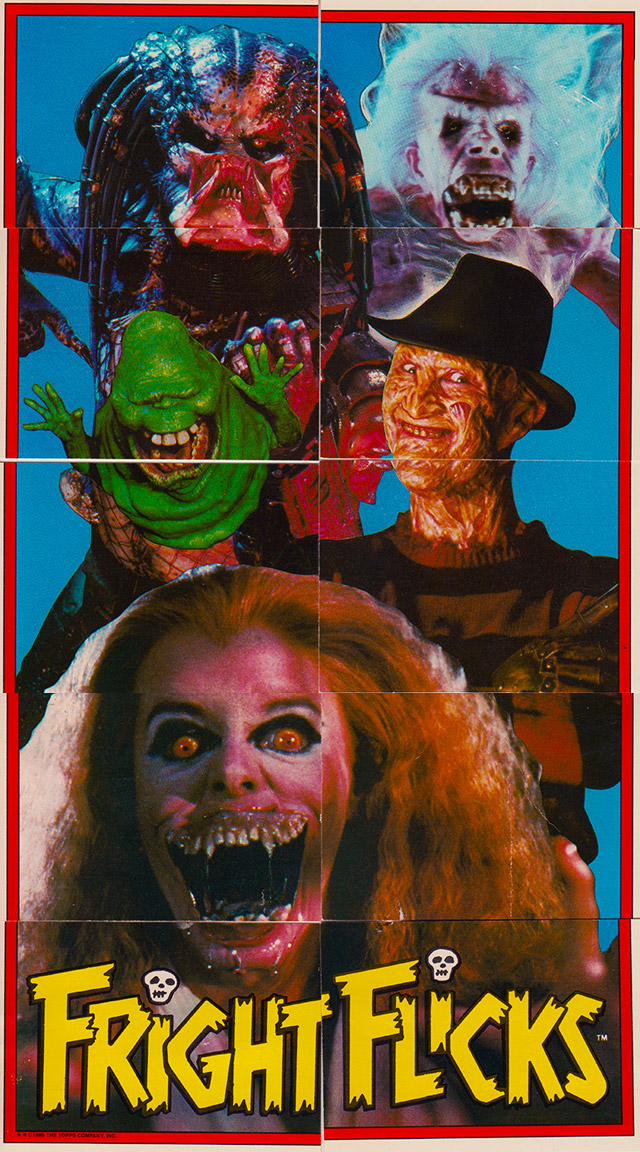 My. God.
Mileages vary, but to me, that's horror at its maximum appeal. Weird and frightening, but also bright and fun. Like, if I had to illustrate my horror fanship in one single image, this is so it.
Clockwise, we have Predator, the Library Ghost, Freddy Krueger, Vampire Amy and Slimer. While true that this is hardly as diverse a cast as I'd mentally assemble for the world's most badass horror poster, they're all visually stunning and mutually complementary monsters. Now I'm dreaming about a reality series wherein these five have to survive two weeks on a shared houseboat. We'll call it Bruise Cruise, and license Hurts So Good for the theme.
Best of all, the poster is a blessed reminder of how I used to approach horror movies, and certainly how I approached them in 1989. I was curious as fuck, but trepidatious to equal levels of fuck. Had I owned this poster back then, it absolutely would've been tacked up in my bedroom… this despite the fact that I would only watch some of those movies during daylight hours and with a protector within earshot.
Worth tracking down? You betcha. If you'd like your own, many eBay sellers now sell the Fright Flicks sticker sets separately, and that'll cost way less than trying to piece them together from the individual packs. Trust me, I know!