Time to unveil Dino Drac's Spooky September Funpack! To the surprise of no one, it's Halloween in a box!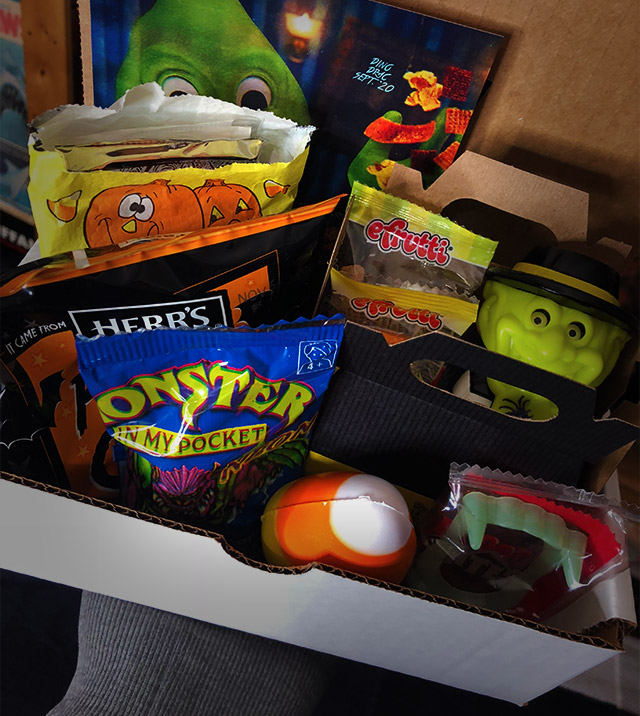 UNITED STATES ONLY!
Now, here's the deal: Subscriptions are already sold out. If you were already on the list, congratulations, you are absolutely getting the Spooky September Funpack, and you don't need to do anything else.
If you're not already a subscriber, good news: I DO have spares to sell this month, though with a few minor alterations. You can scroll to the bottom for info on those, but let's start with listing all of the goodies current subscribers will be receiving this month!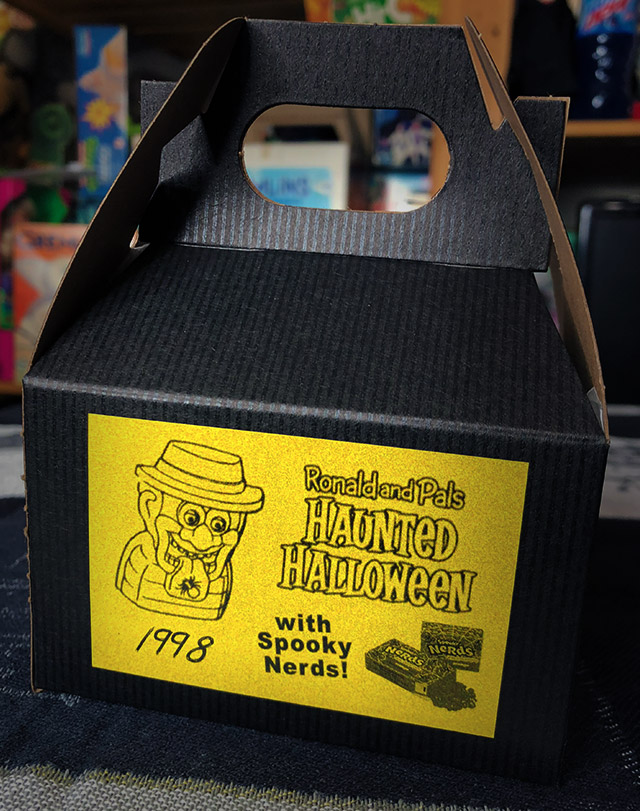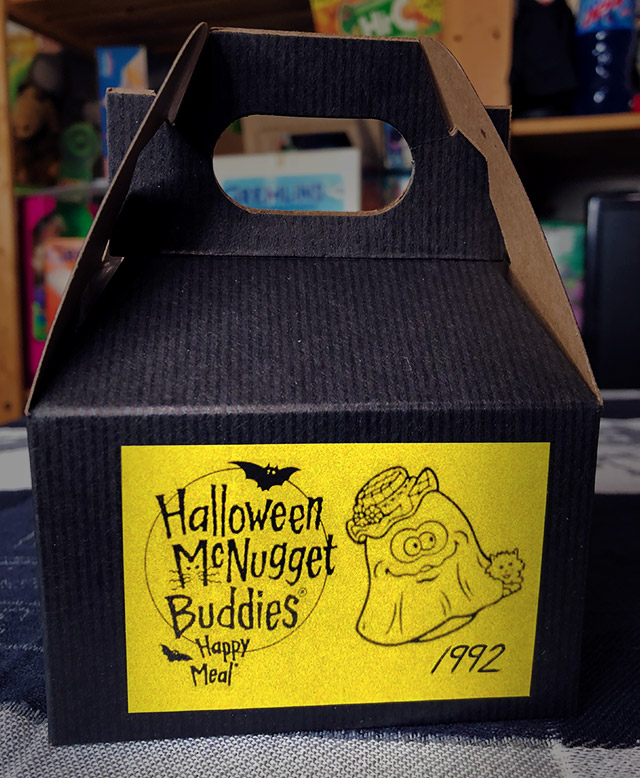 *ONE* HAPPY MEAL TOY PER FUNPACK!
Oh that's right, we're going there. I've been trying to pull this off for years, and I'm finally ready to do it. You will each receive a fully-recreated McDonald's Halloween Happy Meal from the 1990s, complete with gummy food, nestled snugly into a swank cardboard lunch pail!
Each contains ONE vintage Halloween Happy Meal toy, still in its original baggie from way back in the '90s. There are three toys in the mix, so let's take a closer look…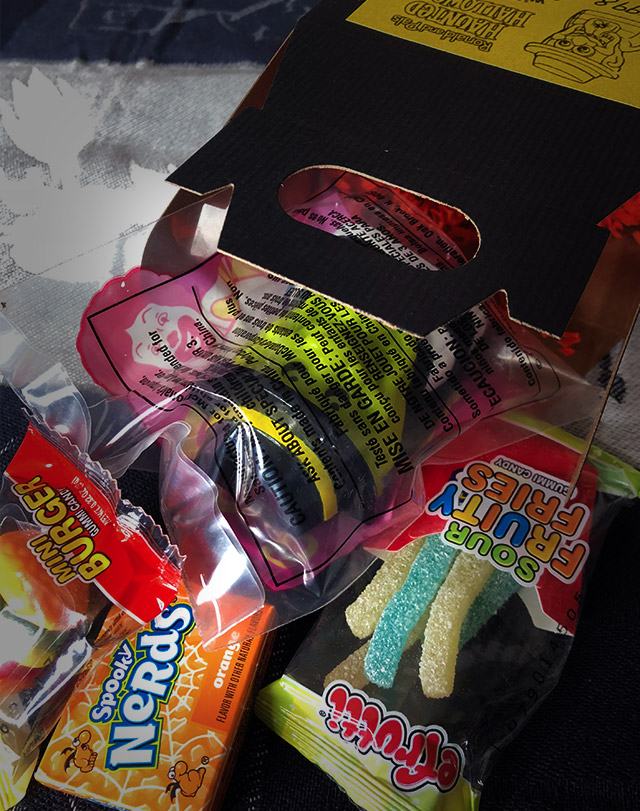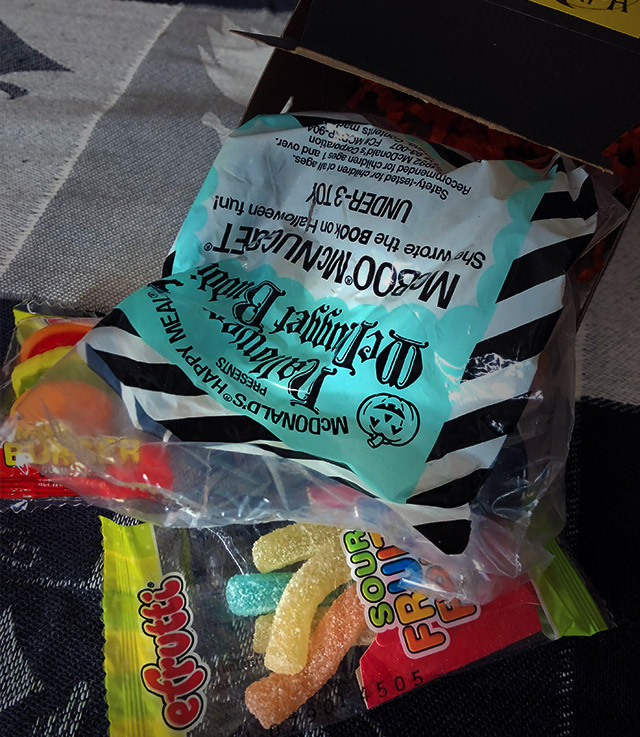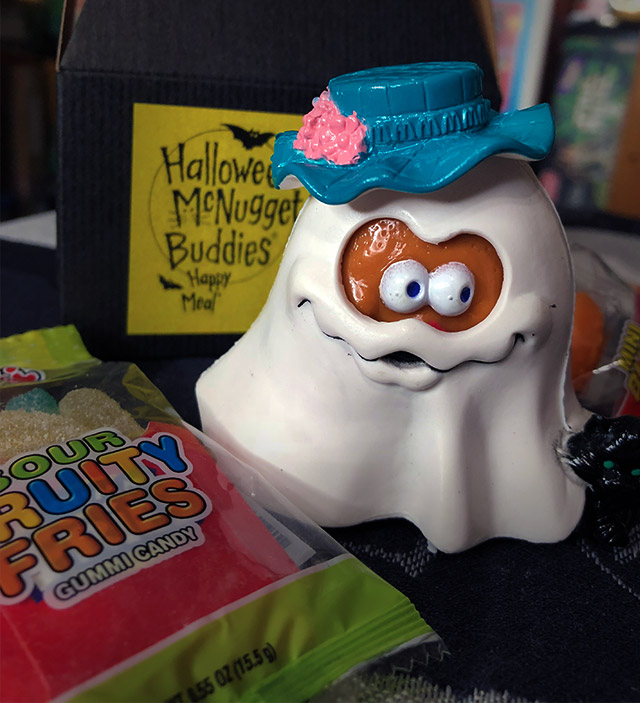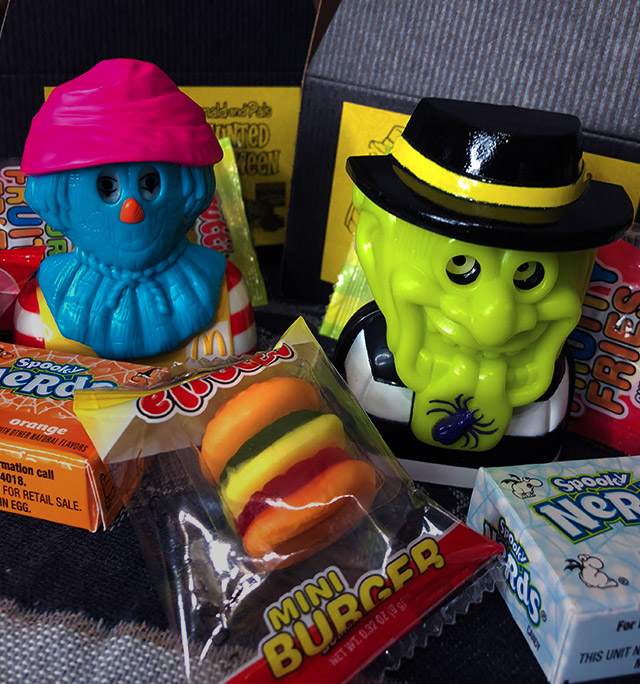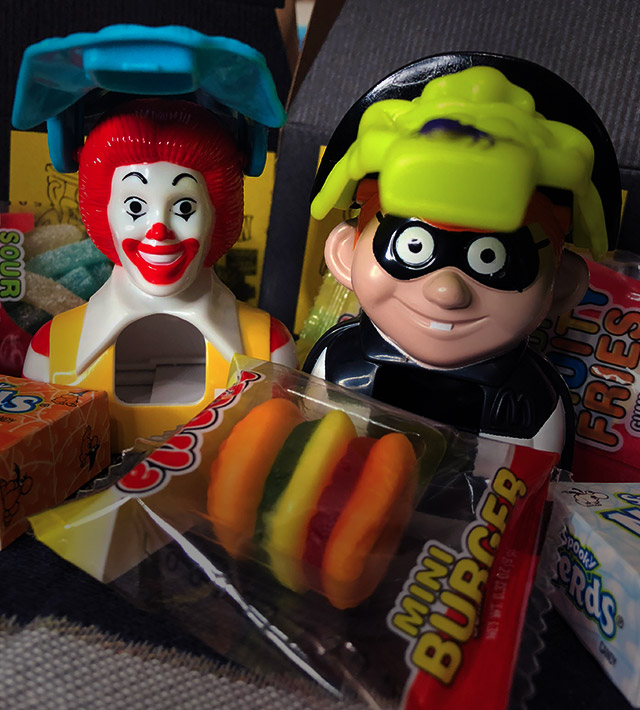 *ONE* HAPPY MEAL TOY PER FUNPACK!
You'll each get one of the fabulously freaky toys shown above. Here's how it breaks down:
30% Chance: "McBoo" Halloween McNugget Buddy (1992)
35% Chance: "Ronald" Halloween Candy Dispenser (1998)
35% Chance: "Hamburglar" Halloween Candy Dispenser (1998)
Sorry, no picking! Each toy comes in its own box, with gummy fries and a gummy burger. (The candy dispensers also come with little packages of Spooky Nerds, just like they did back in the '90s!)
You will receive one toy at random. The condition of the original baggies ranges. Some are in great shape, others may be a little dusty or have small tears. Whatever the case, the toys themselves are unused and in mint condition!
This is a mega-punch of Halloween nostalgia, and no matter which toy you end up with, I know you're gonna love it!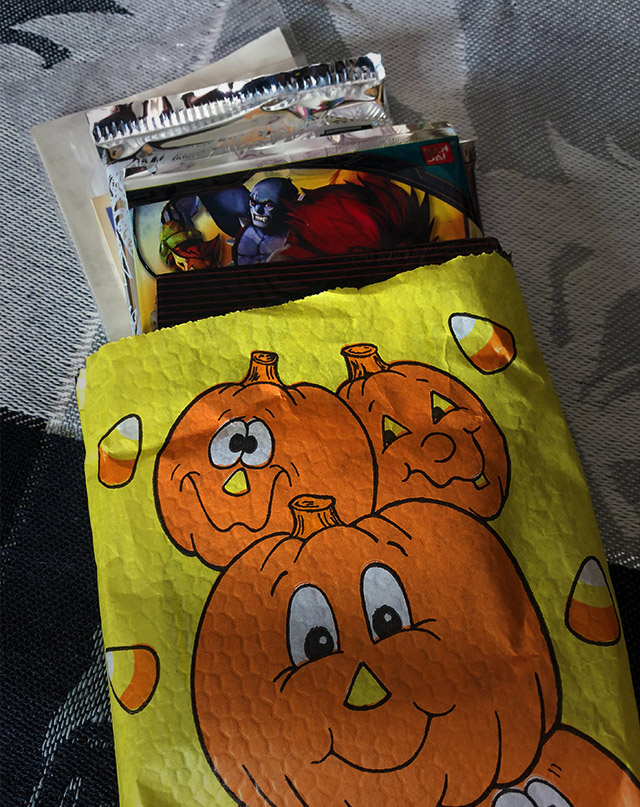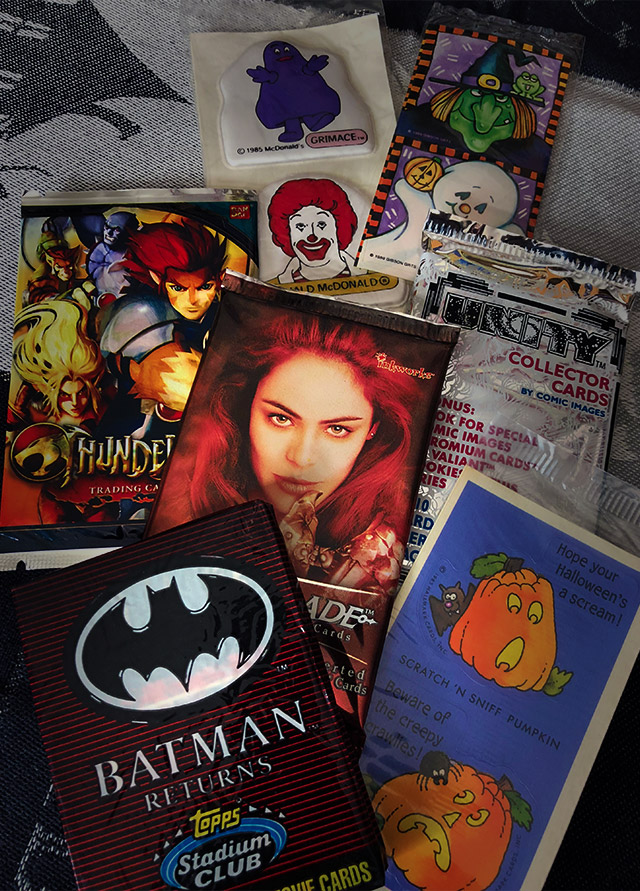 Next up is an overstuffed treat bag, LOADED with vintage trading cards and mini-packs of stickers!
You'll receive ALL SEVEN items shown above, including:
– Batman Returns Stadium Club Card Pack (1992)
– Thundercats Card Pack (2011)
– Witchblade TV Series Card Pack (2001)
– Unity Comic Images Card Pack (1992)
– Hallmark Scratch 'n Sniff Pumpkins Stickers (1980s)
– Gibson Halloween Treat Stickers (1990s)
– McDonald's Ronald/Grimace Puffy Stickers (1985)
You'll have a blast sorting through all of those cards and finding prime spots for the neat stickers. (Oh, and PS: Those scratch-and-sniff pumpkin stickers are ancient, but they still pack a punch!)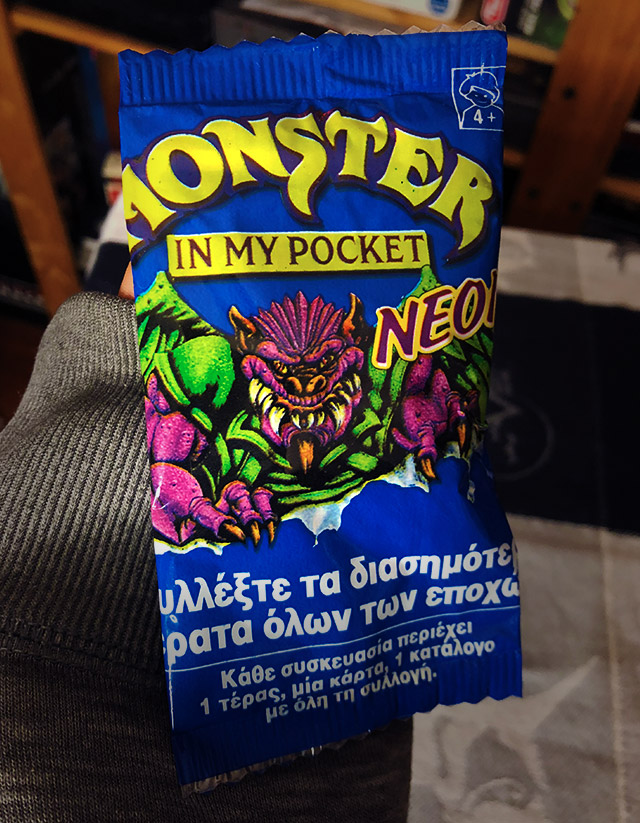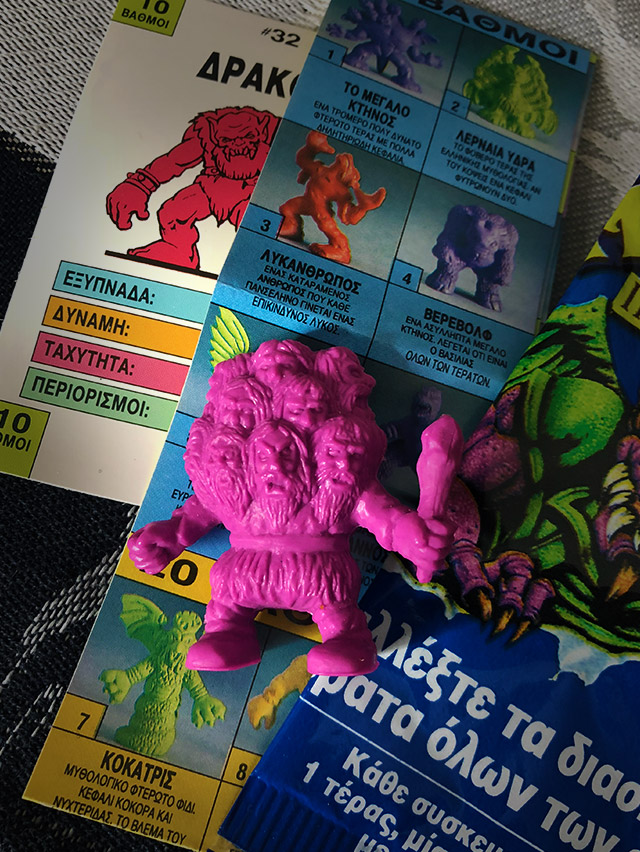 Yep, there's more! You'll get one of these vintage Monster in my Pocket blind bags, made by Matchbox in 1992! These come from Greece, but the figures are the same ones you grew up with in the States. There are 48 different figures in the set, in bold neon colors. (Yep, including the rare 25-point figures, if you're lucky!)
These are so awesome. Each figure comes with a random card and a flip-out checklist showing the entire first wave of MIMP figures. (Text is in Greek, but you can still enjoy the photos even if you can't read it!)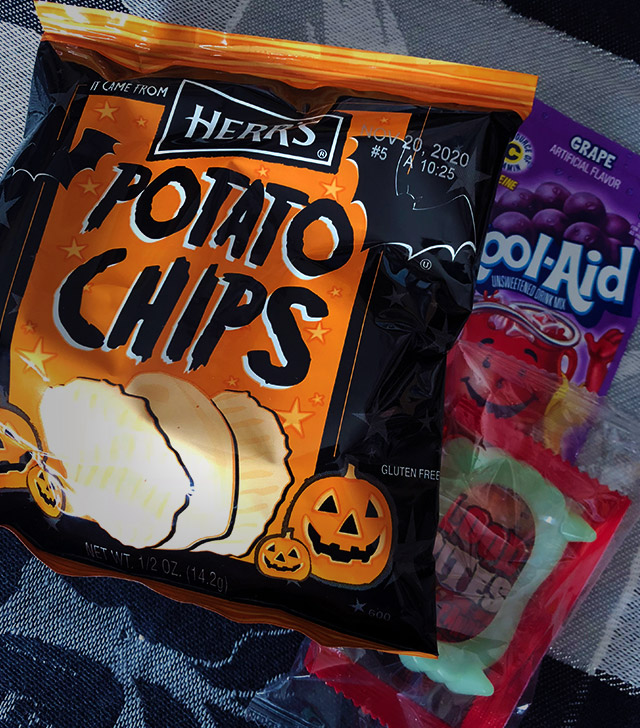 You'll already find some junk food in your Happy Meal box, but I thought I'd throw you a bit more. Every Funpack also comes with a small bag of Herr's Halloween Potato Chips, a little pack of Bloody Bites, and an envelope of Grape Kool-Aid!
(I'm including the Grape Kool-Aid because it's the closest thing to powdered Ghoul-Aid currently on the market. Make a pitcher and throw on Dream Warriors.)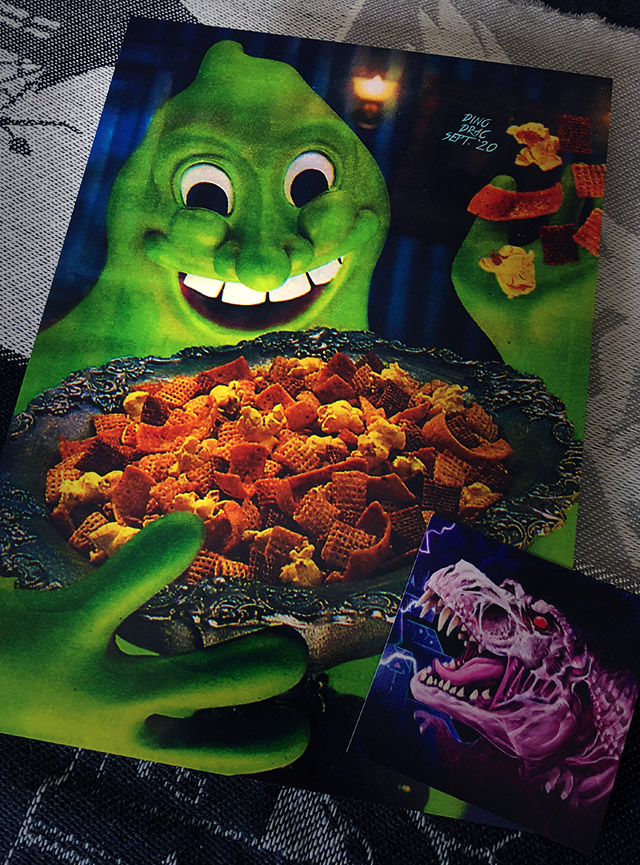 This month's mini-poster shamelessly borrows a swank green ghoul from an old Chex advertisement. I've loved that guy for years, and I'm happy to share him with y'all. You'll also receive this month's exclusive sticker, featuring Dino Drac as Gozer!
Poster is 5×7" and printed on something resembling cardstock. Sticker is 2×2" and printed on whatever companies print stickers on.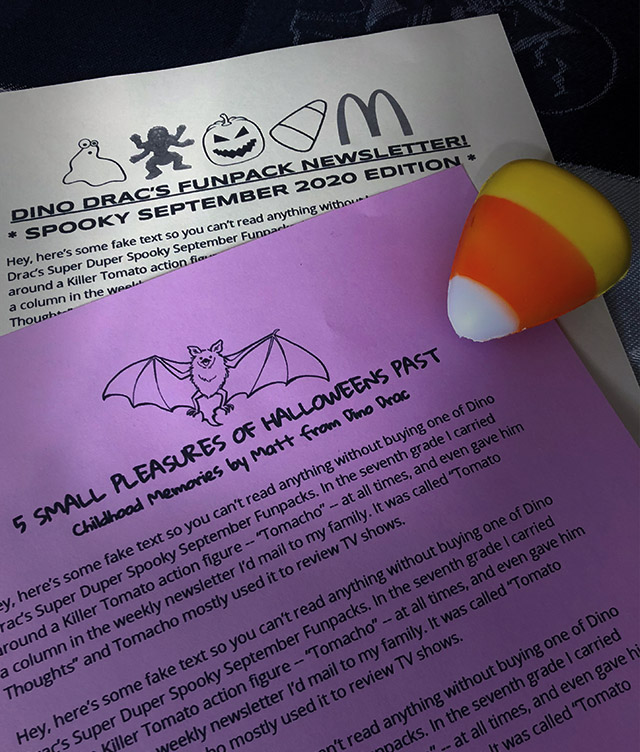 Rounding things out, you'll also receive this month's Funpack Newsletter, plus an exclusive essay that will never be reprinted on the site!
This month's essay lists a few "small pleasures" of my childhood Halloween seasons — everything from the crunch of dead leaves to the joys of swiping my own family's trick-or-treat candy at the end of the night.
Oh, and yeah, I'll also throw in that adorable squishy candy corn toy, because in 2020, everyone needs a stress-reliever.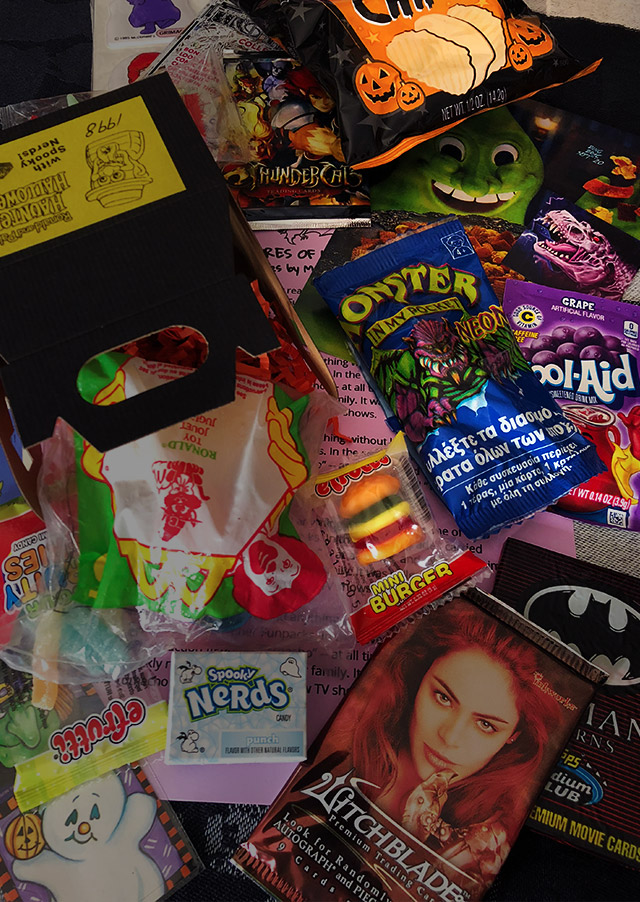 Yep, you'll get all of that for $25 shipped! The September Funpacks will ship on or before Monday, 9/21.
If you're already subscribed, do nothing! You're all set and you will receive the Funpack as described above. If you're not a subscriber and still want the September Funpack, keep reading!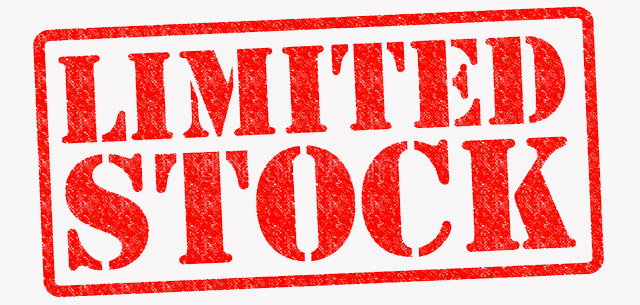 Please read CAREFULLY before buying!
I have a limited number of extra September Funpacks to sell on a one-time, individual basis. Your purchase will just be for this one Funpack, and you will not be subscribed for future Funpacks.
However, there are some catches. Most importantly, the Happy Meal toys in these extra Funpacks will likely be sent without their original baggies. (They will be in mint/unused shape, but my remaining bags are in rocky condition, so I will probably toss them before packing.) Also, you will most likely receive the Ronald McDonald toy as the other two are nearly depleted.
In addition, I may need to do a swap on some card packs or stickers depending on where my quantity lands. If I do, I have suitable replacements that you will definitely be happy with.
Other than that, the Funpacks will be delivered as described above. If you are interested in purchasing the September Funpack after you've read the above notes, you can do so at the link below. Limited supply!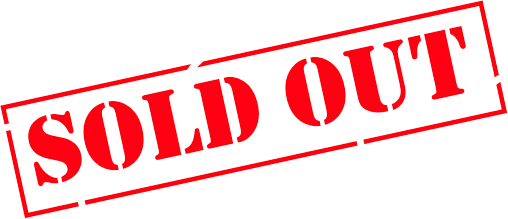 THE EXTRAS ARE NOW (MOSTLY) SOLD OUT. I will probably still have a few extras to sell once I do my final counts. If you want to get on the wait list, just email me — dinosaurdracula on gmail!
Thanks all! Hope you enjoy the ghoulish goodies. 🙂