Dino Drac's Spooky September Funpack is here!! A box of ghoulish goodies shipped from my door to your door, filled with creepy collectibles!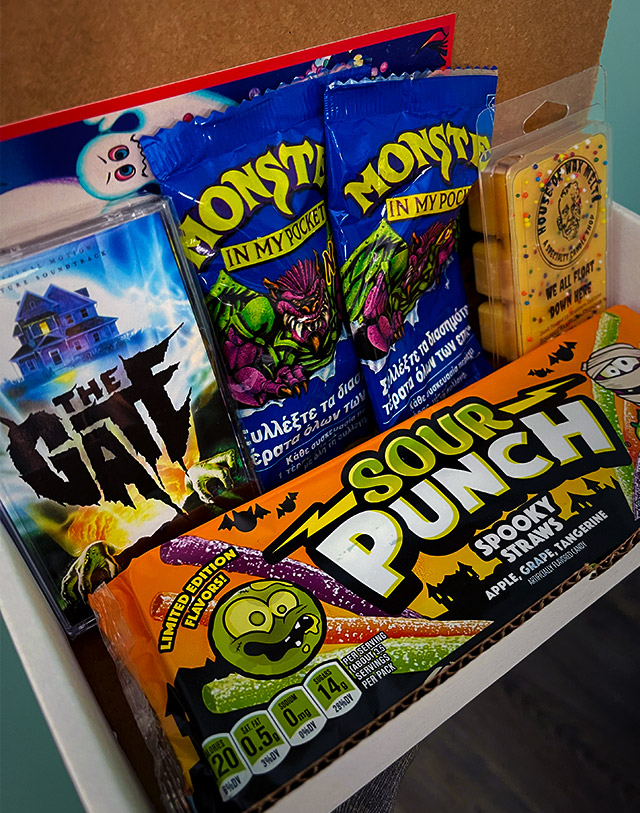 (UNITED STATES ONLY!)
I gotta keep it real with you: This one is pretty much sold out! If you're an active subscriber, you're obviously covered. If anyone new wants in, I *may* have some spares available once I complete my counts, but the truth is that there's already a long waitlist for this one. So, you can email me to get on the waitlist, but I can't make any promises!
I'll go into specifics on availability at the bottom, but first, let's take a look at everything inside this month's box!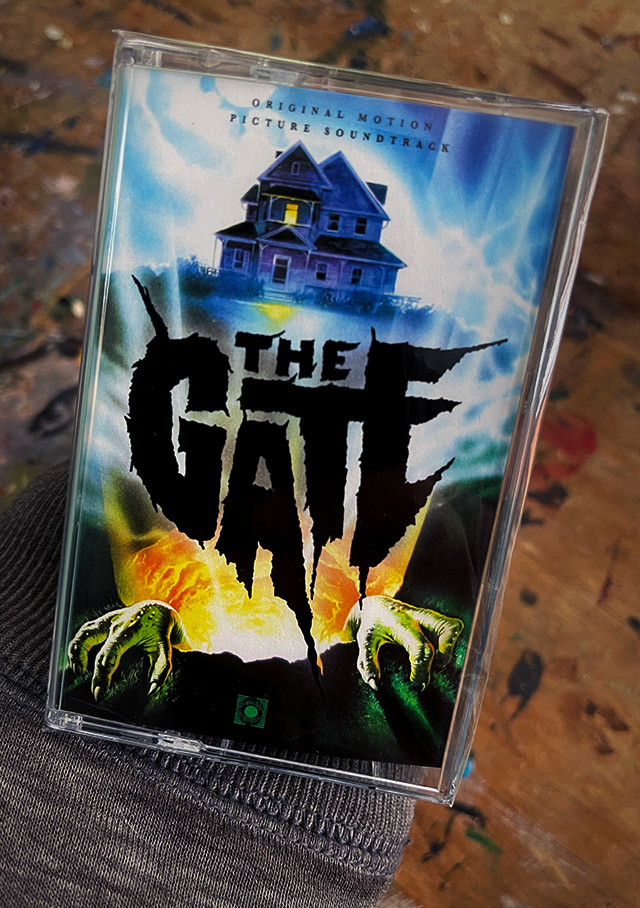 Aw, man, YES, this is really happening. I worked out a deal with the fabulous Terror-Vision to get each and every subscriber a sealed, case-fresh copy of THE GATE soundtrack, on audiocassette! These may look like vintage cassettes, but they're brand new and straight from the factory. And yes, they're officially licensed!
Terror-Vision always does amazing work, but they knocked it out of the park with this one. Each tape is factory sealed and comes with a gorgeous cardboard sleeve.
Bonus points: The cassettes themselves were produced in a never-before-used "smoky tint" color, which (at least as of this writing) you can't buy anywhere else. God, these are SO COOL. They're perfectly playable, but even if you never do, this is the kind of thing that NEEDS to be on your best shelf!
PS: Never seen The Gate? Wacky horror/fantasy film from '87? You should. It's great.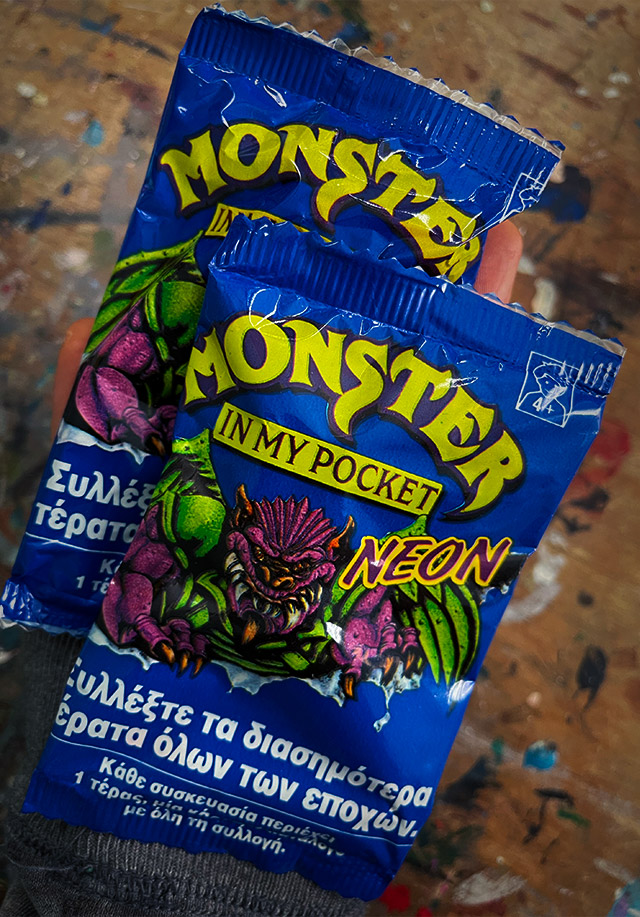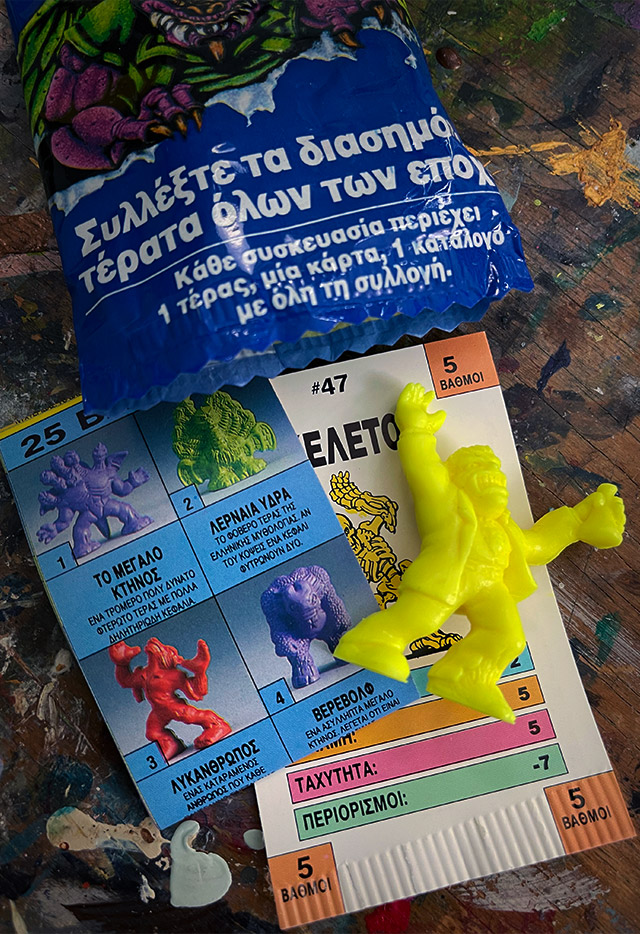 *TWO* VINTAGE BLIND BAGS PER FUNPACK!
Okay, so in an older Funpack I included one of these vintage Monster in My Pocket blind bags, made in Greece back in 1992. They were such a huge hit, I thought I'd give them another go. This time, though, everyone is getting TWO!
Yes, every subscriber will receive A PAIR of these vintage blind bags, which each contain an honest-to-goodness neon Monster in My Pocket figure. (As well as a MIMP card and an awesome foldout checklist!)
Please note that I have no way of guaranteeing that you'll get two different figures. However, since there are 48 in the set, the odds are in your favor. These are unbelievably cool, and for the record, YES, they even worked in the rare 25-point monsters!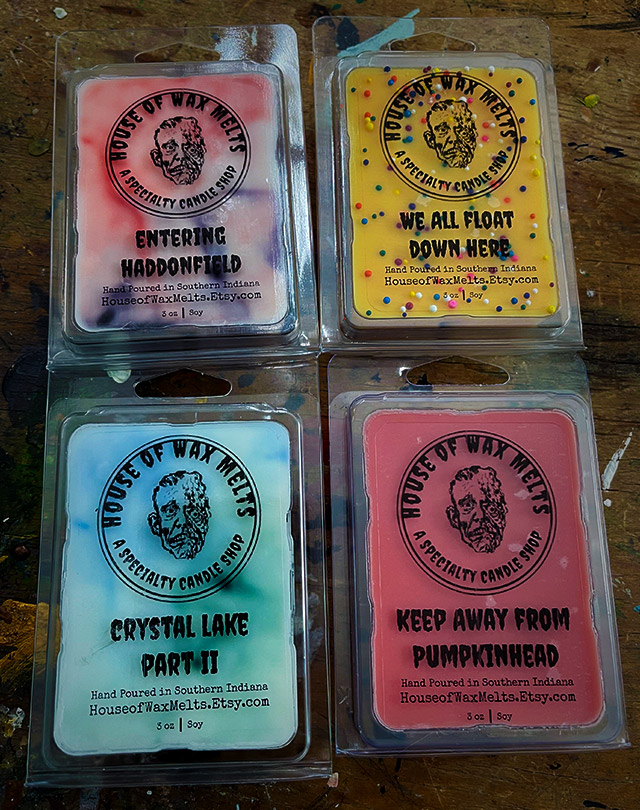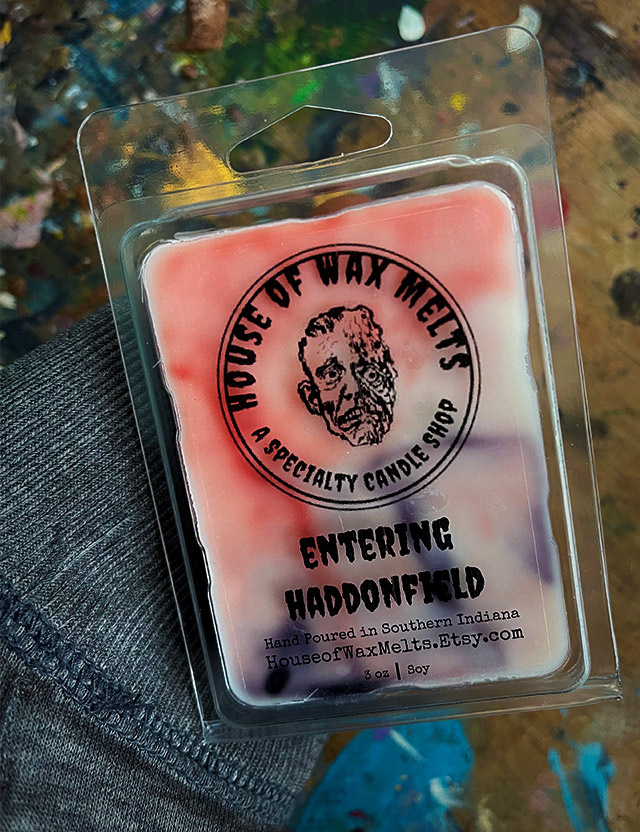 *ONE* WAX MELT PACKAGE PER FUNPACK!
And the hits just keep on coming! I've been a fan of House of Wax Melts for many years, and I'm thrilled to give each of you a three-ounce package of their wonderful horror-themed wax melt sets.
Each package contains three ounces' worth of melts, which are neatly divided into six cubes. (If you've never used wax melts, you can find burners cheap on Amazon… or you can just use these things as Halloween potpourri, because they're potent enough to pull that off!)
House of Wax Melts has spent a loooong time perfecting their many formulas, and I can personally attest to how amazing these things smell. You will get ONE of the four sets shown above. Each is inspired by a different horror movie! The possibilities are as follows:
1. "Entering Haddonfield" (Halloween) – a crisp autumn night in the woods with nutmeg and cinnamon layered with applewood and cedar.
2. "We All Float Down Here" (It) – cotton candy, caramelized apples and a hint of funnel cake.
3. "Crystal Lake II" (Friday the 13th Part 2) – soft ozone with a fresh, clean aroma.
4. "Keep Away from Pumpkinhead" (Pumpkinhead) – classic pumpkin spice with a little something special.
I love these, and I hope you will too! You'll get one of those four wax melts, randomly packed. I have equal amounts of each style, so no matter which one you're after, you have a 25% chance! 😀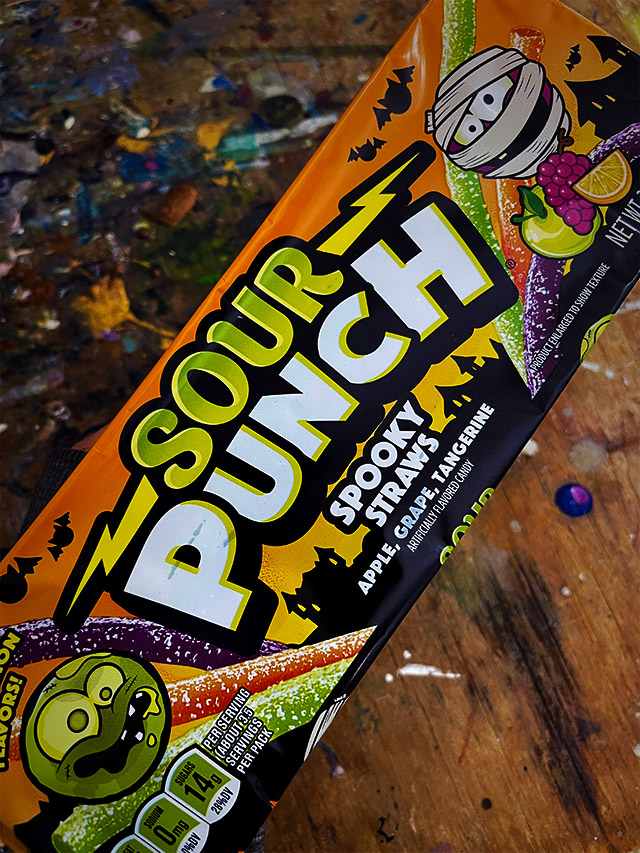 Oh, and of course I didn't forget the candy! It's the Halloween season, after all! Every Funpack will include a mega-sized pack of Sour Punch Spooky Straws. These are DELICIOUS, and I should know, because I ate about 40 thousand of them last year.
This is possibly the largest food item ever included in a Funpack, too. The photo doesn't do it justice, but that package is nearly four ounces! Trust me, if you finish the whole thing in a sitting, you're gonna feel it!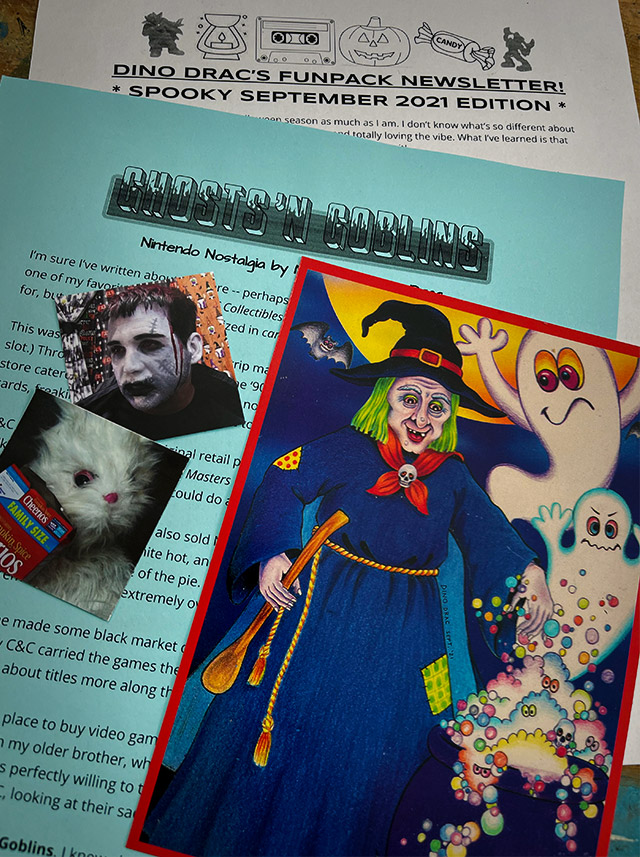 And then we have this pile of paper goodies! First is a 5×7″ cardstock mini-poster, starring a goofy witch and her colorful cauldron. I swiped the art from an old knockoff Halloween toy, because it really was too charming to leave in the past. You'll also receive a pair of 2×2″ stickers, featuring Madd Matt and Leviathan as seen from the start of the 2021 Halloween Countdown!
Rounding things out is this month's Funpack Newsletter, plus an exclusive essay that will never be reprinted on the site. (This month's essay details my childhood fascination with Ghosts 'n Goblins, a notoriously difficult Nintendo game that pitted players against an endless horde of monsters. What fun!)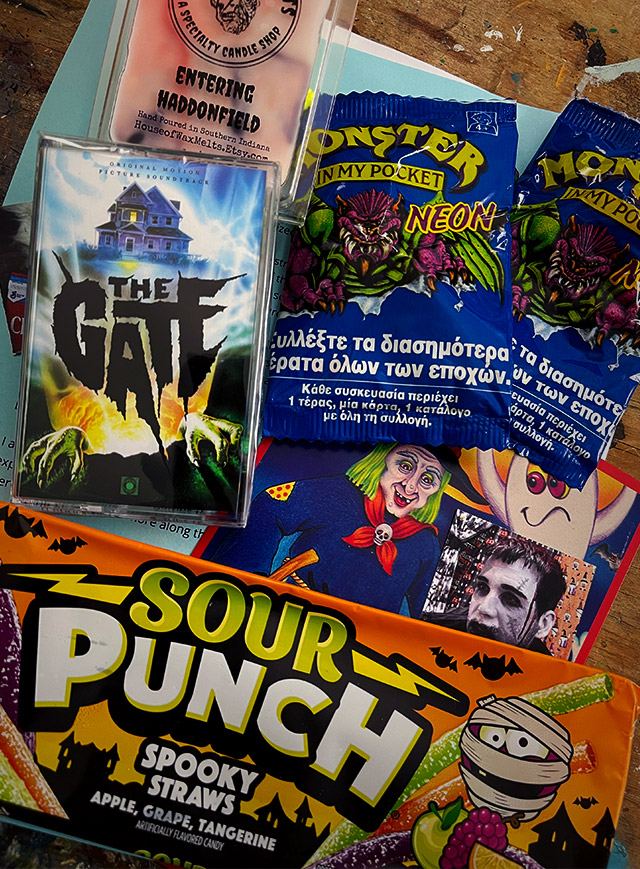 So yep, you'll get all of the above for $25 shipped!
The September 2021 Funpacks will ship no later than Wednesday 9/22, which coincidentally is the first day of autumn!
If you're already a subscriber… do nothing! You're all set!
If you're NOT a subscriber and you want in, here's the situation:
I already have a long line of people who've been waiting since last month, so to be fair, I'm gonna give them the first crack at the extras. (Will send that email by tomorrow.) It's very, very likely that those folks will eat up the remaining supply, but if you want to take a chance, email me (dinosaurdracula on gmail) and I'll get back to you if any are left.
Thanks so much!!