We're all excited about Kong: Skull Island, right?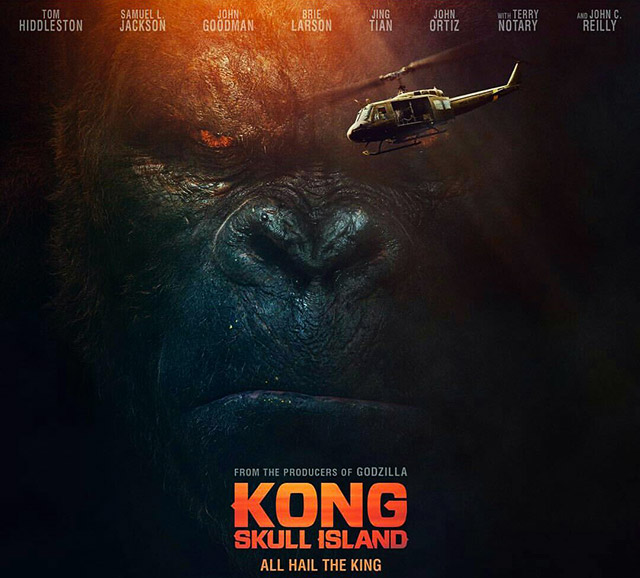 I am, at least. The gorilla is one thing, but the idea of a nightmarish island where evolution plays by wickedly different rules is enough to make me see any Kong movie. The fact that this one stars John F'n Goodman just makes it an even easier sell.
Movies this big don't debut without fanfare. To help encourage on-the-fencers to pick Skull Island over Logan, Mr. Kong teamed up with Johnny Rockets to offer… erm… his own milkshakes.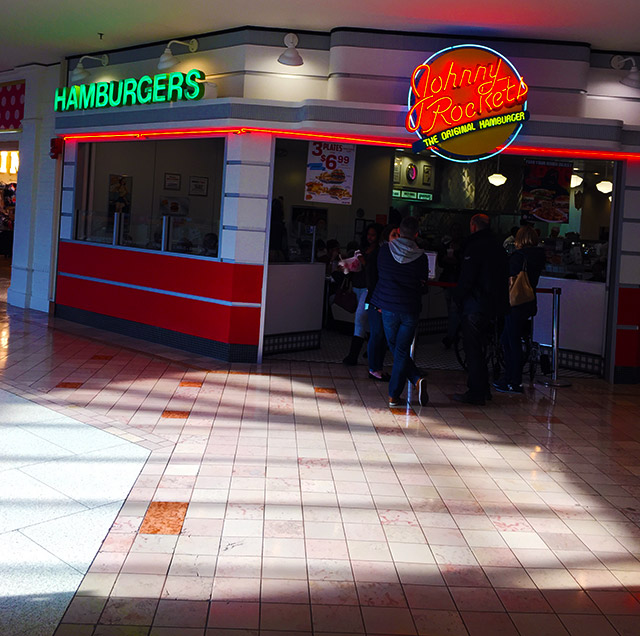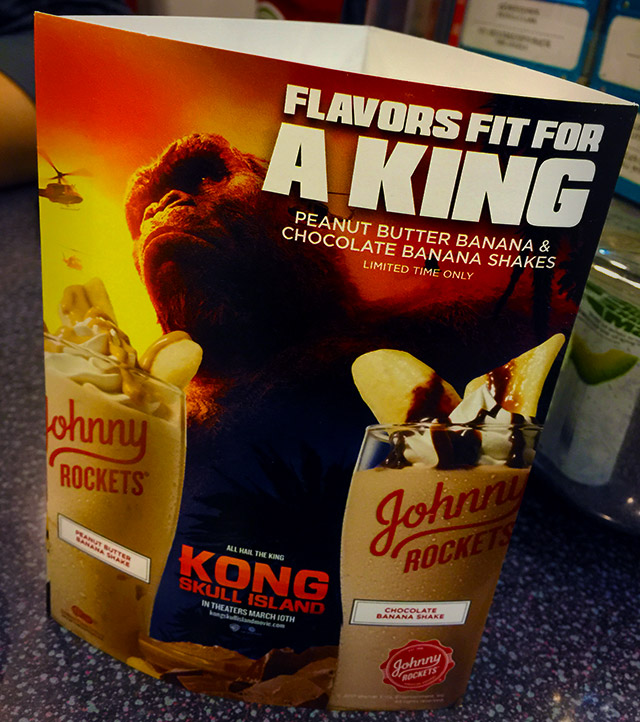 It's pretty much the same as Johnny Rockets' Goosebumps promotion from 2015. The twin centerpieces are a pair of King Kong milkshakes, which both use bananas as a primary ingredient. (Apes love bananas, remember.)
I went there with Jay from The Sexy Armpit, in part because eating alone at a Johnny Rockets is what I'd doodle if someone asked me to draw anxiety, but also because I HATE BANANAS. I thought I'd need Jay to give me a more objective view of the taste.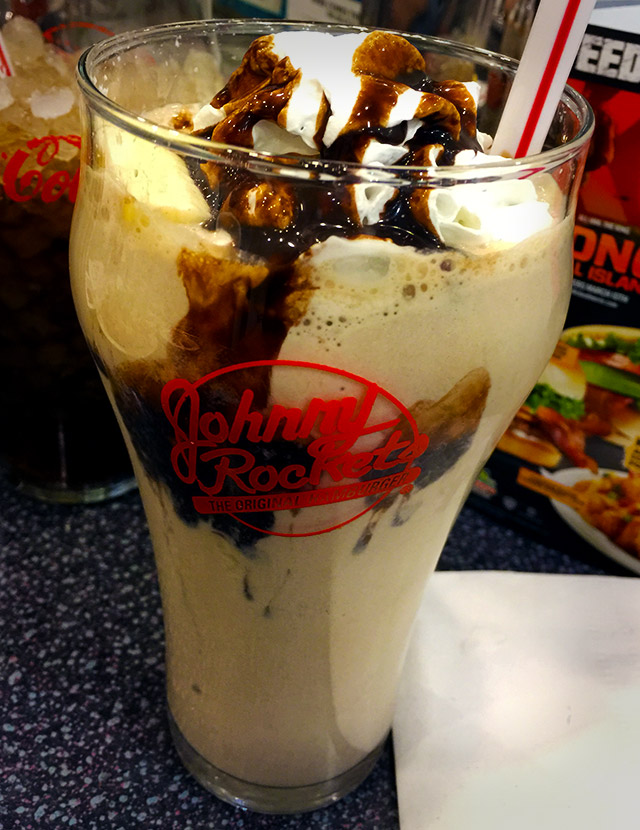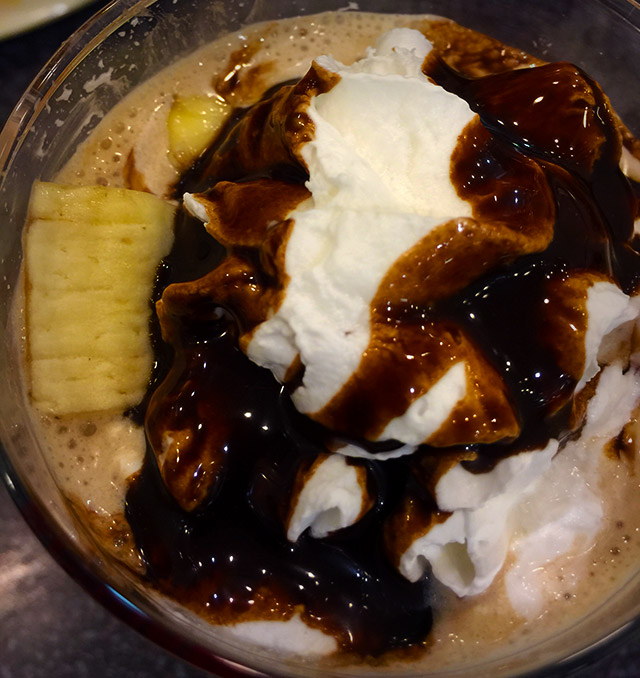 He ordered the Peanut Butter Banana Shake, while I took the Chocolate Banana version. I assume that his was the tastier of the two, but so long as you don't think about the toilet scene from Trainspotting, mine was more picturesque.
Through the grace of God, they were basically just regular milkshakes with chunks of banana thrown in. I was able to navigate around the unholy fruit easily enough, even if doing so made me question why I ordered a King Kong milkshake in the first place.
I just wanted to be part of it, man.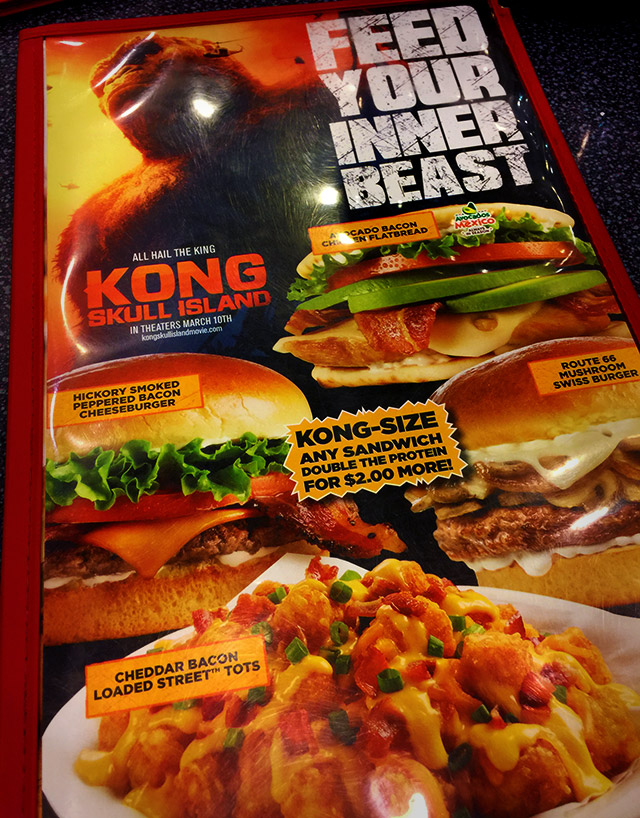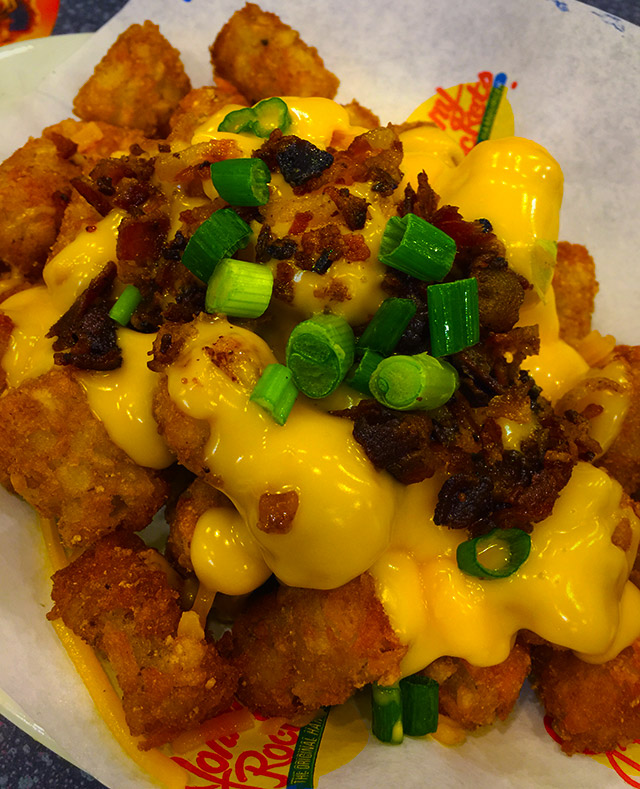 You can also celebrate Skull Island by ordering "Kong-sized" versions of several sandwiches. If you do, Johnny Rockets will "double the protein," which I guess was their weirdly unappetizing way of saying "double the meat."
The Cheddar Bacon Loaded Street Tots seemed like the wiser choice, if only for the chance to look a waitress dead in the eye and say, "I'll have the Cheddar Bacon Loaded Street Tots."
(Confession: I couldn't bring myself to do it. I just pointed to them on the menu and gave her the "please don't make me say this" face.)
I can only guess at what tater tots smothered in Velveeta have to do with King Kong, but they were tasty in a Little League snack shack sort of way. (There were of course discrepancies between the menu photo and the actual item, but I was too busy stealing the Kong-themed table tent to notice.)
All in all, I'm glad I went. Theater experiences blend together, but I'll always remember the day I drank around bits of banana in a mutant tribute to King Kong.